DoNotPay Assists You With Various Types of Business Contracts
Whether you're an experienced businessman or just starting out, business contracts can give you a headache. Nowadays, there are countless types of them, which makes it difficult to understand what purpose each one serves. There's no need to fret, though, because DoNotPay has your back!
Read our guide and learn all about different types of business contracts and how to make them the easy way. 
What Is a Business Contract? 
A business contract is a legally binding agreement between two or more parties. It contains the specifics of buying and selling goods or services between the signers. 
For a business contract to be formed, there must be an offer extended by one of the parties and accepted by the other along with:
A promise to perform a service or deliver a product

The time required for the delivery or duty to be performed 

The terms and conditions of the contract
What Makes a Contract Legally Binding?
If a business contract is to be legally binding, it needs to include the following elements:
Element

Details

Offer

One of the parties should offer to provide their service or goods to the other

Acceptance

The willingness by the parties to respect the terms and conditions of the contract

Consideration

A legal way to say that an exchange between two parties must take place

Mutual consent

A statement that both parties mutually accept the terms and conditions of the contract

Competence 

Both parties need to be competent to sign the contract. This means that they're:

Of appropriate age—usually 18 or over

Aware of the terms of the contract

Entitled to sign the document on behalf of the business they represent

Legal purpose

To be valid, the contract mustn't involve illegal actions
What Are the Most Common Types of Business Contracts?
Here's a list of some of the most common business contract types:
Non-disclosure agreement 

Partnership agreement

Equipment lease agreement

Indemnification agreement

Employment agreement 
Non-Disclosure Agreement
A non-disclosure agreement is a legally binding contract in which both parties agree to keep certain information disclosed. It protects any type of confidential information or trade secrets. There are two types of non-disclosure agreements:
Mutual non-disclosure agreement

—needed when both parties discuss working together and want to keep the details of their business a secret

Non-mutual agreement

—signed by one party that has access to the other party's sensitive info
Partnership Agreement
A partnership agreement is usually signed by two or more parties who want to manage a business together. It contains the obligations of each party and protects everyone's interests. 
Equipment Lease Agreement
An equipment lease agreement is an agreement in which the lessor (owner) allows the lessee (renter) to use the equipment for a certain time in exchange for payment. It's commonly used to lease vehicles, factory machines, and similar.
There are two types of equipment lease agreements:
Capital lease

—used to lease equipment that the lessee wants to use long term and then purchase it at the end of the lease period. This type is non-cancelable

Operating lease

—used to lease equipment short term and is usually cancellable before the lease period is over
Indemnification Agreement
An indemnity agreement is a contract that guarantees that one of the signing parties will be free from any burden, loss, or damage. It also ensures compensation for the party that holds the contract. 
Employment Agreement
An employment agreement is a contract signed by an employee who agrees with the proposed working conditions and rules. The contract should contain the rights and responsibilities of both the employer and the employee.
Creating All Types of Business Contracts Is Easy With DoNotPay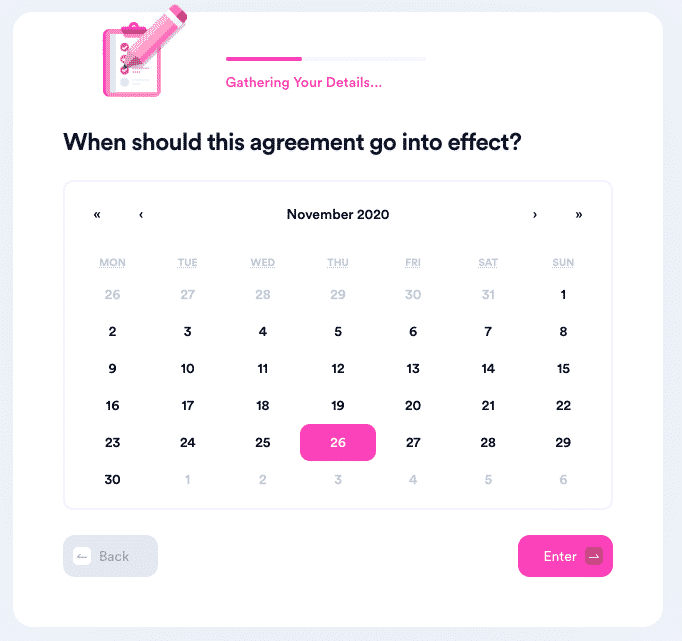 If you need any type of business contract but don't want to spend big bucks on lawyers' expensive services or waste time learning how to make one yourself, turn to DoNotPay for assistance! Our robot lawyer app can generate a personalized contract for you in just a few clicks, saving you both time and money in the process. 
To get a customized legal document, here's what you need to do:
Enter the name of the document you need 

Answer our chatbot's questions to personalize your document
Once you receive your document from us, you can e-sign and get it notarized through the same app. DoNotPay's Notarize Any Document product can connect you with a remote notary in minutes.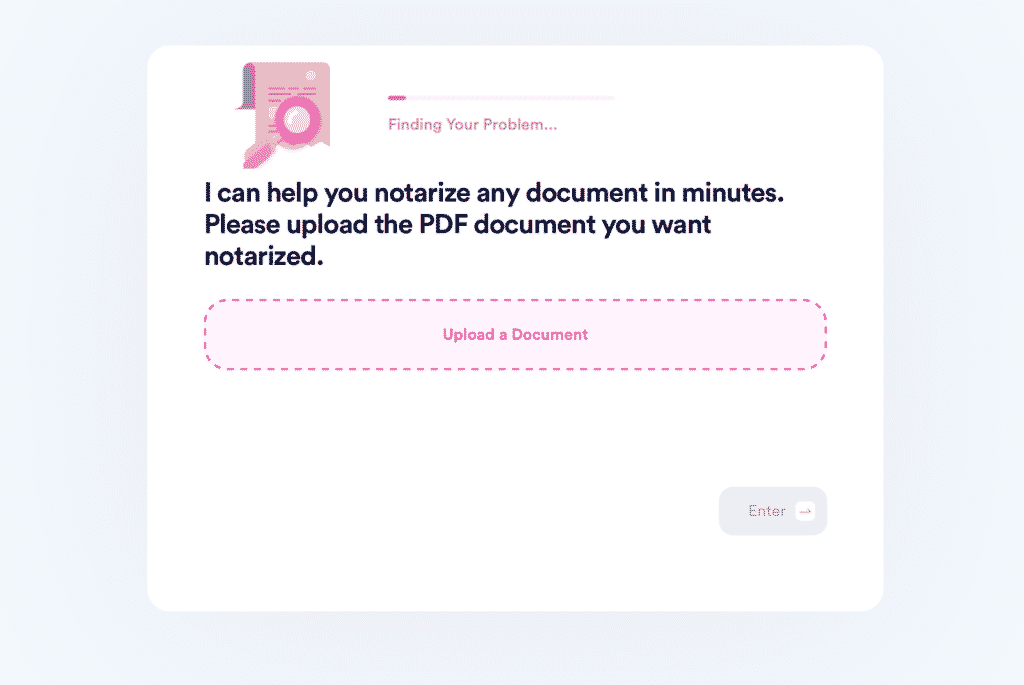 DoNotPay Can Help You With Various Legal Documents
We have a vast database of guides on drafting various legal documents that you'll gain access to once you sign up for DoNotPay. Here are some articles that you may find helpful:
| | |
| --- | --- |
| Real Estate Legal Documents | Other Legal Documents  |
| | |
Say Goodbye to Administrative Issues—Rely on DoNotPay
Are annoying procedures—such as canceling memberships, disputing parking tickets, filing warranty and insurance claims, requesting refunds for purchased products or services—giving you headaches? Do you dread calling an airline's customer support to request a refund and compensation for a canceled flight? You're not alone! The good news is—DoNotPay can help you solve these issues stress-free!
You can use our app to prepare for your driving test or other government exams and schedule an appointment with the DMV in minutes. 
Are you wondering whether you're paying too much for your property taxes? Make sure to try out our Property Tax feature and learn about the best way to reduce your property tax bill. 
Annoyed by Spammers? DoNotPay Can Help!
With DoNotPay, you can get rid of spam emails and text messages and report robocalls in one fell swoop. Our Burner Phone feature will generate a fake phone number that you can provide upon registration for any service! 
Besides helping you enjoy free trials without the risk of being charged, DoNotPay's virtual credit card has another advantage. It will provide a random email address you should use when signing up for a free trial. That way, you'll avoid pesky marketing emails and email notifications.