Types of Breach of Contract You Should Know About
What happens when a contractual party fails to fulfill their obligations under the agreement? A breach of contract occurs. If you have found yourself in a situation where the other party violated your agreement, you must know how to seek remedies and collect damages.
In this article, DoNotPay will explain the main types of breach of contract and show you how to write a breach of contract demand letter to claim what you are owed.
Different Types of Breach of Contract
A breach of contract is a serious violation of contract law. It occurs when one contracting party fails to fulfill some or all terms of the agreement.
In contract law, there are four main types of breach of contract:
Material breach
Minor breach
Anticipatory breach
Fundamental breach
Material Breach of Contract
A material breach of contract is one of the most severe breaches as it strikes directly at the root of the agreement. When a material breach occurs, it makes the contract irreparably broken. If this type of breach occurs, the injured party has the full right to ask for damages.
According to the Restatement of Contracts, the following elements constitute a material breach:
Effects that the breach has had on the injured party
Severity of the breach—how bad the damage is
Damages that the injured party can collect according to the contract's terms
Availability of the breaching party to cure their failure
Good faith of the breaching party—if they acted in bad faith, the court will most likely presume a material breach
Minor Breach of Contract
A minor breach of contract happens when the promisor fails to fulfill some terms of the contract. In case of a minor breach, the violation is so insignificant that the rest of the agreement can be completed.
The injured party may sue the promisor only for losses that occurred due to the breach. For example, if you make a large order and receive a few defective items, you can request compensation only for the defective ones.
Anticipatory Breach of Contract
An anticipatory breach of contract occurs when the promisor explicitly says or indicates with their actions that they will not fulfill their contractual obligations. The non-breaching party has the right to terminate the contract and sue for damages before the breach officially happens.
For example, if you ordered some items to be delivered on June 14 at 10 a.m., but the retailer informs you that your items will not be delivered until June 15 at 8 p.m., you have the right to claim an anticipatory breach even though it has not yet happened.
Fundamental Breach of Contract
A fundamental breach happens when one party to a contract fails to keep their part of the deal, causing the other party not to complete theirs. Suppose the promisor fails to perform the main obligation of the contract but does fulfill some minor terms. In that case, they are still in breach because the violation prevented the injured party from performing their obligations.
In case of a fundamental breach, the injured party is forced to terminate the agreement.
Can You Go to Court for a Breach of Contract?
You can file a lawsuit if your claim contains these elements of the breach:
Existence of a valid contract—The following constitute a valid agreement:

Offer
Acceptance
Consideration

Non-performance of the breaching party—You must demonstrate that the promisor failed to perform their side of the deal and that you carried out yours
Losses the injured party suffered due to the breach—You need to have evidence of the damages caused by the violation of the agreement
Keep in mind that the breaching party might raise affirmative defenses by giving valid reasons for breaking your agreement.
Should You Try To Settle the Matter Out of Court?
If you decide to resolve your dispute out of court, you will probably save some money and time. Instead of filing a lawsuit, you can:
Send a demand letter and seek remedies
Set a new deadline for your client
Offer to make a different agreement
How To Create a Convincing Demand Letter
Consult the table below to see your options for drafting a demand letter:
| How To Prepare a Demand Letter | Details |
| --- | --- |
| Write it yourself | While you can draft a demand letter on your own, it is not a wise option if you are unfamiliar with legal terminology. There are demand letter templates that could be of help, but keep in mind that they will not cover the specifics of your case |
| Hire an attorney | To draft and send a demand letter, a lawyer might charge you anywhere between $750 and $1,200 |
| Use DoNotPay | If you want a simple and affordable option for drafting a demand letter, DoNotPay is the right app for you. We will provide you with a fully personalized letter in a few minutes |
Generate a Professional Demand Letter in Three Steps With DoNotPay
Our Client Breach of Contract product enables you to enter all relevant information about your case and get a personalized demand letter in seconds. We use a comprehensive database of state laws to ensure your notice of breach of contract complies with relevant laws.
All you have to do is register for DoNotPay and follow the steps below:
Open the Client Breach of Contract product
Add all the required information, such as:

Details about your client
The date the last payment was due
The terms of the original agreement
The amount the client owes you

Indicate the final due date
After we generate your letter, you can download a PDF file, print it out, and send it to your client.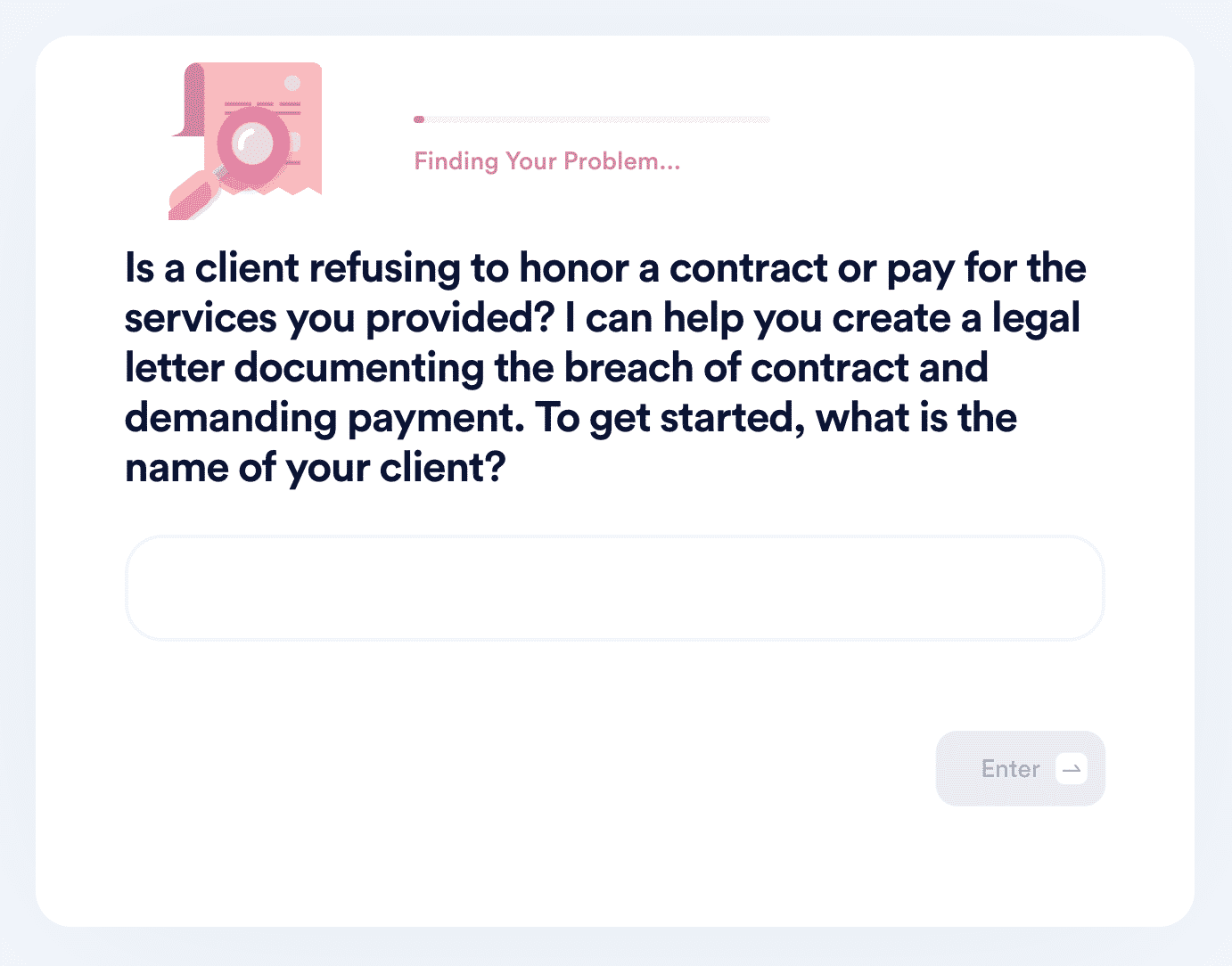 DoNotPay has plenty of state-specific articles regarding breach of contract—you can find them in the table below:
Get the Upper Hand With DoNotPay
The business world is extremely competitive—that is why it is always good to have some extra capital set aside when you need to invest in your company. You can leave the bureaucratic task to us—DoNotPay will draw up business loan request letters in your stead.
If your finances are taking a hit, rely on our app. With our assistance, you will be able to:
Fight fraudulent chargebacks
Remove fake negative reviews online
Register and protect your trademark
Send mail and faxes at no additional cost
Handle clients breaching contracts and get what you are owed
Whatever the task at hand, our AI-powered app will see it through successfully.
DoNotPay—The Assistant Every Business Needs
You cannot escape bureaucracy in business. What you can do is let DoNotPay deal with it. Whether you need to register a DMCA agent or complete an Employer Identification Number (EIN) registration, our app will lead the way.
Using DoNotPay, you will also not have to worry about 83(b) election forms or Privacy Shield self-certification. From generating to filing important documents and from dealing with employees to handling clients on your behalf, our AI-driven app is your go-to solution.
Grow and protect your business with the world's first robot lawyer!