Are Turkey Tourist Visas Difficult To Obtain? Find Out Here!
You can't wait to visit the Land of Four Seasons and enjoy its wonderful climate, cuisine, and travel destinations, but Turkey tourist visas can be difficult to obtain, especially if you try to do it on your own. DoNotPay is here to help you apply for your visa, so you can focus on your vacation. Sign up for our service and prepare for your trip stress-free!
Do Americans Need a Tourist Visa for Turkey?
Most foreign citizens, including U.S. residents, must get a tourist visa for their vacation in Turkey.
Once you obtain a visa, you can use it within 180 days to enter Turkey once. If you need to enter multiple times, you need to specify that you need a multiple entry visa during your application.
Turkey Tourist Visa Requirements
To apply for a Turkey visa, you must:
Have a passport that stays valid for at least 150 days (five months) from your arrival in Turkey
Provide an email address where you can get notified about your visa status
Pay the visa fee
Note that you should request a visa at least 48 hours before your departure date—the sooner you do it, the better. Your application will be assessed by the Turkish immigration department. Until you get confirmation, it's best not to book flights or accommodation.
The time required for the review is usually 24 hours. Once you get accepted, print out your visa and bring it with you.
Applying for a Turkey Tourist Visa for U.S. Citizens
Instead of visiting an embassy and acquiring the visa in person, travelers can submit a visa request online. When applying for a Turkish visa online, make sure to use the official government visa application website instead of third-party websites.
You can find the right link alongside clear instructions for applying below:
Open the e-Visa website
Double-click on Apply
Select U.S.A. from the country dropdown menu
Select ordinary passport as the travel document of choice
Enter the CAPTCHA code
Type your arrival date to Turkey
Click Save and Continue
Enter your personal and passport details
Choose Save and Continue
Once you get notified of your visa approval, you need to:
Go back to the e-Visa website and select to Make Payment.
Enter your visa reference and passport numbers, email address, and the CAPTCHA code
Click on Continue
Enter your credit card info and pay the fee
If you wish to save your e-Visa, click on Download and enter the necessary info to obtain your visa in digital form and print it.
Other Requirements To Enter Turkey
Every visitor aged six or older must provide a negative PCR test not older than 72 hours when boarding their flight for Turkey.
In addition to testing, the Turkish Ministry of Health also requires you to complete a passenger locator entry form 72 hours before traveling. Fill in your information and follow the on-screen instructions to get this form ready.
Upon completion, you'll receive a HES code that you need to keep with you in digital or paper form.
DoNotPay Is the Visa Assistant You Were Looking For!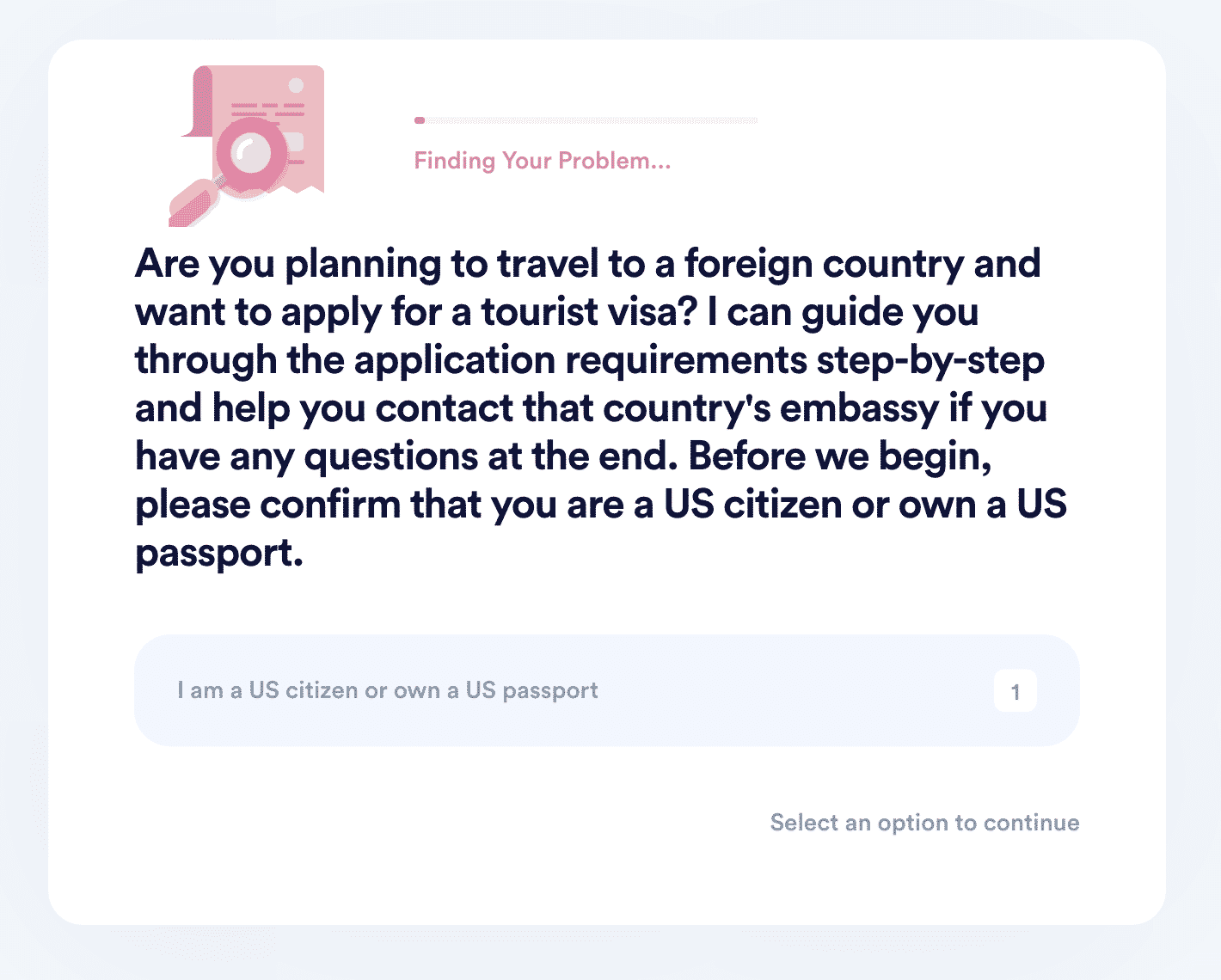 Visa applications take a lot of time and effort, but not as much with DoNotPay! We can check if you need a visa to enter a country, contact embassies in your name, provide you with links needed to apply for visas, and more!
All it takes for you to take advantage of our streamlined service is to:
Select the Tourist Visa Guide feature
Confirm that you have a U.S. passport and tell us where you're traveling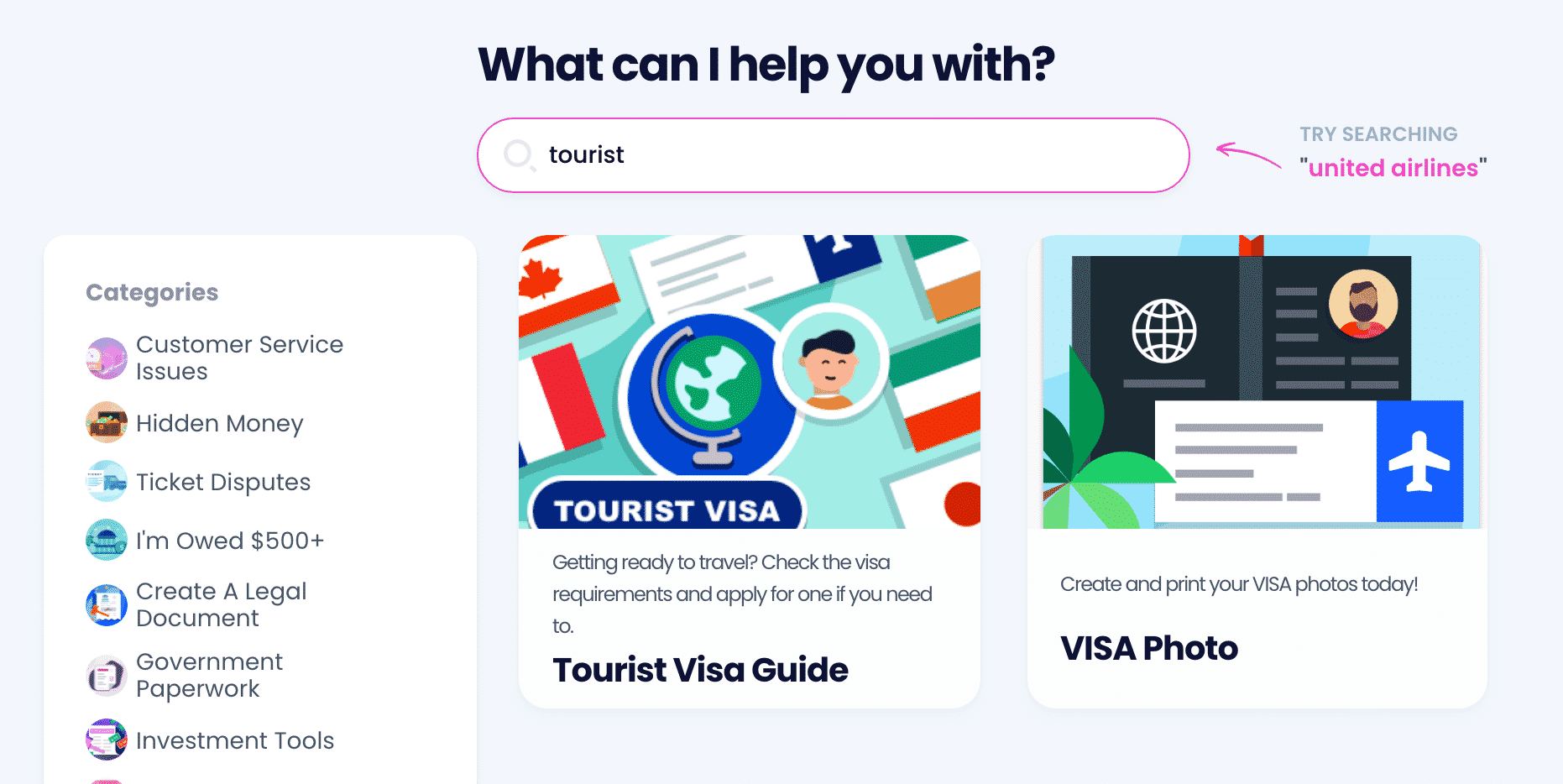 DoNotPay's Guides for Tourist Visas Across Europe
We can help you get visa info for all of the countries listed in the table below:
Tips and Recommendations for Traveling to Turkey
People visit Turkey because:
The food is on another level—Nothing beats sarma, baklava, borek, kebap, and many other traditional delicacies
The climate is diverse and terrific—That's how Turkey got its nickname "the Land of Four Seasons"
There's an abundance of mesmerizing landscapes, cities, and historical monuments—Turkey's culture spans many centuries
It has a wide choice of places for a summer vacation—The hotels are affordable, and the service is stellar
First-time travelers to Turkey could find these tips useful:
General Travel Advice
Foods and Drinks
The Hottest Turkey Travel Destinations

It's best to exchange your money for Turkish liras. Every bank, post, and exchange office accepts dollars
Buses are probably the best means of transportation if you don't want to rent a car. When using taxis, make sure they have taximeters because those without one tend to be expensive
Turks are famous for haggling, and they won't be offended if you try to lower their prices at markets or other street shops

All pastries are godly
Their coffee is great
Turkish sweets are a must-try
Meat lovers will adore Turkish grilled and roasted specialties

Aya Sofya Museum—A famous tourist attraction is a blast from the past that shows authentic Constantinople's remains, and it's a must-see
Pamukkale—The Cotton Castle is a unique Turkish natural wonder with a marvelous landscape
Antalya—Great for holidays but also exploration thanks to its splendid architecture
Safranbolu—The most famous Turkish Ottoman town with rich history, tradition, sweets, and souvenirs
Discover the Entire Spectrum of Our Features
A click or two will be enough to discover the amazing universe of DoNotPay's tools and products. Our app is here to show you the best way to get:
Financial Issues? Let DoNotPay Take Care of Them!
DoNotPay can track down your unclaimed money, submit insurance claims, or request compensation for delayed flights on your behalf. This way, you can save some money and get what you're owed. Our app can also make it easier for you to lower your utility bills, cancel active subscriptions and stop further charges, or appeal parking tickets.