DoNotPay Unveils the Tunisia Tourist Visa Requirements
Do you want to explore Tunisia's historical monuments, ride a camel into the sunset, or try the local cuisine? To ensure you cross the Tunisian border with no issues, you should learn what the entry requirements entail. You don't have to browse through numerous pages to find the information you need, though!
DoNotPay gives you the lowdown on Tunisia tourist visa requirements for U.S. citizens and other paperwork you might need to bring along!
Do U.S. Citizens Need a Tourist Visa for Tunisia?
U.S. citizens don't have to apply for a tourist visa to enter Tunisia. Now that you know there's no need to check the Tunisia tourist visa requirements, you should become familiar with what the country's entry requirements entail. The Tunisian government requires you to provide a U.S. passport valid for six months after the entry date with enough blank space to accommodate stamps.
You can stay for up to 90 days in Tunisia without a tourist visa. If you want to stay longer than 90 days, you need to request a long-stay visa and residence permit.
COVID-19 in Tunisia—Restrictions and Requirements
Due to the ongoing pandemic, the Tunisian government has the following restrictions in place:
All passengers aged two or older need to have a negative result of a Reverse Transcription Polymerase Chain Reaction (RT-PCR) test taken 72 hours prior to departure
All tourists will have to self-isolate for seven days at a government-selected hotel. They will also have to schedule and pay for another RT-PCR test by themselves between the fifth and seventh day of isolation
Before traveling to Tunisia, you should also keep in mind that:
The country has a curfew in effect, from 10 p.m. to 5 a.m. every day
Most shops, malls, and restaurants are open but with limited capacity
All of these restrictions can change in the future, so you should check the website of the U.S. Embassy in Tunisia for updates
Who To Call To Inquire About Tunisian Entry Requirements
Suppose you have any concerns regarding your upcoming trip to Tunisia. In that case, you can contact one of the two Tunisian diplomatic missions in the United States using the information from the table below:
Diplomatic Mission
Phone Number
Email
Address
The Embassy of Tunisia in Washington DC
202-862-1850
AT.Washington@Tunisianembassy.org
Embassy of the Republic of Tunisia

1515 Massachusetts Ave N.W

Washington D.C 20005

The Tunisian Honorary Consulate in Miami
305-858-5456
deborahbj@ureach.com
Tunisian Honorary Consulate in Miami, United States - American Central Insurance Agency, Inc - 1236 Miami, FL 33145-2923
Why DoNotPay Is a Powerful Tool for Tourists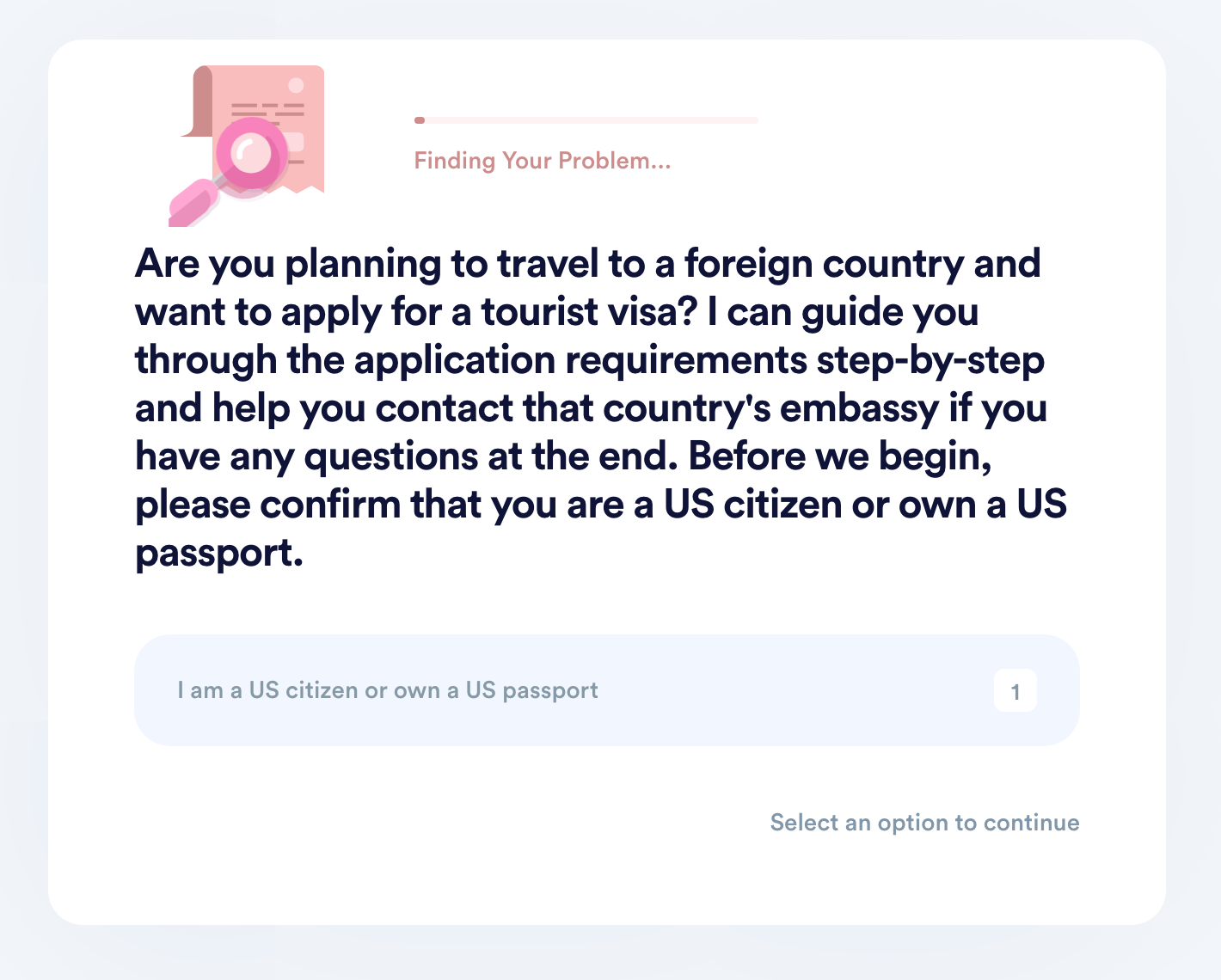 Nothing can ruin the joys of preparing for a vacation as paperwork and bureaucracy, but don't fret—DoNotPay can help! Instead of spending hours researching tourist visas and their requirements, our app offers you complete and up-to-date information in one place.
DoNotPay can help you prepare for your next trip and submit a flawless tourist visa application if necessary by:
Helping you find out:

Whether you need a tourist visa for your next destination
How long you can stay in the country without a tourist visa
Whether you have all you need to apply for the desired destination's tourist visa

Delivering:

A direct link to the online tourist visa application if the country offers one
A step-by-step PDF guide explaining the traditional application process at the country's embassy
If you want to ensure a smooth application process for all of your future tourist visas, you should:
Access the Tourist Visa Guide product
Confirm that you're a U.S. citizen or passport holder
Enter the country you want to visit next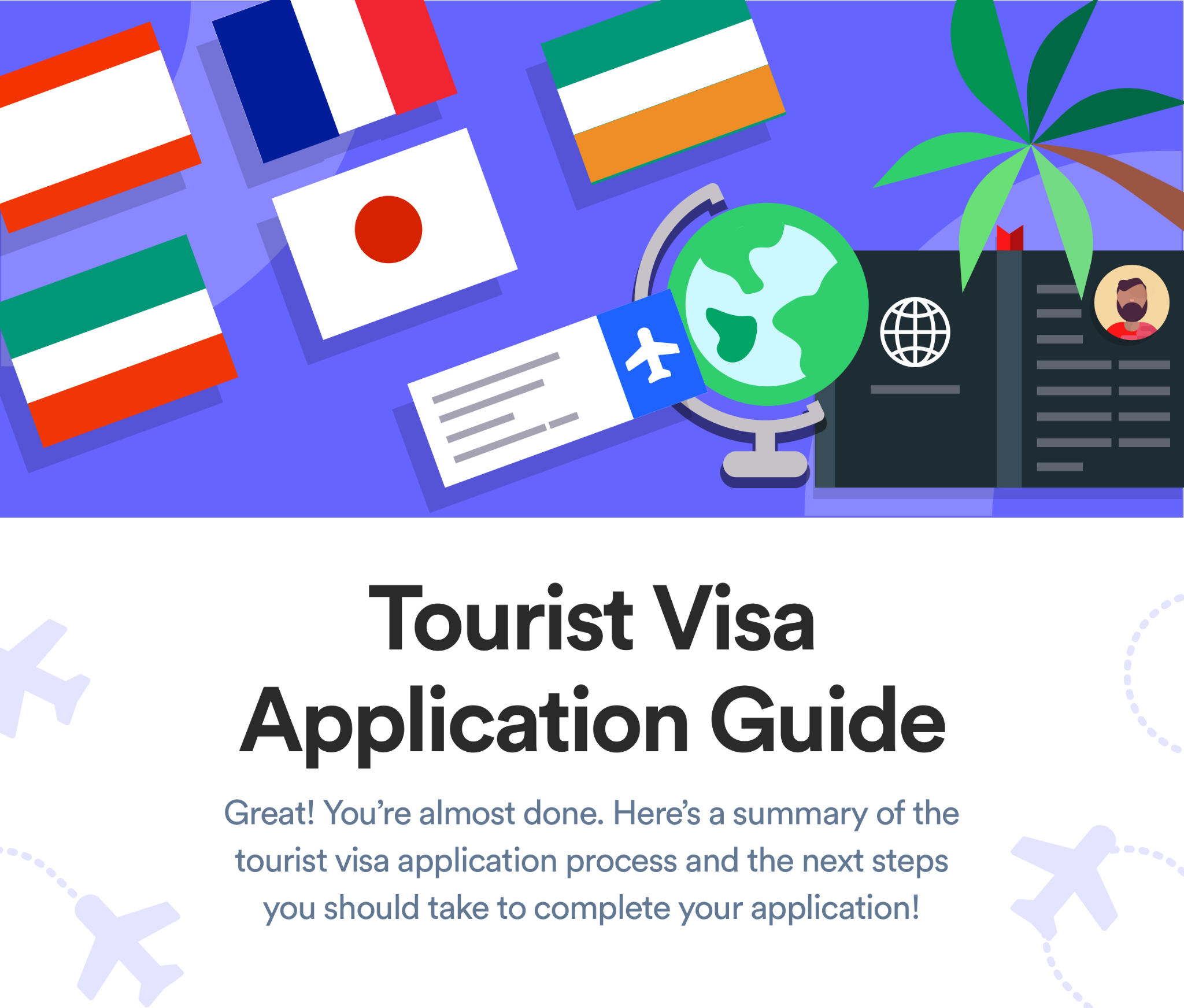 Africa and the Meditteranean Are Within Your Reach With DoNotPay
Tunisia offers the best of both Africa and the Meditteranean, and its convenient position allows you to continue your vacation in the countries of either side. Whichever you opt for, you can subscribe to DoNotPay to find out what the visa policy of a specific country is and avoid being denied entry. You should consult the following table to check which countries' visa and entry requirements we've already explained:

Explore Tunisia With Our Travel Recommendations
Use the table below to get ideas on what to do and explore once you arrive in Tunisia:
Category
Recommendations
Historical sites

Dougga
El Jem Amphitheater
Great Mosque in Keruan (Ukbetova Mosque)
Sousse Ribat
Zaytuna Mosque
Antonine Baths
Bab El Bhar
Byrsa Hill
Ribat
Acropolium of Carthage
Salammbo Tophet

Beaches

Hammamet
Djerba
Plage de Chaffar
Gammarth
La Goulette
Sidi Bou Said
La Marsa
El Haouaria
Cap Angela
Monastir

Activities

Exploring Matmata Caves
Hot air ballooning
Diving
Windsurfing
Camel riding
Museum touring
Bird watching
Trekking

Traditional dishes

Kafteji
Fricassee
Harissa
Msemen
Shakshouka
Couscous
Brik
Mechouia salad
Lablabi
Ojja
DoNotPay Goes the Extra Mile for You
We are dedicated to providing solutions to difficult and time-consuming tasks you may have on your to-do list. If you are struggling to reduce your monthly bills, contest parking tickets, or set DMV appointments, DoNotPay will help you do it in no time!
We have also created numerous easy-to-use features that can make the following procedures run smoothly:
Get Justice From Companies That Wronged You
Do you feel like you have been played by a company? Instead of wasting your time writing requests, demand a chargeback or refund or claim a warranty via DoNotPay! If the company doesn't seem too cooperative and keeps refusing to return your money, our app can assist you in suing it in small claims court.
To help you save some coins or regain what's yours, DoNotPay will also help you locate unclaimed funds, submit insurance claims, lower your property taxes, and cash out gift cards.