Quick Ways To Draft a
Trust Agreement
Are you looking for a way to draft your trust agreement without having to waste time and money on legal advisors? You're in luck! We provide you with step-by-step instructions on how to draw up your agreement effortlessly!
In case you need assistance with other agreements, DoNotPay can generate various contracts in your stead! From the prenuptial agreement to the non-compete contract—our app has got you covered!
Understanding the
Trust Agreement
The trust agreement is used as a legally binding contract between at least two parties. The agreement serves as a way for one party to transfer assets to another. The assets can include property, funds, real estate, ownership rights, and more.
The trust agreement should define the rules, duties, and responsibilities of everyone involved. This type of document is mostly used to ensure that the assets are transferred from one person to another after his or her demise. 
That's not the only case when the trust agreement comes in handy. One of the benefits of the living trust agreement is that it allows you to distribute the assets however you see fit and change the arrangement whenever you want.
How Can I Create the
Trust Agreement
by Myself?
Drafting a contract can be troublesome, so let us take some burden off your back. We present you with a list of all the items you should incorporate in your trust agreement. We also make sure to explain every section in detail, so if you follow the list provided below, you'll have your trust agreement ready in no time.
Title and identification

Definitions

The distribution of trust property

Debt payments and insurance policy

Provisions

Signatures
Title and Identification
The title should state Trust Agreement, and you should follow it up with the effective date of the agreement. In the first section, include the title of your agreement.
Definitions
Explain each term you use in the agreement, such as:
Beneficiary

Effective date

Code

Eligible person
Elaborating on this helps the other parties understand everything clearly.
The Distribution of Trust Property
You have the authority to decide what happens with the disposition of the property. Appoint the duties for each party and state them in this section.
Say how the trust property will be distributed if anything happens to you. You have to decide how you want your assets to be distributed among family members or other parties. Make sure to specify the details of the distribution clearly.
Debt Payments and Insurance Policy
Define what should be done in case anything happens to you. Say who will be responsible for ensuring payments, taxes, and other expenses.
You hold the right to sell or transfer the insurance policy to another party. Make sure to state that and specify all the details regarding the insurance policy that may concern other parties.
Signatures
At the end of your agreement, both you and the parties involved need to sign it. You will need to get two witnesses and have them sign the trust agreement.
Why Is Having the
Trust Agreement
a Good Idea?
If you are wondering whether the trust agreement is the right choice for you, look at the table below for a few benefits it provides.
Having a trust agreement can prove useful for several reasons, including:
Benefit

Description

Avoidance of Probate

When someone dies, the beneficiaries usually can't access the inheritance right away but have to go through a process called probate. 

With the trust agreement, this procedure takes less time and is less complicated

Privacy

The probate is an open process where a person's assets become public knowledge. With the trust agreement, no one can access that private information even after someone's death

Flexibility

You have to transfer the ownership of your assets in the trust agreement, but you still have the flexibility to deal with them however you want to
Curious How You Can Draft Legal Documents the Easy Way? DoNotPay Is the Answer!
Finding simple and time-saving methods of drafting legal documents is no easy task. That is why we provide you with an option to generate your contracts in a matter of minutes! The best part is that it takes almost no effort on your part! We do most of the work! All you need to do is follow the next few simple steps, and you're all set:
Access DoNotPay from any

web browser

Provide us with the

name of the document or contract

you want us to draw up

Supply us with some additional info, such as the names of the parties and their addresses
Depending on the document in question, the parties involved will have to either sign it or notarize it. Once you are done with that, your contract will be ready.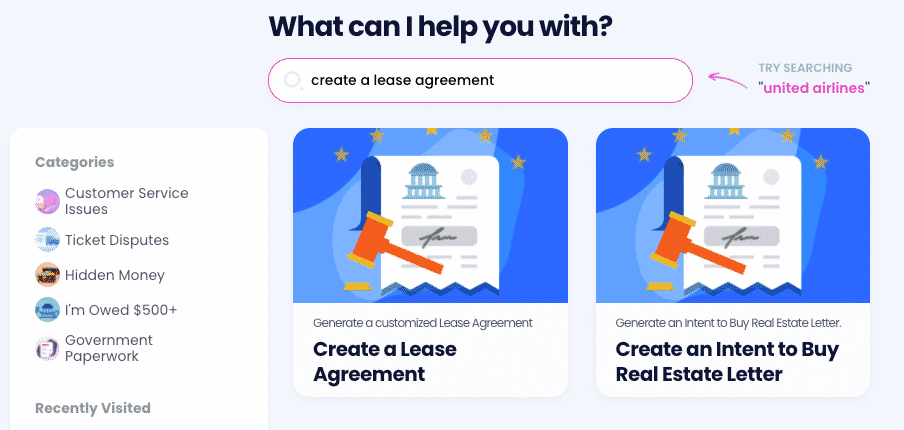 We can generate a ton of contracts and assist you in creating numerous legal documents! If you are looking for assistance with any of the ones we listed below, count on our app to provide you with the most simple and user-friendly instructions:
General Business Contract

Intent to Purchase Real Estate

Estoppel Certificate

Quitclaim Deed

General Affidavit

Promissory Note
DoNotPay Helps You Claim Your Money
Our virtual assistant app makes sure you get back funds that are rightfully yours.
Whether you need to claim insurance, warranties, or your property held by the state, we will help you do it in minutes.
DoNotPay can also help you initiate a chargeback on any transaction you disagree with. We can help you secure compensation from airlines, robocall and text scammers, or in case you've been a victim of a crime.
In case you are dealing with an unfair company regarding your subscription cancellation or any other matter, we can help you get your money back by suing them in small claims court.
Bypass the Administration With DoNotPay
There's no more need for extensive research, abundant paperwork, or endless phone calls with customer service reps.
DoNotPay brings the administrative nonsense to a minimum.
Book DMV appointments fast and easy, appeal your parking citations, sign up for free trials without disclosing your credit card info or phone number, or reach your loved ones in jail—all in less than five minutes.
We also generate any legal document, provide full access to public records, offer DMCA protection, and reduce your property taxes with a few clicks.