How to Remove TRS Recovery Services From Your Credit Report
TRS Recovery Services is a minor debt collection business established in 1989. It is an industry-leading supplier of collection services in various business categories. On an outbound and inbound call basis, around 200 individuals support such benefits. Whatever brought you into , you'll most likely want to discontinue your engagement with the firm and have the collection account removed from your credit reports.
DoNotPay can help you remove debt collectors from your credit record and raise your score. Removing TRS recovery services from credit reports might help you improve your credit score by 30 points or more. DoNotPay is a more accessible, automatic, and less irritating solution for the reader to address their problem.
What Are TRS Recovery Services?
 is a debt collection agency that appears on your credit record after buying your debt from a creditor (i.e., a credit card or loan company). They may try to contact you by mail or phone calls demanding payment.
This lowers your credit score and your chances of being accepted for a loan or other major financial event. A collection account is a blemish on your credit report and might harm your credit score. Thus, it would be best to get your credit report cleaned as soon as possible.
Here's the contact information for TRS Recovery Services:
Mailing Address
TRS Recovery Services, Inc.

Attention: TRS Resolutions Department

P.O. Box 674169

Marietta GA 30006

Fax:
402-916-8140
Online Inquiries
Contact Form
Why Do You Need a Clean Credit Report?
A clean credit report is critical because it influences the borrowing rates and whether a lender will want security or a co-signer for your loan. A clean credit record demonstrates your commitment to paying your debts.
A good credit report demonstrates that your overall debt is within the usual borrowing range and that you fulfill the lender's criteria for extra credit at affordable rates. That is why it is important to dispute anything on your credit report that should not be there in the first place.
Strategies for Successfully Disputing Your Credit Report 
There are a few helpful hints and tricks for successfully disputing your credit report. Sure, you'll need to fill out the dispute forms and everything. However, there are some recommendations for achieving the best results and ultimately winning the dispute.
Dealing with credit bureaus and creditors can be daunting and time-consuming due to the back-and-forth process. They don't give a response as expected, necessitating follow-up letters.
This is where you play the number game and send as many goodwill letters in bulk as possible. Rather than sending one letter, send ten. And repeat the process in batches to increase your chances of success.
Hire a Credit Cleanup Professional
Even disputing a single negative item on your credit report can take time and effort. First and foremost, you must communicate with your creditors, or you'll have to contact each credit bureau individually.
Hiring a professional credit cleaning service is one way to speed up the process and save time. They are knowledgeable about credit laws and can guide you through the process quickly and efficiently. Furthermore, they understand how to deal with credit bureaus when they do not respond favorably.
Use DoNotPay
DoNotPay is a way to level the playing field for your credit report. DoNotPay can work on your behalf quickly and efficiently to dispute your credit report with the credit bureau and reporting agencies.
Solve the TRS Recovery Services Issue With the Help of DoNotPay
Cleaning up your credit report entails eliminating false information, out-of-date entries, and even typos. DoNotPay will file the necessary debt validation letter to correct mistakes or erase obsolete entries from your credit record.
If you've been putting off improving your credit, this might be the push you need. DoNotPay will show you precisely what's generating your credit problems, which might be helpful if you're unsure why your credit score is low. It's less complicated and faster than attempting to restore your credit on your own.
If you want to clean up your credit report but don't know where to start, DoNotPay has you covered in 3 easy steps:
Search Clean Credit Report on DoNotPay.

 

Prepare a recent copy of your credit report that you can use as reference.

 

Let us guide you through the four potential options:
If you've already paid off your debt, we'll help you file a Goodwill Removal Request to get it removed.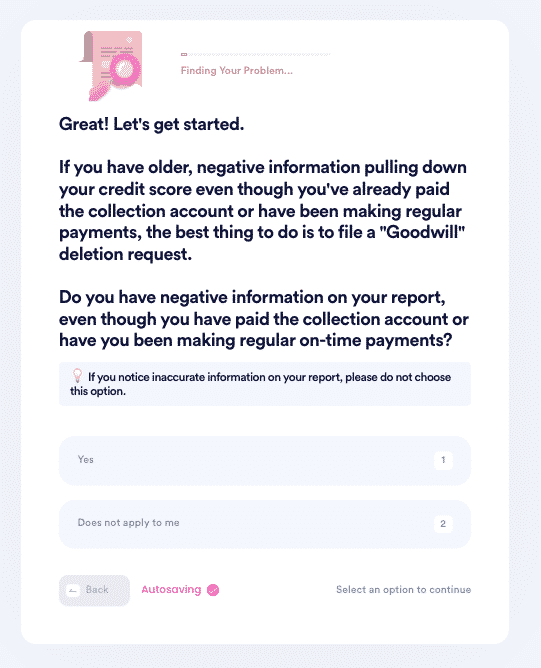 If you notice any errors in your report (we have a list of common errors you can use!), we'll help you file a credit dispute to the creditor or major credit bureaus.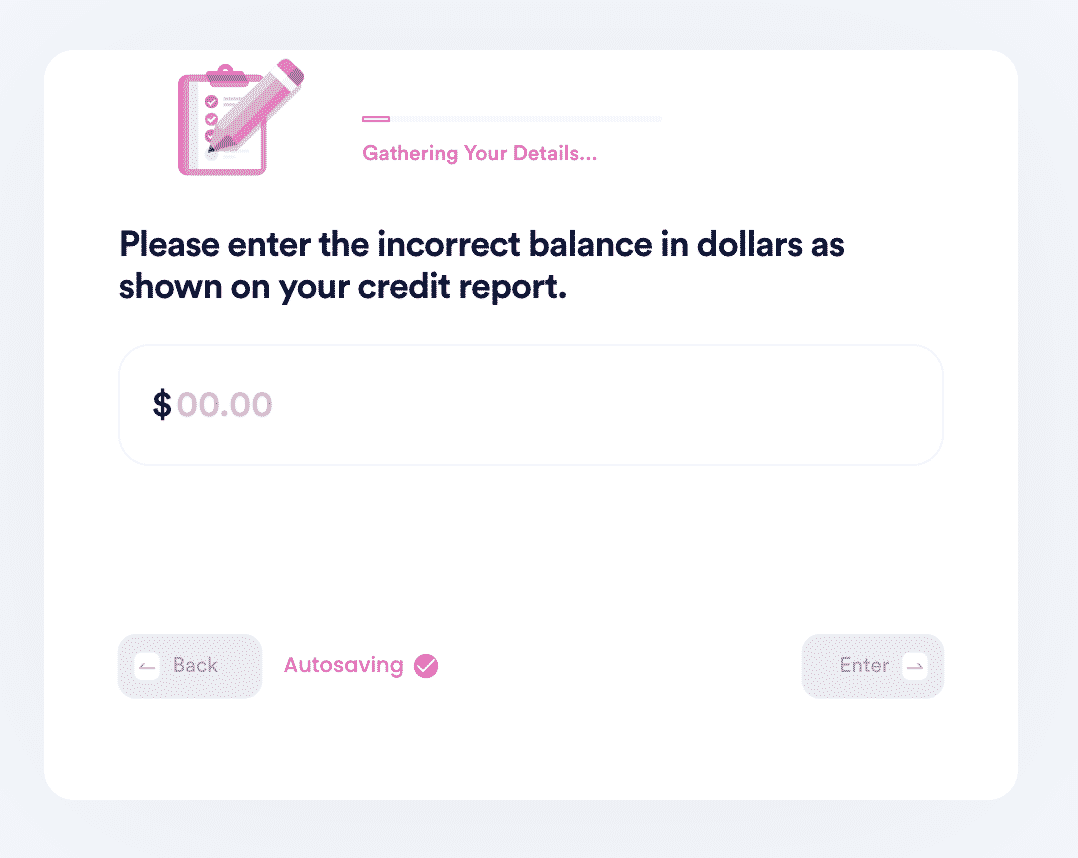 If there are no errors, we'll check if you're still eligible to file a debt validation request. If they can't validate your debt, they're required to remove it from your report, and they can't collect it!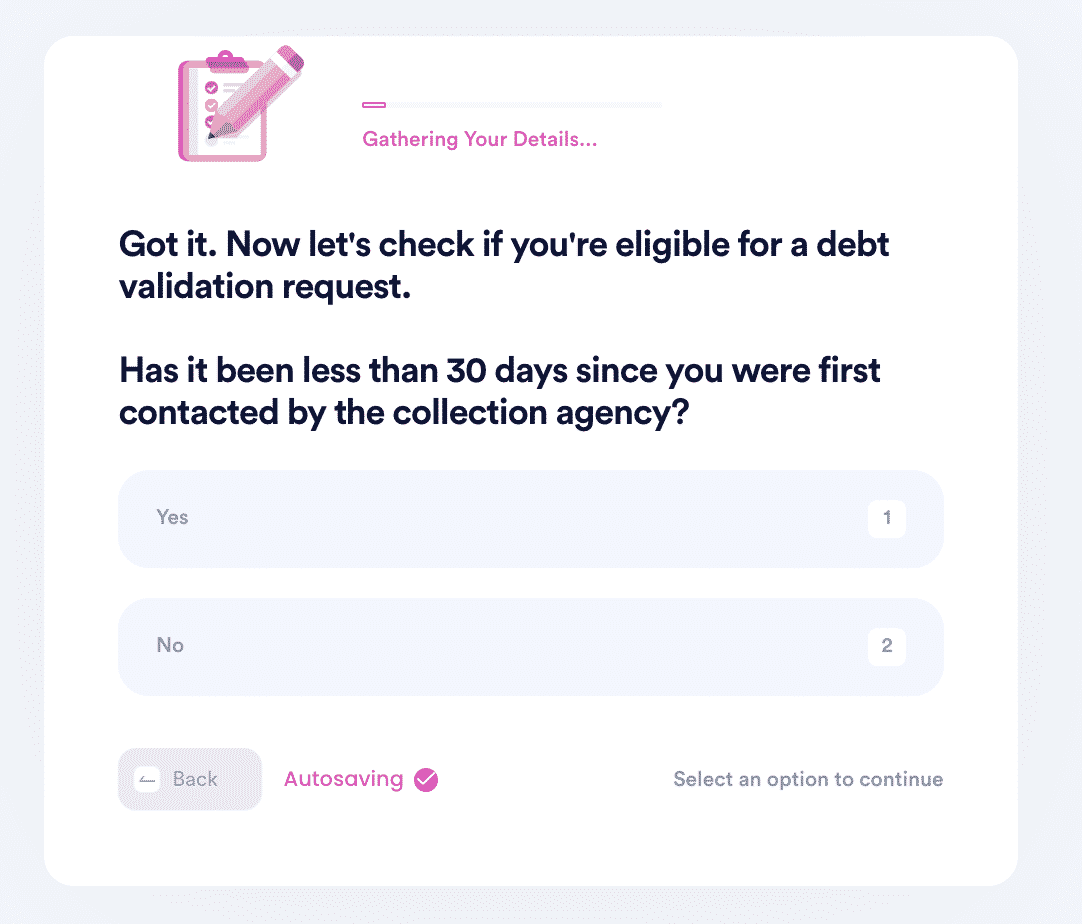 Lastly, if none of the above options work, we'll help you file a pay-to-delete negotiation letter. You can customize the amount you are willing to pay to get the item removed.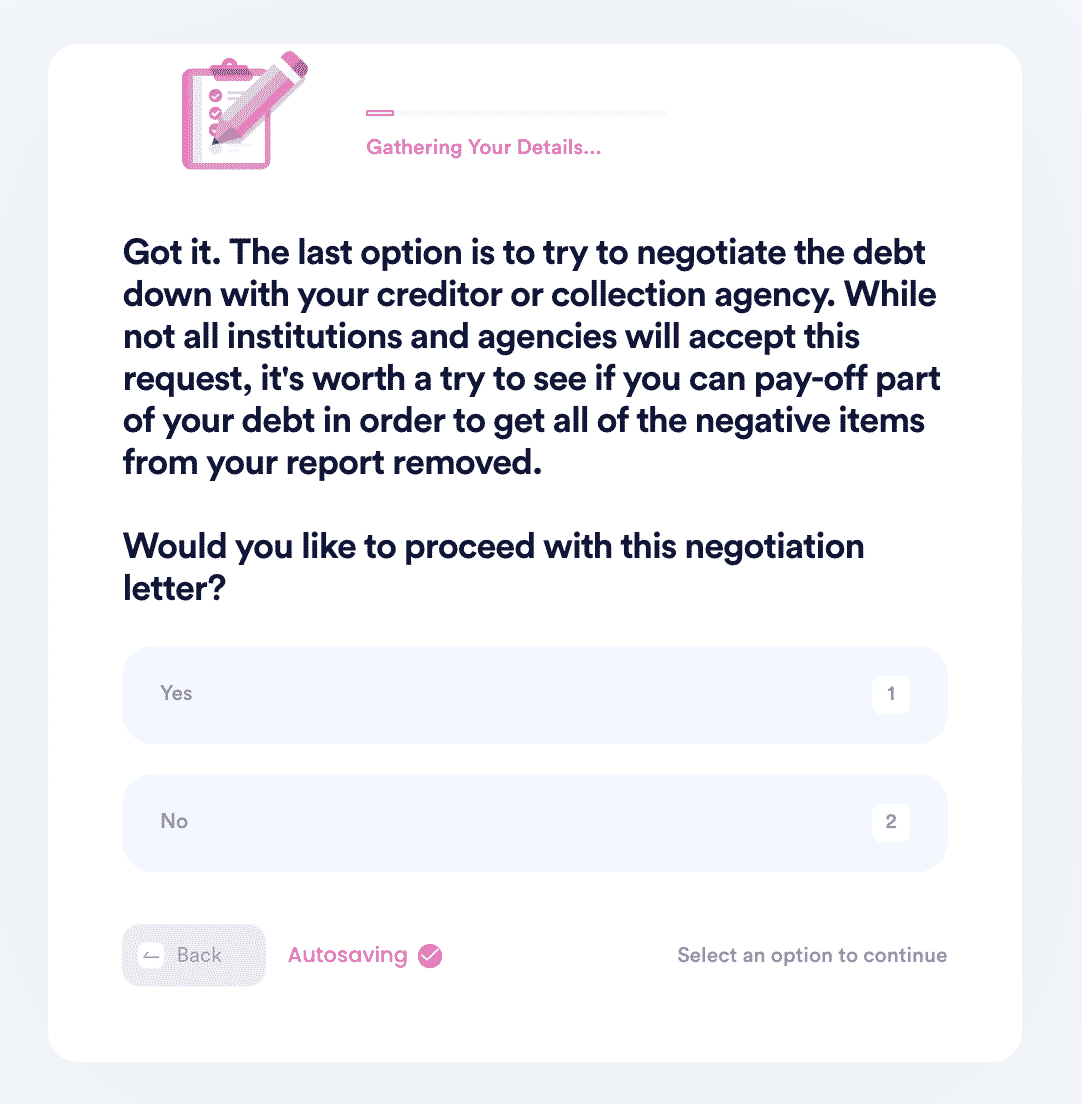 You can also check out our other credit products, including Credit Limit Increase, Get My Credit Report, Keep Unused Cards Active, and more!
Why Use DoNotPay to Solve Your Credit Report Disputes
Dealing with creditors and credit bureaus is not a problem that can be solved by simply picking up the phone or connecting to the internet. The procedure entails the creation of a credit dispute letter outlining the error discovered in this credit report. In addition to writing this letter, you will need to submit supporting documents, including claims evidence.
Following that, the credit bureau may request that the credit card provider or anyone who provided the information participate in the investigation.  More often than not, there are times when individuals end up being lost with the handling of the entire process.
You don't have to stress yourself over the process. With DoNotPay, cleaning up your credit report is:
Fast: You don't have to spend hours solving the issue. DoNotPay will do all that for you, plus they know how to steer the process in a timely and systemic manner.
Easy: With DoNotPay, you don't have to struggle to fill out tedious forms or keep track of all the steps involved in solving your problem.
Successful: You can rest assured knowing we'll make the best case for you.
Getting slapped with high-interest rates on a new credit card, high insurance, or, even worse, being denied a loan or mortgage can dash your hopes. Let DoNotPay help you clean up your credit report by fixing issues, removing late payments, disputing errors, taking out inquiries, and improving your overall credit score.
What Else Can DoNotPay Do?
Besides helping you fix your credit score, DoNotPay can also help you: