How to Request Medical Records From Trinity Health
Trinity Health is a network of hospitals committed to offering quality and affordable health care to all its patients. Medical records are safely kept for years, and patients can access their records online or as printed copies.
Trinity Health cannot release any medical records unless with authorization from the patient. Therefore, you should sign a Release of Information (ROI) form and submit it to the medical records department to request medical records. The hospital will receive documents sent via mail, fax, or dropped in person at the relevant office.
While you can easily request medical records yourself, it may be exhausting to put the documents together and mail them to Trinity. However, DoNotPay can help you access your Trinity medical records through its Request Medical Records product.
What Types of Medical Records Are Restricted From Being Released?
According to the Health Insurance Portability and Accountability Act (HIPAA) and other federal and state laws, it's your right to access all your medical records. However, Trinity might restrict some of the records for different reasons. These reasons may include the following.
The patient may request the hospital to keep some or all their medical records private for various reasons. For example, the patient may not want their insurance provider to know their condition or treatment plan.
The records may reveal information on the patient's condition, especially in a newsworthy case.
If the records are meant to be used as evidence in a court of law.
If the records reveal a person's identity, who has been promised confidentiality.
If the records contain sensitive information regarding the patient's condition like HIV status, Mental Illness, or STDs.
The hospital may require special authorization to release restricted information to relevant people. For example, if the patient requested the hospital to keep their medical records private, the hospital cannot release the records to anyone until the patient authorizes it.
How to Request Medical Records From Trinity Health
Trinity Health has a straightforward process, and you can get your medical records within a few weeks. You can access your medical records online or get copies of them sent to you once the hospital prepares them. Here's how to go about it.
Visit the hospital's website to download the Request of Information (ROI) form or go to the hospital's medical records department to get the form.
Fill out the form correctly, entering all the required details. For example, you may need to specify the dates for different procedures like immunizations, cardiology procedures, knee treatment, etc.
Submit the signed form via mail, fax, or in-person.
Once the Release of Information is received, the release process may take up to 30 days. It might take longer when there is an influx of requests and the hospital processes the requests on a first-come, first-served basis. 
Charges for the medical records may differ depending on the number of pages and other additional records like imaging C.D.s. Once your request is processed and your charges determined, an ROI specialist will contact you via phone or email to inform you about it.
You can make payments in cash, money order, credit card, or check before collecting your medical records or having them sent to you. If you need to contact Kadlec for any inquiries on medical records, you can use the information in the following table.
Trinity Health Contact
Email
Trinity.ROI@trinityhealth.org
Phone Number
701-857-5390
Fax
701-857-5778 or 701-857-7879
Mailing Address
Trinity Health ROI

P.O. Box 5020

Minot, ND 58702
How to Transfer Medical Records to Trinity Health
Federal and state laws allow you to get services from a health service provider of your choice. However, if, for any reason, you choose to move to Trinity Health, you may need to transfer your medical records to your new doctor.
The previous hospital can transfer your records, or you can choose to collect them and submit them to your new doctor. If you experience any difficulties transferring your medical records from any hospital to Trinity Health, DoNotPay can help you. 
How to Request Medical Records From Trinity Health With the Help of DoNotPay
Trinity Health is keen on keeping medical records safe and availing them to its patients whenever they are needed. While you can apply for these records yourself, DoNotPay takes away the hassle of filling out forms and mailing them and does everything for you.
Through DoNotPay's Request Medical Records product, you can access your medical records in a few simple steps. Here's how it works.
1. Look up medical records on DoNotPay's website.

2. Enter the name of the health care provider you'd like to receive medical records from.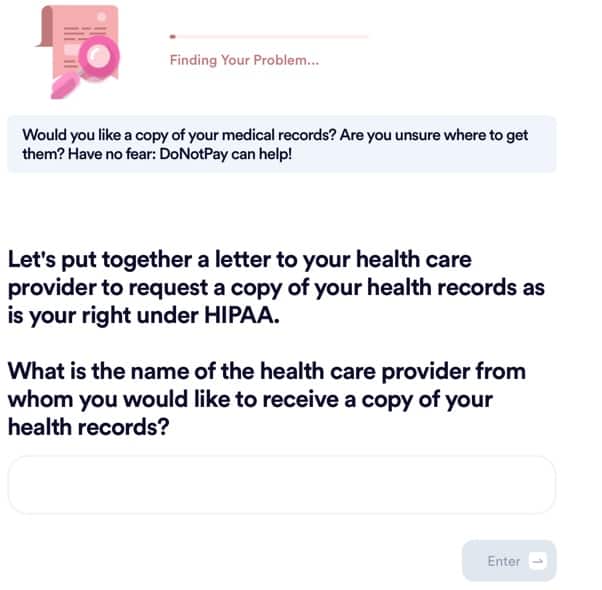 3. Answer a few questions about your provider and where you'd like to send the records.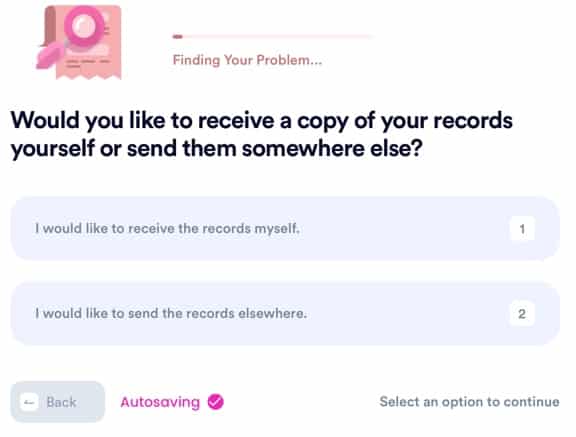 And that's it! DoNotPay will send your request for medical records to your health care provider within a few days, and you should have your records received within a few weeks!
What Else Can DoNotPay Do? 
Some of the areas DoNotPay can help include the following.
Check out DoNotPay's Request Medical Records product for more information.