Your Tripartite Agreement Doesn't Have To Be Complicated—Learn All You Need To Know Here
At first glance, a tripartite agreement may sound confusing—especially since it is used in a variety of different contexts. 
The only aspect that makes this legal document unique is that it involves three parties entering into an agreement rather than two.
If the prospect of drawing up and signing a tripartite agreement has been giving you headaches, you don't have to worry. DoNotPay will give you all the answers you need, along with the chance to generate a number of different contracts when you !
What Are Tripartite Agreements—A Breakdown
A tripartite agreement is a legally-binding document signed by three parties. The word 'tripartite' literally means 'tri-party,' which is where the name of the agreement comes from and why the contract is also sometimes called a tri-party agreement. 
Regardless of the purpose for which you use a tripartite agreement, the document needs to:
Define the exchange or the reason the parties are using it

Present the interests and the perspectives of all parties involved

State the terms, obligations, and legal consequences in case of breach for all parties

Be signed by all three parties
The parties involved need to sign the document in the country they are doing business in for the contract to be legally enforceable.
In What Contexts Are Tripartite Agreements Used?
You can use a tripartite agreement in any given context if you are dealing with legal matters involving two parties besides yourself. Tripartite agreements are most commonly used when dealing with:
Business

—particularly by human resources departments in international companies 

Real estate

—especially when a loan is placed on a property that's still under construction 
Check out the table below to see a further explanation of tripartite agreements in the two contexts in which they are most often used:
| | |
| --- | --- |
| Context | Why a Tripartite Agreement Is Used |
| Business | Multinational companies usually use a tripartite agreement when they need to transfer an employee from one subsidiary to another. Another instance in which businesses protect the interests of all parties involved by signing a tripartite agreement is when they want to outsource an employee. Outsourcing involves changing the position of an employee |
| Real estate purchase | When a buyer wants to get a loan to purchase property that is still in the construction phase, a tripartite agreement serves to protect the rights of the lender, the buyer, and the construction company, i.e., the developer |
Do You Need a Tripartite Agreement?
If you are doing business with two other parties—whether you need a home loan for a house that's under construction or want to transfer your employee from one subsidiary to another—you should consider drawing up a tripartite agreement.
Tripartite agreements protect your interests, regardless of the role you play in the transaction. 
For example, construction companies often rely on their individual construction contracts they sign to do their part of the work. They can't risk building property if there is a chance that the buyer won't pay them. Tripartite agreements protect the construction workers if it comes to that.
When it comes to human resources that transfer employees between subsidiaries, tripartite agreements help establish which employer has what obligations with regards to the transferred employees.
Key Sections in a Tripartite Agreement
Your document's content will vary depending on the context for which you're using it.
If you need a tripartite agreement for a house loan when the house is still under construction, the document needs to contain the following information:
The loan's interest rate

Construction progression details, including the property's purchase price and date of possession

Exact consequences of an agreement breach, i.e., what penalties a party will face in the case of a booking cancellation 

The developer's statement that they claim the legal title of the property
When companies use tripartite agreements to transfer employees from a subsidiary in one country to a subsidiary in another, the original employment contract is terminated without either party enjoying the benefits or incurring responsibilities of the usual breach of the agreement. In that case, a tripartite agreement includes the:
New length-of-service clause

Employee's consent to be transferred

Continuation of the terms that the original contract had

Indemnification clause that lists the legal ramifications of an agreement breach 
Make Legal Documents With DoNotPay in Three Short Steps!
Are you sick and tired of downloading contract templates from the internet that don't contain all the terms you need? Ever wondered if you could write your own contracts without hiring a pricey lawyer each time you need to enter into a legal agreement? DoNotPay makes this possible!
Our AI-powered app creates completely customized legal documents for you in a few short minutes.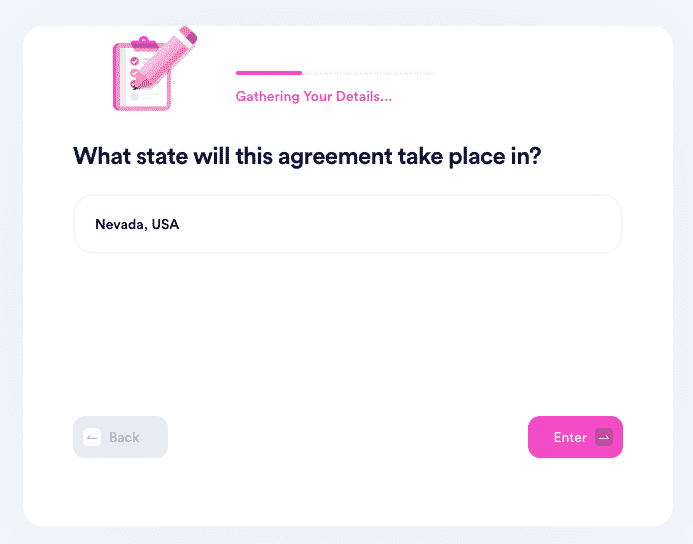 Here's what the process looks like:
Type in the name of the document you need

Provide the essential details about the document
You can now e-sign and notarize your document in one sitting by using our products!
DoNotPay generates different contracts for you, including:
Promissory note

Intent to purchase real estate

Estoppel certificate

General affidavit

General business contract

Quitclaim deed

Child care authorization form
Do Not Let Companies Burn Your Pocket—Fight Back With DoNotPay
In the golden age of consumerism, it's easy to fall for greedy corporations' tricks and waste your money, sometimes without even knowing it. We are here to nip the money-grabbing techniques in the bud!
With your DoNotPay account, you'll be able to sign up for free trials without worrying about losing money once the trial expires. Are you also concerned about your privacy since most free trials require credit card info? With DoNotPay's virtual credit card, your privacy will remain intact.
Say goodbye to drawn-out refund and cancellation processes with the virtual assistant extraordinaire by your side.
If you need help returning an item or claiming its insurance or warranty, we'll help you throughout the entire procedure.
Need Some Extra Money? Find Unclaimed Funds or Get Compensations
Whether you need help with bills, you're strapped for cash, or you just want to get your money back but you can't bear dealing with customer service, we know what to do!
DoNotPay can help you overturn your parking tickets, apply for a college fee waiver, lower your property taxes, and get free raffle tickets. We can also show you the best way to discover your unclaimed money and obtain different types of refunds and compensation involving airlines, gift cards, and late deliveries.