Travis County Divorce Doesn't Need To Be Your Alamo
Divorce is never a pleasant scenario, but the better you understand the process, the more you will be able to manage the trauma.
If you live in Travis County, divorce does not have to be expensive, painful, or drawn-out—if you and your spouse can work together, the process can be finalized in weeks.
DoNotPay has all the info you need on making your Travis County divorce manageable—you don't have to die a heroic death to get your freedom!
Who Is Eligible To Get Divorced in Travis County?
To be eligible to file for divorce in Travis County, you or your spouse need to have:
Lived in Texas for six months
Been a resident of the county for at least three months before you file
There is no mandatory separation period to observe, and you can file at any time in your marriage.
Texas is a no-fault divorce state, so you don't have to prove that your spouse has done anything wrong. It is enough for you to claim that irreconcilable differences exist between you and your spouse.
How Do You Start the Travis County Divorce Process?
The state of Texas provides many of the papers you need to start the process, including instructions and Travis County divorce forms:
The divorce process is as follows:
Filing papers
Negotiating and finalizing a settlement
Filing Papers
The forms you have to fill out in Travis County include the following:
Civil case information sheet
Financial affidavits concerning income, expenses, assets, and liabilities in the marriage
Answer or waiver of service forms for your spouse to fill out
Once you have completed the correct forms, you need to file them with the clerk of the Travis County civil court.
You will have to pay the Travis County filing fee of between $300 and $350, depending on the type of divorce you are filing for.
Serving Your Spouse
You have to arrange for a copy of the divorce papers to be delivered to your spouse unless they have given you a waiver of servitude.
A waiver of servitude is used in friendly on uncontested divorces where you and your spouse have reached an out-of-court settlement and are cooperating throughout the process.
If no such waiver is in place, your spouse must sign to confirm receipt of the divorce papers.
Having served the papers, your spouse has 30 days to file an answer to your filing. The answer should indicate whether or not your spouse is aiming for an uncontested divorce.
Negotiating and Finalizing a Settlement
As soon as the papers have been filed and your spouse served, the two of you can begin negotiating a settlement agreement.
The settlement agreement is a legal document that regulates how your family finances and responsibilities should be handled after the divorce, including:
Negotiating your settlement agreement can be tricky, and your options for reaching a consensus are:
| Settlement Negotiation Options | Explanation |
| --- | --- |
| Lawyer | Many couples automatically think of lawyers as the default option for negotiating their settlement agreement. Hiring attorneys can make the difference between a cheap and expensive divorce, though—the costs for an uncontested divorce in Travis County can easily come to over $4,000. If you can avoid them, lawyers may not be necessary to get your settlement agreement finalized |
| Mediation | If the broad terms of your settlement agreement are agreed upon and only minor details remain unresolved, you may be able to use a trained mediator to facilitate your negotiations. The mediation process could help you finalize your settlement without needing a lawyer to represent you |
| DIY | If you can collaborate and agree on your settlement, there is no need for a lawyer at all—you and your spouse can tie up your agreement face-to-face |
As soon as your settlement agreement is finalized, you can have it drafted as a contract for you and your spouse to sign and file with the court.
The process will then gather pace—with a settlement agreement in place, you should not need to attend court, and the judge will grant your Travis County divorce decree in as little as 60 days after filing.
Where Can You Get Your Travis County Settlement Agreement Drafted?
After you have agreed on the terms of your settlement, it's time to have it drawn up as a legally binding agreement.
Your options for this step are:
Lawyer—Capturing the details of your agreement could take a lawyer considerable time, charged at up to $400 per hour. You should take these potential costs into account
Online—Several websites offer online settlement agreement templates for you to fill out. While these are usually cheap, many of them are too generic to be of use in your specific circumstances
Your top option combines a tailor-made agreement that ticks all your boxes with no need for a lawyer—DoNotPay's Divorce Settlement Agreement feature can create the perfect document in a few clicks!
DoNotPay Sends in the Cavalry in Travis County!

Divorce is painful enough without you having to struggle to get your settlement agreement finalized!
DoNotPay's Divorce Settlement Agreement product is designed to give you a watertight and comprehensive document without the need for expensive attorneys.
Here's how to get your agreement created:
Sign up with DoNotPay in your web browser
Click on our Divorce Settlement Agreement feature
Give us the details you want to be included in your agreement
Over to us—once you have given us the terms of your agreement, we will generate the document in a flash. You and your spouse can sign it and have it notarized.
If you're not sure where to find a notary in Texas, we can even organize an online notarization for you!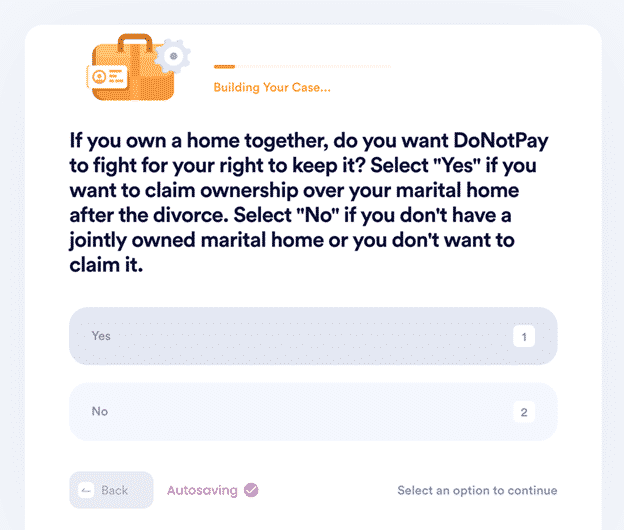 Need Info on Texas Divorce Procedures in Other Areas?
If you are looking for help with filing for divorce in other counties and cities in Texas, look no further than DoNotPay:
If you are in the military stationed in Texas, DoNotPay can also help with the divorce process!
What Other Issues Can Our App Solve?
DoNotPay can support you through various burdensome procedures and turn them into a breeze! Here's a table showing a tiny part of our extensive offer:
| DoNotPay Can | Services |
| --- | --- |
| Create various documents | |
| Protect your safety and privacy | |
| Get your money back | |
DoNotPay Is Your Ticket to Simpler Life
Don't bother going through complicated tasks alone—we are here to take care of them! Seek our help if you want to get in touch with customer service instantly, fax anyone online, or get your documents notarized. Besides providing these amazing services, DoNotPay can make preparations for your travel adventures by assisting you in getting passport photos at home and obtaining tourist visas.