Stand Up for Your Rights and Fight Transgender Discrimination in the Workplace
One of the most recent forms of employment discrimination to make headlines is discrimination against transgender people.
While not specifically mentioned in Title VII of the Civil Rights Act of 1963 or other anti-discrimination laws, several recent court cases have certified that your LGBTQ+ status is protected against discrimination.
If you are experiencing transgender discrimination in the workplace, DoNotPay has all the info you need to fight for your rights!
What Forms Does Transgender Employment Discrimination Take?
There are many ways in which an employer can practice transgender workplace discrimination, the most common of which are as follows:
Deliberate policies
Discriminatory practices
Allowing harassment
Paying less
Retaliating
Deliberate Policies
Some employers install deliberate policies to either stop transgender candidates from being hired or discriminate against them in their job. This is known as de jure discrimination, and its symptoms can include:
Screening out transgender candidates before or after their interview
Refusing to make accommodations in the provision of facilities for transgender employees
Discriminatory Practices
Most companies have anti-discrimination policies in place, but some circumvent them in practice. This could be due to the individual actions of a supervisor or manager, but the company can be held liable for their actions.
Examples of such de facto discrimination are:
Re-allocating transgender employees to non-client-facing roles
Finding excuses for not providing gender-neutral restroom facilities
Enforcing dress codes based on an employee's sex at birth
Allowing Harassment
Companies that allow or even condone harassment against transgender employees are breaking the law.
There is a fine line between innocuous banter or occasional jokes and harassment, but the victim should be able to decide when that line has been crossed.
Forms of transgender harassment can include:
Paying Less
If an employer re-allocates an employee due to their gender identity, the company may also change the terms of remuneration accordingly. This adds wage discrimination to the felony of gender discrimination and is illegal under the Equal Pay Act of 1963.
Retaliating
Employees who complain about transgender discrimination often face retaliation from their employer, including:
Freezing out of meetings or workgroups
Re-assignment
Demotion
Termination
Retaliation is considered discrimination and is the largest reason for discrimination charges lodged with the Equal Employment Opportunities Commission (EEOC). The number of retaliation charges in the last four years is as follows:
| | | | | |
| --- | --- | --- | --- | --- |
| Discrimination Type | 2017 | 2018 | 2019 | 2020 |
| Retaliation—All Statutes | 41,097 | 39,469 | 39,110 | 37,632 |
| Retaliation—Title VII only | 32,023 | 30,556 | 30,117 | 27,997 |
| Disability | 26,838 | 24,605 | 24,238 | 24,324 |
| Race | 28,528 | 24,600 | 23,976 | 22,064 |
| Sex | 25,605 | 24,655 | 23,532 | 21,398 |
| Age | 18,376 | 16,911 | 15,573 | 14,183 |
| National Origin | 8,299 | 7,106 | 7,009 | 6,377 |
| Color | 3,240 | 3,166 | 3,415 | 3,562 |
| Religion | 3,436 | 2,859 | 2,725 | 2,404 |
| Equal Pay Act | 996 | 1,066 | 1,117 | 980 |
| GINA | 206 | 220 | 209 | 440 |
| Total Charges Received | 84,254 | 76,418 | 72,675 | 67,448 |
What Can You Do About Transgender Job Discrimination?
If you are a victim of transgender job discrimination, you will have to provide evidence of the following:
Acts of discrimination occurred
Your employer has an anti-discrimination policy
You have tried to resolve the issue internally
To make sure all three boxes are ticked, you need to:
Keep a diary of every incident of transgender discrimination
Check your employer's anti-discrimination policy
Lodge every occurrence as a grievance with your HR department
If you have done all this and your employer has not resolved the issue, you need to escalate the matter and seek legal support from a discrimination lawyer and an official body.
Who Can Help You Fight Transgender Employment Discrimination?
You need to file a complaint with either your state discrimination board or the EEOC before you can file a private lawsuit against your employer.
Some states offer full protection under state law, while in others, you will have to rely on federal law to help you.
The states that have introduced transgender discrimination laws are:
| | |
| --- | --- |
| Level of Legal Protection | States |
| Explicit protection for transgender persons | Washington, Oregon, California, Nevada, Utah, Colorado, New Mexico, Minnesota, Iowa, Illinois, Virginia, District of Columbia, Maryland, Delaware, New Jersey, Connecticut, Rhode Island, Maine, New York, Vermont, New Hampshire, Massachusetts, Hawaii |
| Explicit interpretation of existing laws on gender discrimination to cover transgender people | Alaska, Arizona, Texas, Kansas, Nebraska, Florida, Pennsylvania, Michigan, North Dakota |
| Sexual orientation protection but not for transgender employees | Wisconsin |
The following states have no law governing gender identity or sexual orientation:
Idaho
Montana
Wyoming
South Dakota
Oklahoma
Arkansas
Louisiana
Missouri
Alabama
Georgia
South Carolina
North Carolina
Tennessee
Kentucky
West Virginia
Ohio
Indiana
In these states, you should rely on federal law to prosecute your case.
If you are protected under state law, you may want to file your complaint with your local commission for discrimination matters. If you are using federal law, you should lodge your complaint with the EEOC.
Use the EEOC and DoNotPay To Launch Your Discrimination Case
The EEOC is mandated to investigate charges of discrimination it receives, whether they are based on:
LGBTQ+ status
Gender
Color
Nation of origin
The EEOC takes its role seriously and may want to interview you in person before they accept your charge of discrimination.
DoNotPay believes this makes the process too complicated, so we have developed a way to file your EEOC charge online in a few clicks.
File Your EEOC Through DoNotPay
All you need to do to lodge your complaint with the EEOC is:
Sign up with DoNotPay in your web browser
Search for our Fight Workplace Discrimination product
Give us the details of your charge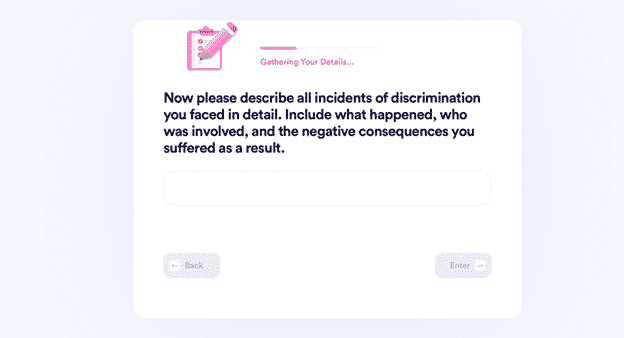 Your nearest EEOC office will contact you to talk you through the next steps.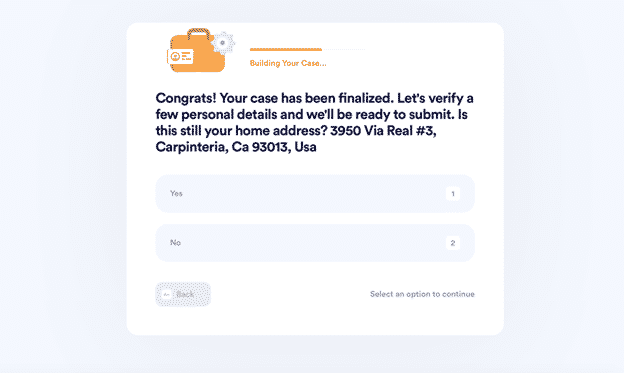 Thinking About Hiring a Lawyer? Think Again!
After you report discrimination in the workplace, you can only hope everything will turn out great. We sure hope so too, but having a backup plan doesn't hurt. If the report with the EEOC backfires, getting a lawyer will be the next logical step.
While you may understand the importance of professional legal help, you might be surprised by how much our virtual lawyer can do for you. Thanks to advanced AI technology, our app can assist you with:
By subscribing to DoNotPay, you won't have to waste hundreds of dollars on lawyers for the help you can get for a few bucks!
DoNotPay Provides Shortcuts Through Bureaucracy
Have you ever thought that corporations and government administration make everything more complicated than it should be? We feel you. That thought is the cornerstone of what DoNotPay is all about!
Our developers keep coming up with products that win against complicated bureaucracy left, right, and center. Some of the tools and services we're most proud of help our subscribers with:
And we're just getting started!