Trade Out Those Tradovate Fees With DoNotPay's Assistance
Commission-free trading is the name of the game at Tradovate. This company offers seamless trading across multiple devices and helps you ensure you're trading securely. As with any site or service in today's time, you'll have to be aware of the  that can be applied to your account.
Paying extra money that you didn't realize was going to get charged can feel frustrating, to say the least. Let DoNotPay assist you with trading out these fees for big savings. Our Fight and Waive Fees product gets to work promptly.
About Those Tradovate Fees
Most investment companies, trading websites, and payment-related services (think PayPal, Coinbase, and Robinhood) are going to have some sort of fee for using them in the first place. Tradovate is no different. For starters, there are membership costs if you want to upgrade your account.
Membership Costs
| | | |
| --- | --- | --- |
| Membership Free Access | Pay a commission only when you trade | $0 per month |
| Active Trader Plan |  Reduces your commission rate | $99 per month |
| Commission Free Membership | No commission payments on trades | $199 per month, but must pay annually ($2,388 total value) |
Additional Fees
At times, these fees get waived by Tradovate to incentivize you to trade with their company. However, you will have to pay these fees yourself the majority of the time.
| | |
| --- | --- |
| Regulatory fees | as low as 2 cents per contract |
| Standard clearing fee | as low as 9 cents per contract |
| Standard exchange fee | as low as 2 cents per contract |
These prices vary depending on the contract in question and the current market trends and fees across the board.
How to Avoid These Fees
You'll save tons if you only join with a basic membership. You may have to spend a few cents more on each commission, but you won't have to pay a large sum each month just to use Tradovate's services.
Fighting Tradovate Fees Yourself
If you have the time and energy, you can attempt to fight these fees yourself. Start by using the contact information for Tradovate to attempt to speak with someone about getting your fees waived.
Use the Contact Us form on their website. You can fill out your message and contact details, and someone will get back to you.
| | |
| --- | --- |
| Phone Number | 1-844-283-3100 |
| Email | info@tradovate.com or support@tradovate.com |
| Mailing Address | Tradovate, 936 Home Road, Delaware, OH. 43015 |
| Social Media | Facebook, Twitter, or LinkedIn |
You can also use the live chat feature if you're a customer who's currently signed in to your account.
Waive Tradovate Fees Using DoNotPay's Product
Let DoNotPay take your  away with their Fight and Waive Fees product. It allows you to accomplish your goal in just a few simple steps.
1. Search "appeal fees" on DoNotPay, choose the Fight and Waive Fees product, and select the type of fee you want to appeal.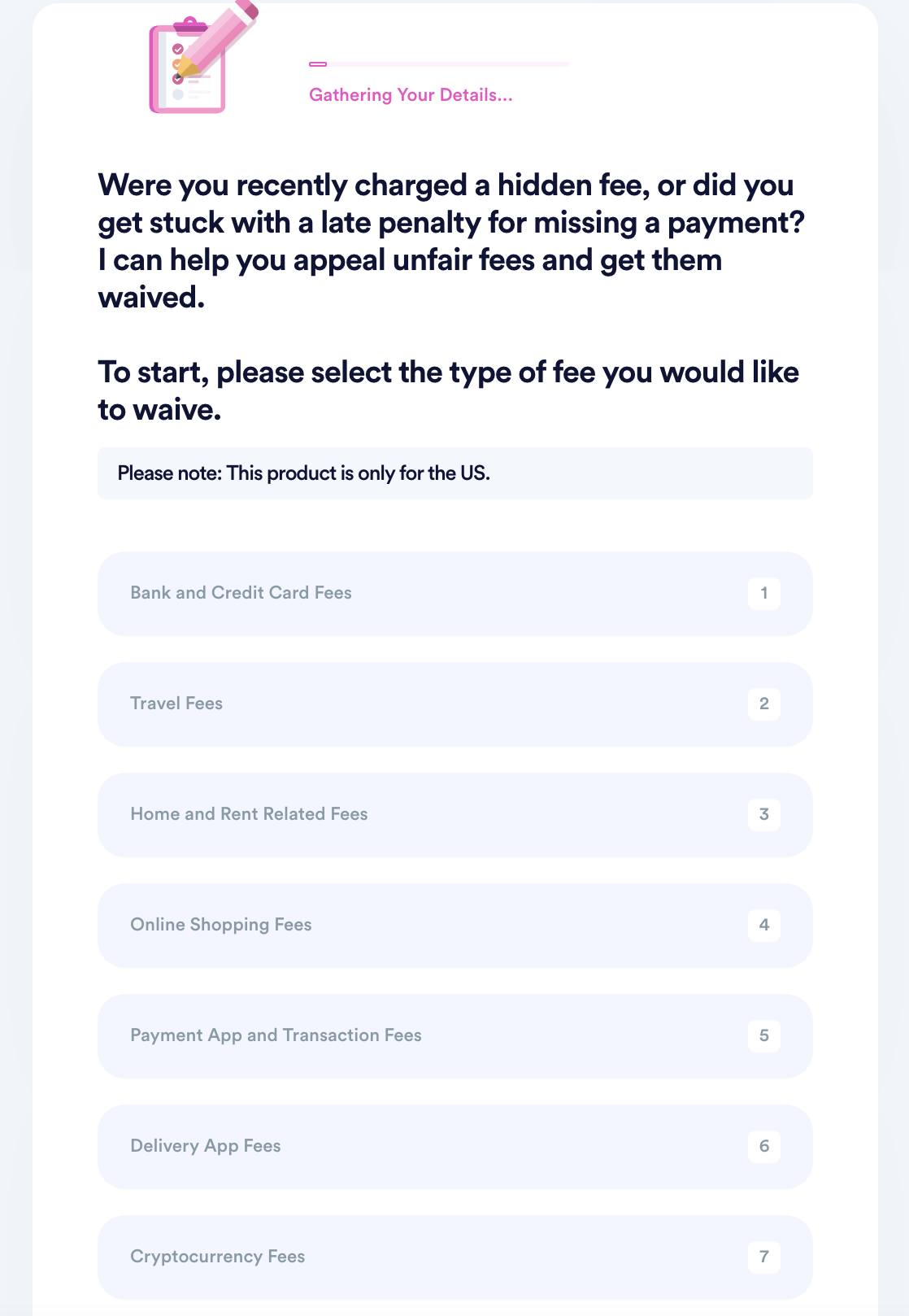 2. Select the merchant you want to appeal fees for and enter the details of your transaction, including an associated account if you have one.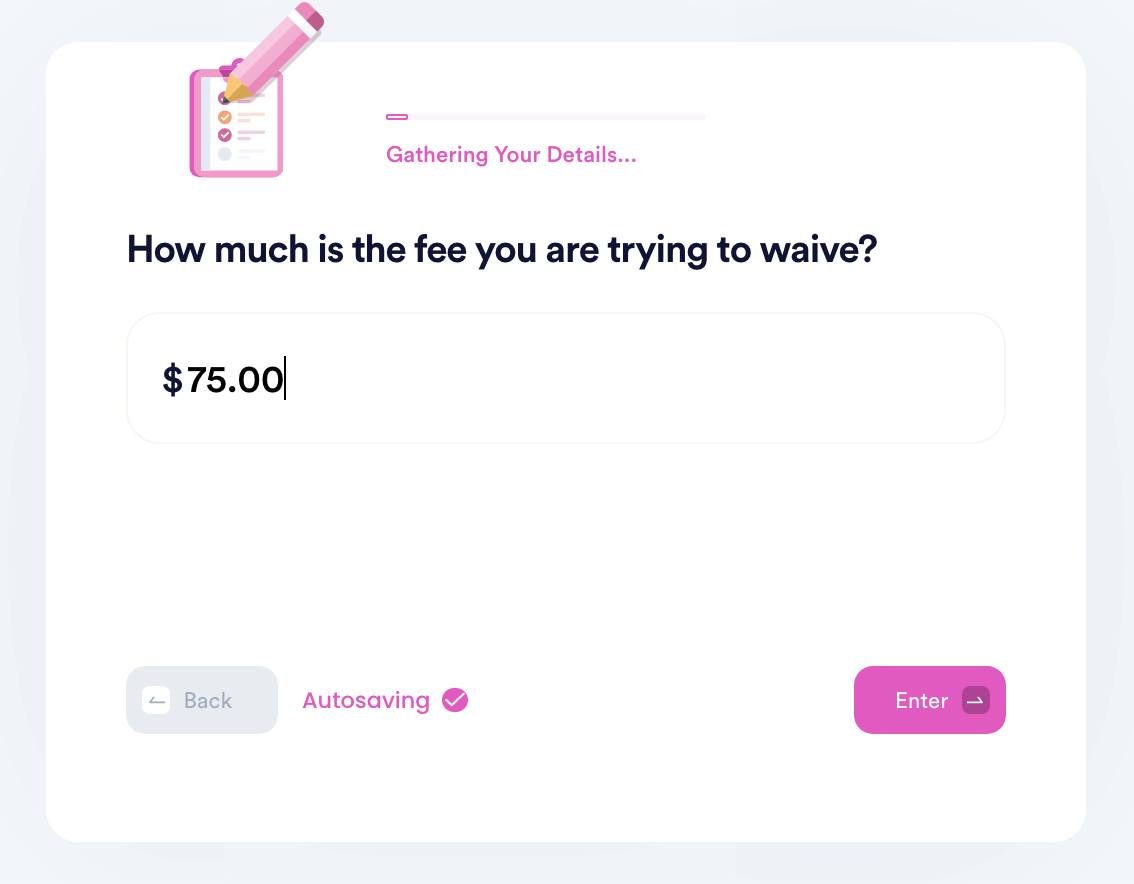 3. Submit your case! DoNotPay will generate the best argument for your case and make sure your fee waiver request gets sent to the merchant for processing.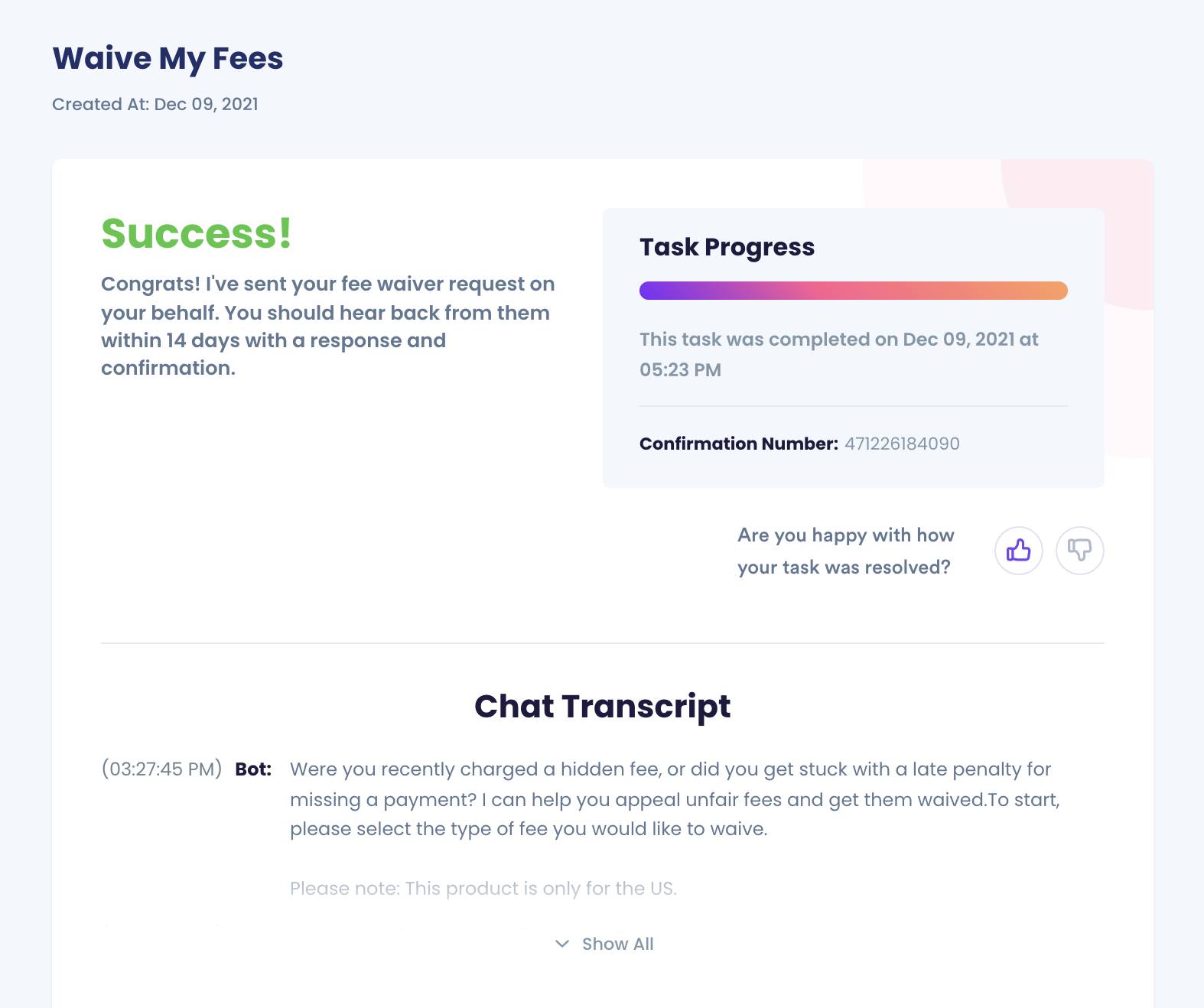 Why Use DoNotPay to Fight for Your Fees?
Have you ever felt frustrated waiting on hold for 30 minutes or longer? Has it taken days or even weeks before you finally reached someone at the customer service desk or gotten an email response back? DoNotPay saves you the frustration and helps you avoid such a long wait time. We generate a well-crafted inquiry into the fee and request a waiver on your behalf. We're fast, convenient, and skilled at our services.
Heard About a Class Action? DoNotPay Can Help You Join
DoNotPay also offers a Brokerage Class Action product. If there's currently a class-action lawsuit against a brokerage firm you've used in the past, you can utilize DoNotPay to help you join and receive compensation. It also takes just a few steps:
Search Brokerage Class Action on DoNotPay
Tell us which brokerage platform you use and provide details on your losses due to them halting trades.
Answer brokerage-specific questions like when you started using the platform, how many trades you make on a regular basis, and whether or not you have traded on margin.
That's it. You can leave the rest up to us. DoNotPay will automatically enroll you in all available class actions against that brokerage platform.
DoNotPay Fight Across All Companies With the Click of a Button
DoNotPay is not beholden to . We'll fight fees across all companies to ensure you can save money. A few examples include:
What Else Can DoNotPay Do?
Not looking to fight fees? That's okay. DoNotPay handles a wide variety of other services as well. We:
and that's just the beginning. DoNotPay handles more than you could imagine.