Unregistered Trademarks vs. Registered Trademarks—What You Should Know
Unregistered trademarks vs. registered trademarks—having trouble figuring out which is the right option for you?
The registration process can be time-consuming and expensive, which is why many small businesses choose common law trademarks. If you plan to proceed with an unregistered trademark, make sure you know what is at stake.
If your decision is a matter of time and money, then consider .
Are Trademarks Necessary?
No—businesses are not required to trademark their brands. If you are concerned about competitors benefiting from the reputation you've built for your business, then registering a trademark is your best recourse.
A trademark is federal legal protection classified in 45 categories specifying which type of goods or services they protect. This is legally distinct from service marks (which protect services) or copyright (which protects works of authorship such as novels or songs).
Small businesses can often get by without formally registering a trademark. If you intend to expand your business into new areas, we recommend protecting your brand.
Does a Trademark Have To Be Registered?
No—whereas state and federal-level trademarks must be registered, common law trademarks do not. However, filing a trademark does entitle you to additional legal protection.
Can You Trademark a Name Without Registering It?
Yes—you can register a common law trademark. The process is free, unregulated, and offers limited protection.
What Is the Difference Between a Trademark and a Registered Trademark?
Unregistered trademarks are limited to your geographic area. While they entitle you to usage rights for a given brand within your local market, it does not protect your trademark at the state or federal level. Other companies can use your brand and register it as a federally protected trademark.
A key example of this distinction in trademark law is the use of the brand Burger King. A local restaurant in Mattoon, Illinois, did not register their trademark at the federal level, which limited their rights to that region. When the national Burger King chain began operating in their area, the owners of the Mattoon establishment had no legal recourse to address the infringement on their brand.
The United States Patent and Trademark Office (USPTO) manages federal trademarks, and the Secretaries of State's offices govern state-level trademarks. Common law trademarks are ungoverned and subject to small claims court in the event of an infringement.
How Long Is an Unregistered Trademark Valid?
Whereas federal trademarks are valid for ten years (unless renewed), unregistered trademarks remain valid as long as they are in use.
How To Use an Unregistered Trademark
You can establish an unregistered trademark by using it in association with your service or product. The act of association is enough to claim a trademark on any of the following:
Given that there is no application process, this method is free. Your only consideration is whether your unregistered trademark will infringe on another in your local market.
The USPTO has a database you can review to confirm your trademark's eligibility at the federal level. With unregistered trademarks, you will need to research your region independently. If you attempt to use an already trademarked brand, you could be held liable for infringement.
Registering vs. Trademarking Your Name
Registering a business name is different from trademarking it. You can register your company's name in any state, which keeps others in that area from using it. For additional protection, you will need to federally trademark your business name.
How To Register a Trademark at the Federal Level
To trademark your brand at a federal level, follow these steps:
Go to the Trademark Electronic Application System (TEAS)
Log into or create an account for TEAS
Open an application for your specific trademark class
Provide the requisite information about your brand
Submit the application
How Much Does a Federal Trademark Registration Cost?
Whereas an unregistered trademark is free, filing an application at the federal level requires you to pay:
Nonrefundable government fees
Legal assistance
The USPTO charges a filing fee for each trademark class you apply to. Check out your protection options in the following table:
| Application Type | Fee |
| --- | --- |
| TEAS Plus | $250/class |
| TEAS Standard | $350/class |
Whereas TEAS Plus is meant for new businesses that fit a set description listed in the Trademark ID manual, TEAS Standard is better for brands needing a custom definition.
In addition to the filing fee, you will likely need to hire a trademark lawyer. Enlisting legal expertise is a critical part of the process, as any mistake can result in a denied application. Hiring legal assistance is expensive because a lawyer can cost more than $300/hour.
DoNotPay Will Make the Trademark Registration Process Pain-Free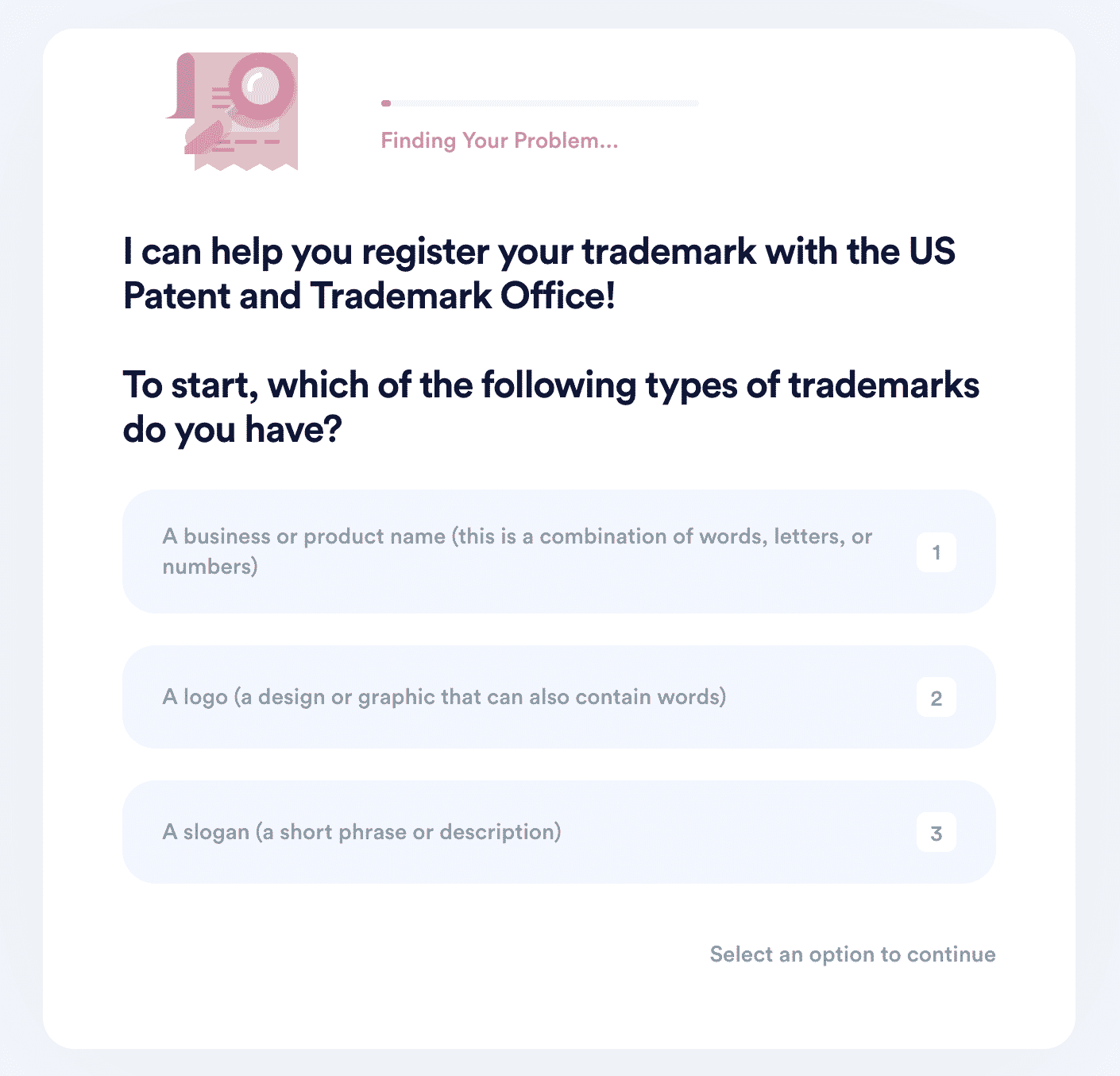 Do not miss out on the legal benefits of a federally registered trademark because you do not want to bother with bureaucracy—.
Our Trademark Registration tool can execute every crucial step in the procedure, including:
Inputting required information
Submitting the application to the USPTO
Facilitating your review
Delivering an application tracking number
Providing your contact info to the USPTO
If you'd like to use our product, follow these steps:
Log in to DoNotPay
Select our Trademark Registration product
Click on the type of trademark you want to register
Choose the trademark class
Answer our questions regarding the company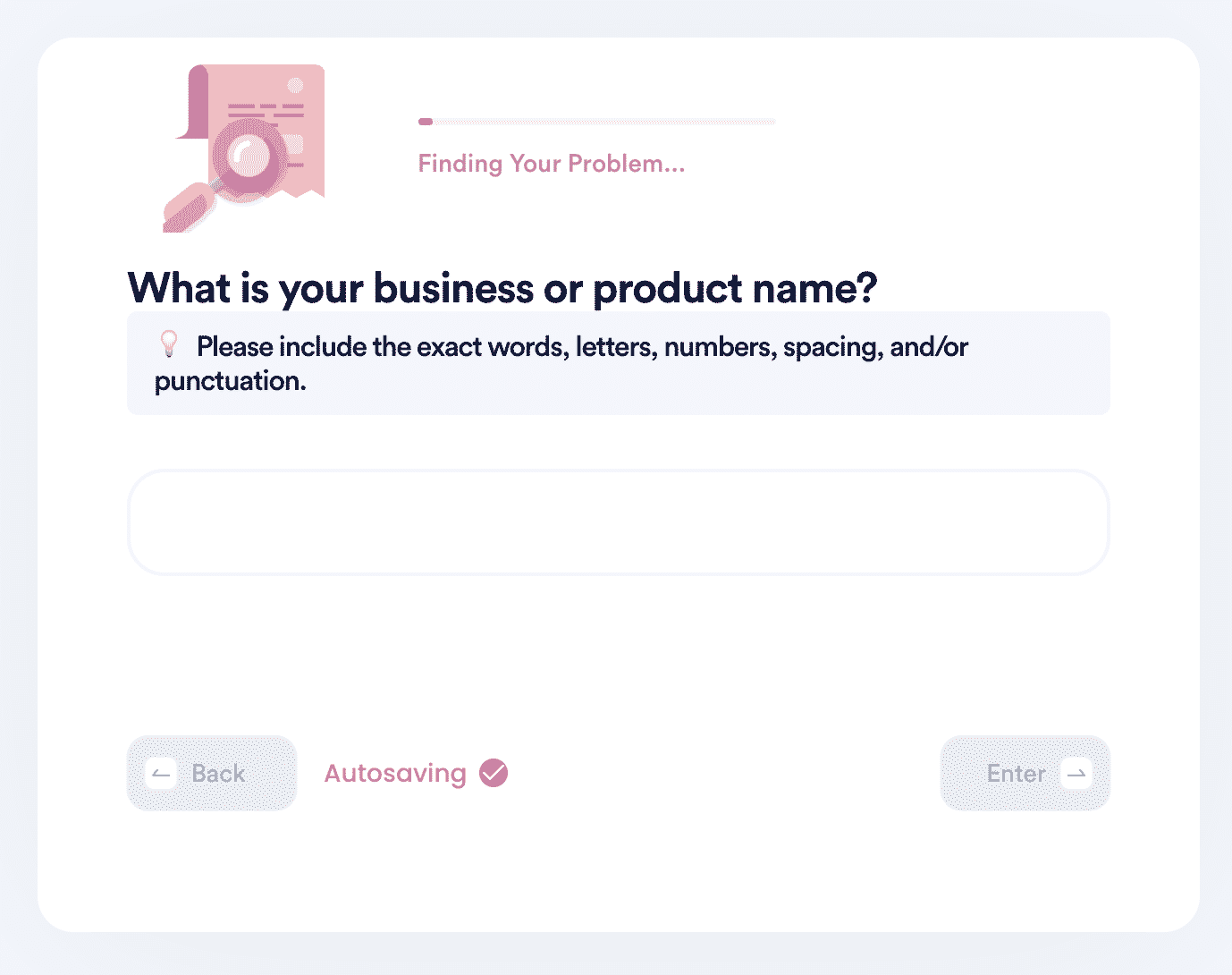 Protect Your Brand Name and Build Trust With Your Users!
One of the most challenging aspects of every business is building a trusting relationship with the customers and maintaining a good reputation. That is why it is crucial to protect your business name, logo, and slogan legally by registering it as a trademark. DoNotPay is here to help you do that hassle-free with our Trademark Registration tool. Need help checking for trademark violations once you register? There is no need to fret as we have a tool that can help you with that as well!
Now that your trademark is taken care of, you should consider complying with data protection requirements to take care of your users' privacy. You can do so by using our Privacy Shield Self-Certification product.
Are you dealing with fake negative online reviews that are harming your business? DoNotPay can help you by analyzing the reviews and reporting them until they are taken down!
Time Is Money, and DoNotPay Can Help You Save Both!
DoNotPay offers an array of time-saving features that you can use when you do not feel like dealing with business-related challenges on your own. We can help you:
Apply for your Employer Identification Number (EIN) Registration in a few clicks
Help your employees lower their taxes by filing 83(b) election forms from the comfort of their offices
Enjoy free faxing and mailing services and save time by not having to go to the post office
Complete a DMCA agent registration process to avoid dealing with copyright violations
Write a convincing letter when filing for a small business loan
Do you need help dealing with clients who do not want to pay for your services? Use DoNotPay's Breach of Contract product to send a letter of demand in a matter of minutes! Not sure what to do with unfair chargeback requests? We can help you by creating a chargeback rebuttal document for you to send to your payment processor.