What Is a Trademark Supplemental Register, and How To Get Into It
As your small business grows, your brand will attract more and more customers who will recognize your product or service and create emotional ties with it. Your rise will not go unnoticed by your competitors, which is why you should look for ways to protect yourself.
The way to stop other companies from infringing on your goods is to obtain a trademark, patent, or copyright. The United States Patent and Trademark Office (USPTO) is in charge of trademarks, and it has two separate registers for them:
Principal trademark register
Supplemental trademark register
In this article, we will show you what the Trademark Supplemental Register is and why you should get into it. We will also explain how you can register a trademark with DoNotPay.
What Is a Trademark?
If you want to receive legal protection against unfair competition, you need a trademark. Without it, your competitors can copy or imitate your brand, product, or service and trick consumers into thinking you stand behind their efforts.
You can trademark any element of your business, including:
You do not have to register a trademark, but an unregistered one will give you basic protection in your local area. If you want to protect your business on a state, federal, or international level, you will need to register your mark with the USPTO.
What Is the Trademark Supplemental Register?
The Supplemental Register is a secondary register of trademarks used for those marks that do not fulfill the uniqueness element required for the Trademark Principal Register.
The Supplemental Register accepts descriptive marks that use last names, geographical locations, and descriptive terms. If any other requirement for the Principal Register is not met, your mark will not go into the secondary register either.
Usually, companies apply for the Principal Register and then amend their application form for the Supplemental Register only once their initial application gets denied. This way, you have a fallback option that is not as effective but still has its merits.
For instance, with a supplemental-registered trademark, you can:
Use the ® symbol and deter any unfair competitors
Bring your infringement claim to a federal court
Stop confusingly similar trademarks from entering the Principal Register
Use it as a basis for filing a trademark request in another country
The Trademark Supplemental Register only accepts those marks that are already in use, and you will need to provide proof of use as part of your application form.
Differences Between Supplemental and Principal Registers for Trademarks
The Principal Register offers better protection and represents the main goal of all owners who apply for a registered mark.
If you receive a supplemental trademark, you can reapply for the principal one after five years. In that case, you will need to prove that your mark has taken on a secondary meaning—which shows that consumers have a distinct picture in mind with regards to your mark, regardless of its general descriptiveness.
Check out this table to see the main differences between the Supplemental and Principal Register:
Trademark Supplemental Register
Trademark Principal Register

Protects descriptive trademarks
Does not offer presumption of validity
Does not allow for presumption of ownership
Cannot become incontestable
Does not affect the United States Customs Services
Requires proof of use

Protects distinctive trademarks
Presumes validity
Serves as proof of ownership
Can become incontestable
Can stop infringing goods from leaving or entering the United States
Works on an intent-to-use basis
How To Obtain a Supplemental Register Trademark
Before you decide to apply for a trademark, you need to do a clearance search. You can do so by searching the USPTO and other registers of state governments and counties.
The search will help you find out about your mark's availability—you will see whether there are any trademarks that are the same as or similar to yours. If so, the USPTO will decline your application.
The USPTO will take both registers and any trademark that is similar to yours into account based on:
Commercial impression
Phonetic similarity
Appearance
Relatedness
You will need to do a proper search, which is not an easy task. Many companies opt to hire a trademark attorney to complete the process in their stead, but professional assistance comes with extortionate fees.
Instead of paying them, you can and let our app do the search for you and help you with the application process.
When you apply for a Supplemental Register trademark, you will need to submit:
Information about your company and yourself
Application fee per class
Trademark type
Declaration of accuracy
Proof of use
Trademark Supplemental Register—Obtaining a Mark With DoNotPay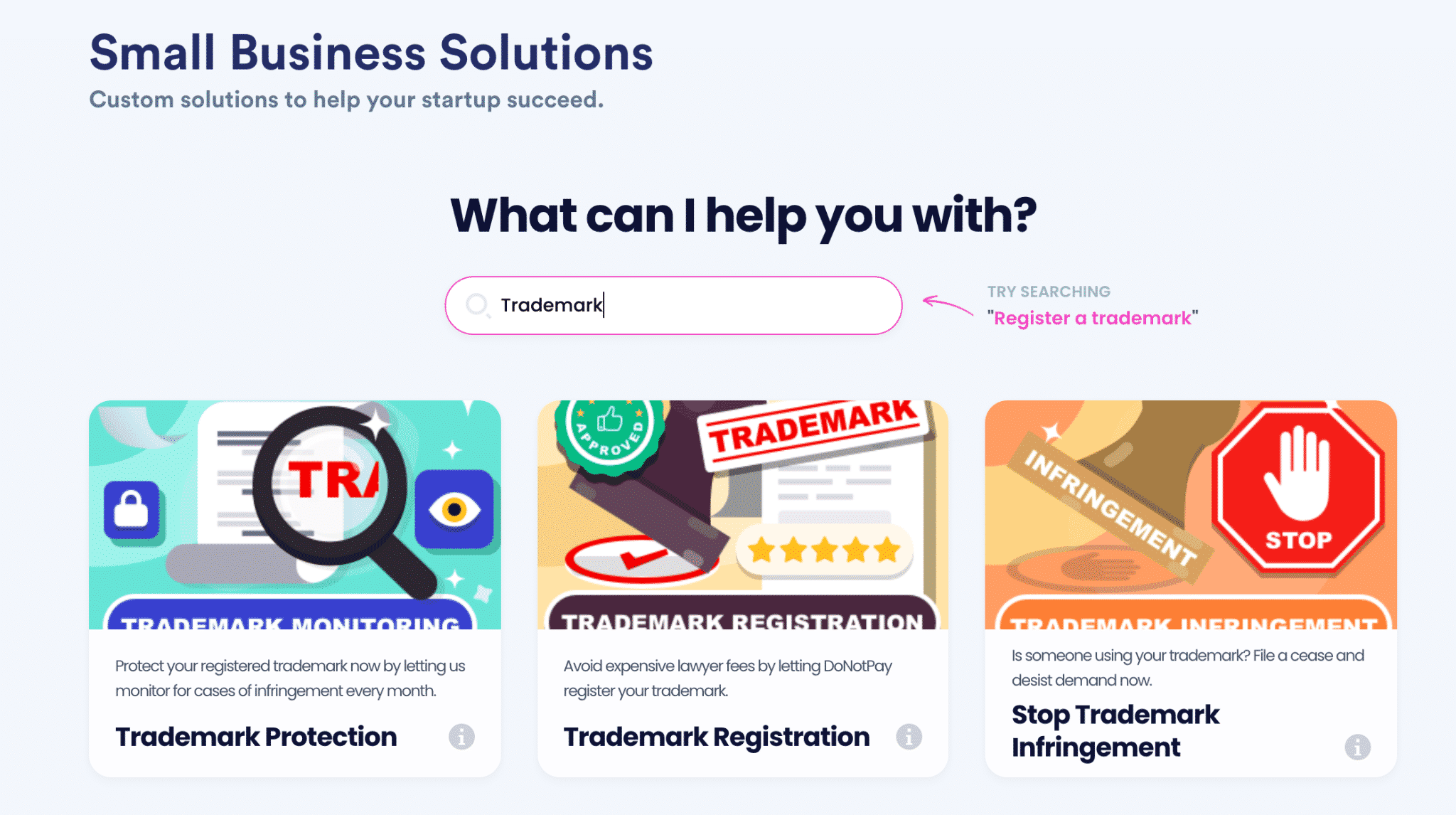 If you do not have experience with filing trademark requests, you will need professional help with performing clearance searches and making sure your application contains all the necessary information.
DoNotPay will assist you with both—our app conducts the search and asks you questions about your trademark so that you do not leave out any details.
All you need to do is the following:
via any web browser
Select the Trademark Registration product
Answer a few questions from our chatbot
Pay the necessary USPTO fees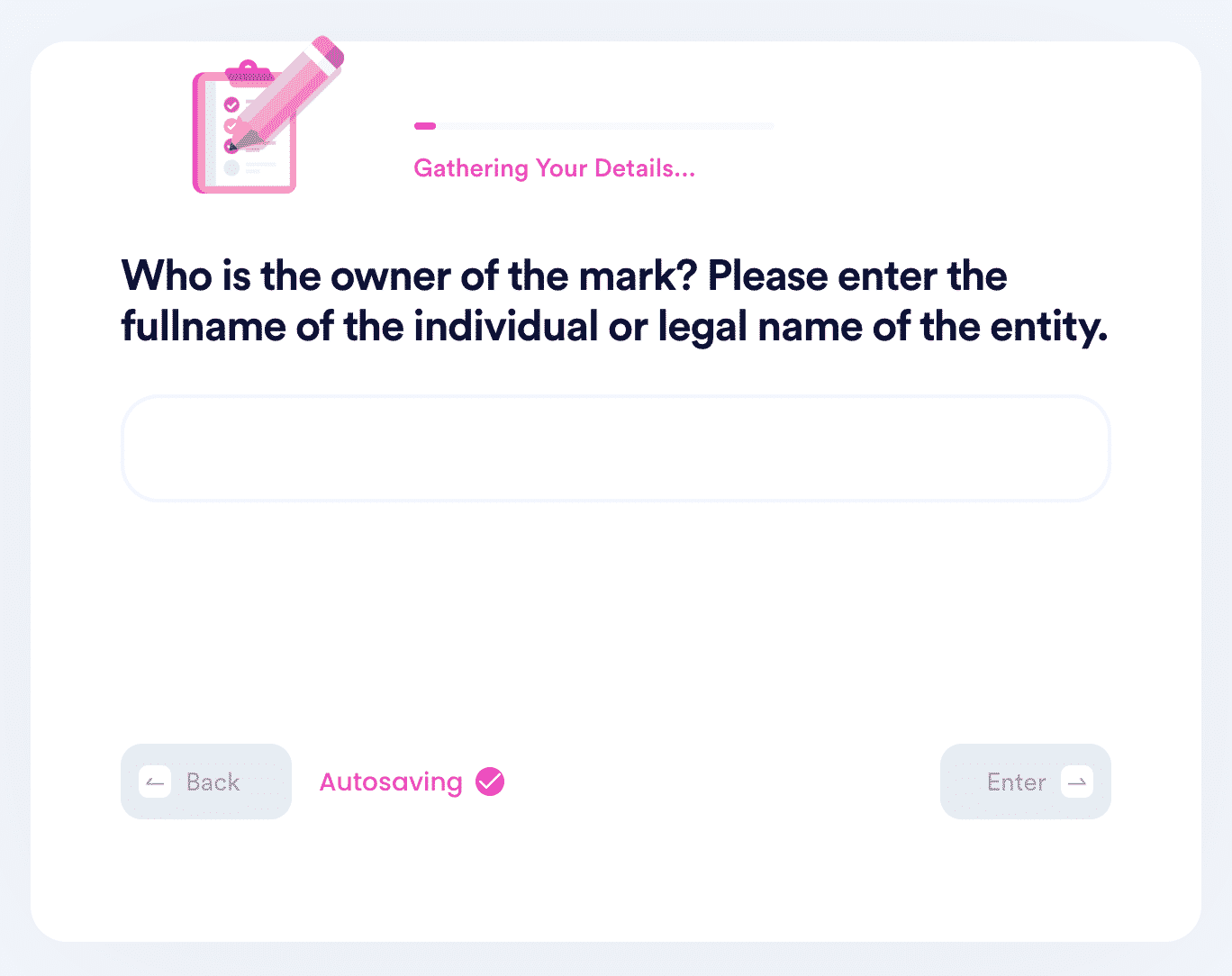 Don't Waste Ages on Tedious Administrative Tasks—Rely on DoNotPay
Running a small business can be a challenging endeavor, but you can count on DoNotPay to make the situation easier! We have developed a number of handy features that you can use to deal with your business-related hurdles. With our help, you can:
Send mail to your customers, investors, or business associates without wasting time going to the post office
Register your business slogan, logo, or name as a trademark to prevent brand infringement
Avoid copyright violations on your website by registering a DMCA agent
Protect the privacy of your clients' data by filing the Privacy Shield program self-certification request
Contest unjust chargebacks and keep the revenue
Deal with clients who breach the contract without wasting money on collection agencies or lawyers
Worked Hard on Creating a Good Business Reputation? Don't Let It Go to Waste!
Has one of the angry clients or envious competitors decided to leave a mean online review that could have a negative impact on your business? DoNotPay is here to help you remove it! We will analyze the problematic review and report it until it is taken down.
Don't know how to protect your trademark and make sure no one else is using it? Our app can monitor the trademark on a monthly basis and send cease and desist letters if necessary.
Let our app take care of many other issues—such as filing 83(b) election forms, registering for an Employer Identification Number (EIN), taking out small business loans, and similar—while you concentrate on the creative side of your business.