DoNotPay Helps You Trademark Slogans in No Time
Thinking of getting a trademark for your slogan? If the process seems overwhelming and you do not know how to go about it, do not fret—DoNotPay has a tool that will make your life easier! We will explain the process in detail and show you how to trademark slogans the easy way.
What Are Trademarks, and Can You Trademark a Slogan?
Registering a trademark allows you to set apart your business's goods or services from another company or business.
By doing this, you legally protect your brand as no one else will be allowed to use the same trademark and potentially harm your brand reputation. You can trademark various aspects of your business, including:
While copyright protects works of authorship, you cannot copyright a slogan because it is a short phrase.
Why Should You Trademark a Slogan?
You should trademark a slogan as soon as possible because:
It will save your intellectual property from potential infringement
Someone else could trademark your slogan before you, which means that you will break the law if you use it afterward without being aware of the fact that it has been registered
It helps your business stand out from others as no one else will be allowed to use the same slogan
A creative slogan can attract the attention of potential customers
Requirements for Trademarking a Slogan
If you want to protect your slogan by registering it as a trademark, you will have to meet some requirements. Check out the table below for more information:
Requirement
Explanation
Make your slogan distinctive
Your slogan needs to be both descriptive of your goods or services and distinctive enough to meet the United States Patent and Trademark Office (USPTO) requirements. It cannot be of entertaining or informational nature unless you intend to use it for profit
Add a secondary meaning
Trademarking a slogan will require you to prove that it has a secondary meaning, transcending its literal definition and usage
Check whether your slogan is unique
When you create a slogan that fits the necessary criteria, you need to make sure no one else has registered it. You can do so by:

Conducting a thorough search using the USPTO database
Looking it up on the Internet to see whether someone uses it

In case your slogan is not unique, the USPTO will reject it
How To Trademark a Slogan
You can file a trademark for your slogan either by:
Yourself
Hiring a lawyer
How To Trademark a Slogan Yourself
To trademark a slogan yourself, you will have to complete the right application form and submit it to the USPTO. The form needs to contain:
Your information—Include your:

Name and surname
Address
Citizenship
Type of legal entity
Your legal representative's contact info

Description of the slogan—Type in your slogan and describe it in detail
List of your goods and services—List the goods or services your slogan will represent
Trademark class—Register your goods and services under one or more trademark classes (keep in mind that you pay extra for each class you select)
Verified declaration—Sign a declaration that will act as a verification of the form and attest the truthfulness of the application
Hiring a Lawyer To Trademark a Slogan
Hiring a lawyer to trademark your slogan can be efficient, but it will also be costly as their fees can be high.
If you do not want to spend too much money on trademark registration, you should rely on DoNotPay.
Use DoNotPay and Trademark a Slogan in a Few Steps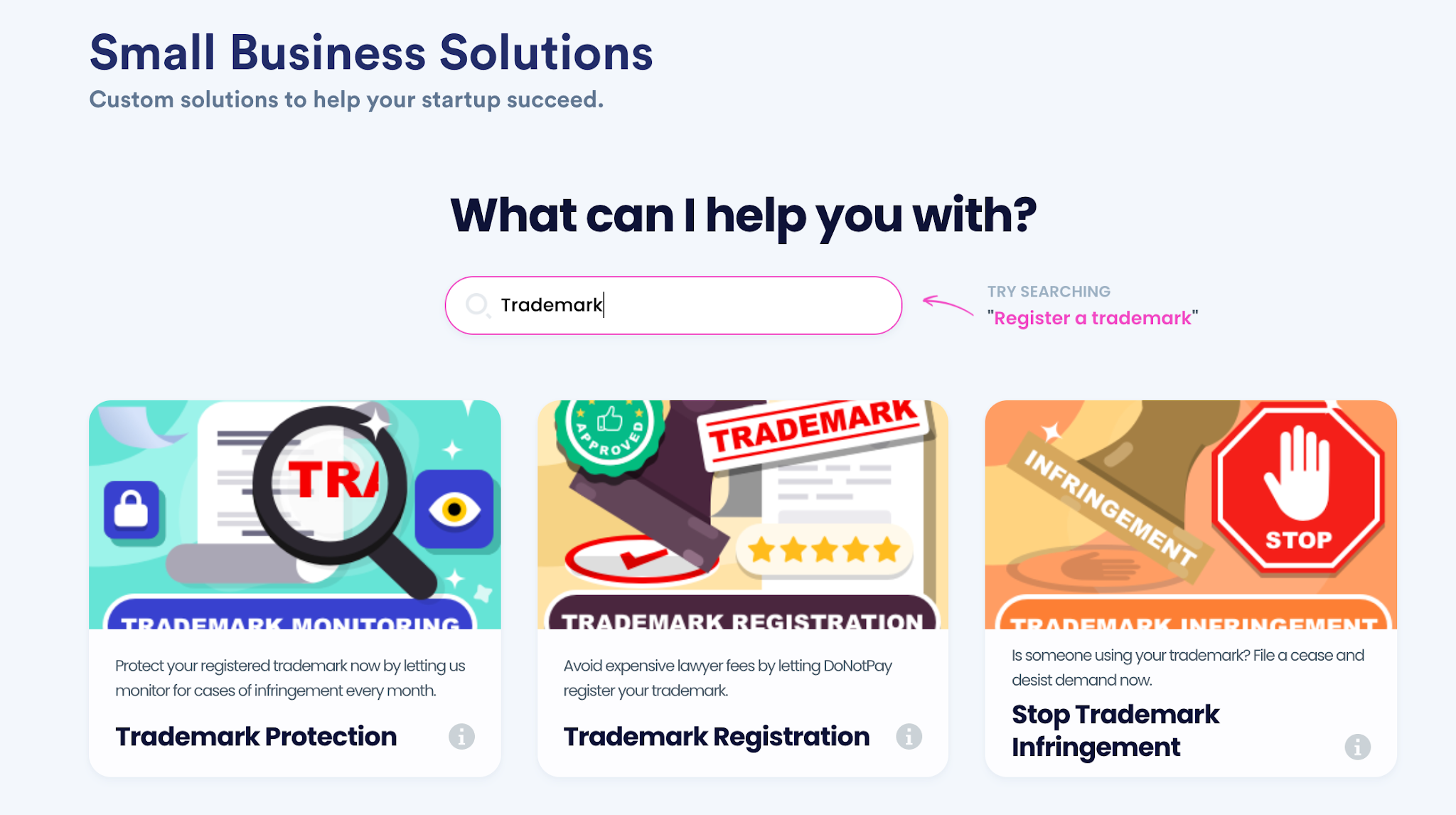 DoNotPay has developed a useful yet affordable product that can help you register your slogan as a trademark in a matter of clicks. Our app will:
Complete the application in your stead using the details you provide
Send the form to you so you can e-sign it
Submit the application for you
Give you a tracking number so you can see your application's status at all times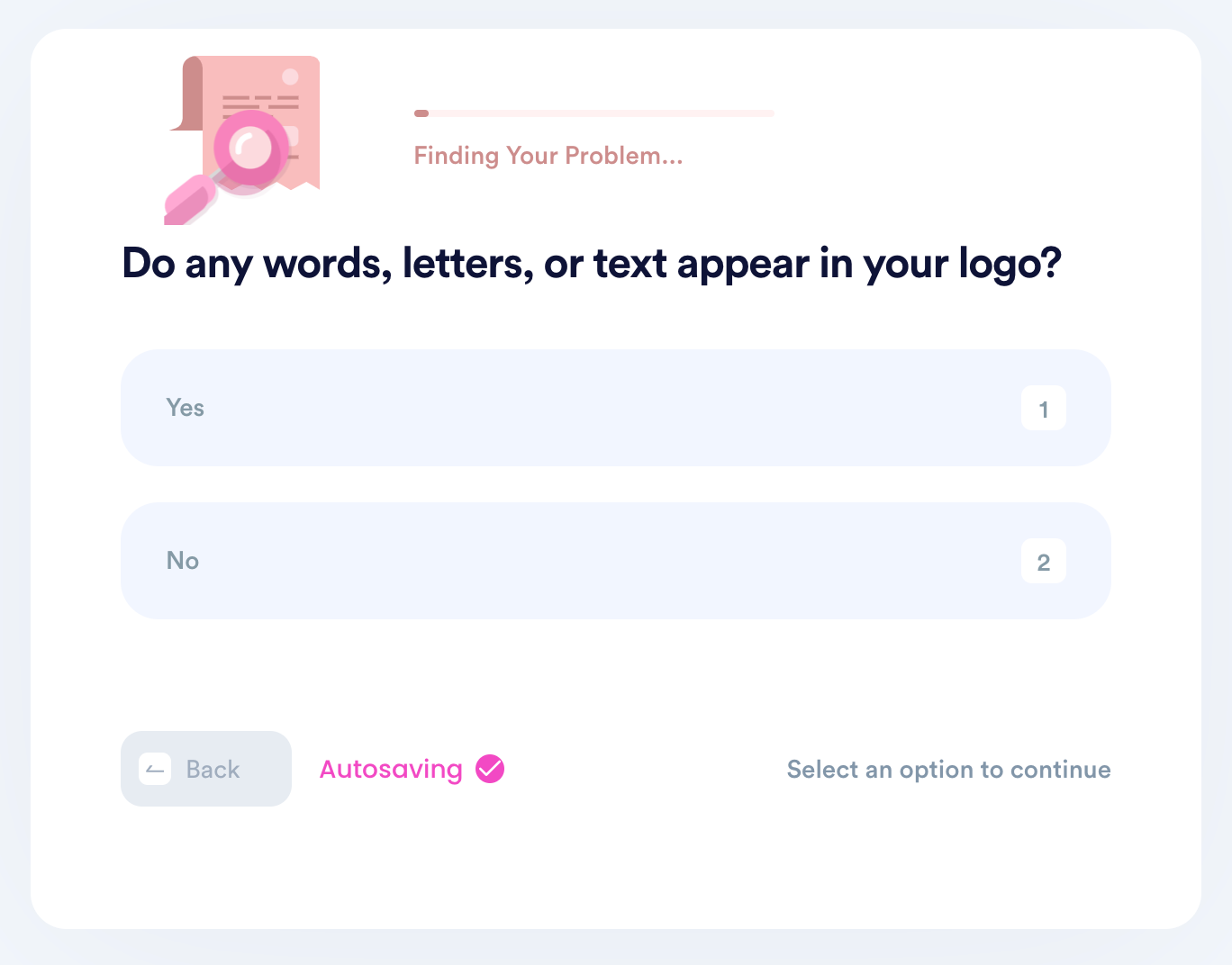 With DoNotPay, registering a trademark does not cost a fortune, and the whole process is effortless as you need to complete a few simple steps, as follows:
Select the Trademark Registration product
Answer our chatbot's questions about your trademark
Once you hit Submit, we will process your request instantly and start working on your application. You can track its progress with the number we send you.
How Long Does a Trademarked Slogan Last?
A trademarked slogan lasts for ten years, but you can renew it. Keep in mind that you can only renew it if you still use it between the fifth and the sixth year of registering.
How Much Does Registering a Slogan Cost?
The cost of registering a slogan depends on whether you opt for:
State registration—This option is cheaper ($50–$150, depending on the state), but it only offers trademark protection in your state
Federal registration—If you opt for this option, you'll have to pay more, but you will have greater protection, and you will be able to branch out your business outside your state. Federal registration costs either $250 or $350 per class
Resolve Various Business Problems With the Help of DoNotPay
Handling annoying administrative issues is the last thing you want to worry about while trying to build a business empire. The good news is that you do not have to! DoNotPay has developed many nifty products that make various pesky tasks easy to complete.
Some of the small-business-related matters we can help you with are:
Taking out business loans
Obtaining an Employer Identification Number (EIN)
Automating the filing of 83(b) election forms
Requesting your money from customers who won't pay
Registering a DMCA agent
DoNotPay can also make communication with your clients or business partners easier as we enable you to fax and mail your letters, forms, and other important documents without leaving your office.
Maintain a Good Business Reputation
It is no secret that building a trusting relationship with clients takes time and effort, so why have all that hard work ruined by negative online reviews that are fake? DoNotPay is here to help you remove illegitimate, fake reviews in a matter of clicks!
Want to dispute unfair chargeback requests but are not sure how to go about it? By using our Fight Chargebacks feature, you can have DoNotPay create a customized chargeback rebuttal document in a few minutes.
With our app, you can also protect your trademark from people trying to use it, file the self-certification request with the Privacy Shield program, and handle many other aspects of your business hassle-free!