An Overview of the Trademark Registration Process Flowchart
Whether you have a small business or are the owner of a larger company, trademarking your brand and intellectual property protection is crucial. How do you file and register a trademark? How does the trademark registration process work? What are the requirements for getting one? DoNotPay has all the answers.
This article will provide comprehensive details on the trademark registration process flowchart. If it seems too much for you, to make the process easier!
We also provide valuable information on how to protect trademarks through trademark protection laws to prevent infringement.
What Is a Trademark, and Why Is It Important?
Before you register a trademark, you need to understand what it is. A trademark refers to any word, symbol, phrase, or slogan that becomes the identity of a business and its goods. Trademarks can be applied to different items, including the following:
The purpose of a trademark is to differentiate the business from other businesses and to recognize the company's brand. Others can use your trademark with your exclusive permission, but they cannot claim rights to it.
A trademark protects a business by:
Prohibiting competitors from using a business name or product for their benefit
Preventing fraud
Providing legal protection
Registering a Trademark Explained
Trademarks are categorized under intellectual property and can be both registered and unregistered. They are registered with the United States Patent and Trademark Office (USPTO). Registered trademarks have the ® symbol, while unregistered ones are identified with the ™ one.
Getting your trademark registered not only builds value for your business but also prevents competitors from using similar signs and ideas for their business. By registering your trademark, you can:
Legally expand your business
Seek legal protection from fraud
Sue parties who use the same or too similar trademarks
The Trademark Registration Process Flowchart
To start the trademark registration, here are the steps you need to follow:
Search the USPTO database to confirm that your name, logo, or slogan is not similar to any other brand's
Fill out the trademark application form with the following information:

Your personal details
Purpose of your business
Trademark name or mark that you want to acquire
List of goods that the trademark covers
Trademark class that the goods will be classified under

Pay the processing fee
Review the form to confirm that all the information you entered is correct
Sign the form and submit it
What Is the Trademark Application Timeline?
Once the USPTO receives your application, it will send a summary of your application form so that you can confirm that all the information is correct. After confirmation, you will receive a serial number to track your application by accessing the TSDR (Trademark Status and Document Retrieval) system.
An examining attorney will review your application, which can take up to six months. If there are any issues with your application, the attorney will reject your application and include the reason for rejection.
If there are no problems with your application, the examining attorney will approve it and publish it in the USPTO's Official Gazette for 30 days. This is to confirm that no other party is opposed to the trademark.
After the 30-day period, the USPTO will issue a registration certificate, which takes three to six months.
Cost of Trademark Registration
The cost of trademark registration depends on the trademark application options, as mentioned in the table below:
| Method | Cost |
| --- | --- |
| TEAS Standard | $350 |
| TEAS Plus | $250 |
Other factors that can influence the trademark registration cost include:
Does the Trademark Registration Process Seem Too Complicated? Let DoNotPay Help You Out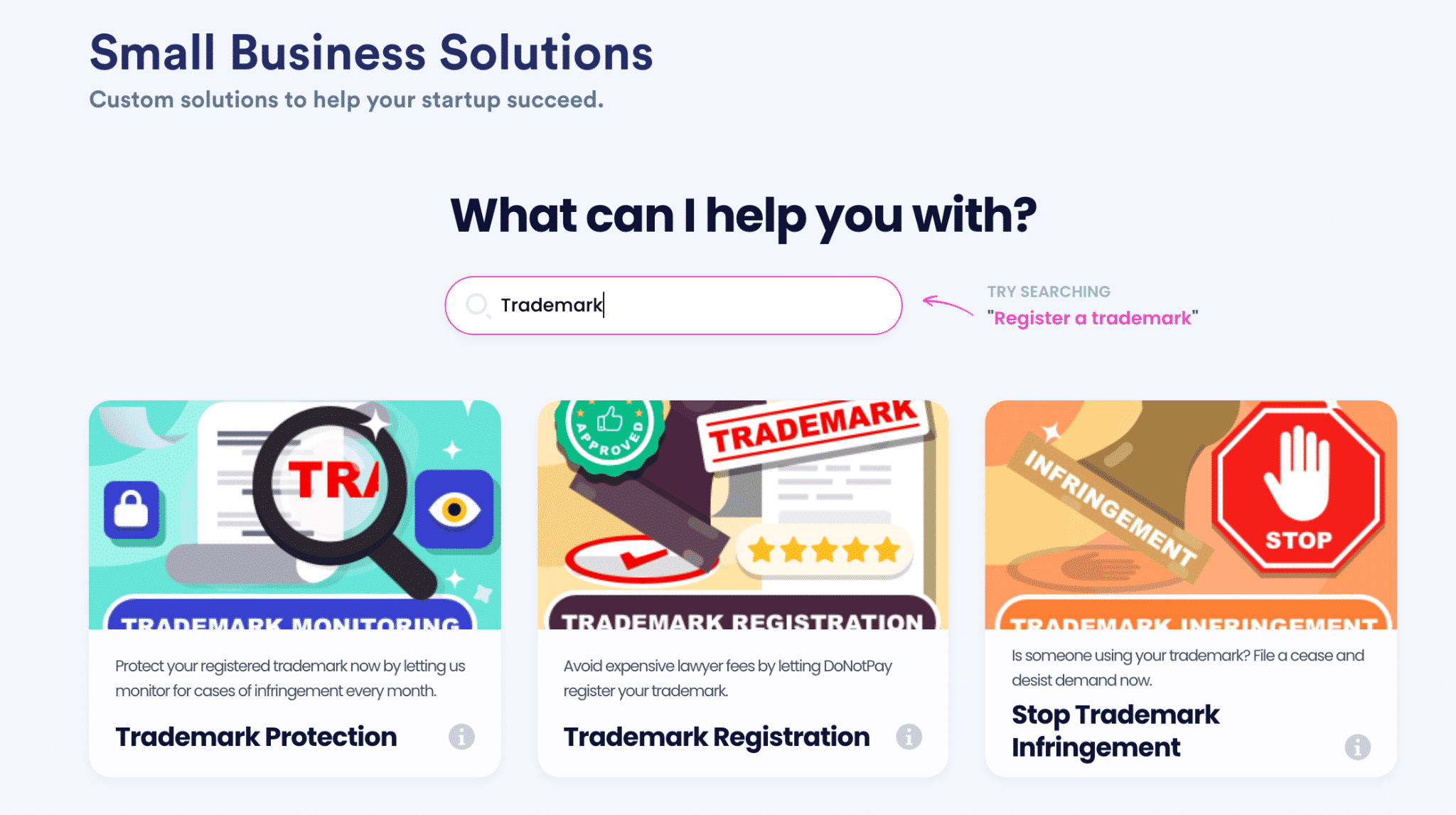 If you file for a trademark registration yourself, you will have to complete all the burdensome tasks on your own. Alternatively, you can hire an attorney to do it on your behalf, but attorney fees can be expensive and well out of your budget.
Are you searching for a more affordable option? Switch to DoNotPay! Our app can assist you in filing a trademark within minutes. After , here is what you need to do:
Search for the Trademark Registration feature
Provide details about your business and the trademark you want to acquire
Pay the trademark application fee
Digitally sign the application form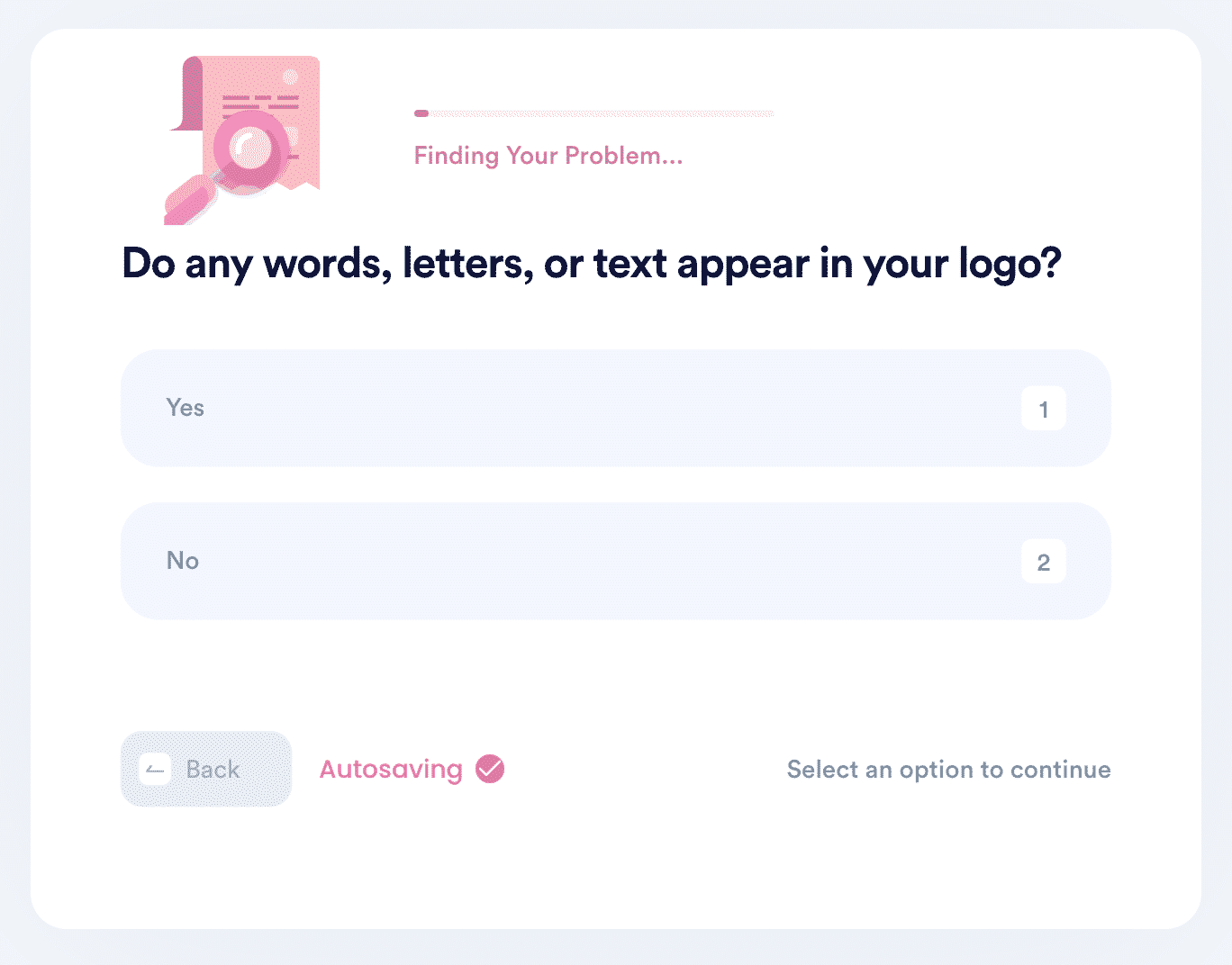 After processing your information and ensuring that your trademark is unique, we will send it to the USPTO on your behalf. Once the USPTO receives your application, our app will provide you with a serial number to track your application.
DoNotPay Has More Useful Information About Trademarks
If you're looking for more information before going ahead with the trademark application process, our knowledge base boasts many helpful guides that can give insights on different trademark aspects, such as:
Run Your Business Worry-Free!
Every beginning is challenging, which is why DoNotPay has everything you need to start running your business stress-free! We have created numerous easy-to-use products that will make boring administrative tasks easier to manage.
To help you get started, DoNotPay will assist you in taking care of trademark, Employer Identification Number (EIN), and DMCA agent registration, Privacy Shield self-certification, and business loan requests.
We can even help you maintain a good business reputation by:
Monitoring your trademark and filing a cease and desist letter in case someone tries to use it
Reporting fake negative reviews that could harm your business
Disputing illegitimate chargeback requests in a matter of minutes
DoNotPay Helps You Create and File a Number of Legal Documents
Why waste time worrying about how to draw up and file various legal documents when you can have the world's first robot lawyer do that in your stead? You do not have to waste thousands of dollars on lawyer's fees—our extensive database has a myriad of documents on offer.
DoNotPay will help you automate the procedure of completing and filing 83(b) election forms, write a formal demand letter requesting payment from clients who try to avoid it, and deal with other important paperwork.
Don't want to waste time going to the post office to mail a contract? Now you do not have to! With DoNotPay, you can fax and mail any document in a matter of clicks!