Exclusive Tips on Trademark Registration in Florida
Trademarking your brand or products might seem daunting, but doing so protects your business from scams and frauds. If you have set up your business in Florida and plan on registering your trademark, we are here to help!
DoNotPay gives you the best advice on how to carry out trademark registration in Florida. You can and make your job easier—we can help you file a federal trademark without taking too much of your time.
The Essentials of a Trademark
A trademark is used to distinguish a business and its products from other businesses. It can be a word, mark, phrase, or a combination of all three and can be both registered and unregistered. Some examples of creations and items that can be trademarked include:
Trademarks are different from service marks—the former protects a business and its products, while the latter refers specifically to services. Copyrights typically protect original and creative works.
Florida recognizes all forms of intellectual property protection. State-level trademarks in Florida are governed and protected by the Registration and Protection Acts, which do not provide the same level of protection as federally registered trademarks. This means that trademark protection law applies within Florida, but the trademark is not protected from infringement in other states.
Why Should You File a Trademark?
Although it might seem like a hassle, filing a trademark comes with many benefits. A registered trademark provides legal protection against businesses that might try to steal your ideas. It allows you to seek legal action against anyone who uses your trademark without your explicit permission. It also helps you build a loyal customer base and increases the intrinsic value of your brand.
Factors To Consider When Choosing a Trademark in Florida
You should consider many aspects when selecting a trademark in Florida, such as:
Strength—Marks range from strong to weak types based on their uniqueness. The stronger the mark, the easier it will be to get it registered
Commonality—You need to make sure there are no similar trademarks in your vicinity. If you trademark your business or product with a mark that is the same or similar to others, it will lose its value and earning potential
Long-term goals—Business owners need to choose a trademark that can be used long-term should they decide to expand their business. If you plan to grow your business across the U.S., a federally recognized trademark might be the right option
What Is the Cost To Register a Trademark in Florida?
To register a trademark in Florida, you need to incur the following costs:
Item
Description
Cost
Filing a federal trademark
You have two options to file a federally registered trademark:

TEAS Plus—$250 per class
TEAS Standard—$350

Registering a state trademark
You need to file an application with the Florida Department of State
$87.50 per class
Attorney fees
If you want to hire a lawyer to file the registration application, you will need to pay additional fees
$200–$2,000
There are other costs that you also need to incur with a registered trademark:
Renewal fees—Trademarks in Florida last for five years. You need to pay the renewal fee of $87.50 within six months of the expiration date, or you will need to apply for a new trademark
Cancellation fee—You need to pay $50 in case you want to cancel your trademark or replace it with another one
How To Register a Trademark in Florida
Here is what you need to do to apply for an official trademark in Florida:
Confirm that your trademark is unique by conducting a search on the Florida Department of State website or the USPTO trademark database (for trademarks across the U.S.)
Choose the trademark class(es) under which you want to categorize your goods
Fill out the application form
Pay the application filing fee
Submit the form to the Florida Department of State or the USPTO depending on your trademark choice
The State Department will take approximately six weeks to review and approve your application, while the USPTO takes months.
Ideally, trademarks should be registered at a federal level to increase the level of legal protection. Do you want to register your trademark without going through the complicated process? DoNotPay is here to help!
DoNotPay Can Help You File a Trademark Application in Florida Without a Hassle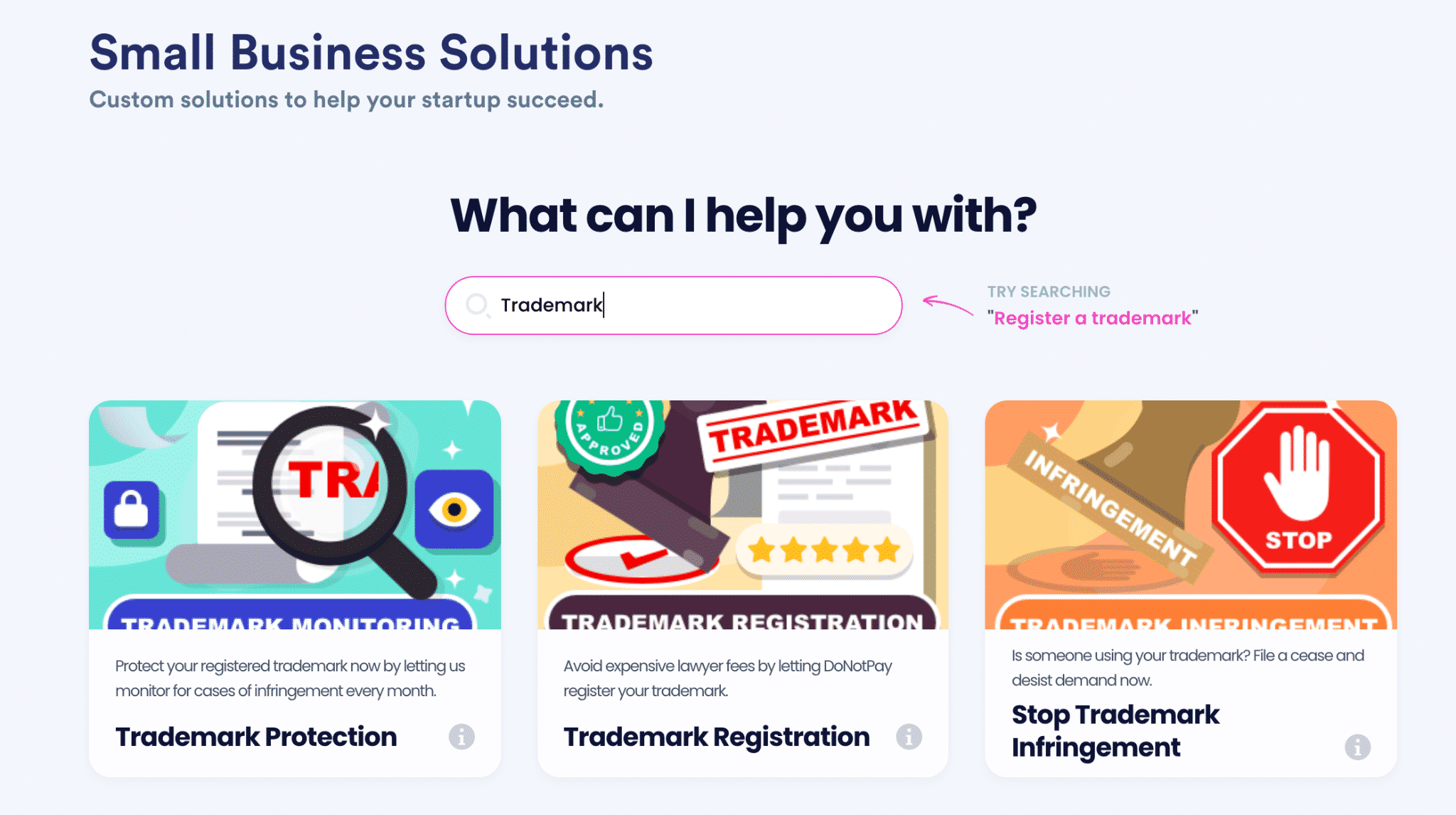 If your small business does not allow you to take time off to register a trademark, take the easy way out and let us help! DoNotPay is an AI-powered app that is fully acquainted with trademark requirements and can help you complete the application form and register a federal trademark in no time!
All you need to do is follow these instructions:
Navigate to the Trademark Registration tool
Answer several about your trademark and business
Pay the application fee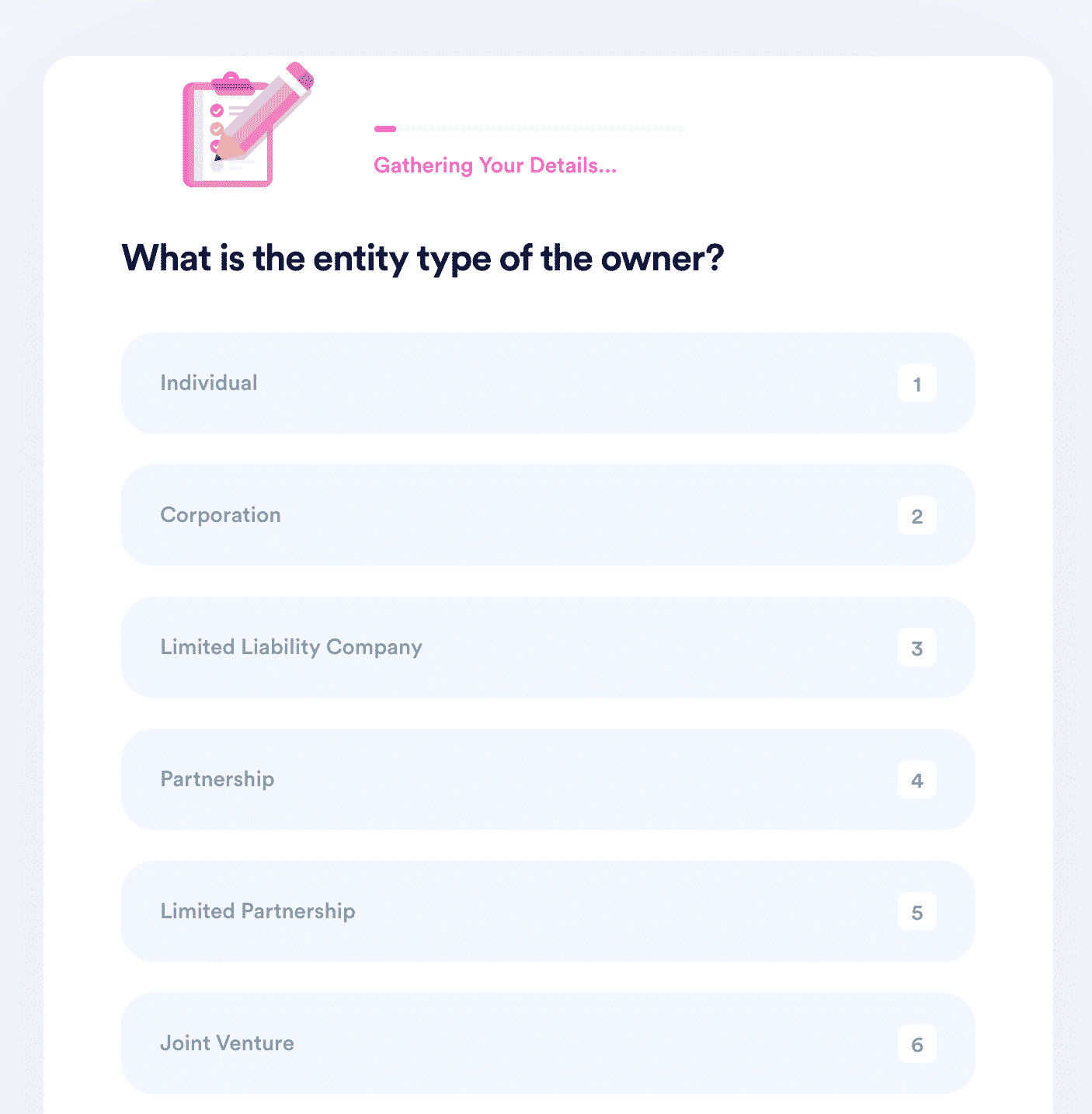 We will send your completed application to the USPTO and forward you a serial number to track your application status.
DoNotPay Has Everything You Need for Your Small Business
Navigating numerous business procedures can be overwhelming, especially if you don't have much experience. DoNotPay strives to make the situation easier for business owners, which is why we offer a number of simple-to-use products that can help you take care of various processes, including DMCA agent and Employer Identification Number registration, Privacy Shield program self-certification, and trademark registration and protection.
If you are not sure how to manage the filing of 83(b) election forms, DoNotPay has a solution that will automate the entire process and help you save time. Our app can even generate a convincing small business loan request letter for you. Don't feel like walking or driving to the post office to send the letter? Use DoNotPay to fax or mail any document in a matter of clicks!
DoNotPay Helps You Deal With Bad Clients
If you need help handling unpleasant situations with your clients, you can rely on DoNotPay. We have created various products to assist you in:
Making sure your business is free of negative, illegitimate online reviews—DoNotPay will analyze the review in question, estimate the best reason for reporting it, and report the review until it is deleted
Dealing with clients who breach the contract and refuse to pay—We will generate and send a demand letter requesting what's rightfully yours
Fighting unjustified chargebacks—Our app will create a personalized chargeback rebuttal document to help you keep your revenue
Resolve various business issues without wasting time or money—DoNotPay has got your back!