The Process of Getting a Trademark Registration Certificate
Protecting your brand is an essential step for your small business. The trademark application is a complicated process, but the protection it affords is worth the spent resources. This guide will help you learn more about the trademark registration certificate and show you how to get one without any trouble.
What Is a Trademark Registration Certificate?
When the United States Patent and Trademark Office (USPTO) approves your mark, you are awarded a trademark registration certificate. The document proves exclusive ownership of the mark and includes:
Owner's name and address
Title of the registered mark
Trademark classes of the listed goods and services
Registration status
You can find out if you have been awarded the certificate by checking your application status in the Trademark Status and Document Retrieval (TSDR) system. The USPTO will also mail you a paper certificate that you should receive within three months of successful registration.
Benefits of Getting a Trademark Registration Document
You don't have to register your trademarks, but owning a trademark registration document can help you in several situations, for instance:
Proving that the mark is registered for certain goods or services
Demonstrating your ownership of the mark
Filing a trademark infringement lawsuit
Obtaining an extension of protection in foreign countries
Preventing the importation of products with an infringing mark
How Do You Get a Trademark Registration Certificate?
To get a trademark registration certificate, you must apply with the USPTO. Here are the steps that you need to follow:
Establish whether you need a trademark
Choose a mark
Search the USPTO database to avoid infringement
Complete the trademark application form and submit
Establish Whether You Need a Trademark
To decide whether you need a trademark, you should learn the differences between the three types of intellectual property—copyrights, patents, and trademarks. This will help you apply for the right type of protection.
Sometimes you may apply for more than one if necessary. Here are the differences:
| Intellectual Property Type | Description |
| --- | --- |
| Trademark | Protects the brand elements—such as a logo, name, or slogan—that help identify your goods or services on the market |
| Copyright | Protects your artistic expressions and original creations—paintings, music, or books—by giving you exclusive rights to reproduce and distribute your work |
| Patent | Protects technical inventions and manufacturing processes by giving you the right to exclude others from utilizing your inventions, normally for 20 years |
Choose a Mark
If you determine that you need trademark protection, the next step is to select your mark. Not every mark is accepted by the USPTO. Some of the elements that are not legally protectable under the trademark protection law include:
Last names
An individual's name
Name of a geographic location
A general word or phrase
You can register different brand elements as your trademark, for instance:
Search the USPTO Database To Avoid Infringement
Once you pick the mark you want to register, you must determine if there are similar registered marks. Do this by searching the USPTO database. If there are similar marks claimed under goods or services similar to yours, the application will be rejected.
The trademark protection law only allows similar trademarks if the goods or services fall under different trademark classes.
Complete the Trademark Application Form and Submit
To apply for federal trademark registration, you must create an account on USPTO's official website. After you log in, you will be able to start your application using one of these two trademark application forms:
TEAS Plus—This application is more detailed and costs $250 per class of goods or services
TEAS Standard—This method requires fewer initial details and costs $350 for every class of goods or services
When completing the form, you must state the goods or services to which the trademark will apply. You will pay for every class of goods or services that you list. For instance, if you apply using the TEAS Standard form and list your products or services under six trademark classes, it will cost you $2,100.
You should monitor the status of your application in the Trademark Status and Document Retrieval (TSDR) system. It can take a few months or up to a year to get the first response.
If you don't have time to deal with the process and decide to hire a trademark attorney, you can anticipate additional costs of up to $2,000. Looking for cost-effective and efficient help? Turn to DoNotPay!
DoNotPay—The Best Way To Apply for Trademark Registration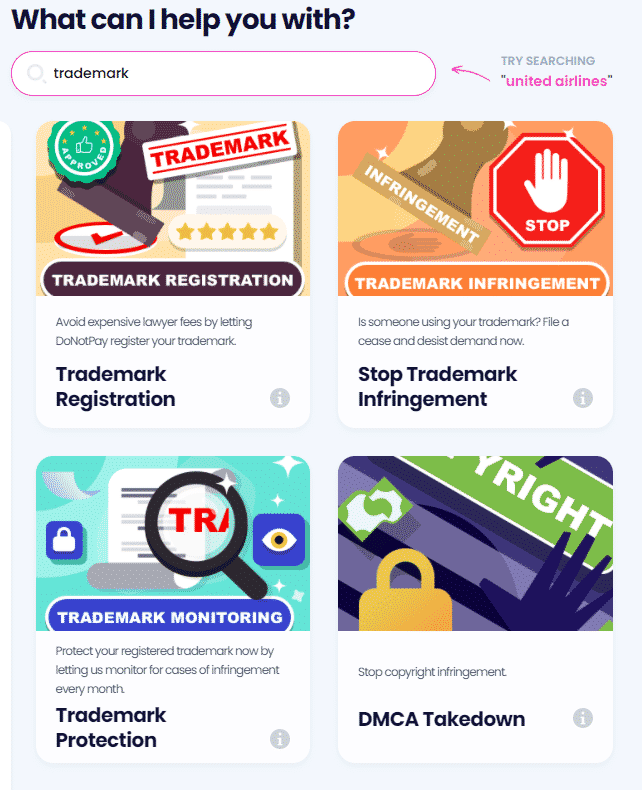 Although the registration process is lengthy and complicated, protecting your trademark is worth every effort, but you don't need to hire an expensive trademark attorney or struggle by yourself. DoNotPay can do all the hard work for you. Tell us about your trademark, and we will:
Research to find any conflicting marks
Brief you on the requirements
Complete the lengthy trademark application form on your behalf
Forward you the form for double-checking and e-signing
Submit your application to the USPTO
Are you ready to stop potential copycats? All you need to do is:
Find the Trademark Registration product
Provide more information about your trademark
Pay the required USPTO application fees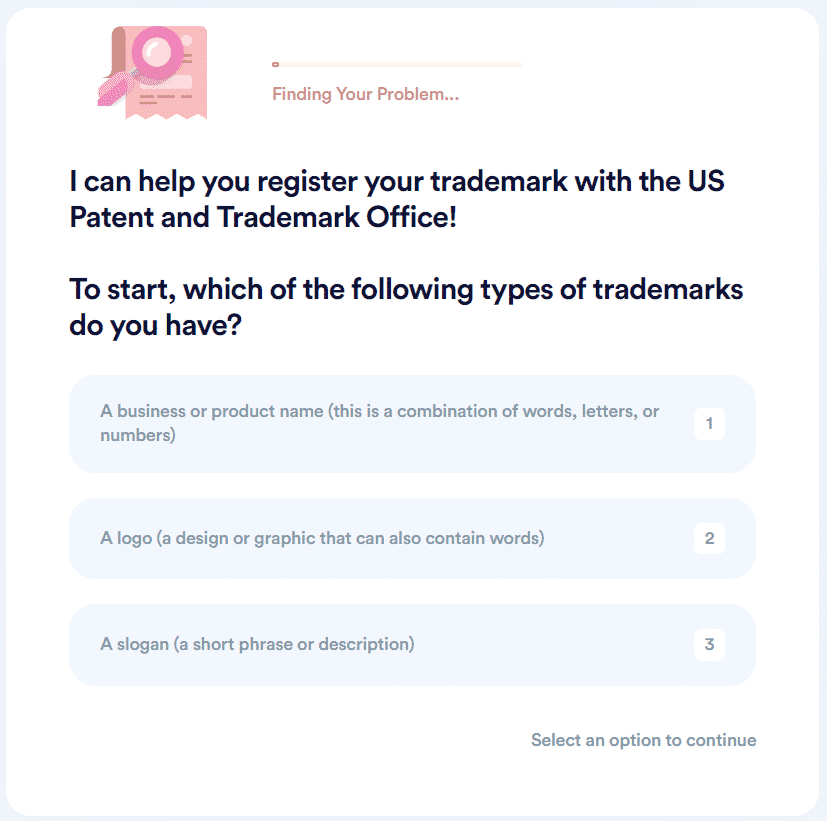 How To Maintain Your Trademark Registration
Trademark registration can last a lifetime, but there are steps you must take to maintain it, such as:
Using the trademark in commerce continuously
Filing the required maintenance documents
Monitoring the status of your application
If you miss anything, you risk the cancellation of your registration. If your trademark registration gets canceled, your only option is to repeat the entire process, and there is no guarantee you will be successful.
Deal With Any Small Business Matter With DoNotPay's Help!
Being a small business owner is not an easy task, and all the details that you need to pay attention to might seem overwhelming. From handling trademark registration and protection to dealing with crucial paperwork, such as the Employer Identification Number (EIN) SS-4 form and 83(b) election forms, you need to invest a lot of time and energy into each business-related aspect. That is why you should rely on DoNotPay and have us take care of everything in your stead!
If you need help handling copyright issues, you should consider registering a DMCA agent with the U.S. Copyright Office. Not sure how to do it? Use DoNotPay, and we will take care of it for you!
We can also help you dispute chargebacks and avoid losing your money to scams by generating a personalized chargeback rebuttal document based on the info you give us.
Run Your Business Stress-Free
DoNotPay strives to make your business endeavors free of unnecessary stress, which is why we created a variety of useful products to help you deal with complex issues hassle-free. With our assistance, you can:
Draft a professional letter requesting a loan for your small business
Enjoy convenient faxing and mailing services
Get rid of fake negative reviews that could harm your business
Prove your commitment to your clients' privacy by using DoNotPay's Privacy Shield Self-Certification product
Avoid hiring lawyers or collection agencies as our Breach of Contract product will help you send formal demand letters to clients who refuse to pay for your services