Everything You Should Know About the Trademark Protection Law
If your small business is growing and more customers know about you, you might run into new problems. Some people could try to profit by selling their products under your trademark. Others can copy your brand and register it ahead of you. That is why you should register your trademark early enough.
In this guide, we will explain how the trademark protection law works and show you how you can register your mark easily using DoNotPay.
What Is the Trademark Protection Law?
Trademark protection law in the U.S. usually refers to the Lanham Act of 1946, which prevents counterfeiting and infringement of your intellectual property. It also governs the entire trademark application process.
Here are some of the provisions of the Lanham Act:
Lanham Act Provisions
Details
Requirements for application
The following must be provided in every trademark application:

Applicant's domicile and citizenship proof
A drawing of the mark
Goods or services associated with the mark
Date of the owner's first use of the mark in commerce
Statement of good faith for intent-to-use applications

Trademark infringement and dilution
To initiate a trademark infringement lawsuit, you must demonstrate that:

You have a legally protectable mark
You own the mark
The infringing party's use of the mark creates or is likely to create confusion regarding the origin of the product/service

Remedies for trademark infringement or dilution
If you are able to prove that someone indeed infringed on your mark, some of the remedies can include:

A court order requiring the violator to stop using the mark in question
An order to destroy or confiscate the infringing goods
Financial compensation, including the violator's profits, damages you incurred, or even your attorney fees
What Are the Trademark Registration Rules?
The trademark registration can be a lengthy and complicated process. Following the rules will ensure that your time and effort result in acquiring the exclusive rights of ownership of your mark.
Here are the most important questions you should think about before starting the process:
Do You Actually Need a Trademark?
Which type of intellectual property protection does your idea qualify for? It's important to assess whether your mark qualifies for trademark protection before filing your application. Here is an explanation to help you understand the differences between the three types of intellectual property:
Trademarks—They can be words, phrases, graphic elements, or any other brand feature that ensures customers can differentiate between similar products or services. Trademark rights can last forever, but the registration requires periodic renewals, typically every ten years
Patents—This type refers to the rights granted to the inventor of a new technical invention—for example, the chemical formula for a new medicinal drug. Patent protection lasts 20 years
Copyright—This type of protection encompasses the rights given to creators of artistic works, like movies or songs, that generally last as long as the creator lives and an additional 70 years
What Is Protected Under Trademark Law?
Once you confirm that you indeed need a trademark, you must select a legally protectable mark, such as:
The following cannot be registered as trademarks:
Existing trademarks—You are not allowed to register a text, phrase, or anything that is registered by other businesses offering similar products. The only exception is if the business operates in a different industry
Generic trademarks—You cannot trademark a common phrase used in your industry. For instance, if you have a clothing brand, you cannot trademark the term "clothes"
Unregistered trademarks—Some trademarks that are in use are recognized under the common law ownership rights even though they are not registered yet
Benefits of Federal Trademark Registration
No law requires you to register a trademark in the U.S. Unregistered trademarks get protection under the common law if you are the first to use them. The rights to use the marks are enforceable within your business's geographic area of operation only.
The decision is entirely up to you, but trademark registration does come with numerous benefits:
A certificate of registration that easily proves your exclusive rights to use the mark
Approval to use the ® symbol, which can keep infringers away
A listing in the USPTO database that helps prevent other businesses from using a similar mark
The right to file infringement lawsuits in federal courts
Protection from the imports of goods that have an infringing mark
Counterfeit protection throughout the United States
How Much Does It Cost To Trademark a Business Name, Logo, or Slogan?
The cost of registering your trademark with the USPTO varies depending on the:
Type of application form
Number of classes of goods and services
Type of Application Form
The USPTO offers two types of forms for the initial application:
TEAS Plus—This form is more detailed and will cost you $250 per class of goods and services
TEAS Standard—Using this form means you will have to complete fewer requirements, and you can add personalized descriptions of your products where necessary. Each registered class increases the application costs by $350
Number of Classes of Goods and Services
You will need to pay for every class of goods or services associated with your trademark. For instance, if you have two classes and use the TEAS Standard form, you will pay $700.
The Process of Registering a Trademark
The USPTO currently requires all applications to be submitted online.
To submit your application electronically, you should:
Perform a search of the USPTO database to avoid trademark infringement
Select and complete the application form
You can expect the first response within three months. Keep checking the status of your application in the Trademark Status and Document Retrieval (TSDR) system to find out the next steps.
Register Your Trademark the Easy Way With DoNotPay
Registering a trademark doesn't have to be a lengthy and tedious process if you do it right. Considering that the application fees are non-refundable, you will need all the help you can get.
Fortunately, you don't need to do everything by yourself or hire an expensive attorney. We have a cost-efficient and straightforward option for you—use DoNotPay. Our app will do all the work, including:
Searching the USPTO database to verify the availability of your trademark
Guiding you through the application requirements
Completing the forms on your behalf
Submitting the application to the USPTO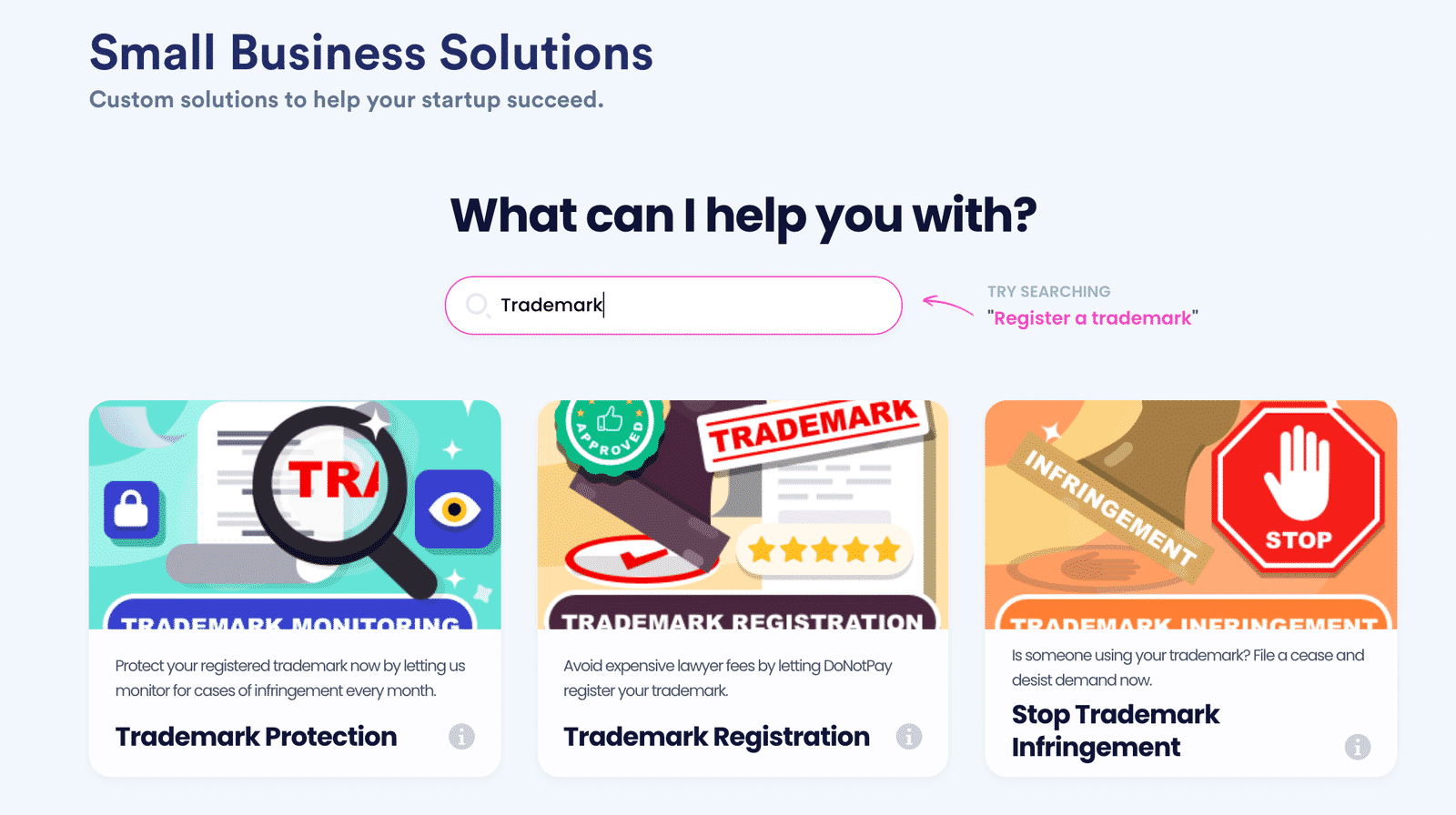 Follow these steps to register your trademark now:
Find the Trademark Registration tool
Tell us about your trademark
Pay the USPTO application fee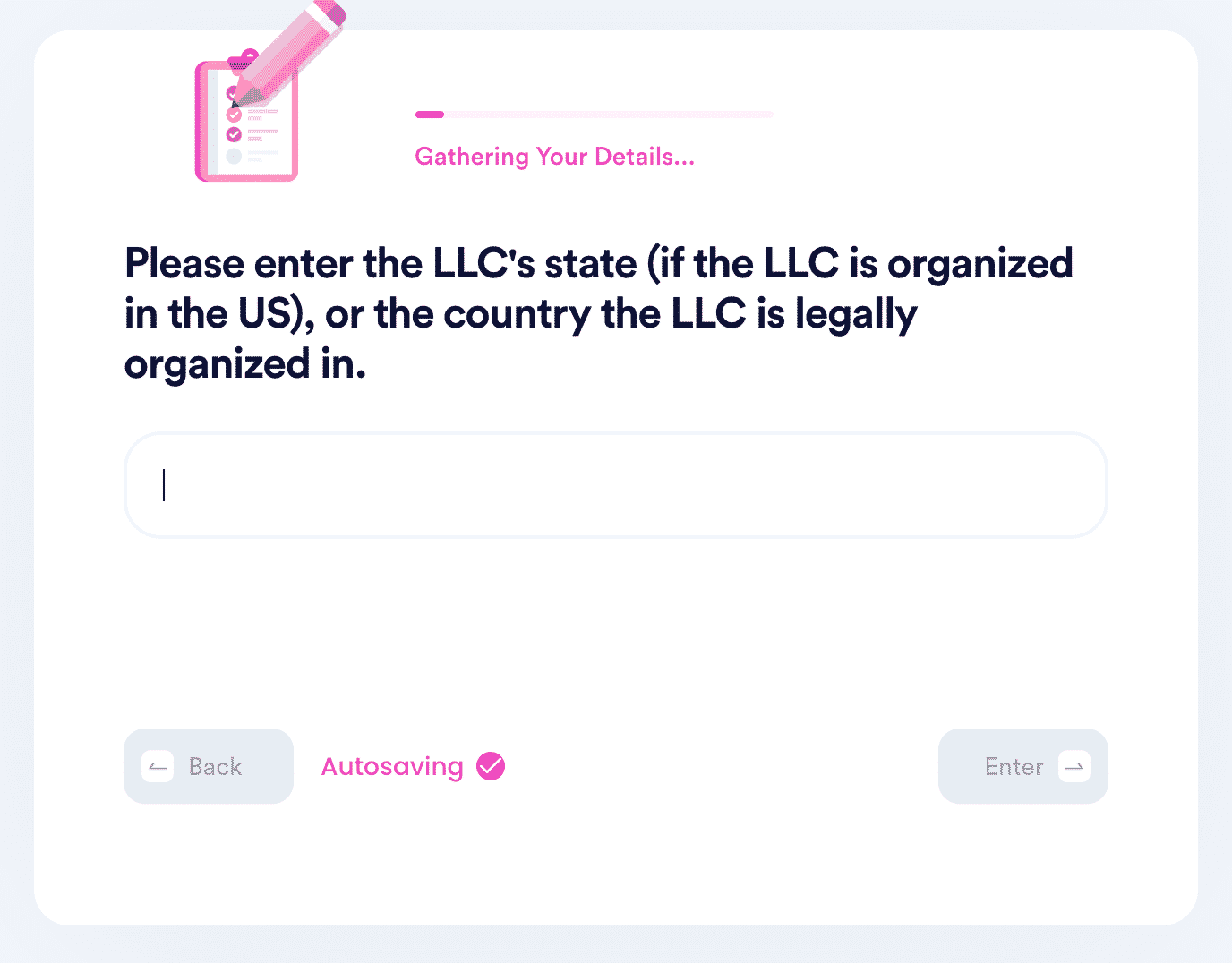 Small Business, Big Issues—Resolve Yours With DoNotPay
DoNotPay is here to offer a helping hand in your business endeavors. We can help you handle various procedures as effortlessly as possible. Want to make sure you get a small business loan for real estate purchases, job creation, debt repayment, and similar? DoNotPay is here to assist you in writing a convincing request letter! Want to make sure your employees and shareholders save money on taxes by filing 83(b) election forms? We can help with that too!
The world's first robot lawyer has a myriad of nifty features at your disposal. Use your precious time to work on your brand while we take care of most business-related issues for you. Our app can help you:
Fight unfair chargebacks
Deal with illegitimate online reviews
Send formal demand letters to clients who won't cover the cost of your services
File the self-certification request with the Privacy Shield program in a matter of clicks
Send documents to your customers or business associates from the comfort of your office with our faxing and mailing tools
DoNotPay Helps You Deal With Various Registration Processes!
One of the first tasks you should complete as a business owner is to obtain an Employer Identification Number (EIN). Applying for it is usually a tedious process unless you use DoNotPay! We can file your application on your behalf and notify you accordingly.
Does your business have a website that allows users to share or store content? An important aspect you should take care of is registering a DMCA agent, and DoNotPay is here to make the process easier!
If you wish to register your business name, slogan, or logo as a trademark but you're not sure how the process goes, rely on DoNotPay and finish your registration in no time! We can also help you protect your trademark by monitoring it every month and filing a cease and desist demand if anyone tries to steal it.