Trademark Names for Business—A Comprehensive Guide
Do you know how to trademark names for your business? It is an important step for every growing organization to take.
Trademarks allow you to harness the full value of your brand without having to worry about a competitor using it for their gains. That is why you need to know how and why to trademark a company name.
Consult our simplified guide to figure out the application process—or .
What Is a Trademark in Business?
While smaller businesses in limited local markets may not need to trademark their name, any company intending to scale up would benefit from additional protection. If you fail to protect your company name with a trademark, it is open to use by competitors. They can take advantage of the goodwill and reputation you have built with your brand.
Once you have registered a component of your brand with the United States Patent and Trademark Office (USPTO), your competitors cannot use it as it is protected by federal law. In addition to your organization's name, brand assets that you can register as trademarks include:
By registering your business name as a trademark, you gain actionable legal grounds to sue other companies for infringement.
There are three general categories of trademarks:
| Type of Mark | Applies To |
| --- | --- |
| Standard character format | Words, letters, numbers |
| Special character format | Logos, symbols, words in a specific font, colors, or typeface |
| Sound mark | A sequence of notes (e.g., NBC's three-note chime) |
What Is the Difference Between Trademarks, Service Marks, and Copyright?
Despite all being types of federal intellectual property protection, these three concepts are distinct as to what they cover. Service marks cover service providers, and copyright protects created works (managed by The U.S. Copyright Office at the Library of Congress).
Can You Trademark Any Business Name?
No—trademark laws for business names state that you cannot register a trademark if it closely resembles another in the same class. If your brand overlaps with another company selling the same product or service, you will not be able to register for a trademark.
That is why small and growing businesses should confirm that their brand does not conflict with any other registered trademark.
What Class of Trademark Should You Apply For?
To successfully apply for a trademark on your business name, you must file it under the correct class. There are 45 classes of trademarks:
| 001—Chemicals | 016—Paper goods | 031—Grains, agriculture |
| --- | --- | --- |
| 002—Paints | 017—Rubber products | 032—Beers and beverages |
| 003—Cleaning substances | 018—Leather goods | 033—Alcoholic beverages |
| 004—Industrial oils | 019—Building materials | 034—Tobacco products |
| 005—Pharmaceuticals | 020—Furniture | 035—Advertising and business services |
| 006—Common metals | 021—Household utensils | 036—Insurance and finance services |
| 007—Machines | 022—Ropes and textile products | 037—Construction and repair services |
| 008—Hand tools | 023—Yarns and threads | 038—Telecommunications services |
| 009—Computers and scientific devices | 024—textiles | 039—Shipping and travel services |
| 010—Medical supplies | 025—Clothing | 040—Material treatment services |
| 011—Appliances | 026—Lace and embroidery | 041—Education and entertainment services |
| 012—Vehicles | 027—Carpets | 042—Science and technology services |
| 013—Firearms | 028—Games and sporting goods | 043—Food services |
| 014—Precious metals | 029—Meat, fish, poultry | 044—Medical and vet services |
| 015—Musical instruments | 030—Coffee, flour, rice | 045—Legal and security services |
5 Steps to Trademark Names for Business
The USPTO only allows online trademark registration. After confirming that your brand does not overlap with another registered trademark, you can initiate the application process by following these steps:
Visit the Trademark Electronic Application System (TEAS)
Log into or create an account for TEAS
Start a new application for your specific trademark class
Fill in the requisite information about your brand
Submit the application
How Long Does a Trademark Last?
While the registration process can take 9–12 months, your trademark will last for ten years once complete. After that point, it will expire unless you renew the trademark during the fifth or sixth year.
How Much Does It Cost To Register a Trademark?
The USPTO charges a filing fee for each trademark class in which you choose to register. The two types are:
TEAS Plus—$250/class
TEAS Standard—$350/class
TEAS Plus is recommended for newer businesses whose brand fits into a predetermined description in the Trademark ID manual. TEAS Standard is meant for companies that need to use a custom definition for their services.
Beyond the USPTO filing fees, you may also need a trademark lawyer to facilitate the application procedure. Hiring a legal professional can be expensive for smaller businesses, which is why we recommend you use DoNotPay.
DoNotPay Will Help You Trademark Names for Business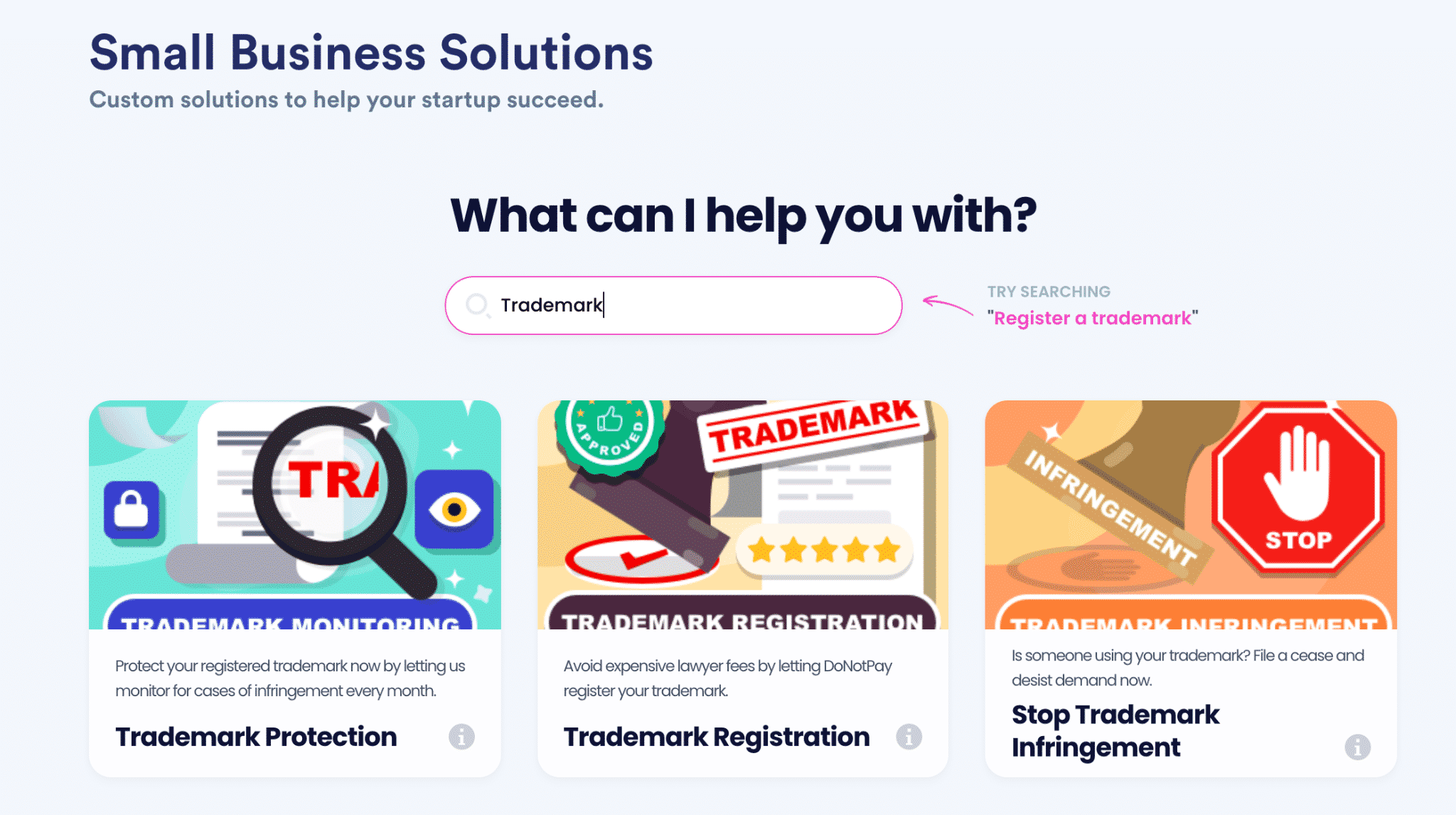 Managing a business involves so much paperwork already—do you have time for more? Instead of adding another to-do to your list, you can .
Our Trademark Registration tool will manage every critical step in the application process, including:
Gathering the required information
Filling in and submitting the application
Ensuring you review and sign it
Providing your application tracking number
Giving the USPTO your contact information
All you have to do is:
Subscribe to DoNotPay
Open our Trademark Registration product
Describe your trademark and answer our questions
Cover the filing costs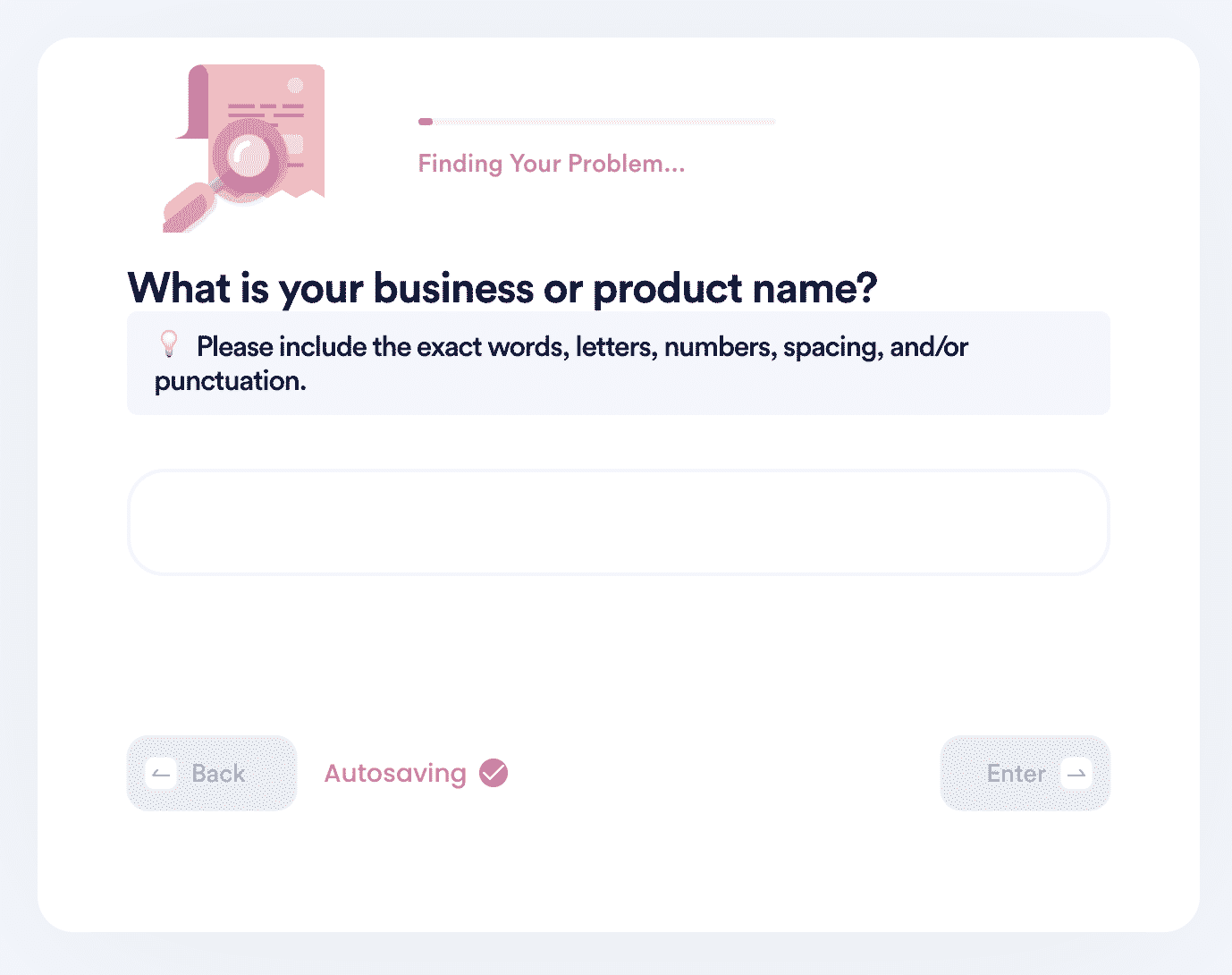 Resolve Various Business Problems With the Help of DoNotPay
Handling annoying administrative issues is the last thing you want to worry about while trying to build a business empire. The good news is that you do not have to! DoNotPay has developed many nifty products that make various pesky tasks easy to complete.
Some of the small-business-related matters we can help you with are:
Taking out business loans
Obtaining an Employer Identification Number (EIN)
Automating the filing of 83(b) election forms
Requesting your money from customers who won't pay
Registering a DMCA agent
DoNotPay can also make communication with your clients or business partners easier as we enable you to fax and mail your letters, forms, and other important documents without leaving your office.
Maintain a Good Business Reputation
It is no secret that building a trusting relationship with clients takes time and effort, so why have all that hard work ruined by negative online reviews that are fake? DoNotPay is here to help you remove illegitimate, fake reviews in a matter of clicks!
Want to dispute unfair chargeback requests but are not sure how to go about it? By using our Fight Chargebacks feature, you can have DoNotPay create a customized chargeback rebuttal document in a few minutes.
With our app, you can also protect your trademark from people trying to use it, file the self-certification request with the Privacy Shield program, and handle many other aspects of your business hassle-free!