Is It Advisable To Trademark a Name and Logo Together?
Trademarks are the elements representing your small business to the public and distinguishing it from other companies that belong to the same sphere. Protecting them with the U.S. Patent and Trademark (USPTO) registration can help you avoid infringement, but do you need to file one trademark at a time?
Can you trademark a name and logo together using a single application form? If yes, what are the benefits and drawbacks of doing so? Look no further—we provide answers in this article! to file a flawless trademark application and register your asset on the first try!
Do You Have To Trademark a Logo and Name Separately?
No, you do not.
People usually file separate applications for their business name and logo, but the filing fees double in such cases. The total expense gets even higher if they hire an attorney to help them with the registration. For this reason, many trademark owners decide to cut the costs and register both assets at once. The same happens if they want to apply for any other combination of trademarks, including phrases, slogans, or usernames.
Pros and Cons of Filing a Trademark for a Name and Logo Together
Is it always a good idea to register your name and logo as trademarks at the same time? The following table will give you the best answer to this question by listing all advantages and disadvantages of such a choice:
Pros
Cons

The total amount for a double trademark registration without legal fees will not exceed $350—This is how much the most expensive application filing option costs
You kill two birds with one stone—There's no need to file two applications and wait months to receive approval for both trademarks

Once you file a trademark for a name and logo together, you must use them together as well. In the USPTO database, these assets count as a single trademark—separating them can compromise your federal trademark protection
If you decide to rebrand and modify your logo, you must file a new application and spend extra money. A simple renewal would not be possible in such a case, affecting the trademark duration
The rebranding procedure may be delayed if you try to change the logo you registered along with your business name
How To Register Your Business Name and Logo Together
If you decide that filing a single trademark application for your logo and business name is the right choice for you, it is time to:
Check if the assets meet the registration requirements—You cannot trademark a name or logo that has already been registered by someone else. It is crucial to perform a USPTO trademark search to ensure your ideas are not already in use. If they match other entries fully or partially, you must modify them before you proceed with the registration
Determine a suitable type of application—You can apply for trademarks using:

Use-in-commerce approach—for the marks that have already been used in relation to the goods you offer
Intent-to-use approach—for the marks that have not been used yet, but will be in the future

Define the trademark class for your name and logo design—Depending on the goods/services you offer, you must assign a specific class to your trademarks. There is a possibility of classifying them into multiple categories, but that increases the overall trademark application costs
Complete the application form with the additional supporting elements—The USPTO currently allows electronic trademark applications. You can submit one along with the logo design draft and sample showing how the chosen trademarks match the products you offer
Can DoNotPay Help You Apply for a Trademark Effortlessly?
A carefully completed trademark application reduces the chances of rejection and helps you register your assets more quickly and easily. With DoNotPay, you do not need to spend hours filling out the USPTO e-forms and worry about potential mistakes. Our app can apply for a trademark in your name!
Here is what you need to do to get our help with trademark registration:
and choose the Trademark Registration product
Specify what kind of trademark you want to apply for
Select a trademark class and complete a brief questionnaire related to the assets you wish to register
Pay a trademark application fee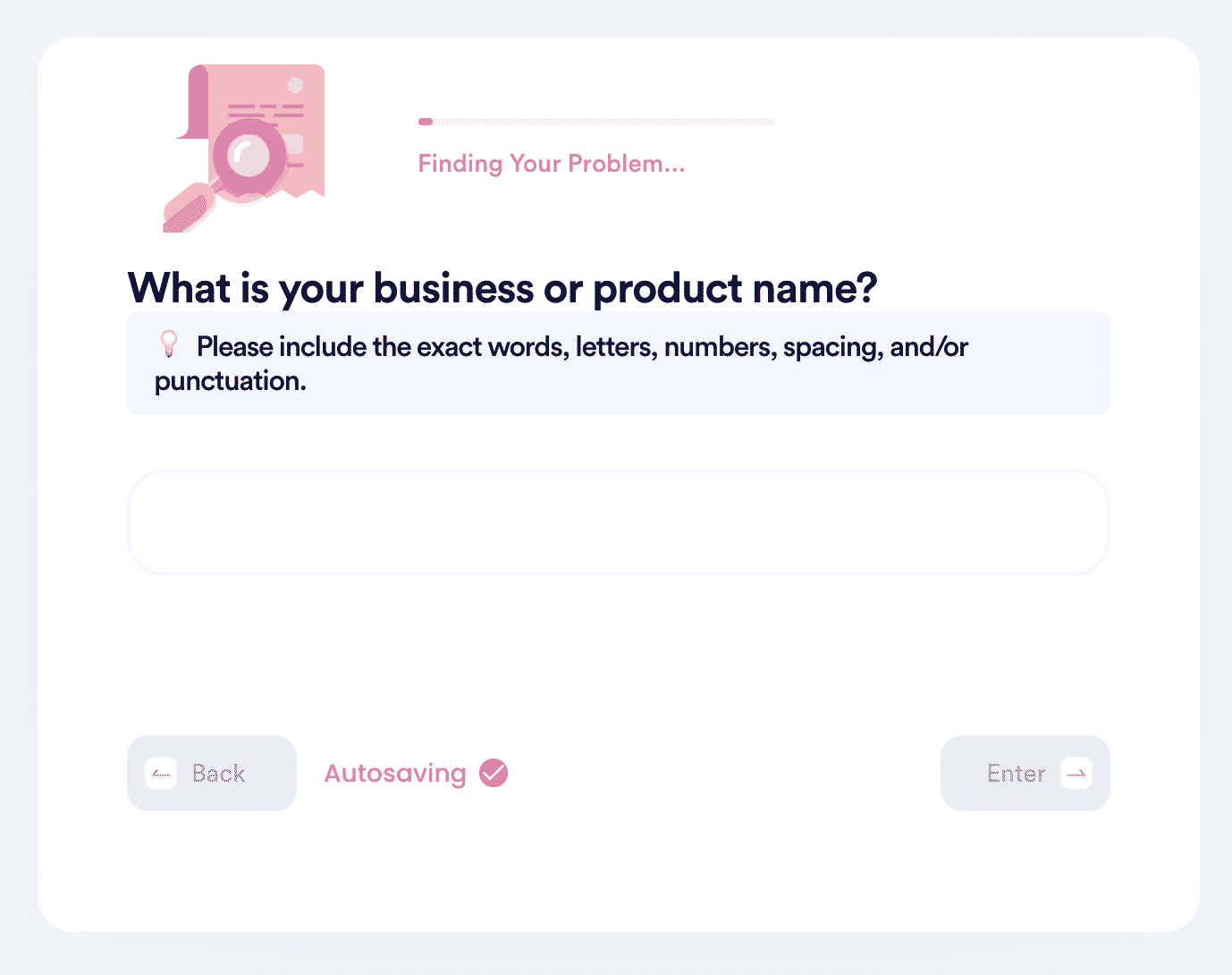 We will use the details you provide to fill out the trademark application form and direct it to the USPTO on your behalf. You will get a tracking code to follow the progress of your application and receive an email notification once the agency registers your trademark!
Do you want to know if you need a trademark, how trademark protection law works, or when you should use service marks and copyrights? Check out a wide spectrum of trademark-related topics DoNotPay covers in its knowledge base!
DoNotPay Goes the Extra Mile
Our app has much more to offer—products that will protect and elevate your business.
Count on DoNotPay when you want to:
Simplify Processes
Solve Issues

83(b) election form submission
Business loan application
Employer Identification Number (EIN) registration

Trademark infringement
Fraudulent chargebacks
Keep Your Company Safe
For your business to thrive, you need to be prepared for any problem that may come your way. This is where DoNotPay comes in! We can help you trademark your company name and even the logo or slogan. To avoid any copyright infringement issues in the future, you can use our app to register your DMCA agent. If you are worried about your clients' privacy, we will be glad to assist you in getting into the Privacy Shield program.
Are there any negative reviews online slandering your company? DoNotPay can help you get rid of fake comments potentially hurting your business.
As it all comes down to communication, we have developed a feature to help you reach your employees, associates, or clients the easy way. At no additional cost and no post office visit necessary, our AI-powered app can both fax and mail letters and documents.