Trademark License Agreement—What It Is, and How To Get One
If you're an owner of a trademark, you may need a trademark license agreement to protect your intellectual property. Writing such a legal document or any other contract on your own is time-consuming, and having a lawyer to create one is an expensive option.
Don't fret—DoNotPay is here to help! We will explain everything you need to know about a trademark license agreement and show you how to write one in a matter of minutes. 
What Exactly Is a Trademark License Agreement?
A trademark license agreement is a contract with which a licensor allows a licensee to use the registered trademark. Such documents are used by companies and trademark owners to expand into new markets by lending someone else an established name and reputation. 
The Benefits of Having a Trademark License Agreement 
If you are considering getting a trademark license agreement, here are some benefits of having one to help you decide:
Additional source of income

—each user of the licensed trademark is an additional stream of revenue

Territorial expansion

—by allowing a company to use the licensed trademark in another country, the trademark will expand in that territory

Benefit from another party's manufacturing

—the trademark owner will benefit from the partner's manufacturing, distribution, or sales without having to invest 

New channels of distribution

—thanks to the trademark, a licensor may enter new channels of distribution that they've not used

Increased consumer recognition and advertising

—the more a trademark is used, the more it will be recognized 
What Is a Trademark License Agreement Supposed To Contain?
What is included in a trademark license agreement is up to the licensor and licensee, but the contract has to include these elements to be valid:
Full legal names of the licensor and licensee

Identification of the trademark

Identification of the product that a licensee is going to use the licensed mark on

The geographic territory in which the licensed trademark is going to be used 

Quality control provisions that set clear requirements regarding the quality of the licensed products or services

A statement saying whether the trademark license agreement is exclusive or non-exclusive

The duration of the contract 

Renewal date and conditions of agreement renewal

Royalties that the licensor is going to receive 

Terms regarding the responsibilities of both parties in case of the termination or expiration of the contract

The consequences of breaching the agreement 
Is a Trademark License Agreement Legally Binding?
A trademark license agreement doesn't have to be in a written form to be legally binding, but enforcing an oral agreement is much more challenging. This is why it's recommended to have a trademark license agreement in written form. 
Having everything written down will provide all parties with a clear understanding of what's in the agreement, and it will be easier to enforce if it comes to a dispute. 
Should You Write a Trademark License Agreement by Yourself?
Writing a trademark license agreement on your own is doable, but it's not recommendable, as your brand's reputation is on the line. Instead, you should consider hiring a trademark attorney who will work with you and develop a trademark agreement that all parties will be able to understand. Although this solution is reliable, it is not cheap at all.
Although we can't help with a trademark license agreement, you can always turn to DoNotPay for assistance if you need another type of legal document!
How Can DoNotPay Help You With Legal Documents? 
If you want a solution that is simple, reliable, and effective, use DoNotPay! We have developed a product that allows you to draft various types of legal documents—whether it's real estate or any other document type—in a few easy steps. 
Here's what you need to do to get a personalized document:
Type in the name of the document you want to be generated

Answer our chatbot's questions about the document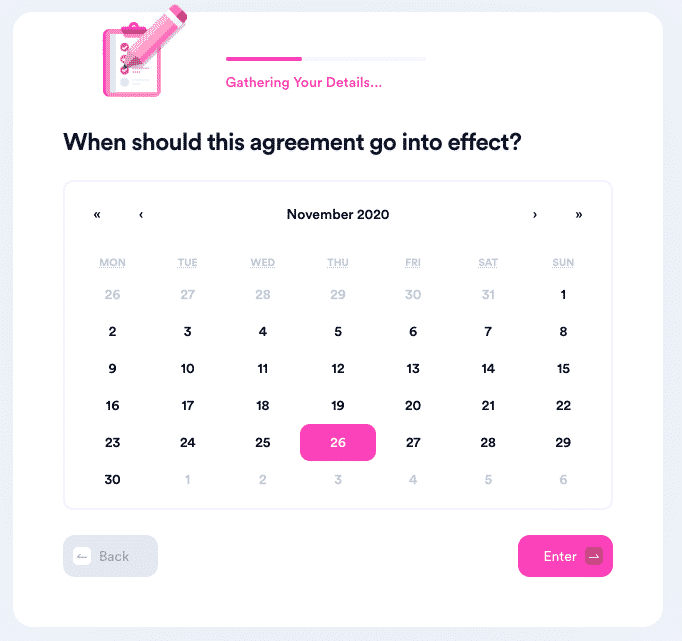 You'll receive your document shortly after, and all you'll have to do is to sign it.
Does a Trademark License Agreement Need To Be Notarized?
Although notarization of a trademark license agreement isn't required, it's certainly recommended, especially if you're signing the agreement with a licensee from a different country.
DoNotPay comes to the rescue yet again with our Notarize Any Document product. We can get your document notarized after generating it for you in a flash!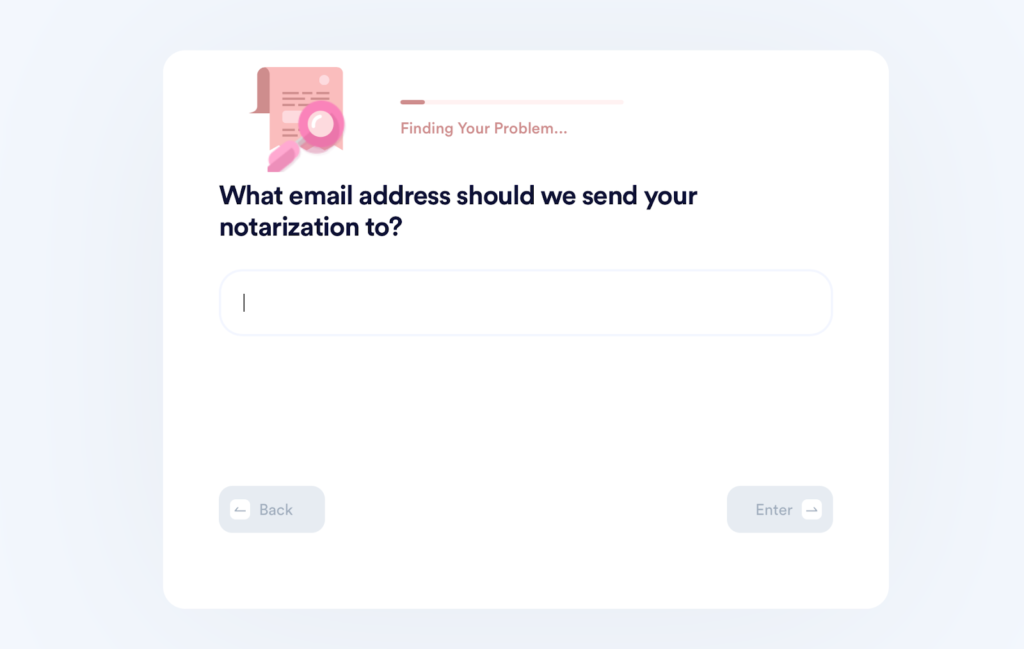 What Documents Can DoNotPay Help With?
Our AI-driven app can generate documents of all sorts for you. Here's a table containing some examples of contracts that we can generate and those that we don't but provide assistance with:
Documents DoNotPay Generates
Documents DoNotPay Provides Guides On

Promissory Note

Quitclaim Deed

Intent To Purchase Real Estate

General Affidavit
Money Troubles Got You Down? Use DoNotPay To Get What You're Owed!
If you need help paying bills, you could benefit from our hacks for saving and earning money.
Our app can help you get free trials with no hidden charges, thanks to DoNotPay's virtual credit card. If you want to get rid of a service, we can assist you in canceling it or requesting a refund. We'll get everything done so that you don't have to deal with customer service. In case a company is playing dirty, our award-winning app can help you take it to small claims court.
A slow bureaucratic process shouldn't stop you from getting your money back. This is where DoNotPay comes in! We provide the fastest way of:
Rely on DoNotPay To Manage Different Tasks and Issues
DoNotPay is a multifaceted app making your life easier in numerous ways. Here's how you can benefit from your DoNotPay account:
| | |
| --- | --- |
| Complete a Task | Solve a Problem |
| | |