A Complete Guide to Trademark Forms
Registering a small business trademark with the United States Patent and Trademark Office (USPTO) requires you to complete an electronic application form. Besides the initial application, you will be required to file other trademark forms at different stages.
This guide will help you understand the necessary forms for filing the initial application and maintaining the registration and show you how to simplify the registration process with .
Initial Trademark Application Forms
You should submit your application using the USPTO's Trademark Electronic Application System (TEAS). For the initial application, you will have two filing options. The table below illustrates the notable differences between them:
Requirements
TEAS Plus
TEAS Standard
Filing fees
$250 per trademark class
$350 per class
Fee payment period
The full amount is required during the initial application
You can pay one filing fee with the initial application and the remaining amount later
Goods and services identification
You have to use the Trademark Identification (ID) Manual
You can create your own

description of your goods and services

Designation of an attorney (foreign-domiciled candidates only)
The application must be filed by a

U.S.-licensed attorney

An attorney can be assigned after you submit the initial application yourself
Initial requirements
All requirements must be submitted upfront
There are fewer initial requirements
Submission of additional statements
At the moment of application
After submitting the initial application
Trademark Renewal Forms
Besides using the trademark in commerce, you must occasionally file maintenance documents to keep your registration. You also have to file the trademark renewal forms every ten years or risk the cancellation of your registration. If your registration gets canceled, you have to start the filing process from scratch, and there is no guarantee of success.
Check out the mandatory and optional forms for maintenance and renewal of the trademark/service mark registration under the trademark law:
Declaration of Use and/or Excusable Nonuse under Section 8
Combined Declaration of Use and/or Excusable Nonuse/Application for Renewal under Sections 8 and 9
Declaration of Incontestability under Section 15
Declaration of Use and/or Excusable Nonuse Under Section 8
You are required to file this form if you have continually used the mark—registered in the Principal Register only—in business for five consecutive years. The filing date should be between the fifth and sixth year from the registration date. If you are late by six months, you may file on the condition that you pay an additional $100 per trademark class.
Combined Declaration of Use and/or Excusable Nonuse/Application for Renewal Under Sections 8 and 9
You have to file a declaration of use between the ninth and tenth years from the registration date and every ten years afterward. During the same time, you should file a renewal application.
The application for renewal must be submitted every ten years, or you risk the expiration of the registration.
Declaration of Incontestability of a Mark Under Section 15
If your mark has been in use in commerce for five years after the registration, you can file to claim incontestability status. It is optional to file this form, but it ensures that no one can challenge your mark afterward.
How To Register a Trademark in the U.S.
Trademark registration is not a legal requirement. Unregistered trademarks are protected under common law ownership rights. These rights apply to your local area of operation only. The choice is up to you, but it's worth noting that registered marks have a broader level of protection.
Prior to filing your application, it's necessary to confirm if your mark is indeed unique by searching the USPTO database. With millions of registered trademarks, it's not impossible that some already registered marks are similar to yours. A comprehensive search can help you avoid trademark infringement and needless application rejection. If you need help, DoNotPay can perform a comprehensive search for you and even complete the application on your behalf.
If your mark is available, create a USPTO account to access the TEAS forms and complete the application.
DoNotPay Can Help You File Your Trademark Registration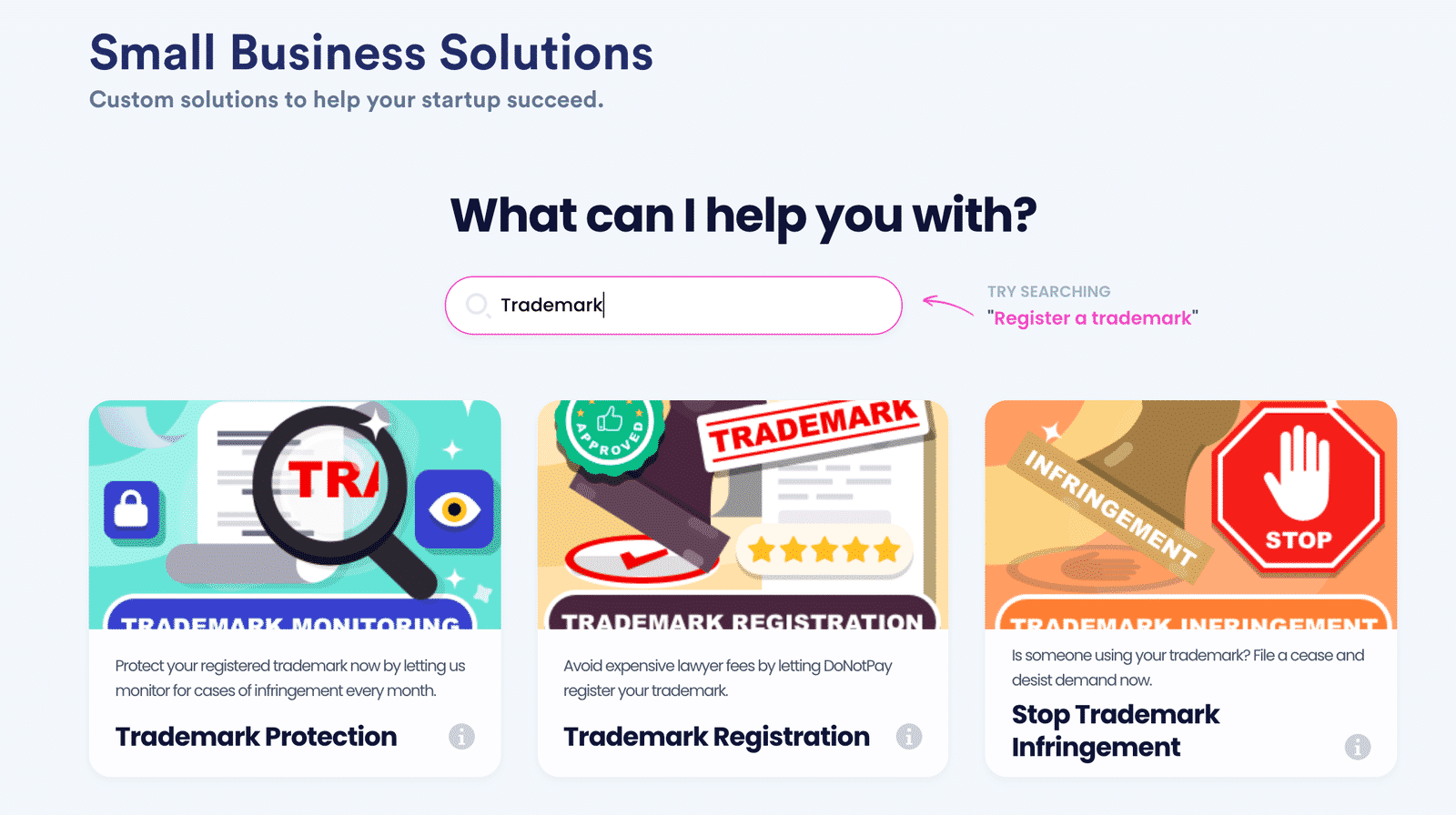 Just like any other legal process, trademark filing is complicated. That is why DoNotPay—the world's first robot lawyer—is here to simplify the process for you. With our help, you can avoid most of the needless amendments that result in delays and, at times, refusals. DoNotPay will handle the process from searching for conflicting marks to the final submission of your application.
Just follow these steps and get the guesswork out of the process:
Select the Trademark Registration product
Complete the brief questionnaire
Pay the USPTO filing fees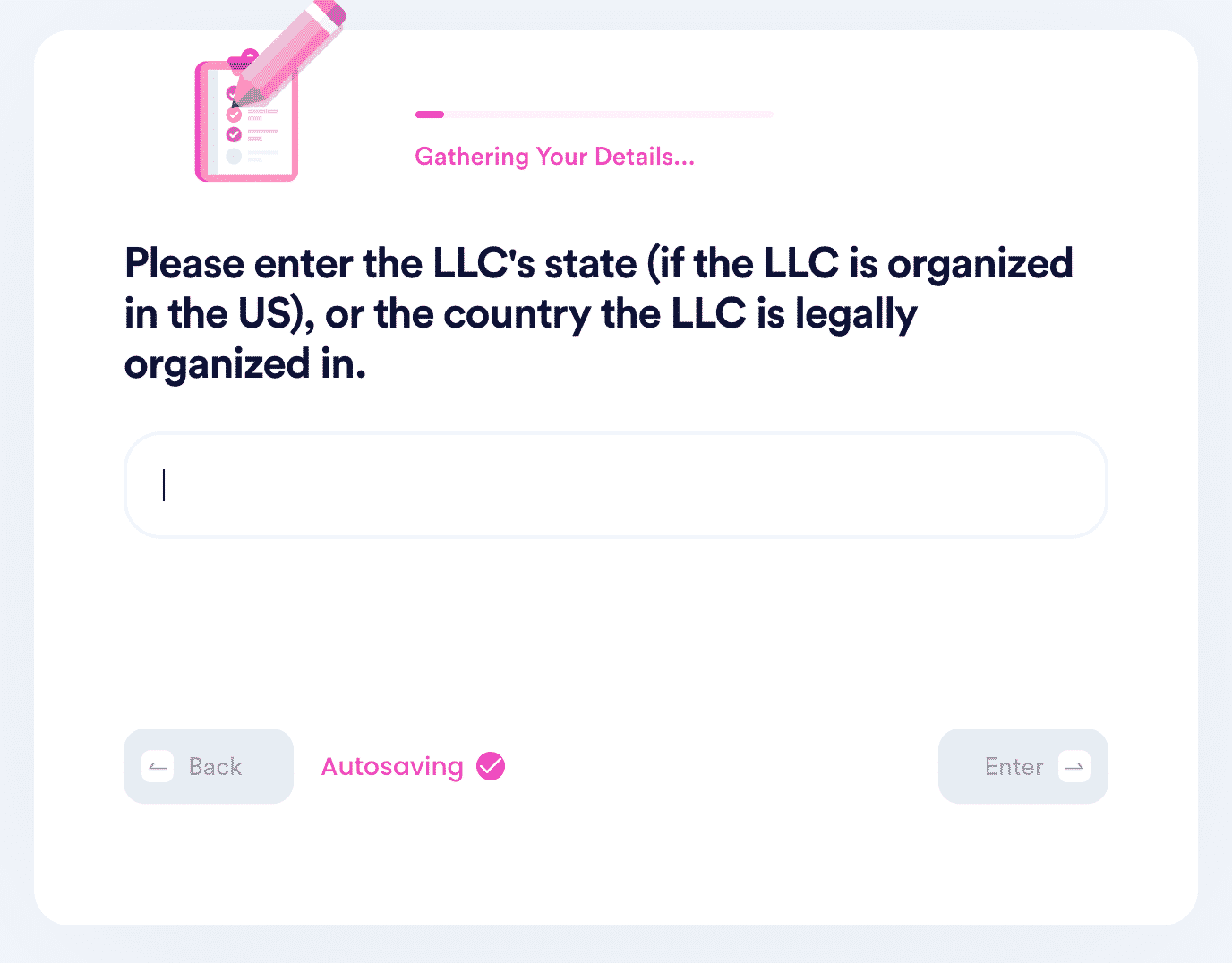 Do You Need a Trademark?
It's easy to confuse the three types of intellectual property, so you should first establish whether your idea qualifies for trademark protection. Check out the differences to help you determine the right kind of protection you need for your business assets:
| Intellectual Property Protection | What Can Be Protected? |
| --- | --- |
| Trademarks | Unique brand elements used in commerce, such as logos, business names, slogans, etc. |
| Copyrights | Original creative and literary works, like songs, paintings, etc. |
| Patents | Unique inventions and processes |
Deal With Any Small Business Matter With DoNotPay's Help!
Being a small business owner is not an easy task, and all the details that you need to pay attention to might seem overwhelming. From handling trademark registration and protection to dealing with crucial paperwork, such as the Employer Identification Number (EIN) SS-4 form and 83(b) election forms, you need to invest a lot of time and energy into each business-related aspect. That is why you should rely on DoNotPay and have us take care of everything in your stead!
If you need help handling copyright issues, you should consider registering a DMCA agent with the U.S. Copyright Office. Not sure how to do it? Use DoNotPay, and we will take care of it for you!
We can also help you dispute chargebacks and avoid losing your money to scams by generating a personalized chargeback rebuttal document based on the info you give us.
Run Your Business Stress-Free
DoNotPay strives to make your business endeavors free of unnecessary stress, which is why we created a variety of useful products to help you deal with complex issues hassle-free. With our assistance, you can:
Draft a professional letter requesting a loan for your small business
Enjoy convenient faxing and mailing services
Get rid of fake negative reviews that could harm your business
Prove your commitment to your clients' privacy by using DoNotPay's Privacy Shield Self-Certification product
Avoid hiring lawyers or collection agencies as our Breach of Contract product will help you send formal demand letters to clients who refuse to pay for your services