How Much Does the Registration of Your Trademark Cost—Unraveled
Protecting your ideas and intellectual property legally should be among the crucial elements of your business endeavor. By registering your trademark, you become the only person who can use a specific mark—preventing other companies from presenting it as their own solution. The registration process is performed by the U.S. Patent and Trademark Office (USPTO).
How much does the registration of your trademark cost? Do you need to pay the application fees only, or are there other costs imposed by the USPTO? Do not waste your time looking for information all over the internet—this article is here to help! Find all the info about the expenses you can expect when registering your trademark and learn how to use DoNotPay for a simple and smooth trademark application!
What Can Be Trademarked?
Unlike copyrights, which usually protect literary and artistic works, trademarks cover specific elements of your small business that make it different from others on the market. Many elements can be registered as trademarks, including:
You need trademarks to safeguard unique business products, while services should be protected with service marks.
What Do Trademark Registration Fees Depend On?
The trademark application fees are not the same for everyone. The total amount you must pay when registering your trademark varies depending on:
Filing basis—The USPTO lets you choose between:

Use in commerce basis—if you have already been using the idea you want to register
Intent-to-use basis—if you still have not used the mark but plan to do it once you protect it

Filing options—There are two ways to file an electronic application—via:

Trademark Electronic Application System (TEAS) Standard
Trademark Electronic Application System (TEAS) Plus
Each option has specific requirements that affect the total fee amount
Number of marks you want to register—Each mark requires a separate application
Number of classes you choose for a single product type—Goods and services can be defined by 45 classes. You can use multiple categories for one product, but each of them entails a separate fee
How Much Does It Cost To File a Trademark Application?
The table below shows the available trademark application options and the expenses they entail:
| Method | Price per Trademark Class |
| --- | --- |
| TEAS Standard | $350 |
| TEAS Plus | $250 |
If you ask an attorney to help you file a trademark, the total amount you must set aside can increase drastically. Legal fees can range from a few hundred to a few thousand dollars, depending on the rates proposed by the chosen lawyer.
Methods of Paying Trademark Filing Fees and Other Costs
The USPTO has a specific payment software named Financial Manager that allows you to pay the registration costs with:
USPTO deposit accounts
Electronic Fund Transfer (EFT)
Credit cards—including Visa, Discover, MasterCard, and American Express
Cash payment is not an option.
After-Registration Costs
Take a look at some other expenses you may need to cover after registering your trademark:
Submitting a Declaration of Use—You must do it five years after the registration to confirm that you still use the trademark for business or commercial purposes. It will cost you $225 per trademark class
Filing a Declaration of Incontestability—It grants you incontestable rights in trademark use. You must file it five years after the registration, and the price is $200 per class
How Much Does It Cost To Renew a Trademark?
Trademarks can last forever but not automatically. You must apply for the renewal of your trademark every ten years. Besides the renewal application form, it is necessary to submit a statement of use (SOU). The total cost of renewing your trademark is $525 per class if you pay before the grace period.
DoNotPay Makes Filing Your Trademark Application a Breeze
The trademark registration process involves various steps, and it is easy to make a mistake that results in application rejection. Many people decide to seek help from lawyers, but this is a costly option—legal fees may range from $500 to $2,000, depending on the trademark.
DoNotPay helps you submit a flawless trademark registration application with the USPTO at an affordable price!
Our app will:
Run a USPTO trademark search for you and determine whether a similar idea has already been registered
Help you complete the trademark application form by answering a few straightforward questions
Show you the completed form to review and sign electronically
Direct the form to the correct trademark department
Provide you with a tracking number to make checking the application status simpler
The best part is that the entire procedure can be done from the comfort of your home and does not take more than a few minutes!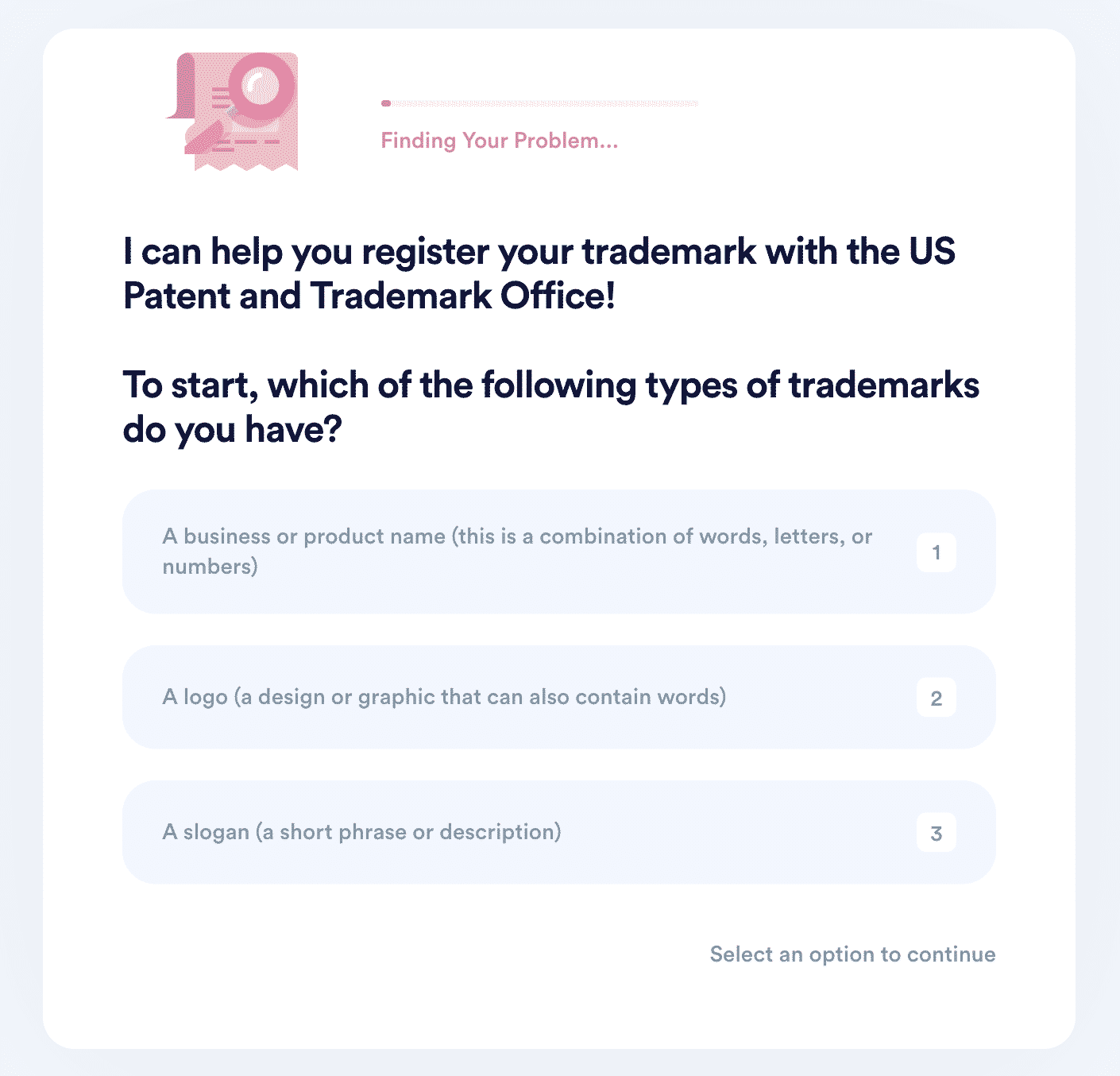 What Does the Application Process With DoNotPay Look Like?
Check out the instructions for filing your application with DoNotPay:
Create an account with DoNotPay and sign in
Navigate to the Trademark Registration tool
Provide:

The type and class of trademark you want to register
Information about you, your business, and the description of the mark

Confirm the processing fee payment
More Problems? We Offer More Solutions
Running a business also calls for various registration processes. Our app can show you the ropes on the following:
Employer Identification Number (EIN) registration
Privacy Shield program self-certification
DMCA agent registration
Do your employees need to submit 83(b) election forms to the IRS? We can help you:
Generate them
Distribute them
File them automatically
No Need To Tighten Your Belt With DoNotPay by Your Side
Handling finances in business can be a burden. There are many unforeseen costs, fees, and even fines. This is where the world's first robot lawyer swoops in!
Take a look at which DoNotPay's products can manage your issues:
| Problem | DoNotPay's Features |
| --- | --- |
| A client breached the contract and refused to pay | Client Breach of Contract |
| Another business copied your brand or used your slogan | Trademark Protection |
| A client initiated the chargeback process for no reason | Fight Chargebacks |
| You need more funds to keep your business afloat or grow it | Business Loan Request Letter |
| People posted bad reviews online that are fake, incorrect, or hateful | Remove Negative Reviews |
All the above-mentioned instances can make you lose money. Luckily, you can rely on our app to nip the issue in the bud.
We can also help you save money by providing you with free faxing and mailing services. No need to waste time or money on post office visits or fax machine purchases.