Doing a Trademark Clearance Search—All You Need To Know
When your company grows and acquires new customers from all around the country, you will want to have a way to protect your brand and product(s). Without any legal protection, your competitors can have a field day copying your idea and getting your customers' money.
You can ensure that does not happen by registering a trademark or copyright. What if someone else has already done that and you are the one copying a registered trademark without even knowing it? To make sure that is not the case and avoid infringement, you need to conduct a trademark clearance search.
In this article, we will show you how you can do that, and we will introduce DoNotPay—a cheaper, more efficient alternative to hiring an attorney.
What Are Trademarks?
Let's say you notice someone is copying your product or service in any way—functionality, packaging, name, etc. If you want to sue them for it, you will need to prove that you are the creator and that it is not the other way around.
This is where trademarks come in. As long as the trademark is active, the owner will be able to use it for:
Having proof of ownership that will hold up in court
Getting protection on a federal or international level
Stopping infringing goods from entering or leaving the United States
Trademarks do not work only for the whole brand, product, or service. If you decide you need a trademark for any element of it, you can get one. Trademarkable elements include:
What Is a Trademark Clearance Search?
The first step to meeting the requirements of a successful trademark application is checking the availability. You need to make sure that your idea, name, or design is not similar to any other existing trademark.
You have to do a clearance search for trademarks and check whether there is anything that would cause confusion in the market between the two marks. Even if you are not looking to get a trademark, you should still perform the search to make sure you are not infringing on some other small business' property unknowingly and avoid a lawsuit.
When doing the search, you should look for other trademarks that are:
The same or similar to yours
Applied to related products or services
The difficult part is finding similar trademarks as you need to be experienced to recognize what the United States Patent and Trademark Office (USPTO) would consider similar.
Check out this table to see some of the examples of similar trademarks:
Similarity Based On
Examples
Appearance
Same design with different fonts
Commercial impression
Using the same elements of logo or labeling
Sound
Phonetically similar words:

T. Larkin and Tea Larquee
Quick and Kwik

Product or service relatedness

Banking and mortgage lending services
Hats and t-shirts
Tablets and phones
How To Do a Trademark Clearance Search
The USPTO allows you to search its database through the Trademark Electronic Search System (TESS). To use it, you need to:
Visit the USPTO website
Choose the Trademarks option
Select Searching Trademarks
Select Search Our Trademark Database (TESS)
Choose a search option and add filters, including name and trademark class
Click Submit Query
The system will show you all registered trademarks.
Keep in mind that not all of them have to be registered as some are protected by common law.
Searching through the Trademark Electronic Search System is not enough. To make sure you do the trademark clearance search correctly, you should:
Find online state trademark registries
Search trade directories
Go through product catalogs
and automate the entire search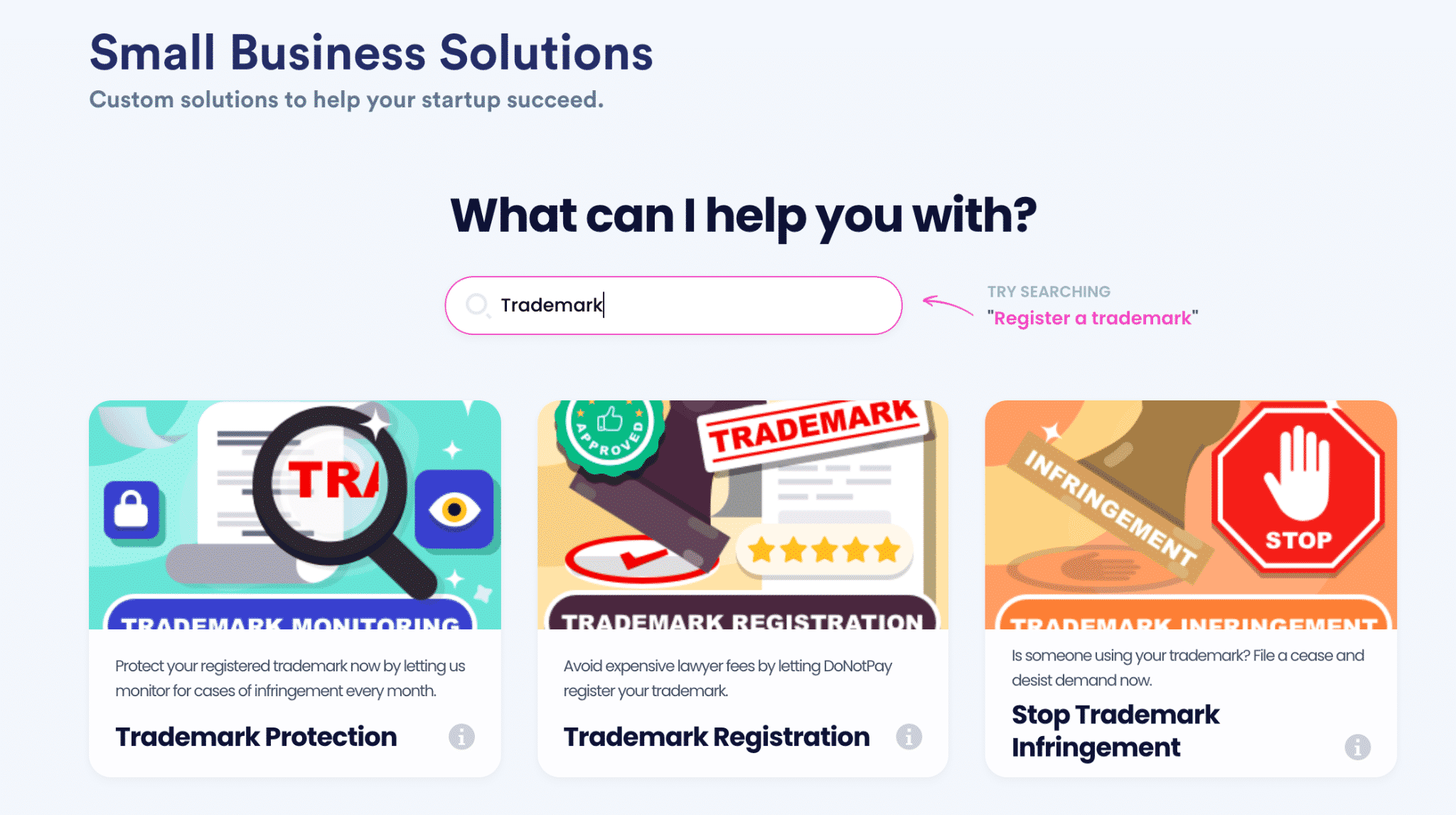 International Trademarks
If you want to use your trademark globally, you need to make sure there are no similar ones outside the United States. You need to use the Worldwide Identical Screening Search (WISS) for global trademark clearance searches.
The WISS logs trademarks registered all around the world. While useful, these searches come at a cost of over $1,000. The WISS also has its limitations, such as:
Shows only identical trademarks
Finds only already registered marks—not pending ones
Doesn't go through phonetic and spelling similarities
Doesn't show the trademark status or class
How To Register a Trademark With DoNotPay
Doing a trademark clearance search is a complicated task that is difficult to do correctly without getting help from an experienced party. Even after you are done with the search, you will need to file a trademark request, which is also a long procedure.
All these steps come with high costs—hiring an expensive trademark attorney will only add to the amount. You can use DoNotPay to get professional help and cut back on your expenses and time invested.
Our app will conduct the clearance search for you and make sure your application form includes all the necessary information for a successful registration.
All you need to do is the following:
via any web browser
Navigate to the Trademark Registration tool
Answer a few questions from our chatbot
Pay the required USPTO fees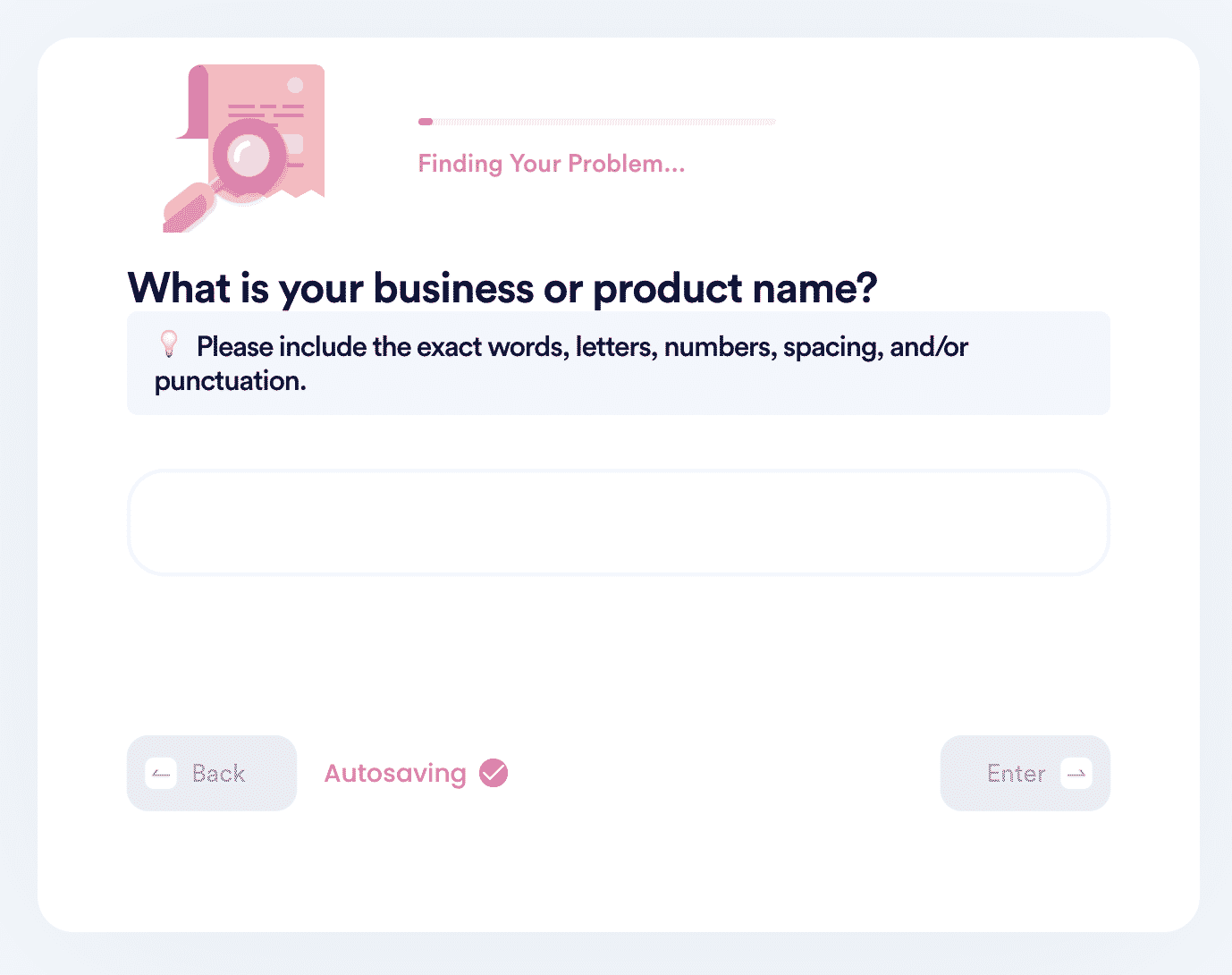 Once you are done, we will fill out the application form and send it for you to review and e-sign. When you do that, it will be ready for the USPTO.
Don't Waste Ages on Tedious Administrative Tasks—Rely on DoNotPay
Running a small business can be a challenging endeavor, but you can count on DoNotPay to make the situation easier! We have developed a number of handy features that you can use to deal with your business-related hurdles. With our help, you can:
Send mail to your customers, investors, or business associates without wasting time going to the post office
Register your business slogan, logo, or name as a trademark to prevent brand infringement
Avoid copyright violations on your website by registering a DMCA agent
Protect the privacy of your clients' data by filing the Privacy Shield program self-certification request
Contest unjust chargebacks and keep the revenue
Deal with clients who breach the contract without wasting money on collection agencies or lawyers
Worked Hard on Creating a Good Business Reputation? Don't Let It Go to Waste!
Has one of the angry clients or envious competitors decided to leave a mean online review that could have a negative impact on your business? DoNotPay is here to help you remove it! We will analyze the problematic review and report it until it is taken down.
Don't know how to protect your trademark and make sure no one else is using it? Our app can monitor the trademark on a monthly basis and send cease and desist letters if necessary.
Let our app take care of many other issues—such as filing 83(b) election forms, registering for an Employer Identification Number (EIN), taking out small business loans, and similar—while you concentrate on the creative side of your business.