Which Trademark Classes Fit Your Mark?
Are you ready to protect your small business trademark by registering it with the USPTO? In your application, you must specify the goods or services associated with your trademark. It is important that you select the correct class—otherwise, your application will be rejected, and you will lose the money spent on fees.
In this guide, we will list and explain the trademark classes and show you how to register your mark the easy way using DoNotPay.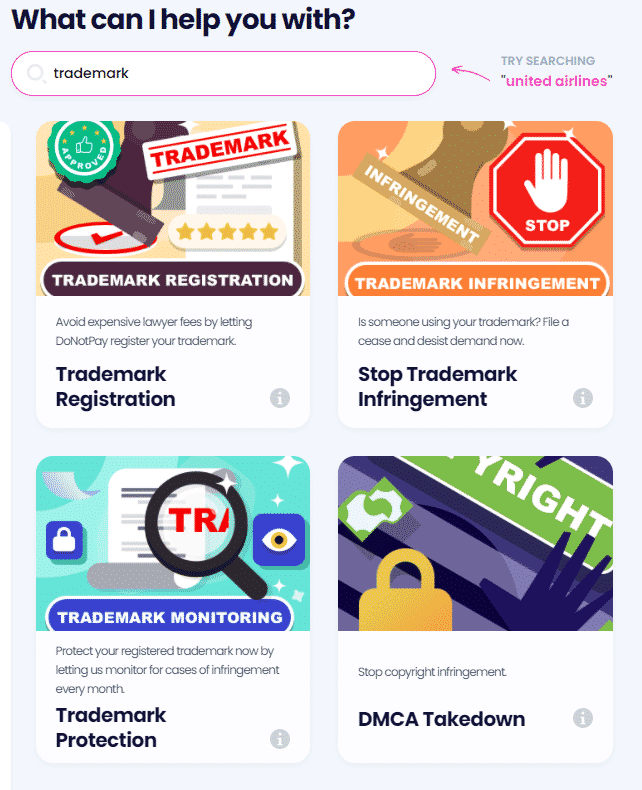 What Is a Trademark Class?
The United States adopted the international classification of goods and services—called the Nice Classification (NCL)—in 1973. The USPTO uses 45 international trademark classes for trademark registration—the first 34 classes cover goods, and others cover services.
Understanding trademark classes makes the registration process easier since it is your responsibility to:
Conduct a clearance search to avoid trademark infringement
Register your trademark under the appropriate class
You can register your trademark even if it's similar to already registered marks, but the class must be different. For instance, the same brand name Pandora is registered under two different classes—jewelry and music streaming—by different companies.
Besides business names, the same rule applies to other trademarked elements, such as:
Trademark Classes List
The first step in determining the classes of your products and services is checking out the complete list. Before you conclude where your item fits, it is important to check the complete trademark class descriptions in the Trademark ID Manual. For instance, skincare products can belong to different classes depending on the use:
Used as cosmetics—Class 003, Cosmetics and cleaning preparations
Used as medicine—Class 005, Pharmaceuticals
Here is the list of international trademark classes as defined on the USPTO's website:
Classes of Goods
Classes of Services
001 Chemicals

002 Paints

003 Cosmetics and cleaning preparations

004 Lubricants and fuels

005 Pharmaceuticals

006 Metal goods

007 Machinery

008 Hand tools

009 Electrical and scientific apparatus

010 Medical apparatus

011 Environmental control apparatus

012 Vehicles

013 Firearms

014 Jewelry

015 Musical instruments

016 Paper goods and printed matter

017 Rubber goods

018 Leather goods

019 Non-metallic building materials

020 Furniture and articles not otherwise classified

021 Housewares and glass

022 Cordage and fibers

023 Yarns and threads

024 Fabrics

025 Clothing

026 Fancy goods

027 Floor coverings

028 Toys and sporting goods

029 Meats and processed foods

030 Staple foods

031 Natural agricultural products

032 Light beverages

033 Wines and spirits

034 Smokers' articles

035 Advertising and business

036 Insurance and financial

037 Building construction and repair

038 Telecommunication

039 Transportation and storage

040 Treatment of materials

041 Education and entertainment

042 Computer and scientific

043 Hotels and restaurants

044 Medical, beauty, and agricultural

045 Personal and legal
How Do U.S. Trademark Classes Affect the Registration Cost?
Your overall trademark application cost depends on three things:
Variant
Explanation
Application form
You have two forms to choose from for your initial application:

TEAS Plus—You will disclose more details upfront and pay $250 per class of goods and services
TEAS Standard—You will need to supply fewer details, and you can include personalized descriptions of your products if need be. It costs $350 for every class of goods or services

Number of classes of goods and services
You must pay for each class of goods and services that you associate with your trademark. If you select two classes and use the TEAS Plus, you will pay $500
Filing basis
When completing your application, you have to select the filing basis:

Use in commerce—You should select this option if you are already using the trademark
Intent to use—Choose this option if you have not used the mark but are planning to. This option may require you to pay additional fees
You must select at least one class of goods or services that your trademark will protect. The trademark protection law allows you to register one product or service under multiple classes based on the amount of trademark protection you want and the nature of your business.
How To Register a Trademark With the USPTO
You don't have to register your trademark with the USPTO or state agencies. Common law trademark rights—that apply to your geographic region only—provide protection for unregistered marks as well. If you wish to enforce your mark ownership nationwide, you must register with the USPTO.
Applications must be submitted electronically. Here is what you will need to do:
Search the USPTO database to verify that there is no conflicting trademark
Complete one trademark application form—TEAS Plus or TEAS Standard
If your application is successful, your trademark can last forever as long as you continue using and renewing it.
The Best Way To Register a Trademark—Use DoNotPay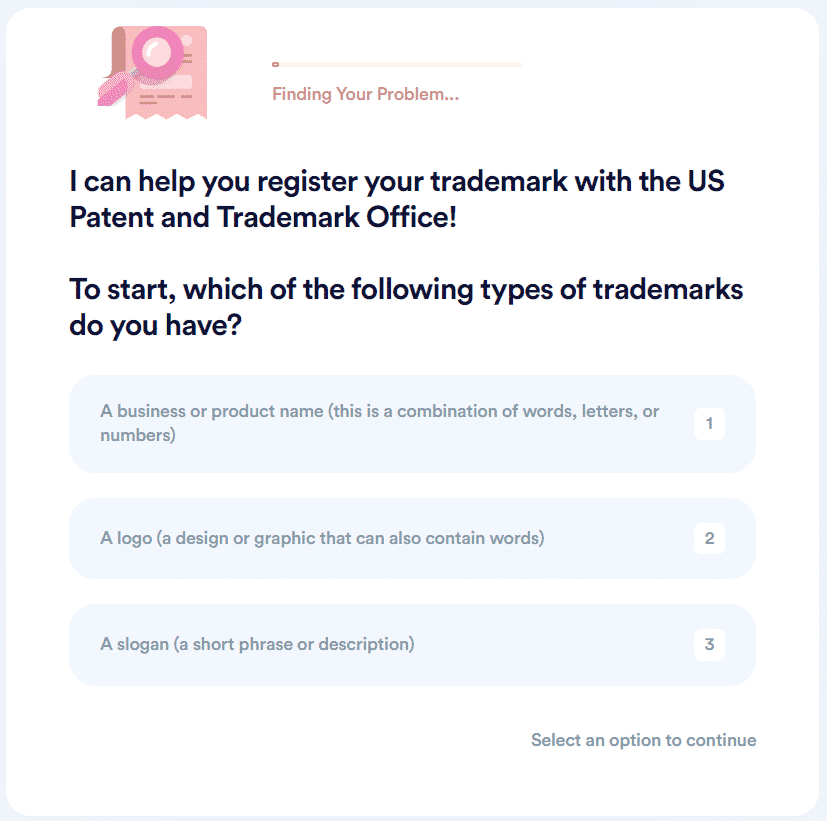 Are you confused by the complicated requirements and lengthy trademark application forms? You are in the right place—DoNotPay will do the tedious work for you.
Provide us with your trademark details, and we will:
Conduct a detailed search to verify your mark is not already registered
Complete the lengthy trademark application form on your behalf
Submit the application form to the USPTO after you review and digitally sign it
Follow these steps to file your trademark registration using DoNotPay:
Log in to your DoNotPay account
Find the Trademark Registration product
Provide the trademark details
Pay the USPTO application fees
Do You Need a Trademark?
Are you unsure whether you need a trademark or a different form of protection? There are three types of intellectual property protection. Depending on the nature of your business, you may need only one or a combination.
Here is how you can tell what you need:
Trademarks protect the signs that you use to distinguish your products or services from those of your competitors
Copyrights protect your original artistic or literary work—for example, a novel
Patents protect innovations and unique processes—for instance, a new piece of computer hardware
Deal With Any Small Business Matter With DoNotPay's Help!
Being a small business owner is not an easy task, and all the details that you need to pay attention to might seem overwhelming. From handling trademark registration and protection to dealing with crucial paperwork, such as the Employer Identification Number (EIN) SS-4 form and 83(b) election forms, you need to invest a lot of time and energy into each business-related aspect. That is why you should rely on DoNotPay and have us take care of everything in your stead!
If you need help handling copyright issues, you should consider registering a DMCA agent with the U.S. Copyright Office. Not sure how to do it? Use DoNotPay, and we will take care of it for you!
We can also help you dispute chargebacks and avoid losing your money to scams by generating a personalized chargeback rebuttal document based on the info you give us.
Run Your Business Stress-Free
DoNotPay strives to make your business endeavors free of unnecessary stress, which is why we created a variety of useful products to help you deal with complex issues hassle-free. With our assistance, you can:
Draft a professional letter requesting a loan for your small business
Enjoy convenient faxing and mailing services
Get rid of fake negative reviews that could harm your business
Prove your commitment to your clients' privacy by using DoNotPay's Privacy Shield Self-Certification product
Avoid hiring lawyers or collection agencies as our Breach of Contract product will help you send formal demand letters to clients who refuse to pay for your services