Trademark Class 9—Everything You Should Know
Are you unsure if your goods fit under trademark class 9? Determining the appropriate trademark class for each product or service is not always straightforward. The U.S. Patent and Trademark Office (USPTO) assigns each class a shortened title that gives an overview of the types of goods or services to expect in a class—but you shouldn't base your decision solely on that.
Incorrect classification results in various problems—for example, a delayed application process. This guide will help you understand the scope of trademark class 9. We will also show you how to skip the stress by letting file the trademark application for you.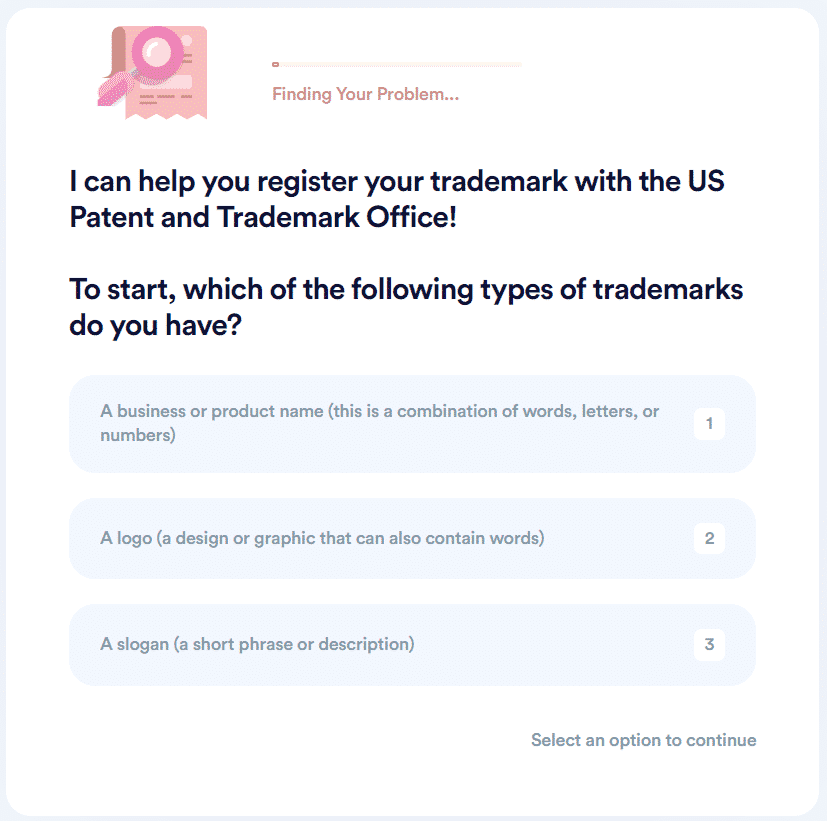 Why Do Trademark Classes Matter?
Trademark classes are categories used to group similar products or services. The USPTO uses the Nice Classification (NCL) system, which has 45 trademark classes—34 for goods and 11 for services.
Trademarks and service marks—for instance, logos, slogans, and names—are protected only in regards to the specified category of goods or services. That is why companies offering products or services under unrelated trademark classes can use the same or similar marks without infringement.
Depending on the nature of your business, you can list your small business trademarks under several different classes. Registering in all the relevant classes expands the scope of your trademark protection.
What Is Trademark International Class 9?
Trademark class 9 broadly covers electrical and scientific apparatus. It's one of the classes that cover a wide range of products—from life-saving devices and computer hardware/software to scientific equipment.
Here are the general categories of goods that fall under trademark class 9:
Audiovisual and information technology gear
Electricity control equipment
Instruments for scientific research in laboratories
Safety and life-saving apparatus
Optical instruments
Take a look at specific examples of products that fall under trademark class 9:
| Resuscitation mannequins | Automatic steering apparatus for vehicles | Protective helmets |
| --- | --- | --- |
| Safety nets | Invoicing machines | Automated teller machines |
| Robots (teaching, laboratory, security surveillance, AI-humanoid, etc.) | Fire engines | Traffic-light apparatus |
| Smartphones cases | Head guards for sports | Virtual reality headsets |
| Smartwatches | Navigational instruments | Bullet-proof clothing |
| Eyeglasses and contact lenses | GPS apparatus | Transmitters |
What Is Not Covered by Trademark Class 9?
While class 9 broadly covers modern-day inventions, there are exceptions. You can use the USPTO Trademark ID Manual to confirm the right class for each of your products. Here are some of the exceptions:
| Products | Correct Trademark Class |
| --- | --- |
| Laboratory burners | Class 11 |
| Vehicle joysticks | Class 12 |
| Joysticks for video games | Class 28 |
| Signal rocket flares | Class 13 |
| Industrial robots | Class 7 |
| Surgical robots | Class 10 |
| Coin-operated washing machines | Class 7 |
| Pulse meters | Class 10 |
How To File an Application for a Class 9 Trademark
Federal registration of trademarks in the U.S. is governed by trademark protection law, but no law obliges you to register your trademark. If you are the first to use the mark in your industry, you can get trademark protection under common law rights without registration. The limitation is that you won't have legal proof of ownership of the mark. Registering with the USPTO is the only way to expand your scope of protection countrywide.
Although it's not obligatory, you should conduct a USPTO trademark search first to verify that your mark is not already in use by someone else. Identifying similar trademarks is a technical process, and you may need help—especially with trademark class 9. That is because class 9 includes products from companies that can be in entirely different industries from yours.
If your mark is available for registration, proceed to file your application as follows:
Navigate to the USPTO official website
Set up a USPTO account
Find the Trademark Electronic Application System (TEAS)
Select one application form—TEAS Plus or TEAS Standard
Fill in all the requirements
Pay the required filing fees
What Is the Cost of Filing a Trademark Application?
The filing fees are determined by the number of trademark classes listed in the application. If your goods fall under different classes, you must pay a separate fee for each class. The trademark application form that you select dictates the price for each class—$250 for TEAS Plus and $350 for TEAS Standard.
The Best and Easiest Way To File a Trademark Application—Use DoNotPay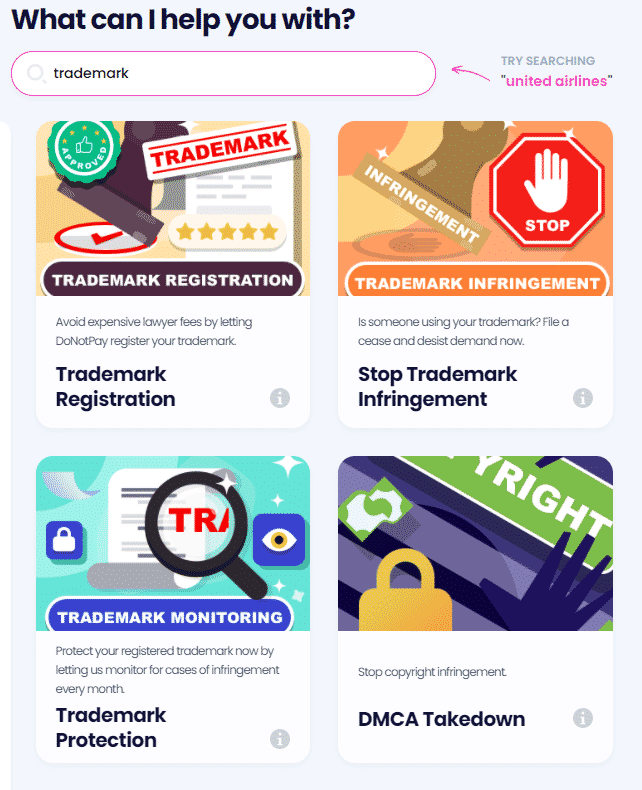 Do you want to file your trademark application effortlessly? Try DoNotPay! Our AI-powered app simplifies complicated bureaucratic procedures while increasing your chances of success. You only need to provide us with your trademark details, and we will handle the entire application process for you.
We will streamline your trademark application process to just a few steps:
Pick the Trademark Registration tool
Answer a questionnaire about your mark
Pay the USPTO application fees
Once your registration is approved—which can take 12–18 months—it will last for as long as you file the required renewal and maintenance documents. You must also use the mark continually in commerce.
With our help, you can also find out if your mark qualifies for other types of intellectual property protection.
Deal With Any Small Business Matter With DoNotPay's Help!
Being a small business owner is not an easy task, and all the details that you need to pay attention to might seem overwhelming. From handling trademark registration and protection to dealing with crucial paperwork, such as the Employer Identification Number (EIN) SS-4 form and 83(b) election forms, you need to invest a lot of time and energy into each business-related aspect. That is why you should rely on DoNotPay and have us take care of everything in your stead!
If you need help handling copyright issues, you should consider registering a DMCA agent with the U.S. Copyright Office. Not sure how to do it? Use DoNotPay, and we will take care of it for you!
We can also help you dispute chargebacks and avoid losing your money to scams by generating a personalized chargeback rebuttal document based on the info you give us.
Run Your Business Stress-Free
DoNotPay strives to make your business endeavors free of unnecessary stress, which is why we created a variety of useful products to help you deal with complex issues hassle-free. With our assistance, you can:
Draft a professional letter requesting a loan for your small business
Enjoy convenient faxing and mailing services
Get rid of fake negative reviews that could harm your business
Prove your commitment to your clients' privacy by using DoNotPay's Privacy Shield Self-Certification product
Avoid hiring lawyers or collection agencies as our Breach of Contract product will help you send formal demand letters to clients who refuse to pay for your services