Trademark Class 5—What Does It Encompass?
Trademark classes are one of the administrative requirements for successfully filing a trademark or service mark. Before you apply, you are obligated to group your goods and services into pre-existing categories or risk having your petition rejected.
To avoid potential bumps in the road, familiarize yourself with the trademark class system on time!
In this article, we explain which products can be filed under trademark class 5 and how to initiate the trademark registration process .
A Breakdown of Trademark Class 5
In United States commerce, small business owners must use the so-called Nice Classification (NCL) system to label goods and services. The international sorting system has been in effect since 1973 and currently provides 45 separate categories for various industries.
According to national and international trademark registration standards, trademark class 5 specifically encompasses the following items:
Pharmaceuticals
Various medicinal/veterinary products and preparations
Not all medical supplies, pharmaceutical articles, and sanitary products belong in trademark class 5. Check out the table below for more details:
Trademark Class 5 Includes
Trademark Class 5 Excludes

Live organs and tissue (surgical purposes)
Remedies (pharmaceutical and natural)
Sanitary preparations and absorbent articles for personal hygiene
Dressings, coverings, plasters, and applicators
Articles and preparations for dentistry
Antiseptics
Deodorants (not for humans or animal use)
Air purifiers
Cigarettes without tobacco (for medical purposes)
Dietary supplements (both human and animal consumption)
Baby foods
Pest control products
Herbicides and fungicides

Toiletries
Deodorant for humans and animals
Supportive bandages
Meal replacements
Non-medical dietary foods and beverages
If none of your products fit these parameters, you can try a coordinated class, i.e., a trademark class that relates to the same industry sector. Depending on what kind of goods and services you market, you have several alternatives to trademark class 5:
Trademark Registration Requirements
Sorting your goods and services into NCL categories is one of the steps you have to complete to qualify for trademark registration. Following the United States Patent and Trademark Office (USPTO) guidelines, you are also required to:
Determine the trademark type
Confirm the availability of the desired trademark
Select the trademark registration level
You can assign any visual or textual symbol to your products to make them stand out among marketplace competitors. Some of the more frequent trademark types include:
It is imperative to conduct a USPTO search before you apply for registration to confirm the trademark is not already in the database. You can access the Trademark Electronic Search System (TESS) via the federal agency's official website. The procedure is quick, and it ensures you are not infringing on anyone's rights.
Infringement is one of the leading reasons why you need a trademark in the first place. As soon as you start applying a particular symbol to your goods and services, you acquire local trademark protection. Since common law rights don't extend beyond the immediate geographical area, you should also apply for:
State registration—Your ownership is limited to a single U.S. state
Federal registration—Federal trademark protection laws safeguard your brand in the entire U.S.
International registration—You can prosecute infringing individuals or companies in the 124 countries that signed the Madrid Protocol
How To Register a Trademark With the USPTO
After establishing the level of protection your enterprise requires, it is time to file the official trademark application form. You can formally submit your request via the Trademark Electronic Application System (TEAS).
The document layout is divided into sections:
Personal information—Legal name, business address, and contact info
Trademark type—Description of the applied-for mark
Trademark class—List of all trademark classes (e.g., trademark class 5)
Filing basis—Either proof of use in commerce or a statement declaring intent-to-use
Registration fees—Proof of payment
If you are already using the applied-for mark in commerce, you will need to enclose a real-world example. Items that fall under trademark class 5 need to be visibly labeled with a trademark specimen on both containers and tags. If you fail to provide a viable specimen, your application will be rejected without a right to a refund.
The registration fees are different for each application form, and the two current filing options are:
TEAS Plus ($250 per class)
TEAS Standard ($350 per class)
Trademark costs don't end with registration since they come with an expiration date. As opposed to copyright, you must renew your trademark once every ten years, or the USPTO will annul the registration.
Register a Class 5 Trademark With Speed and Efficiency Using DoNotPay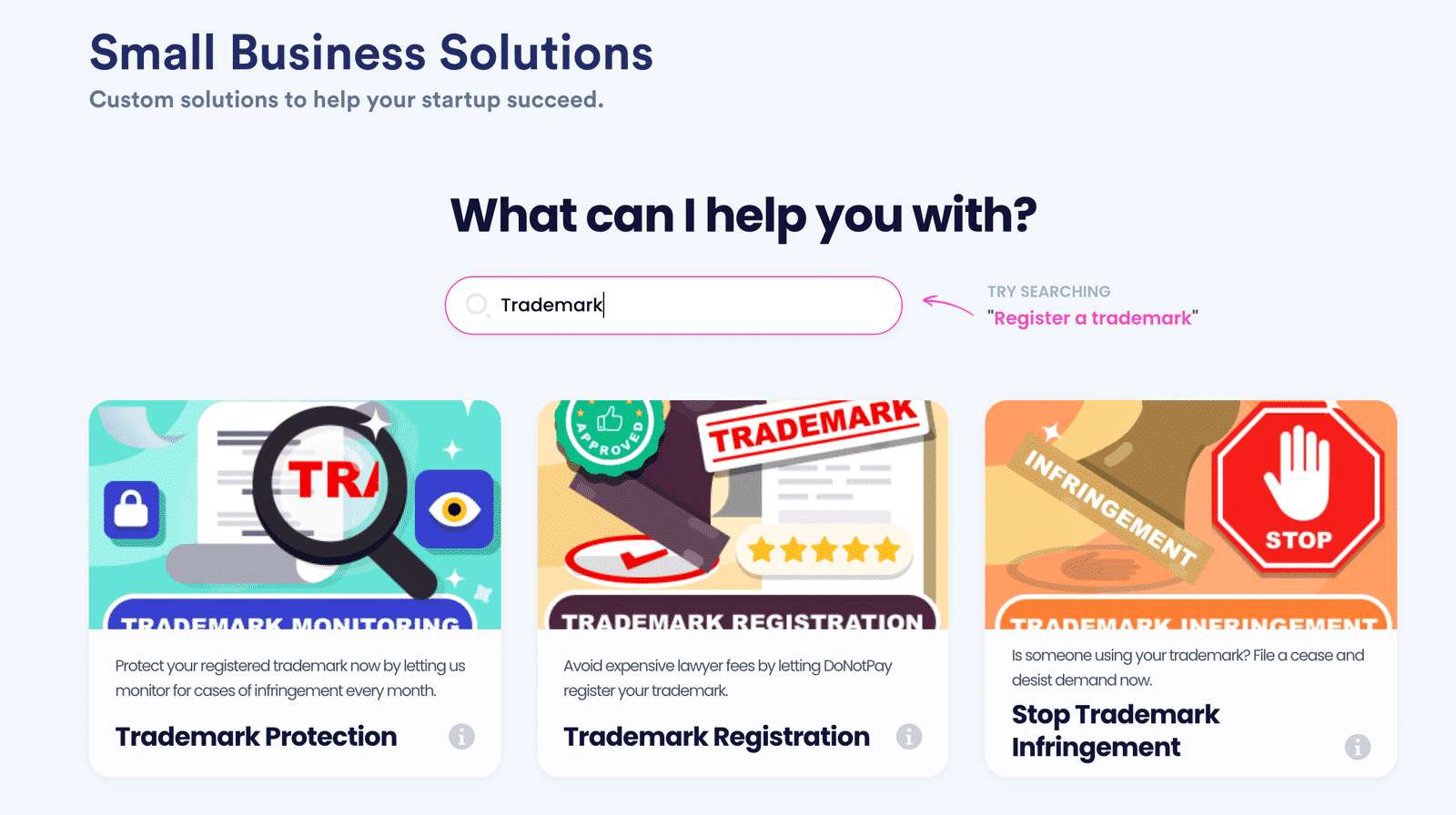 Without proper guidance, registering a trademark can turn into a bureaucratic nightmare. Entrepreneurs often agree to pay the flat attorney fees instead of handling the process independently.
DoNotPay is the ideal alternative to the costly services of an IP lawyer! With our Trademark Registration product, the entire process will be easy to follow and incredibly fast.
All you have to do is:
Select the Trademark Registration product
Describe your brand and trademark type
Confirm you have paid the application fees
You can rely on our powerful algorithm to check the USPTO database for similar trademarks and proceed to deliver the paperwork in the blink of an eye!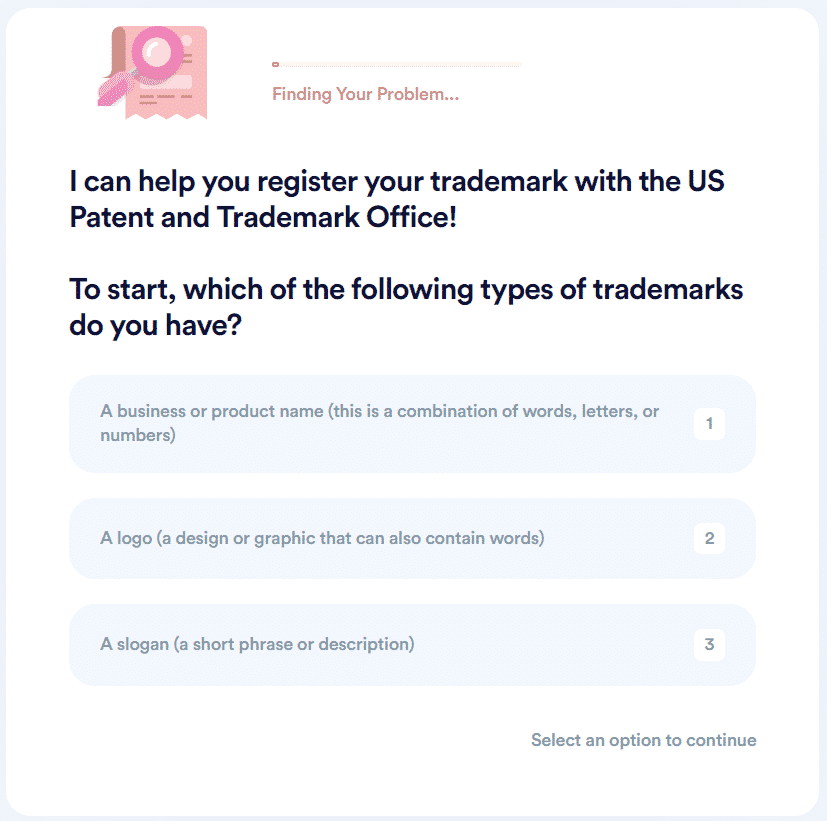 Don't Let the Complex Procedures Stress You Out! Rely on DoNotPay and Run Your Business Like a Pro!
DoNotPay has created a plethora of simple-to-use features that will help you run your business the best way possible. Here are some aspects we can help you take care of:
Registrations
Legal Documents

Get an Employer Identification Number (EIN)
Register a DMCA agent to avoid copyright violations

Send a cease and desist demand if someone is using your trademark
Draw up a watertight letter requesting a loan for your business
Draft a demand letter to send to a client who refuses to pay you
Get a customized chargeback rebuttal letter and fight unfair chargeback requests hassle-free
What Else Does DoNotPay Have in Store for Your Business?
You can use our app to resolve many other business-related issues. DoNotPay can help you deal with fake reviews that are ruining the reputation of your business by analyzing the harmful review and figuring out the best way to go about it.
Do you wish to protect the privacy of your clients and prevent their data from being collected while they are on your website? Use our app to file a self-certification request with the Privacy Shield program.
If you need help automating the filing of 83(b) election forms, DoNotPay has the right solution for you and your employees or shareholders! With our app, you will be able to finish the entire process with a few clicks.
Another perk of using our app is that we can help you fax and mail any documents or letters without having to leave your home or office.
DoNotPay will help you handle all your business tasks in the blink of an eye!