A Quick and Easy Guide to Trademark Class 45
Are you unsure how to register for trademark class 45? If you operate a growing business, then it is likely a smart move, but it entails extensive research and paperwork.
While smaller businesses can operate without much risk of infringement on their IP, as an organization grows, it becomes important to mitigate the potential for competitors to take advantage of your brand. That is why 893,760 businesses registered trademarks in 2019.
Trademark infringement is no small matter, so business owners should understand the registration process and the class a given product or service falls under.
In this guide, you will learn about trademark class 45, what types of products it protects, and how to register. If you would like to circumvent all that tedious work, you can with the United States Patent and Trademark Office (USPTO) on your behalf.
What Is a Trademark?
At its most simple, a trademark is a part of your brand, protected as intellectual property. A trademark is different from a copyright, which protects created works. Your competitors cannot use any of the following, provided you have registered them as trademarks:
The unauthorized use of a registered trademark can provoke adequate legal action. By registering a trademark for your business, you protect its brand as it grows, enters new markets, and faces new competition.
There are three primary types of trademarks:
| Mark | Protects |
| --- | --- |
| Standard character format | Words, letters, numbers |
| Special character format | Logos, symbols, words in a specific font, colors, or typeface |
| Sound mark | A sequence of notes (e.g., NBC's three-note chime) |
Another distinction concerns service marks, which are used to distinguish the services of a given brand.
What Is a Trademark Class?
When registering a trademark, you will have to stipulate which class best fits your business' product or service. The USPTO manages 45 classes of trademark—34 related to goods and 11 to services.
It is important to note that you may need to register for more than one trademark class, depending on how you conduct your business. For example, if you operate an astrology-based business that also sells t-shirts emblazoned with your logo, you will need to register for both trademark class 45 and class 25.
What Is Trademark Class 45?
Trademark class 45 protects these general types of service industries:
Personal
Social
Security
Any business that protects or supervises property or individuals falls under this class. Class 45 covers a wide range of companies, which fall under the following seven categories:
| Category | Services |
| --- | --- |
| Emergency and Safety Services | Firefighting, security alarm monitoring, safety inspectors, missing person investigations, security guards, personal bodyguards |
| Rental Services | Formal wear, fire alarms and fire extinguishers, internet domains |
| Interpersonal Services | Chaperones, escort services, dating services, detective agencies, wedding management, religious ceremony facilitation |
| Lifestyle Services | Astrology, fortune-telling, digital social networking services, spiritual guidance |
| License Management | Legal administration of licenses, Computer software licensing, Software publishing and licensing |
| Family-Related Services | Babysitting, genealogical services, house sitting, pet sitting, burial and funeral services, personal wardrobe consulting, personal letter writing |
| services and Support | Adoption agency services, arbitration services, registration of domain names, copyright management, services (research, document preparation, and contract negotiation), litigation services, licensing of intellectual property, lost property return, mediation, intellectual property consulting |
What Services Are Not Protected by Trademark Class 45?
Despite trademark class 45's broad definition, there are several types of services and products that do not qualify for its protection:
Money management and lending
Insurance management and brokerage
Travel escort
Security transport
Educational support
Performers of any kind
Software design and production
Cybersecurity management and support
Medical, beauty, or hygiene services
How To Register a Class 45 Trademark
Registering a part of your brand with trademark class 45 can be a complex process, given how many steps are involved. Keep in mind that you must pay a nominal fee for each class for which you register. Any mistakes in the process will result in wasted money.
The USPTO only allows online registrations. To register your brand as a class 45 trademark, follow these steps:
Navigate to the Trademark Electronic Application System (TEAS)
Log into or create an account for TEAS
Start a new application
Specify class 45
Provide the requisite information about your business
Input information about the specific mark you wish to register
Pay the filing fee
Unless renewed, a federal trademark is valid for ten years.
How Long Does It Take the USPTO To Process a Trademark Application?
You will receive a receipt for the application by email within 14 days. The USPTO may issue an Office Action if:
The examiner objects to your application on substantive grounds (i.e., your mark is too likely to be confused with other registered marks)
There is a technical issue with your application (e.g., you failed to provide the necessary information)
You must respond to an Office Action with the necessary information within six months, or the application will be rejected. Generally, it will take 9–12 months to complete the process.
DoNotPay Will Register Your Trademark for You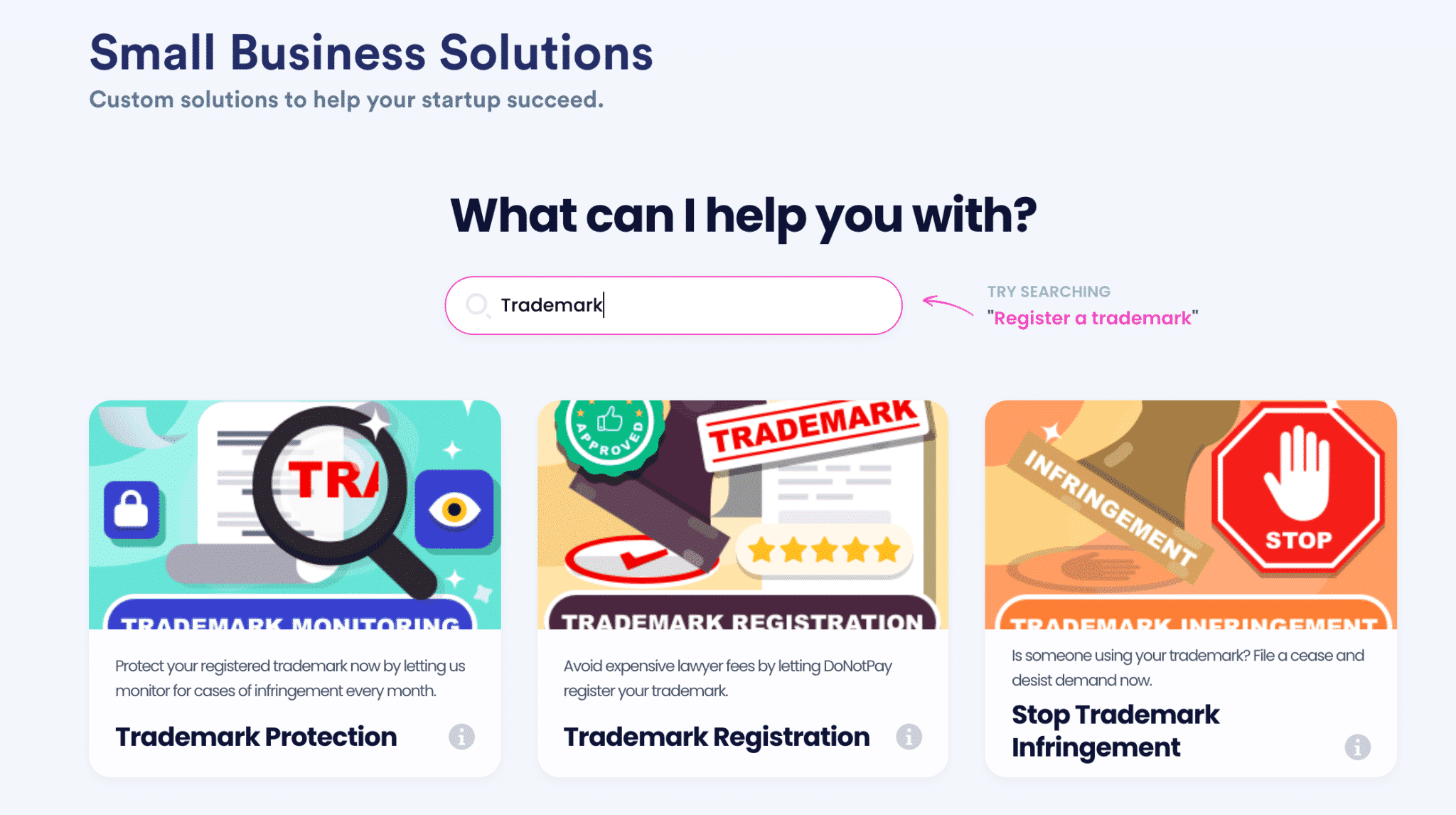 Is the process of applying for trademark class 45 overwhelming? It can be a very time-consuming procedure, so why not let DoNotPay manage it for you?
DoNotPay offers a Trademark Registration tool that handles a range of essential tasks in the process:
Disclosure of required information
Execution and submission of the application
Facilitation of review and signing
All you need to do is:
Choose our Trademark Registration product
Describe your trademark and answer our questions
Cover the filing expenses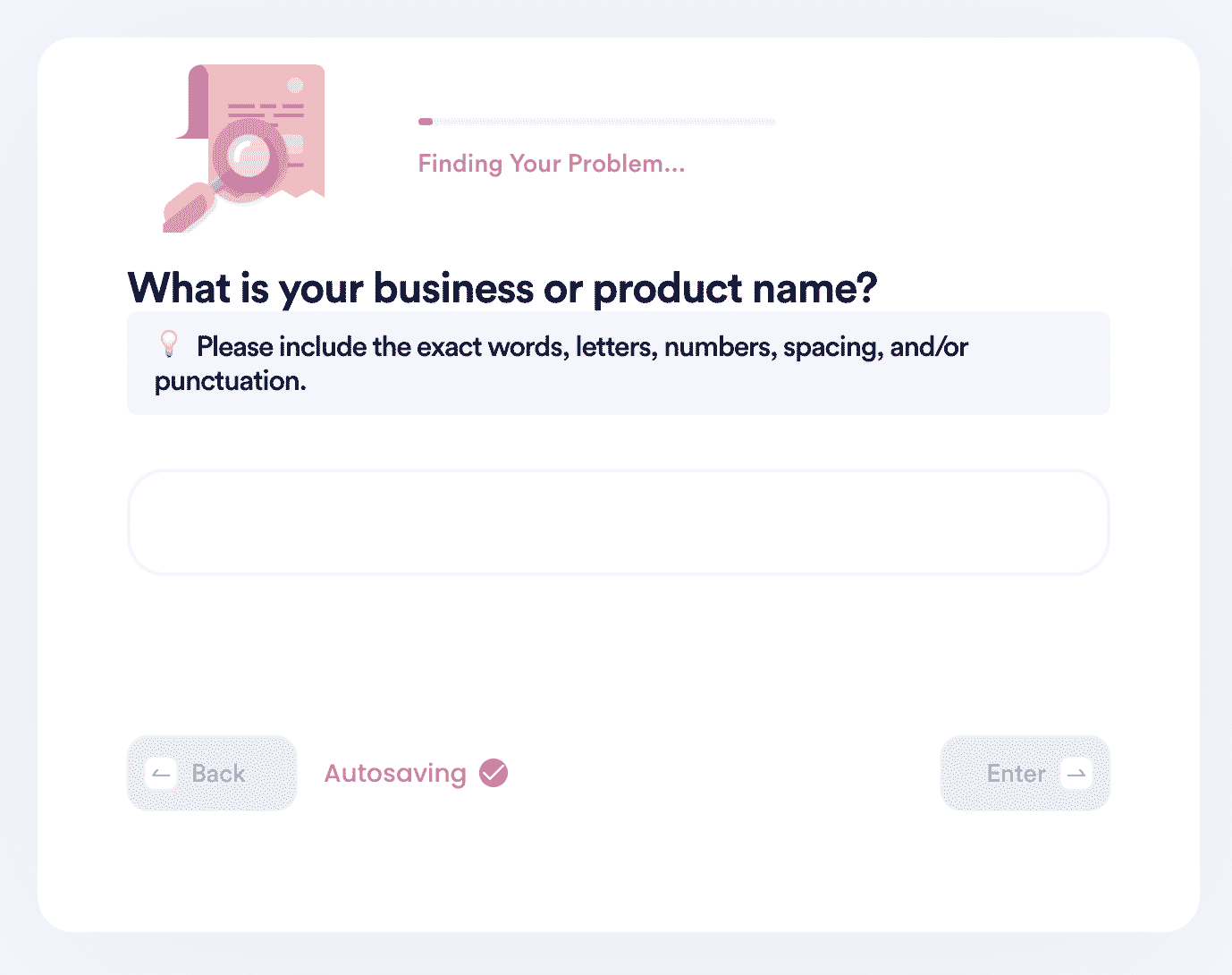 Once you have completed the necessary steps, we will provide you with an application tracking number and ensure the USPTO can contact you with any updates.
In addition to facilitating the application process, DoNotPay will also conduct a clearance search to ensure that your mark is not already in use by another business. This drastically reduces the chance of an Office Action and streamlines the entire process.
Protect Your Brand Name and Build Trust With Your Users!
One of the most challenging aspects of every business is building a trusting relationship with the customers and maintaining a good reputation. That is why it is crucial to protect your business name, logo, and slogan legally by registering it as a trademark. DoNotPay is here to help you do that hassle-free with our Trademark Registration tool. Need help checking for trademark violations once you register? There is no need to fret as we have a tool that can help you with that as well!
Now that your trademark is taken care of, you should consider complying with data protection requirements to take care of your users' privacy. You can do so by using our Privacy Shield Self-Certification product.
Are you dealing with fake negative online reviews that are harming your business? DoNotPay can help you by analyzing the reviews and reporting them until they are taken down!
Time Is Money, and DoNotPay Can Help You Save Both!
DoNotPay offers an array of time-saving features that you can use when you do not feel like dealing with business-related challenges on your own. We can help you:
Apply for your Employer Identification Number (EIN) Registration in a few clicks
Help your employees lower their taxes by filing 83(b) election forms from the comfort of their offices
Enjoy free faxing and mailing services and save time by not having to go to the post office
Complete a DMCA agent registration process to avoid dealing with copyright violations
Write a convincing letter when filing for a small business loan
Do you need help dealing with clients who do not want to pay for your services? Use DoNotPay's Breach of Contract product to send a letter of demand in a matter of minutes! Not sure what to do with unfair chargeback requests? We can help you by creating a chargeback rebuttal document for you to send to your payment processor.