What Can You Include in Trademark Class 44?
Filing a trademark requires a lot of preparation on your part. Aside from coming up with an original label, you also need to group your goods and services according to international guidelines. In this article, we will focus on trademark class 44 in particular and specify what can and cannot be listed in it. DoNotPay will walk you through the trademark class system and explain how to initiate the registration .
What Are Trademark Classes?
One of the prerequisites for registering a trademark is to sort your goods and services into predetermined categories. Currently, there are 45 distinct trademark classes designed by the World Intellectual Property Organization (WIPO)
Trademark class 44 is aimed at small businesses that operate within the following niches:
Medical care
Veterinary services
Beauty and hygiene products/services
Various agricultural services (e.g., horticulture or forestry)
Take a look at the table below for an itemized list of products you can or cannot include in the category:
Trademark Class 44 Covers
Trademark Class 44 Does Not Cover

Hospital services (clinic, laboratory, treatment, and diagnostics)
Pharmaceutical services
Optometry
Dentistry
Artificial insemination and IV
Animal breeding
Nursing homes
Mental health treatment (therapy and medication)
Nutritional services
Health and spa
Animal grooming
Tattoos and body modification
Landscaping and gardening services
Pest control

Ambulance rides
Medical research
Retirement homes
Funerary services
Taxidermy
Health and fitness clubs
Processing timber
Vermin control for anything other than aquaculture, agriculture, and forestry
Installation or repairment of various irrigation devices
Other Trademark Requirements
In addition to determining the class of your goods and services, you will also have to:
Specify what type of trademark you will use
Make sure your trademark is not currently registered by a different owner
Think about the level of protection your brand requires
Applicants can choose any symbol for their trademark, as long as it is available in the chosen trademark class. For example, two brands can share the same trademarked name if they come from different industries.
Here are some examples of the most frequent trademark types:
Checking whether a trademark has been registered only takes a few minutes. Access the Trademark Electronic Search System (TESS) on the official United States Patent and Trademark (USPTO) website and conduct a thorough search.
As soon as you start using the trademark in commerce, you gain local protection through common law rights. To shield your intellectual property on a wider territory, you will need to file for:
State trademark registration—Trademark is protected within the borders of a specific U.S. state
Federal trademark registration—The trademark protection law safeguards your brand in the entire U.S. territory
International trademark registration—Your brand is safe from infringement in 124 countries worldwide, following the Madrid Protocol
The U.S. Custom and Border Protection (CBP) can also help you secure your brand by preventing the importation of copied goods. You will have to submit the registration certificate to apply for the service.
How To Register a Trademark With the USPTO
After you gather all the data, you can proceed to register your trademark. The USPTO processes all requests via the Trademark Electronic Application System (TEAS).
First, select one of the two filing options:
TEAS Standard
TEAS Plus
Next, you need to fill out the application form. Make sure all the sections are completed properly, or the USPTO will reject your petition.
You must enclose the following information for the application to be accepted:
Your name or the name of the company holder
Contact information
Trademark type
Trademark class (e.g., trademark class 44)
FIling basis for the application
Proof of paid fees
The filing basis specifies whether you are already using the applied-for mark or you intend to use it in the future. Note that if you already have a trademark or service mark, you will need to attach a sample.
What Is the Cost of a Trademark?
You are required to pay a separate fee for each trademark class that is listed in the application. The pricing depends on the USPTO form you have chosen:
$250 for TEAS Plus, and you must pay the whole amount upfront
$350 for TEAS Standard, but you can divide the fee into two payments
Registered trademarks also come with a few long-term expenses, including maintenance fees. Unlike copyright and patents, trademarks only last for a few years, which is why you need to file for renewal recurrently.
Use DoNotPay To Register Your Trademark With Speed and Accuracy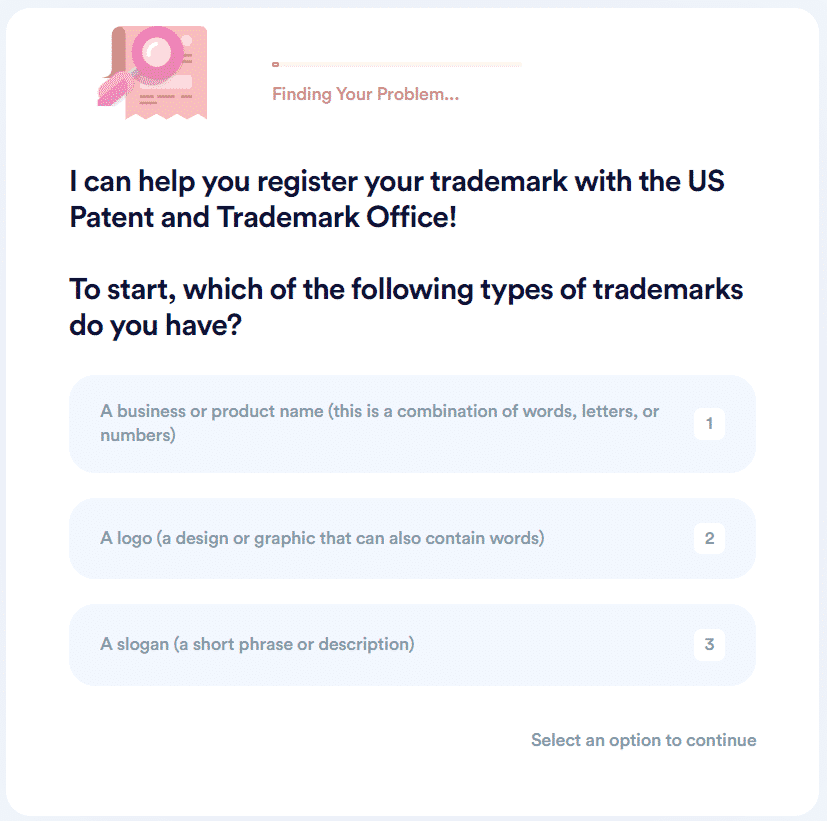 DoNotPay will make sure your registration goes smoothly with our streamlined Trademark Registration product. All you have to do is follow these simple steps:
using your preferred browser
Pick the Trademark Registration product
Tell us about your brand and describe your trademark
Confirm that you have paid the USPTO fees
Once you e-sign the form, DoNotPay will conduct a quick USPTO search to confirm the trademark is eligible for registration. If everything checks out, we will forward the paperwork to the federal agency.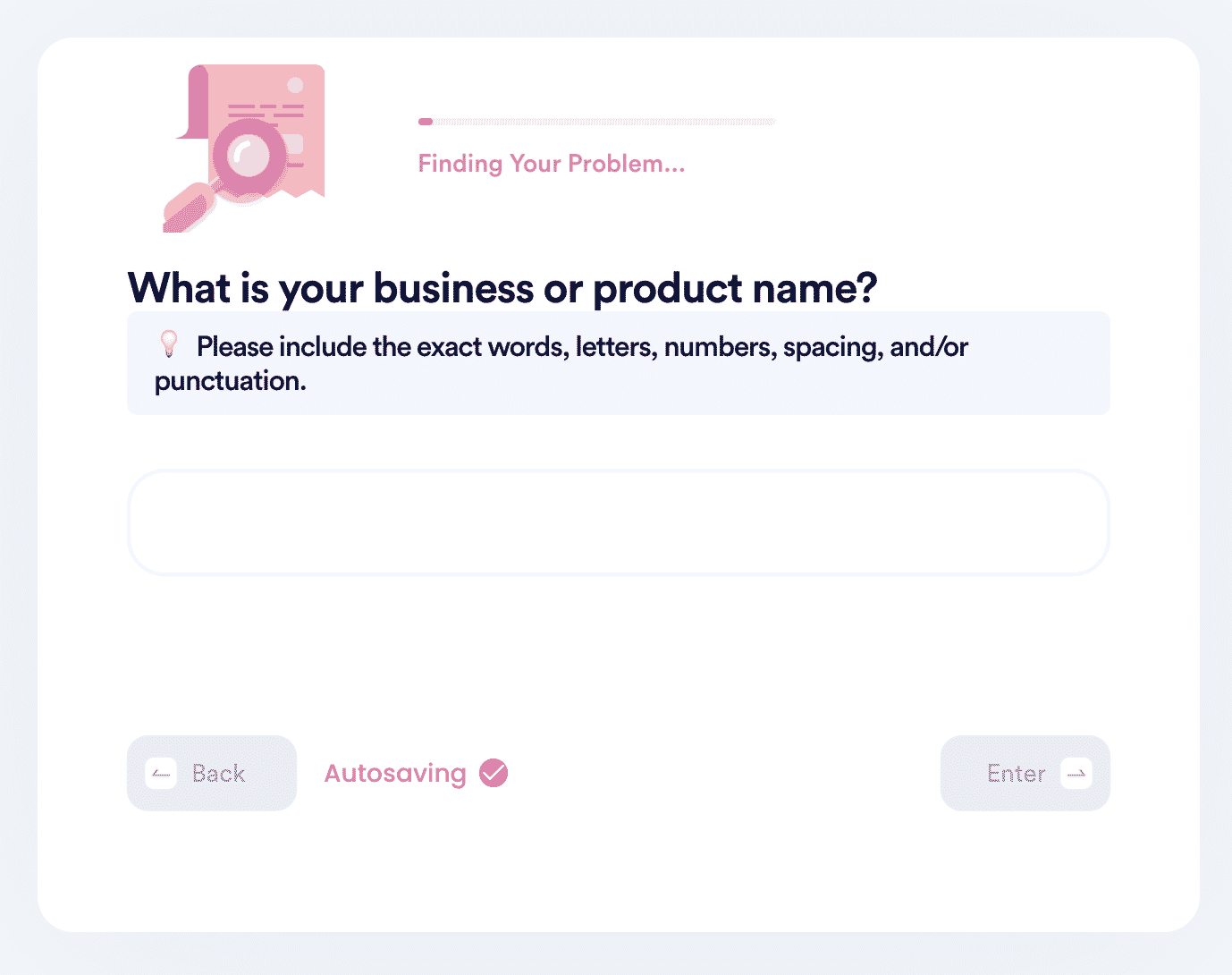 Run Your Business Worry-Free!
Every beginning is challenging, which is why DoNotPay has everything you need to start running your business stress-free! We have created numerous easy-to-use products that will make boring administrative tasks easier to manage.
To help you get started, DoNotPay will assist you in taking care of trademark, Employer Identification Number (EIN), and DMCA agent registration, Privacy Shield self-certification, and business loan requests.
We can even help you maintain a good business reputation by:
Monitoring your trademark and filing a cease and desist letter in case someone tries to use it
Reporting fake negative reviews that could harm your business
Disputing illegitimate chargeback requests in a matter of minutes
DoNotPay Helps You Create and File a Number of Legal Documents
Why waste time worrying about how to draw up and file various legal documents when you can have the world's first robot lawyer do that in your stead? You do not have to waste thousands of dollars on lawyer's fees—our extensive database has a myriad of documents on offer.
DoNotPay will help you automate the procedure of completing and filing 83(b) election forms, write a formal demand letter requesting payment from clients who try to avoid it, and deal with other important paperwork.
Don't want to waste time going to the post office to mail a contract? Now you do not have to! With DoNotPay, you can fax and mail any document in a matter of clicks!