Get the Gist of Trademark Class 42 With DoNotPay
Thinking about whether you should get a trademark? Is your business offering scientific and technical services? Trademark class 42 might be the one suitable for you! In case you do not know where to start, don't worry—DoNotPay has your back. We will tell you all about trademarks and show you how to register yours quickly and easily!
Trademarks Made Simple
As a business owner, you should consider registering your name, logo, slogan, phrase, or any other business aspect as a trademark to protect it from potential infringers. This will allow you to sue anyone who tries to copy your idea.
In case you want to protect your creative work, such as a film or a piece of writing, you can opt for copyright. If you wish to legally protect your service rather than a product, you should register a service mark.
What Are Trademark Classes?
The United States Patent and Trademark Office (USPTO) recognizes 45 trademark classes (34 for goods and 11 covering services). When registering your trademark, you will have to choose the most suitable class depending on what your business is offering. For example, business research and evaluation services fall under class 35, whereas mining and oil extraction falls under class 37.
If your business requires it, you have the option of registering under multiple trademark classes. Note that this solution could be costly as you have to pay a separate fee for each class.
What Is a Class 42 Trademark?
Class 42 trademark covers businesses that provide scientific and technical services offered by:
Engineers who deal with evaluations, estimates, research, and reports in the technological field
Chemists
Physicists
Engineers
Computer programmers
Services That Can Be Classified Under Class 42 Trademark
The services that the USPTO can classify under trademark class 42 are:
IT services (computer system analysis, computer system design)
Design services
Engineering services
Natural science services (bacteriological and biological research, chemical analysis)
Earth science services
Computer hardware development (consultancy in the development and design of computer hardware)
Software renting services
Rental of computer hardware and facilities
Data duplication and conversion services
Data coding services
Science and technology services (calibration, energy auditing, construction drafting)
Surveying and exploration services
Architectural and urban planning services (architectural consultation, urban planning)
Testing, authentication, and quality control
Medical and pharmacological research services (clinical trials)
IT consultancy, advisory, and information services
Software development, programming, and implementation
How Much Does Registering a Class 42 Trademark Cost?
The price of registering a class 42 trademark depends on whether you:
Register on a state or federal level (each state charges differently)
Wish to register under additional classes
Hire a trademark attorney
If you register a trademark with your state, your trademark will only be protected in that state. Federal registration will cost you at least $250, but this option offers greater protection. Hiring a lawyer to assist you during the process will greatly influence the final amount you have to pay, as attorney service fees are expensive.
How To Register a Class 42 Trademark
To register a class 42 trademark on your own, you'll have to follow these steps:
Registration Step
Explanation
Conduct a clearance search
If your trademark is already in use, you will not be able to register it. That is why you need to check whether someone has taken it or not. Use the USPTO database or conduct a Google search to see if there is already a business that is using your desired trademark
Complete the registration form
Complete the application carefully and provide the following information:

Your name and address
Trademark description
Info on your goods and services
Trademark class that your goods or services belong to

Pay the filing fee
Once you fill out the form, you have to pay the filing fee via:

Credit card (Visa, MasterCard, Discover, American Express)
USPTO deposit account
Electronic funds transfer
What Happens After You Submit the Application?
Once you submit the form and pay the filing fee, you need to wait for a couple of months as it will take some time for the USPTO to make sure your application is valid and approve it.
When your trademark is registered, it will last for ten years unless you renew it. To be eligible for renewal, you are required to still use the trademark in the fifth and sixth year of registering.
To make sure you wait as little as possible for the approval of your trademark, you must complete your application correctly. That is where we come in! If you , we will fill out your application flawlessly and forward it to the USPTO in no time!
DoNotPay Makes Registering a Trademark Class 42 a Breeze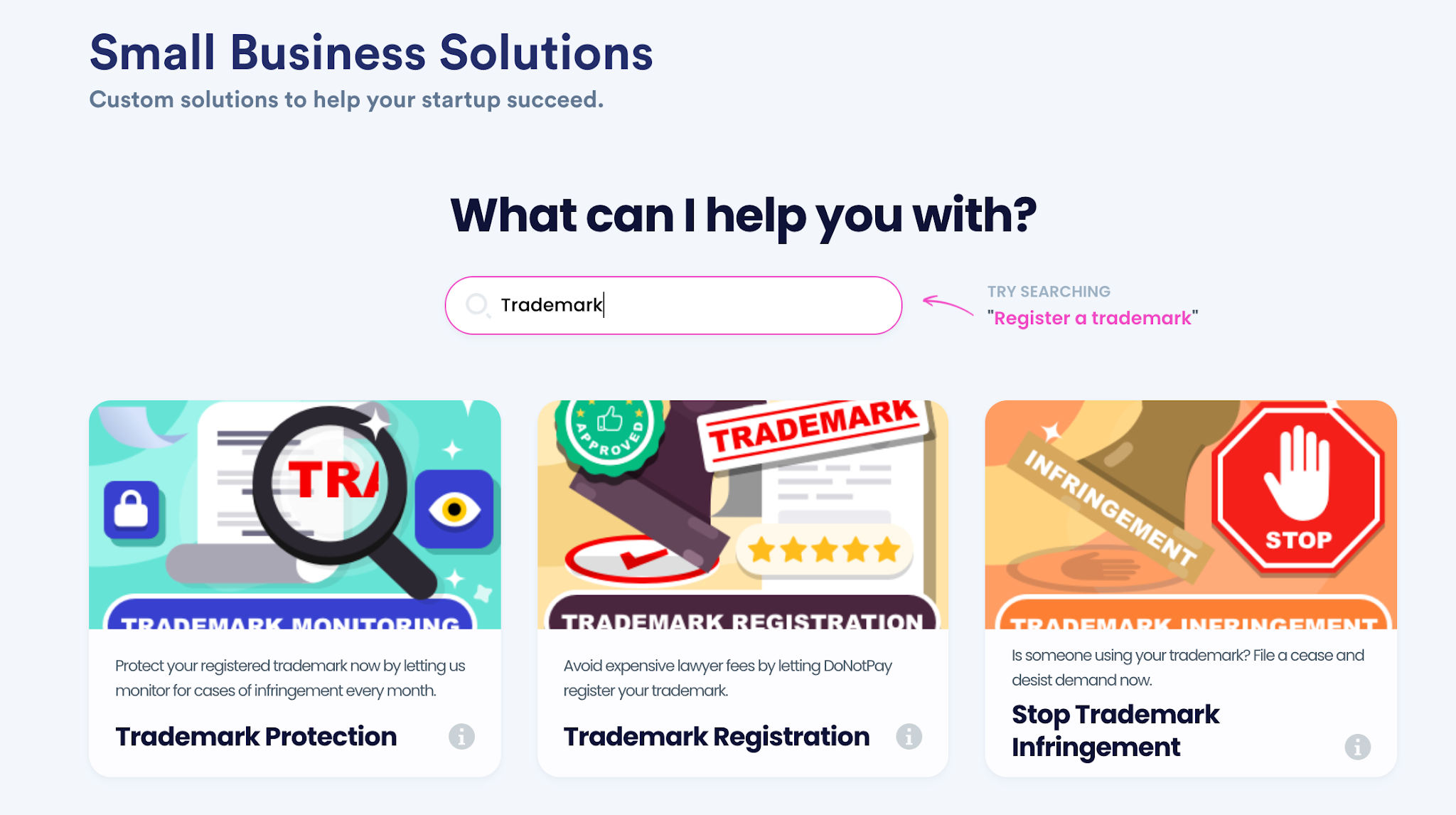 Want to file a trademark class 42 effortlessly and without spending a fortune on lawyers? DoNotPay can help you by:
Doing a clearance search
Filling out the application for you
Sending it to you so you can review and e-sign it
Forwarding the signed application to the USPTO
Giving you a tracking number so you can track the application's status at all times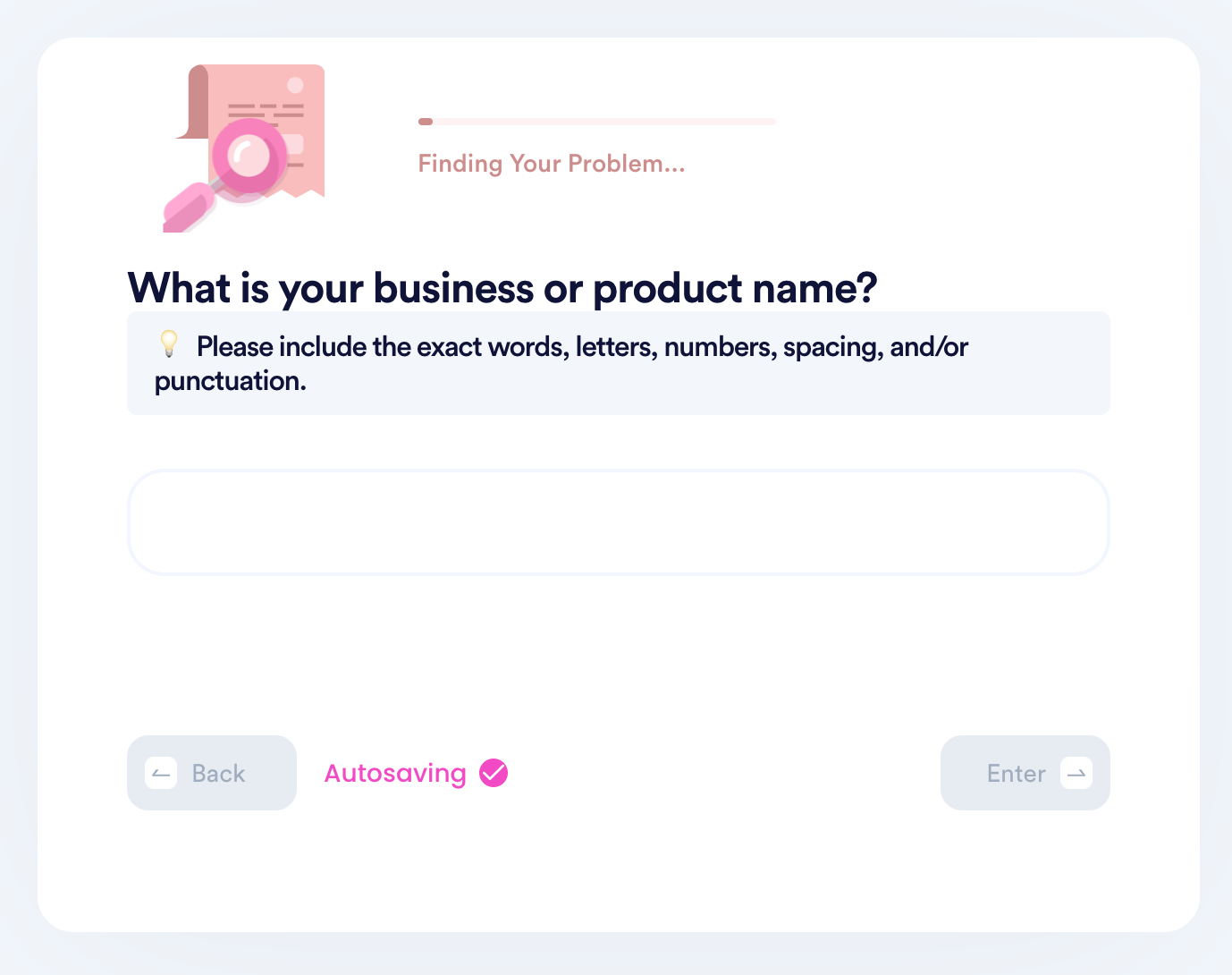 Our AI-powered app is not only efficient but also simple to use. Here's how it works:
Select our Trademark Registration tool
Answer our chatbot's questions
Resolve Various Business Problems With the Help of DoNotPay
Handling annoying administrative issues is the last thing you want to worry about while trying to build a business empire. The good news is that you do not have to! DoNotPay has developed many nifty products that make various pesky tasks easy to complete.
Some of the small-business-related matters we can help you with are:
Taking out business loans
Obtaining an Employer Identification Number (EIN)
Automating the filing of 83(b) election forms
Requesting your money from customers who won't pay
Registering a DMCA agent
DoNotPay can also make communication with your clients or business partners easier as we enable you to fax and mail your letters, forms, and other important documents without leaving your office.
Maintain a Good Business Reputation
It is no secret that building a trusting relationship with clients takes time and effort, so why have all that hard work ruined by negative online reviews that are fake? DoNotPay is here to help you remove illegitimate, fake reviews in a matter of clicks!
Want to dispute unfair chargeback requests but are not sure how to go about it? By using our Fight Chargebacks feature, you can have DoNotPay create a customized chargeback rebuttal document in a few minutes.
With our app, you can also protect your trademark from people trying to use it, file the self-certification request with the Privacy Shield program, and handle many other aspects of your business hassle-free!