The Ultimate Guide to Registering for a Trademark Class 41
One of the most important steps of filling out a trademark registration form is choosing the trademark class for your goods and services. Each class serves to identify specific items or activities. Do you want to register something under the trademark class 41? DoNotPay explains in detail how to file a trademark and helps you apply for one without a hassle.
Why Should You Register for a Trademark Class 41?
Although you are not legally required to register a trademark for your goods and services, getting a class 41 trademark for your services will ensure better legal protection of your business under trademark laws.
A trademark is any word, mark, or phrase that identifies the goods that you offer. It must be original and distinct from other trademarks in the same industry to help people associate it solely with your brand. Whereas trademarks protect goods and products, service marks (a subcategory of trademarks) only apply to services.
The following creations can be trademarked:
You can either use federally registered trademarks or common law ones, but it is advisable to register on a federal level to enhance your brand's intrinsic value. Many small business owners might not see the use of getting a trademark, but there are various advantages of doing so. You can seek legal action if a competitor infringes on your brand. Your trademark will also prevent others from stealing your ideas and creativity and prevent fraud.
Unlike copyrights, trademarks do not last forever—you need to renew your mark every ten years if you intend to use it for commercial purposes.
The Class 41 Trademark Description
Every trademark is classified under one of the 45 trademark classes listed by the United States Patent and Trademark Office (USPTO), which determines the goods and services protected by the trademark. The class 41 trademark is service-oriented and deals with the following:
Education
Entertainment
Training
Sports
Cultural activities
A more detailed description of the services that class 41 covers is mentioned in the table below:
Subcategory
Description of Services
Publishing and reporting

Textbook writing
Calligraphy
Electronic, journal, and text publishing
Reporting services

Entertainment

Zoos and amusement parks
Game and television shows
Beauty contests and modeling
Concerts
Cinemas
Nightclubs and DJ services
Live performances
Event planning

Education

Academies
Workshops
Seminars
Boarding schools
Preschools
Tutoring
Vocational and religious schools

Photography

Photography
Videography
Audiovisuals
Cinematography
Dubbing
Film and music production

Sports

Fitness classes
Coaching
Gyms and health clubs
Personal training
Equipment and facilities rental
Other categories included under class 41 are:
Gambling—This includes casino and lottery facilities
Libraries—Examples include lending libraries and bookmobile services
Translation—The translation subcategory covers translation, transliteration, sign, and general language interpretation
What Does Not Fall Under the Class 41 Trademark?
It is essential to confirm that you are using the correct class for your goods and services. If you enter the wrong class type, your application will be rejected, and you need to apply for the trademark again.
Since class 41 only applies to services, it does not cover the following:
| Trademark Class | Goods |
| --- | --- |
| Class 25 | Clothing, footwear, headgear, and accessories |
| Class 3 | Products used to clean laundry, bathrooms, and floors, cosmetics, perfumes, and lotions |
| Class 28 | Sporting goods, toys, games, gymnastic items, and decorations |
If you think your trademark falls under multiple classes, you can add them to your application. Bear in mind that you will need to pay the registration fee for each trademark class you select.
How To Register for a Class 41 Trademark
Currently, you can only apply for a federally registered trademark online. Before going through the process, make sure that you are fully acquainted with the trademark requirements and have selected a unique trademark.
Here is what you need to do to file for a class 41 trademark:
Search the USPTO database to confirm that your trademark is original
Go to the Trademark Electronic Application System (TEAS) website and log in
Start a new application
Enter information about your business
Provide details about your trademark, including the design and description
Choose the trademark class 41
Pay the registration fee
Click on Submit
The process of applying for a trademark can be tricky and drawn out, but DoNotPay can save you the trouble! Use our app and register for a trademark without breaking a sweat!
DoNotPay Helps You Get Your Trademark Filed Under Class 41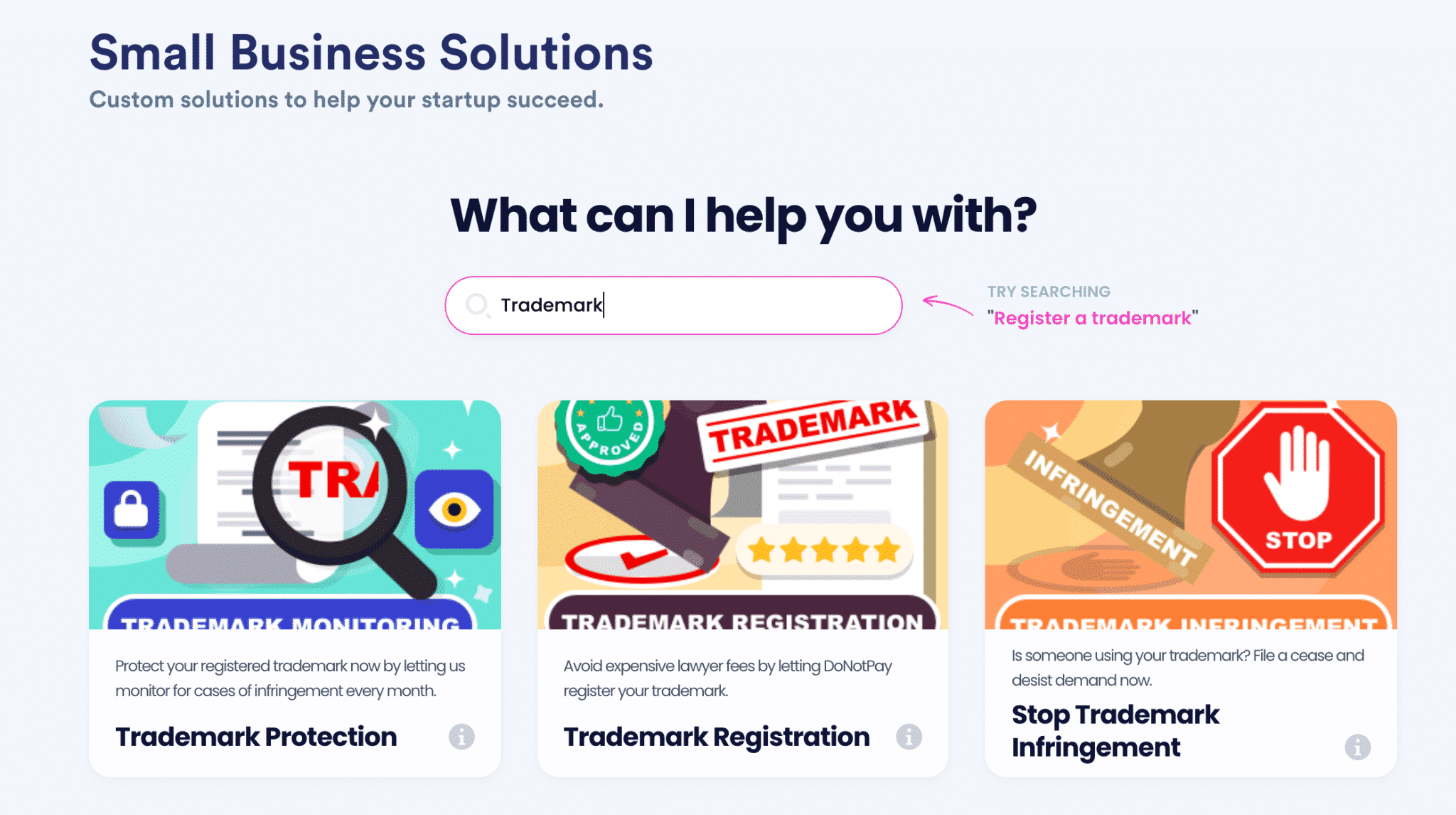 Applying for a trademark class 41 might seem intimidating, but we are here to make it easier! Our AI-powered app can streamline the process for you and take care of tedious tasks, such as:
Verifying that your trademark is unique
Helping you fill out and submit the registration application
Forwarding it to the USPTO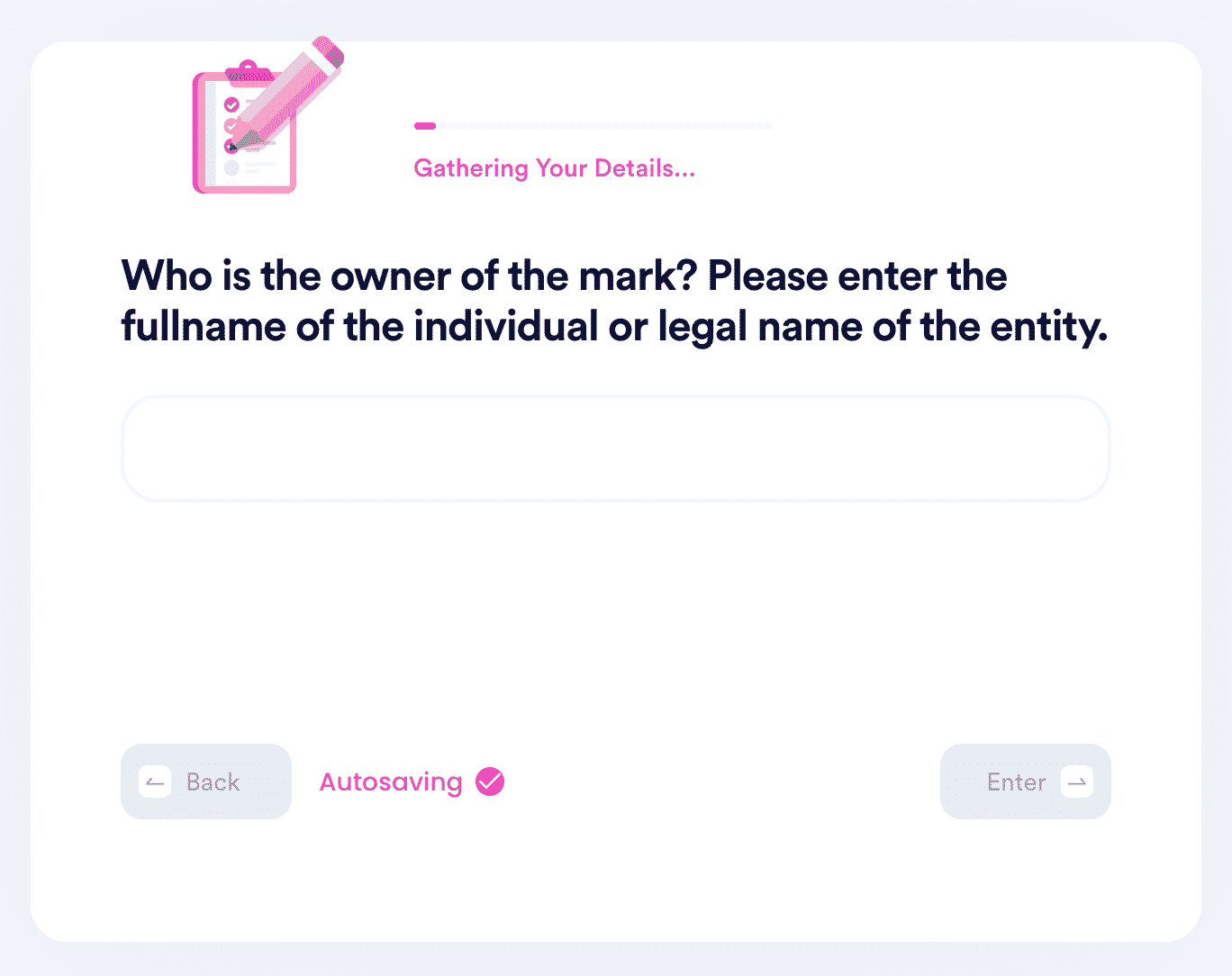 All you need to do is sign up for DoNotPay and:
Navigate to the Trademark Registration tool
Choose the trademark class
Enter more information about your trademark and business
Pay the trademark filing fee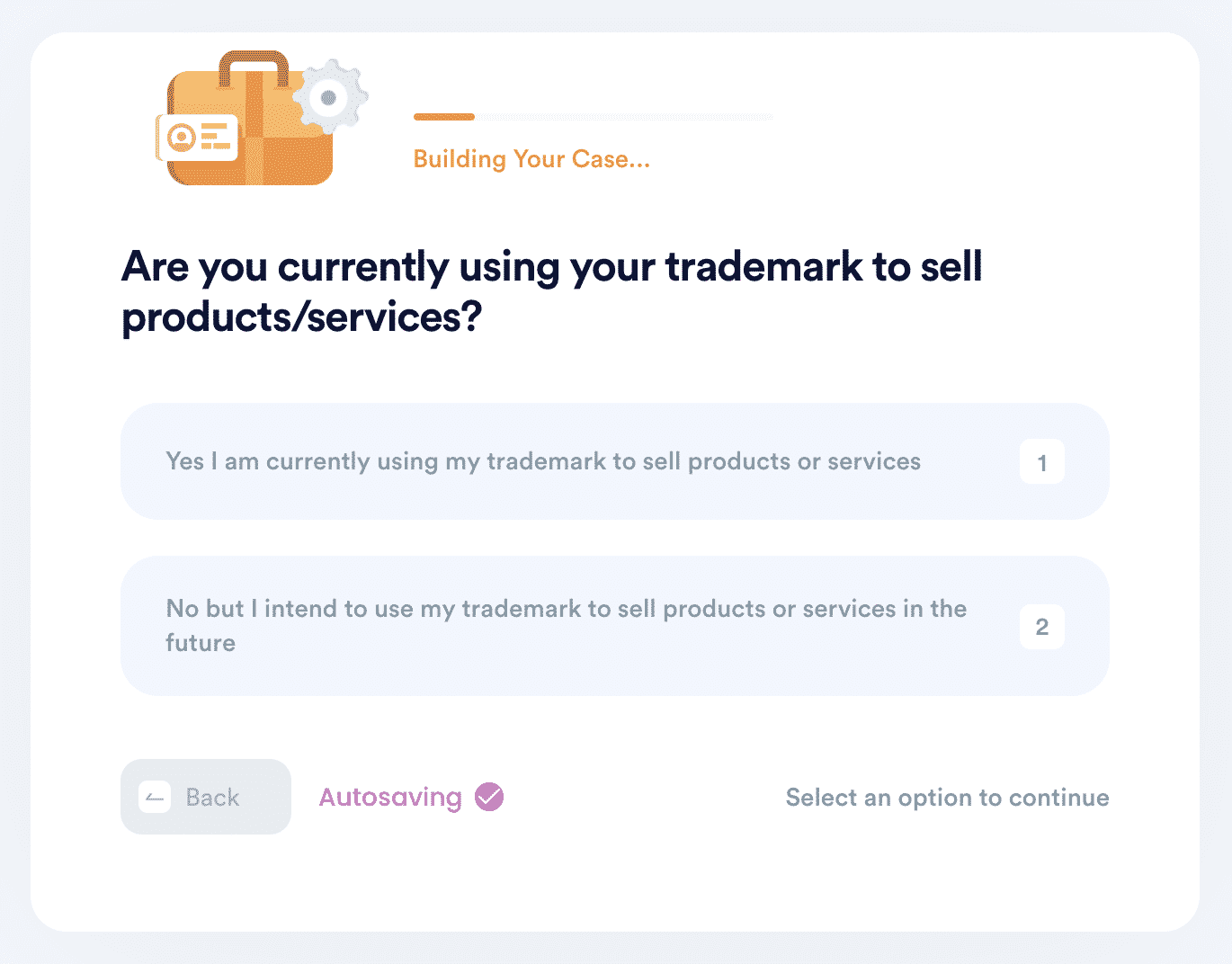 DoNotPay Has Everything You Need for Your Small Business
Navigating numerous business procedures can be overwhelming, especially if you don't have much experience. DoNotPay strives to make the situation easier for business owners, which is why we offer a number of simple-to-use products that can help you take care of various processes, including DMCA agent and Employer Identification Number registration, Privacy Shield program self-certification, and trademark registration and protection.
If you are not sure how to manage the filing of 83(b) election forms, DoNotPay has a solution that will automate the entire process and help you save time. Our app can even generate a convincing small business loan request letter for you. Don't feel like walking or driving to the post office to send the letter? Use DoNotPay to fax or mail any document in a matter of clicks!
DoNotPay Helps You Deal With Bad Clients
If you need help handling unpleasant situations with your clients, you can rely on DoNotPay. We have created various products to assist you in:
Making sure your business is free of negative, illegitimate online reviews—DoNotPay will analyze the review in question, estimate the best reason for reporting it, and report the review until it is deleted
Dealing with clients who breach the contract and refuse to pay—We will generate and send a demand letter requesting what's rightfully yours
Fighting unjustified chargebacks—Our app will create a personalized chargeback rebuttal document to help you keep your revenue
Resolve various business issues without wasting time or money—DoNotPay has got your back!