Trademark Class 36 Explained by DoNotPay
Wish to register a trademark for your business? If you are offering financial services, you should register your mark under trademark class 36. DoNotPay will explain the gist of this class and help you speed up the trademark registration process!
What Is a Trademark?
Unlike copyright, used to protect works of authorship, a trademark is legal protection of a name, logo, slogan, or any other aspect of a brand.
Although small businesses aren't required to register a trademark, without a trademark, competitors could use your name or idea without facing legal consequences. If you would like to expand your business, consider registering a trademark to ensure your brand is legally protected.
Trademark Classes—The Basics
When filing a trademark with the United States Patent and Trademark Office (USPTO), you will have to register your goods or services under one of the 45 trademark classes. These classes identify goods and services that a mark represents. This is important because your trademark will be protected only in the class that you opt for in your application. You can register your mark under multiple classes, but this will impact the final cost of the application.
The Ins and Outs of Class 36 Trademark
Trademark class 36 is used for services related to:
Financial and monetary affairs
Insurance
Real estate
Consult the table below to see which services are covered:
| Insurance services | Insurance underwriting, appraisals, and assessment | Warranty and real estate services |
| --- | --- | --- |
| Provisions of prepaid cards and tokens | Safe-deposit services | Currency trading and exchange services |
| Securities and commodities trading services | Loan and credit and lease-finance services | Debt recovery and factory services |
| Investment services | Fund investments | Financial transfers and transactions |
| Cash, check, card, and money order services | Tax and duty payment services | Financial information and consultancy services |
| Financial appraisal services | Fundraising and sponsorship | Valuation services |
How To Register a Class 36 Trademark?
While you have an option to register a trademark on a state level, if you wish to expand your business across the U.S., you need to register it with the USPTO. Registering a class 36 trademark with the USPTO by yourself is tricky as it requires you to follow complicated steps, as follows:
Conduct a USPTO trademark search to make sure your desired trademark is not already in use
Complete the application form
Send the form to the USPTO
Pay the required fee
Keep in mind that this is a lengthy process and that the USPTO might need months to review your form.
Should You Hire a Lawyer To Register a Class 36 Trademark?
Hiring a lawyer to assist you in registering a trademark is not mandatory, but it can be helpful. You should keep in mind that the cost of their services is sky-high—lawyers usually charge between $1,000 and $2,000 for registration.
Instead of wasting a small fortune, you should ! Our AI-powered app can help you get through the process of registering a trademark in no time.
Registering a Class 36 Trademark With DoNotPay Is a Breeze
If you want to file a trademark hassle-free, DoNotPay can help! We will make sure that your desired mark isn't already in use by conducting a thorough USPTO search and:
Use the info you give us to complete the application for you
Send you the completed form so you can review it before signing it
Submit the application to the USPTO on your behalf
Provide you with a tracking number so you can be aware of the application's status at all times
Include your email address in the application so the USPTO can reach out to you directly when they approve it
How To Use DoNotPay To Register a Class 36 Trademark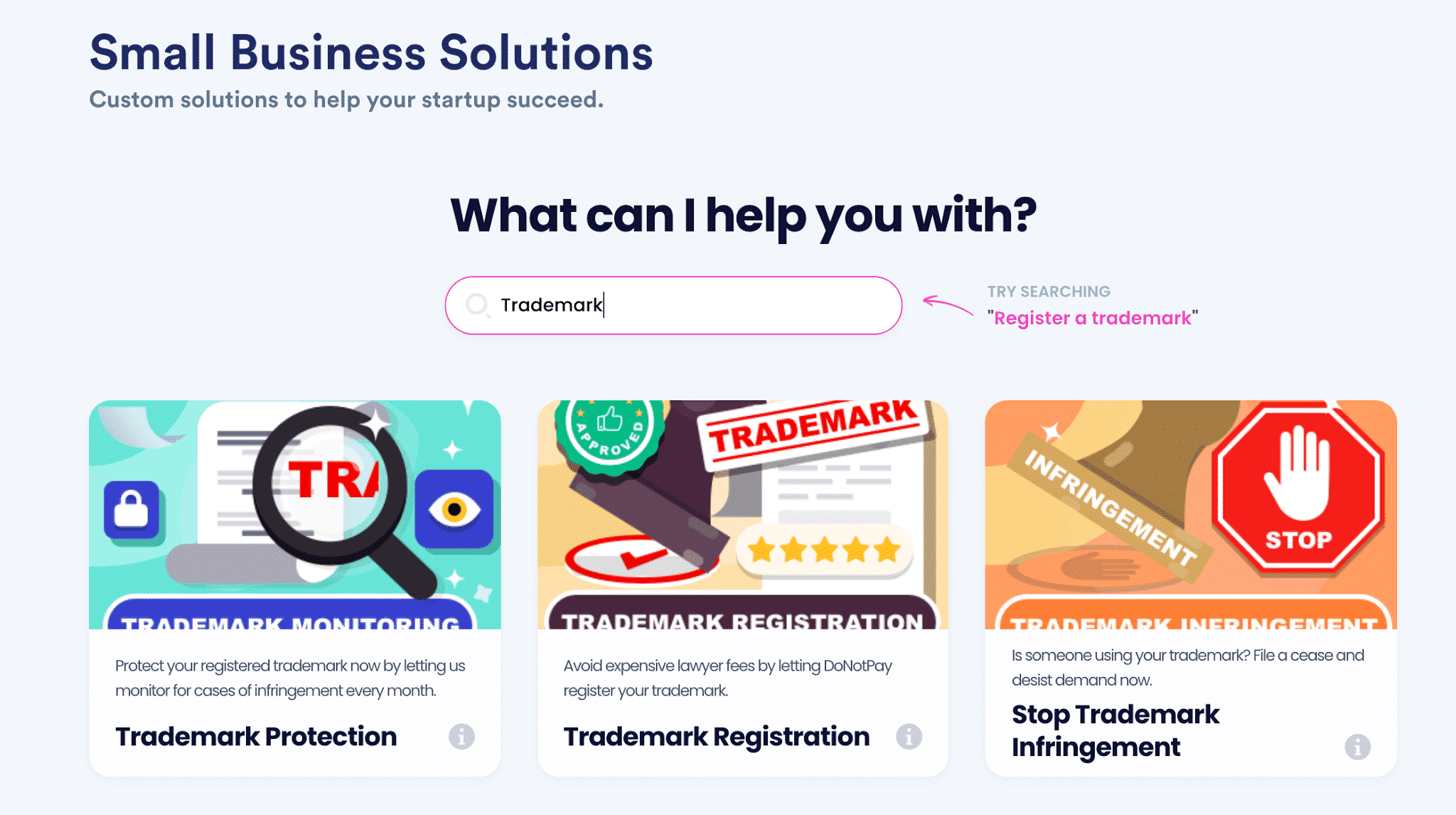 Registering a trademark with DoNotPay is effortless as it only requires you to follow a few simple steps. Here's what you need to do:
Select our Trademark Registration tool
Answer our chatbot's questions
Hit Submit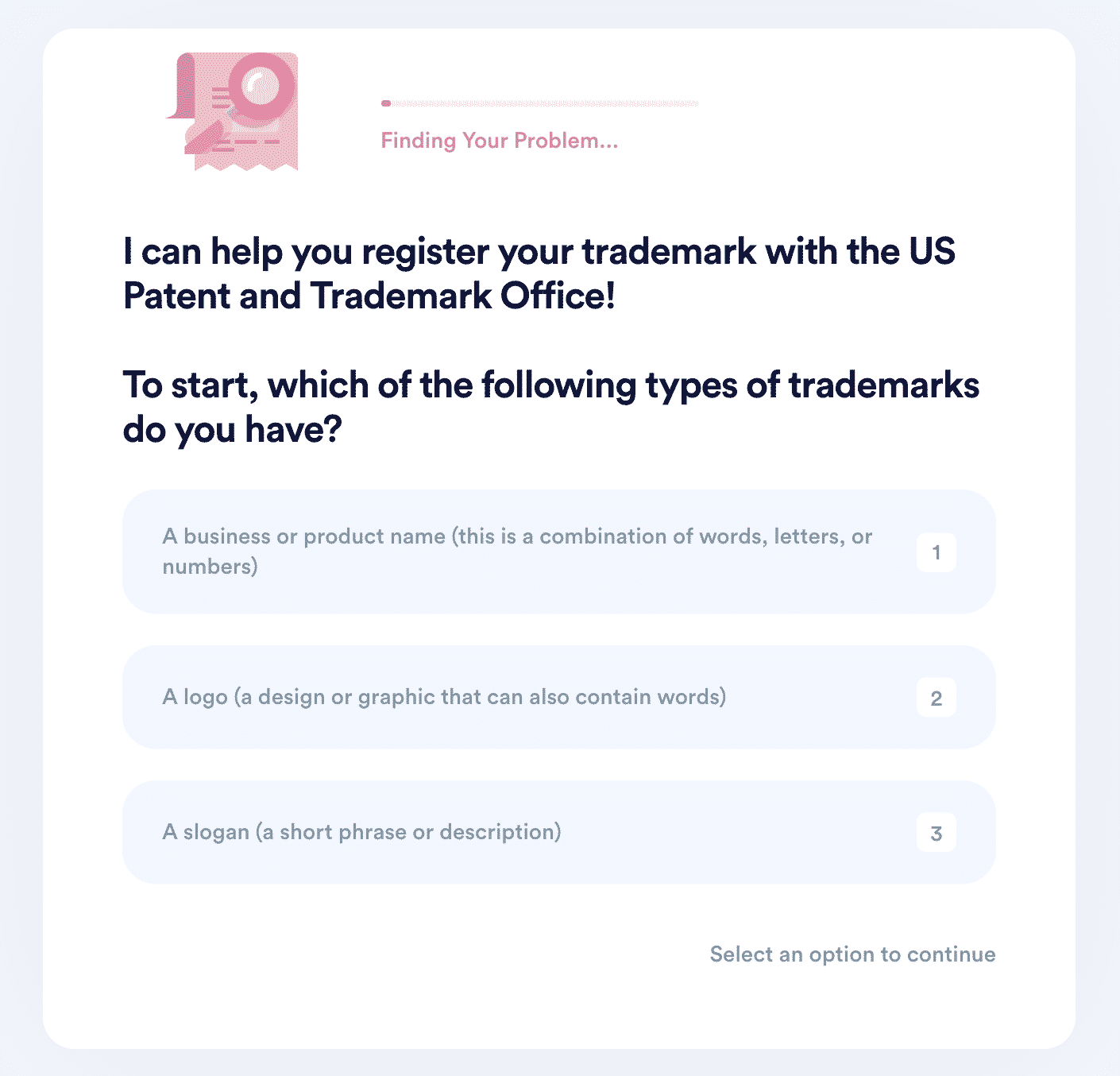 We will process your request and send you the application in no time. Need answers to more trademark-related questions? DoNotPay can break down trademark requirements, trademark protection laws, and more!
How Long Do Trademarks Last?
A registered trademark lasts ten years unless you renew it. The only requirement for renewal is that your trademark is still being used between the filth and the sixth year of being registered.
How Much Does It Cost To Register a Trademark?
The cost of your trademark registration depends on whether you choose:
Trademark Electronic Application System (TEAS) Plus—TEAS Plus costs $250 but carries a few additional requirements, such as:

Providing additional information in your form
Communicating with the USPTO via email and online TEAS system only
Selecting your goods or services accurately

Trademark Electronic Application System (TEAS) Standard—This option costs $350, and you should choose it if you need a custom category for your goods or services
The final amount also depends on the number of classes you choose.
Resolve Various Business Problems With the Help of DoNotPay
Handling annoying administrative issues is the last thing you want to worry about while trying to build a business empire. The good news is that you do not have to! DoNotPay has developed many nifty products that make various pesky tasks easy to complete.
Some of the small-business-related matters we can help you with are:
Taking out business loans
Obtaining an Employer Identification Number (EIN)
Automating the filing of 83(b) election forms
Requesting your money from customers who won't pay
Registering a DMCA agent
DoNotPay can also make communication with your clients or business partners easier as we enable you to fax and mail your letters, forms, and other important documents without leaving your office.
Maintain a Good Business Reputation
It is no secret that building a trusting relationship with clients takes time and effort, so why have all that hard work ruined by negative online reviews that are fake? DoNotPay is here to help you remove illegitimate, fake reviews in a matter of clicks!
Want to dispute unfair chargeback requests but are not sure how to go about it? By using our Fight Chargebacks feature, you can have DoNotPay create a customized chargeback rebuttal document in a few minutes.
With our app, you can also protect your trademark from people trying to use it, file the self-certification request with the Privacy Shield program, and handle many other aspects of your business hassle-free!