Essential Information About Trademark Class 30
Want to register your kitchen supply brand for trademark class 30? Good for you—it is an important step for growing businesses to take.
As essential as it is, the process can also be complicated and expensive. This guide will provide the information you are looking for, but there is a faster way to deal with it—, the world's first AI-powered robot lawyer.
A Crash Course in Trademarks
Trademarks, managed by the United States Patent and Trademark Office (USPTO), protect the registered part of your brand against use by other organizations. Other companies in your industry cannot use any of the following once they have trademark status:
After approval, your trademark is good for ten years. If your company is still making use of the mark after five years, you can renew it.
Trademarks are similar to service marks, which protect the branding associated with a service instead of a good, while copyright protects works of authorship.
What Do You Gain by Trademarking Your Brand?
Registering a trademark is not mandatory, but it is a standard business practice for a good reason—893,760 businesses registered trademarks in 2019.
Trademark protection law provides grounds to sue another entity for using a part of your registered brand without authorization. Competitors infringing on your trademark are liable for legal consequences. That is why valuable brands should be trademarked.
Basic Information About Trademark Class 30
Trademark class 30 deals with plant-based food items intended for:
Consumption
Enhancement of other foods
Preservation of other foods
Consumption
You can check the consumption subcategory items in the following table:
| Almond paste | Capers | Ice cream | Rice |
| --- | --- | --- | --- |
| Artificial coffee | Cereal | Ice, natural or artificial | Rice cakes |
| Barley meal | Cereal bars | Pasta | Rice pudding |
| Bean meal | Cheeseburgers [sandwiches] | Mayonnaise | Sandwiches |
| Biscuits/cookies | Chicory [coffee substitute] | Meal/flour | Sushi |
| Bread | Chips [cereal products] | Meat pies | Tacos |
| Bread rolls | Chocolate | Oat flakes | Tarts |
| Breadcrumbs | Coffee | Oatmeal | Tea |
| Buns | Corn, milled/maize, milled | Pies | Tomato sauce |
| Cake dough/cake batter | Crackers | Pizzas | Tortillas |
| Cakes | Custard | Popcorn | Frozen yogurt |
| Candy | Dough | Quiches | |
Enhancement of Other Foods
Items intended for food enhancement are listed in the table below:
| Allspice | Condiments | Ginger [spice] | Pepper |
| --- | --- | --- | --- |
| Almond confectionery | Confectionery/sugar confectionery | Glucose for culinary purposes | Peppers [seasonings] |
| Aniseed | Cooking salt | Honey | Saffron [seasoning] |
| Candy decorations for cakes | Curry [spice] | Ketchup [sauce] | Seaweed [condiment] |
| Celery salt | Dessert mousses [confectionery] | Liquorice [confectionery] | Soya sauce |
| Chocolate mousses | Dressings for salad | Lozenges [confectionery]/pastilles [confectionery] | Soya bean paste [condiment] |
| Chocolate decorations for cakes | Flavorings | Malt extract for food | Vanilla [flavoring] [flavouring] |
| Chow-chow [condiment] | Fondants [confectionery] | Marinades | Vanillin [vanilla substitute] |
| Chutneys [condiments] | Fruit jellies [confectionery] | Natural sweeteners | |
| Cinnamon [spice] | Fruit coulis [sauces] | Nutmegs | |
| Cloves [spice] | Garden herbs, preserved [seasonings] | Pasta sauce | |
Preservation of Other Foods
Items for preservation of other foods are:
Baking powder
Baking soda
Beer vinegar
Ferments for pastes
Meat tenderizers, for household purposes
Vinegar
Yeast
How To Apply for Trademark Class 30
To avoid any chance of infringement, confirm that your brand is unique from any other registered trademarks. Consult the USPTO database to compare your mark against others in the same class.
Next, submit your application by following these steps:
Visit the Trademark Electronic Application System (TEAS)
Log in or create an account for TEAS
Launch a new application for a class 30 trademark
Input the requested information about your brand
Pay the filing fee
Trademark Processing Periods
Keep the following timelines in mind when planning your trademark registration:
| Occurrence | Timeframe |
| --- | --- |
| Confirmed receipt of application via email | Up to 14 days of application submission |
| USPTO ruling on your application | 9–12 months |
| Window for renewal of trademark | Within 5–6 years of registration |
| Expiration of trademark | Ten years after registered |
Budgeting for Trademark Class 30
Applicants must pay a filing fee for each trademark class to which they apply. The USPTO offers two services:
TEAS Plus—$250/class
TEAS Standard—$350/class
To effectively manage the procedure, you will likely need to hire a trademark lawyer. Errors in your application may result in a denial. As convenient as legal assistance is, it can also be cost-prohibitive for new companies.
DoNotPay Will Manage Your Trademark Class 30 Registration
When you are trying to develop your small business, the last thing you have time for is more paperwork. Even if you have the time to focus on a trademark application, you may not have the funds for a trademark lawyer. Allow DoNotPay to take this project off your to-do list at an affordable price.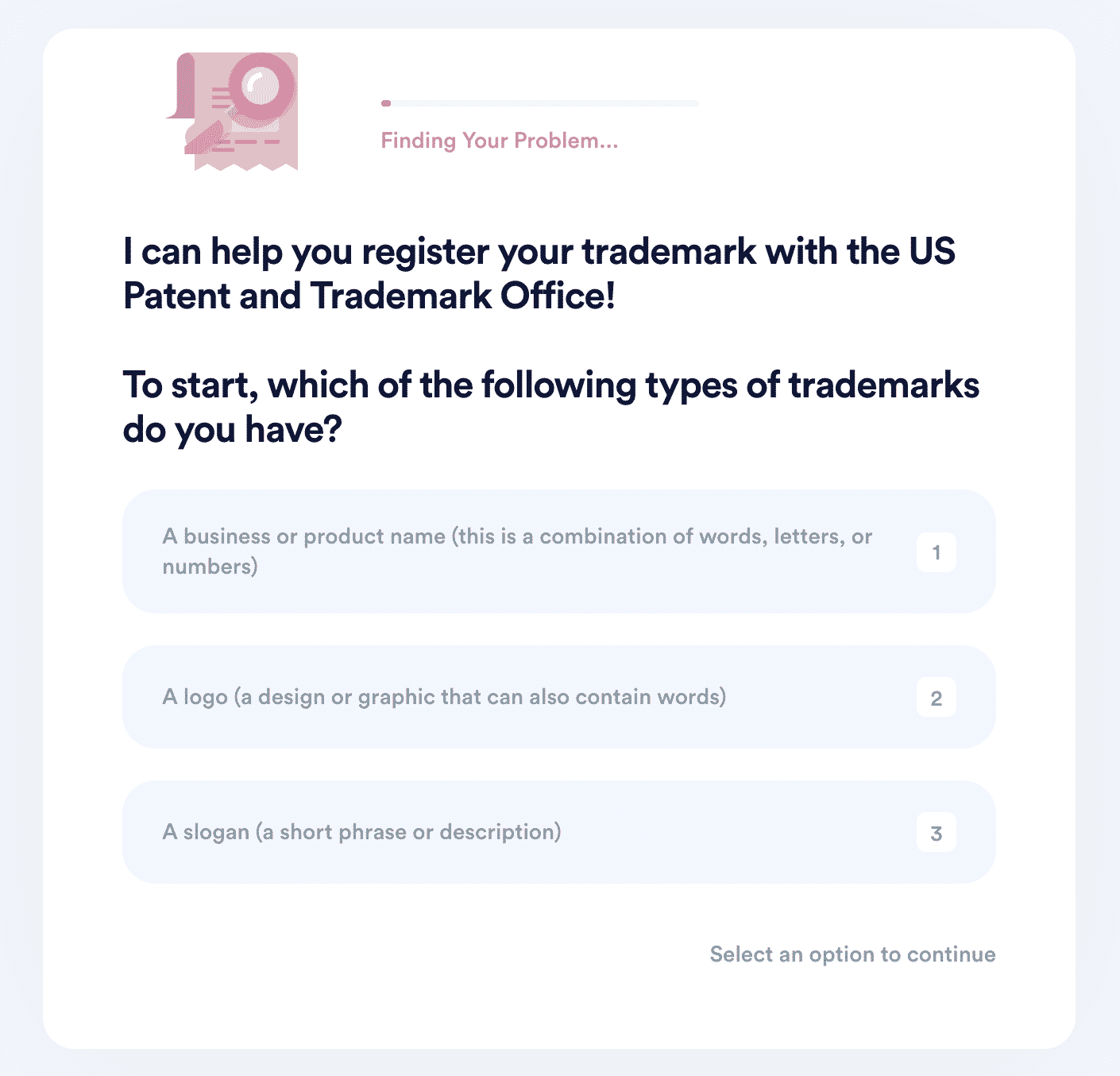 DoNotPay's Trademark Registration tool will manage the following:
Gathering of the necessary information
Completion and submission of the application
Management of review and signing
Here is what you need to do:
Choose our Trademark Registration product
Explain your trademark and answer a few questions
Pay the filing fees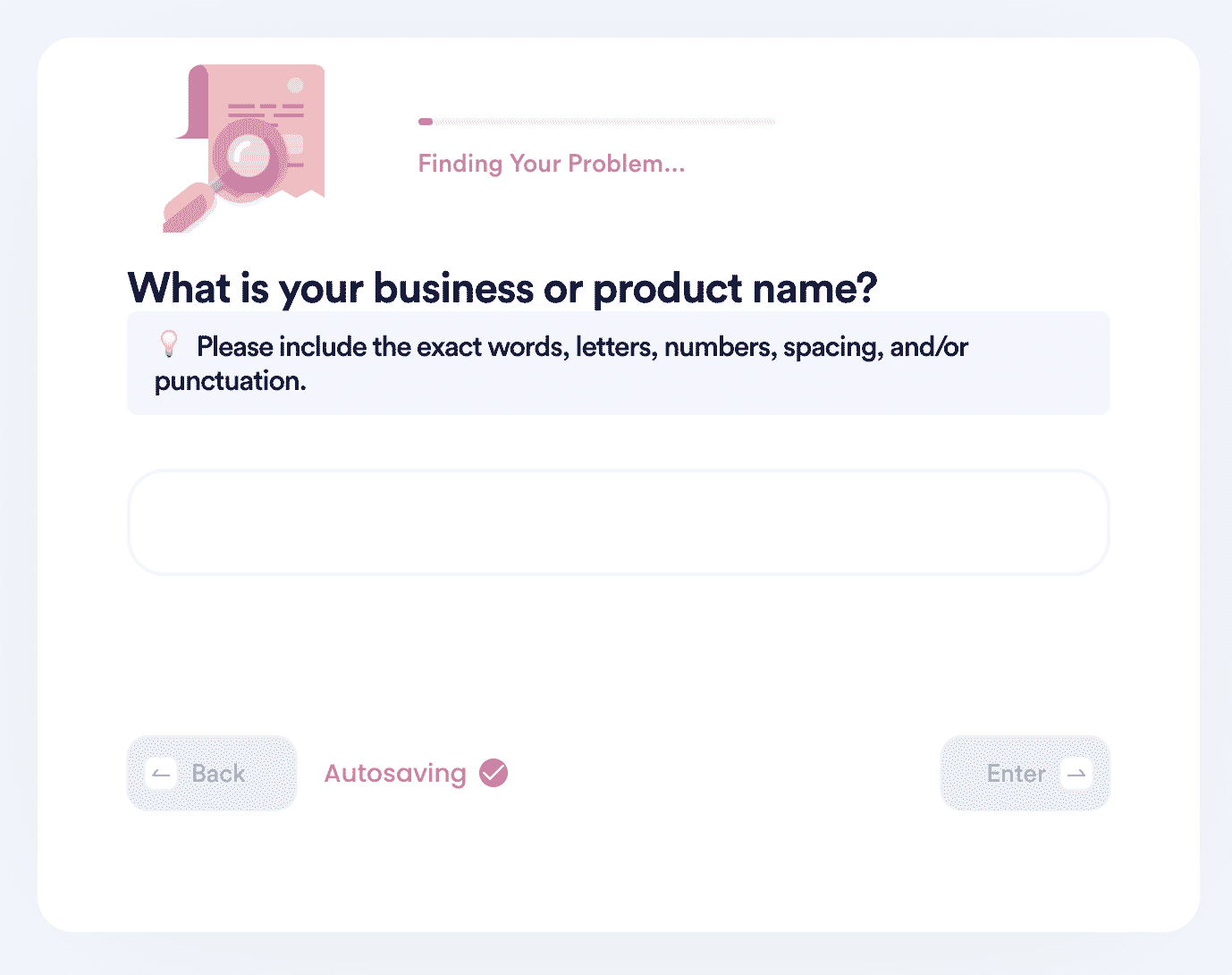 After submission, we will give you an application tracking number so that you can stay up to date on the progress. We also ensure the USPTO has your email address and can contact you with updates and additional questions.
Let DoNotPay Help You With Boring Administrative Tasks While You Focus on Becoming a Business Mogul!
DoNotPay can assist you in dealing with a number of business-related tasks. We have developed a plethora of simple-to-use products that make running a business much easier and less stressful.
Do you need help registering your business name as a trademark? We have got you covered! Not sure how to write a convincing letter to request a small business loan? DoNotPay helps with that, too!
Use our app to get a perfectly generated chargeback rebuttal document, formally request payment from clients who breach the contract, and find out how your employees can file 83(b) election forms in a matter of clicks!
Check Out Our Other Nifty Products!
That is not all DoNotPay has to offer. Our awesome tools will make tedious administrative tasks easier to manage so you can concentrate on your business instead of wasting time waiting in lines and filling out forms. Rely on DoNotPay to:
Take care of DMCA agent registration and Privacy Shield program self-certification
Make sure no one else is using your trademark
Get rid of fake online reviews that harm your business reputation
Manage Employer Number Identification (EIN) registration
Enjoy the convenience of faxing and mailing from the comfort of your home or office