The Finer Details of Trademark Class 3 Registration
Filing an accurate trademark class 3 application is easier said than done—do you know what the process entails? You can skip the grunt work right now by .
Among other types of products, this class of trademark covers cosmetics, a valuable and rapidly expanding industry. Once ruled by few multinational companies, the cosmetics sector has seen new activity in recent years with the emergence of microbrands led by online influencers.
As online shopping and a new economy of scale with products have made the industry more accessible, entrepreneurs like yourself may be building new beauty brands, and registering for trademark class 3 is a critical part of that process.
Do You Need a Trademark Class 3?
While you are not required to register your brand with a trademark, you should do so, given the legal protection it offers.
A trademark is federally protected intellectual property in the form of a recognizable component of a brand. You can register any of the following as a trademark with the United States Patent and Trademark Office (USPTO):
Whereas small businesses may not require this form of legal protection due to their limited scope, any organization reaching into broader markets should consider this step. It enables you to sue your competitors for infringing on your brand. Failing to register for trademark class 3 leaves you with no legal recourse if another company uses your iconography.
Trademarks are a legally distinct concept and should not be mixed with other types of intellectual property protection. While trademarks protect goods, service marks protect services, and copyright protects works of authorship.
What Is Trademark Class 3?
Class 3 is one of 45 categories determining the goods protected by a given trademark. Trademark class 3 deals with goods that fall under the following two categories:
Perfumes
Personal hygiene
The following table offers further details on what products you can trademark under class 3:
| Subcategory | Goods |
| --- | --- |
| Perfumes | Any item specifically made for body or room fragrances, essential oils |
| Toiletries and Oral Hygiene | Toothpaste, mouthwashes, facial creams, tanning oil, false nails and eyelashes (and related adhesives), cotton swabs and rounds, deodorants, shaving cream, balms |
| Make-Up | Eye, eyebrow, eyelid, cheek, skin, and lip color, make-up foundation, primer, nail polish, nail décor |
| Soap | Face, body, deodorant soap, bath salts, and crystals |
| Hair Care | Shampoo, conditioner, hair spray, gel, relaxers, dyes, bleaches, coloring treatments, mustache wax, beard oil |
| Pet Care | Dog shampoo, pet deodorant, other cosmetic treatments intended for pets |
| Cleaning Products | Degreasing, stripping, waxing, and polishing agents, windshield washer fluid, laundry detergent, leather preservatives, polishes, creams |
| Abrasives | Emory paper and cloth, sandpaper for nail care, polishing stones |
What Goods Are Not Protected by Trademark Class 3?
Despite the broad terms applied to any given trademark class, it is vital to understand its limitations. If you file an application under the wrong class, you will be denied (and forfeit the associated filing fees). Trademark class 3 does not cover any of the following goods:
| Related Trademark Class | Goods |
| --- | --- |
| Chemicals (Class 1) | Cleaning products, preservatives, or adhesives intended for use outside the household |
| Pharmaceuticals (Class 5) | Products with a medical purpose |
| Household Utensils (Class 21) | Products used for cleaning, but not specific cleaning products (e.g., empty spray bottles) |
| Medical and Vet Services (Class 44) | Medical analysis and treatment of people or animals, as opposed to personal hygiene |
How To Register for Trademark Class 3
Filing for trademark class 3 can be a complicated process, even though you do it online. Before taking any action, search the USPTO database to confirm that your brand does not overlap with another registered trademark.
To register your brand for a class 3 trademark, follow these steps:
Navigate to the Trademark Electronic Application System (TEAS)
Log in or create an account for TEAS
Start a new application
Choose trademark class 3
Provide the requisite information about your business
Specify which marks you wish to register
Pay the filing fee
How Long Does Trademark Class 3 Last?
A federal trademark lasts for ten years unless it is renewed. You may renew your trademark during the fifth or sixth year after registration, as long as you are still actively using it.
DoNotPay Will Help You With Trademark Class 3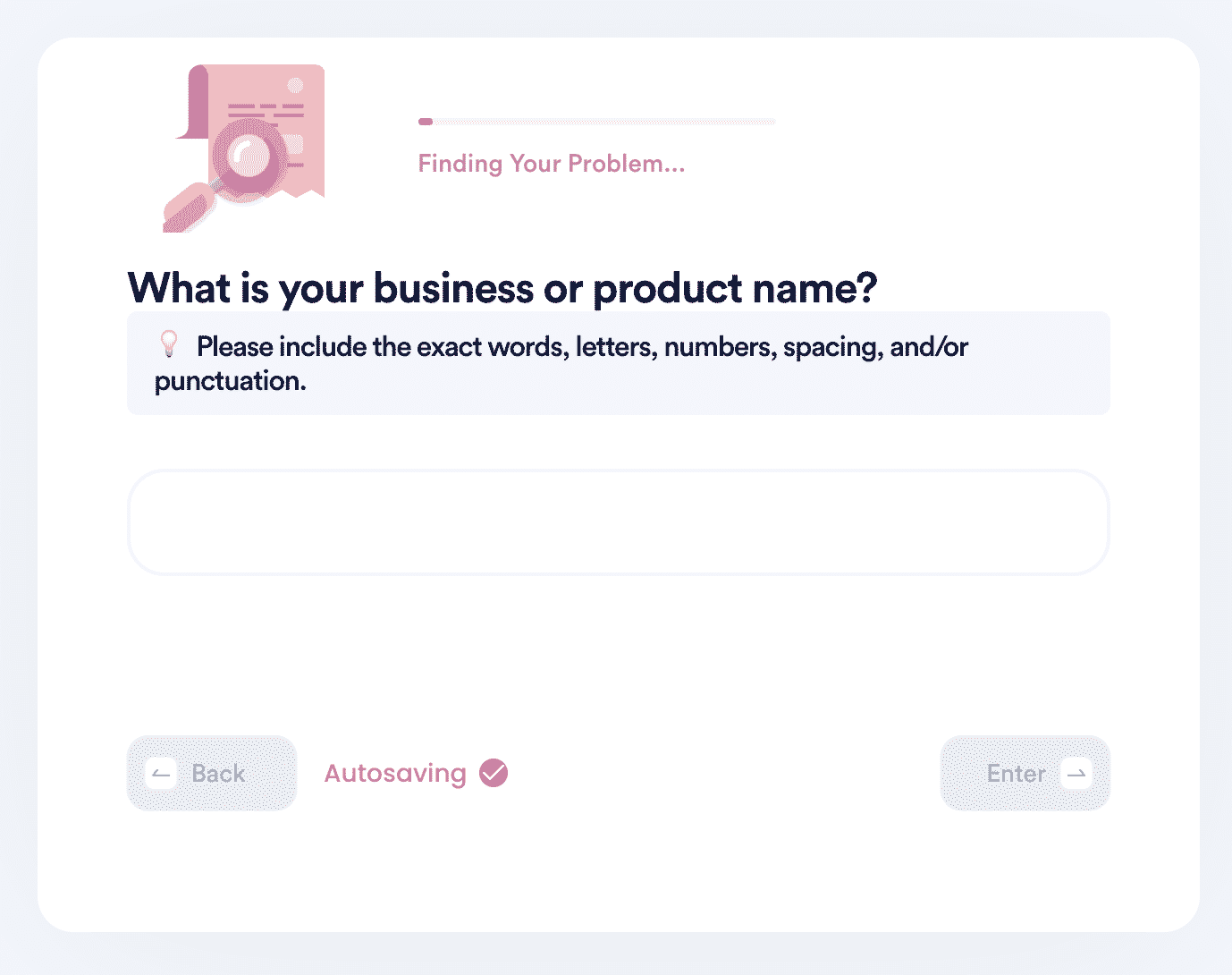 Is the process of applying for trademark class 3 daunting? There is no denying it is a time-consuming endeavor, so why not let DoNotPay manage it for you?
Our AI-powered robot lawyer is designed to take care of tasks like these for busy entrepreneurs. DoNotPay's Trademark Registration tool facilitates the following:
Disclosure of required information
Execution and submission of the application
Facilitation of review and signing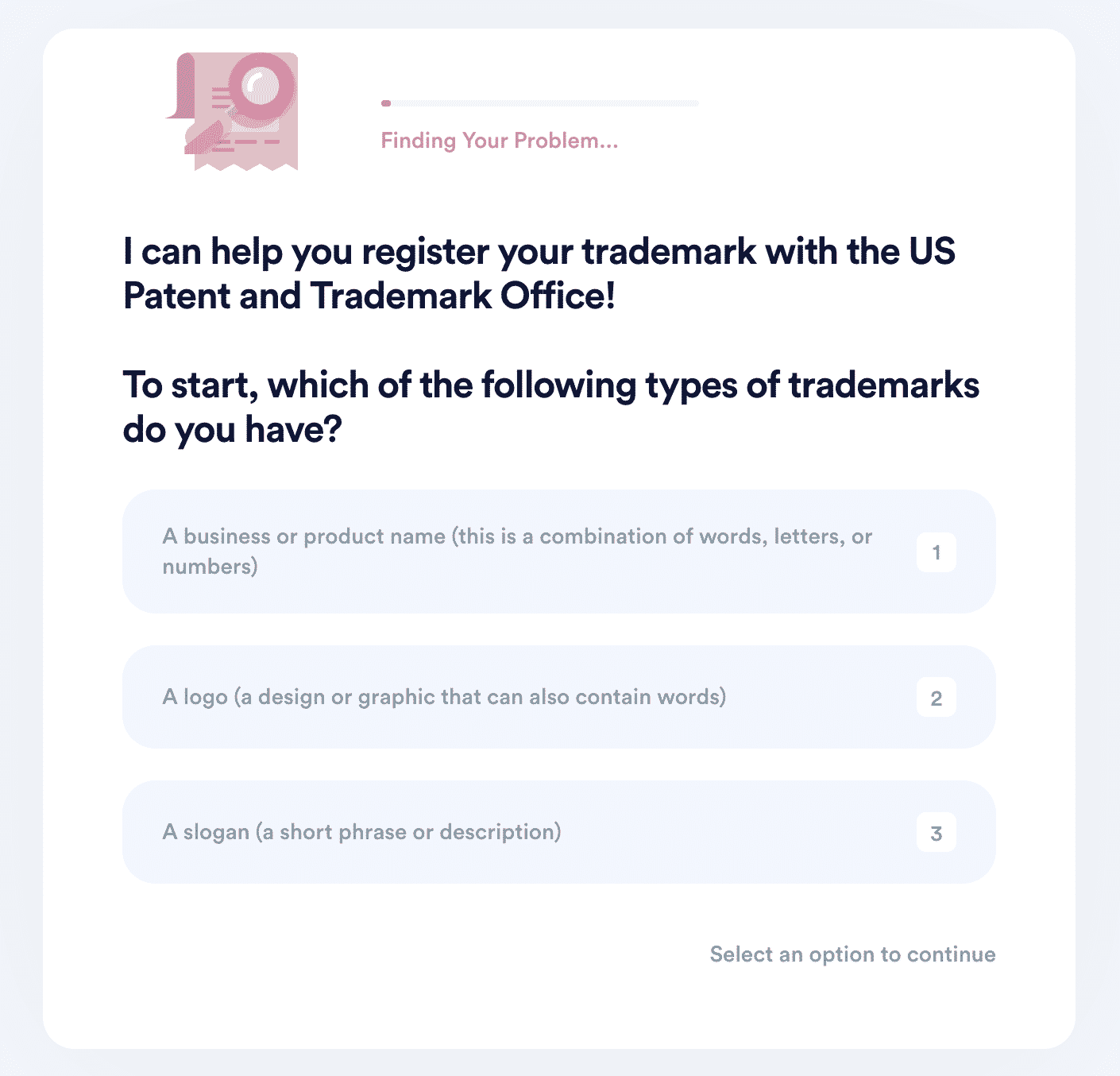 Here's how you can use our app:
Access your
Open our Trademark Registration product
Choose which class you'd like to apply under
Answer a few questions regarding your company
After the application is submitted, we will give you an application tracking number to stay up to date on any progress. We also ensure the USPTO has your email and can contact you with any follow-up questions.
Let DoNotPay Help You With Boring Administrative Tasks While You Focus on Becoming a Business Mogul!
DoNotPay can assist you in dealing with a number of business-related tasks. We have developed a plethora of simple-to-use products that make running a business much easier and less stressful.
Do you need help registering your business name as a trademark? We have got you covered! Not sure how to write a convincing letter to request a small business loan? DoNotPay helps with that, too!
Use our app to get a perfectly generated chargeback rebuttal document, formally request payment from clients who breach the contract, and find out how your employees can file 83(b) election forms in a matter of clicks!
Check Out Our Other Nifty Products!
That is not all DoNotPay has to offer. Our awesome tools will make tedious administrative tasks easier to manage so you can concentrate on your business instead of wasting time waiting in lines and filling out forms. Rely on DoNotPay to:
Take care of DMCA agent registration and Privacy Shield program self-certification
Make sure no one else is using your trademark
Get rid of fake online reviews that harm your business reputation
Manage Employer Number Identification (EIN) registration
Enjoy the convenience of faxing and mailing from the comfort of your home or office