Trademark Class 28—Everything You Need To Know
An important component of the trademark application form is the trademark class, which sorts your goods or services into corresponding categories. Discover everything you need to know about what the trademark class 28 is and how to file for a federally registered trademark. Alternatively, you can use our app to file a trademark within minutes!
What Are Trademark Classes?
Any symbol that identifies with your brand can be used as a trademark, such as:
To register a trademark, you need to classify your goods under the 45 existing trademark classes. While classes 1–34 cover goods, classes 35–45 cover services and are protected by service marks.
Trademark classes represent how the trademark will protect your brand. You must enter the correct classes in your registration application to ensure the highest level of legal protection.
Since trademarking a product under one category might not seem as straightforward as it sounds, the USPTO has allowed business owners to categorize their products under multiple classes. This broadens the trademark protection and ensures that more aspects of a business are safe.
In case you are not sure which class to opt for, check out the USPTO Trademark ID Manual, which provides a comprehensive guide to the class types.
The Essentials of Trademark Class 28
The class 28 trademark covers games, playthings, and sporting goods. You can file for this class type if your business is related to any of the following:
| Subcategory | Description of Goods |
| --- | --- |
| Sporting articles and equipment | Sporting equipment, bags, tables, balls, headgear, accessories, tools, masks, and protective gear |
| Hunting and fishing equipment | Artificial fishing bait, camouflage screens, decoys for hunting, fish hooks, reels, rods, lines, scent lures, and butterfly nets |
| Swimming equipment | Flippers, swimming webs, jackets, belts, and kickboards |
| Festive Christmas decor | Bells, candle holders, decoration pieces, and artificial Christmas trees |
| Playground apparatus | Fairground ride apparatus, slides, and playthings |
| Toys and games | Amusement machines, board games, card games, confetti, dollhouses, card games, roulette wheels, toy scooters, skittles, slot machines, teddy bears, stuffed toys, dolls, soap bubbles, radio-controlled toys, rattles, and mobiles |
| Video games | Arcade video game machines, controllers, game consoles, and portable games |
The following goods are not covered under class 28:
Class 4—Christmas tree candles
Class 11—Electric lamps for Christmas trees
Class 30—Chocolate decorations and confectionery for Christmas trees
Class 25—Clothing for gymnastic and sports
Class 9—Diving equipment
Class 22—Fishing nets
What Is the Cost of Filing a Class 28 Trademark?
There are various costs that you need to consider when filing a trademark, such as:
Filing basis:

Commercial basis—If you are already using the trademark but haven't registered it yet
Intent-to-use basis—If you intend to use the trademark within six months of registration

Filing option—You can choose between:

TEAS Plus—$250
TEAS Standard—$350

Trademark classes(es)—You need to pay a fee for each trademark class you assign to your product. If you select multiple classes, you need to pay for all of them separately
Lawyer fees—If you hire a lawyer to apply for the registration on your behalf, their fees can range from a few hundred to a few thousand dollars
Renewal fees—Trademarks expire every ten years, unlike copyrights, and the renewal costs $545 per trademark class
How To Register a Class 28 Trademark
Even though you are not required by law to register a trademark, it is still a better option to do so. By trademarking your brand, trademark protection laws provide protection from fraud and infringement. You can seek legal action against anyone who tries to profit off of your brand.
You can either file for a state or federal-level trademark, depending on the level of protection you seek.
Before you start the process, make sure you understand the trademark requirements properly to avoid as many mistakes as possible. You can start the process by searching the USPTO trademark database to confirm that no other trademark is similar to yours. After completing the search, here is the process you need to follow:
Go to the Trademark Electronic Application System (TEAS) website
Choose your filing option
Fill out the application form with your information, including:

Your name, address, and contact information
Filing basis
Trademark class
Business purpose and details
Trademark description

Pay the trademark registration fees
Sign the form and submit it
Does the process seem too lengthy? Save valuable time and use our app to initiate the trademark registration process in under five minutes!
Use DoNotPay To File Your Class 28 Trademark Without a Hassle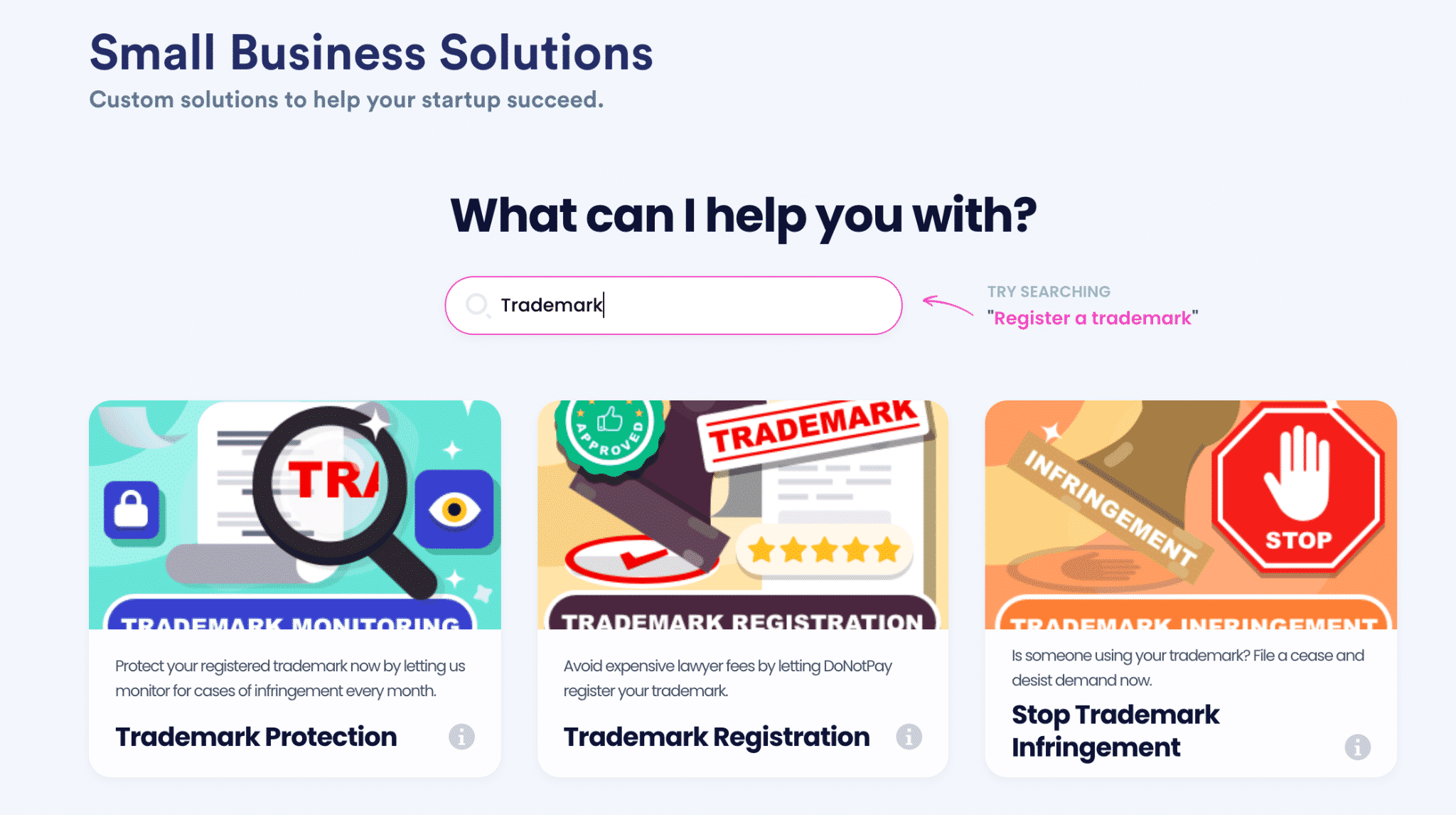 Most small business owners find the trademark registration process challenging, but we are here to make it less complicated for you. Our AI-powered app can help you file a trademark without a hassle by:
Confirming through a trademark search that your trademark is unique
Filling out your application and sending it to the USPTO
Giving you an application tracking number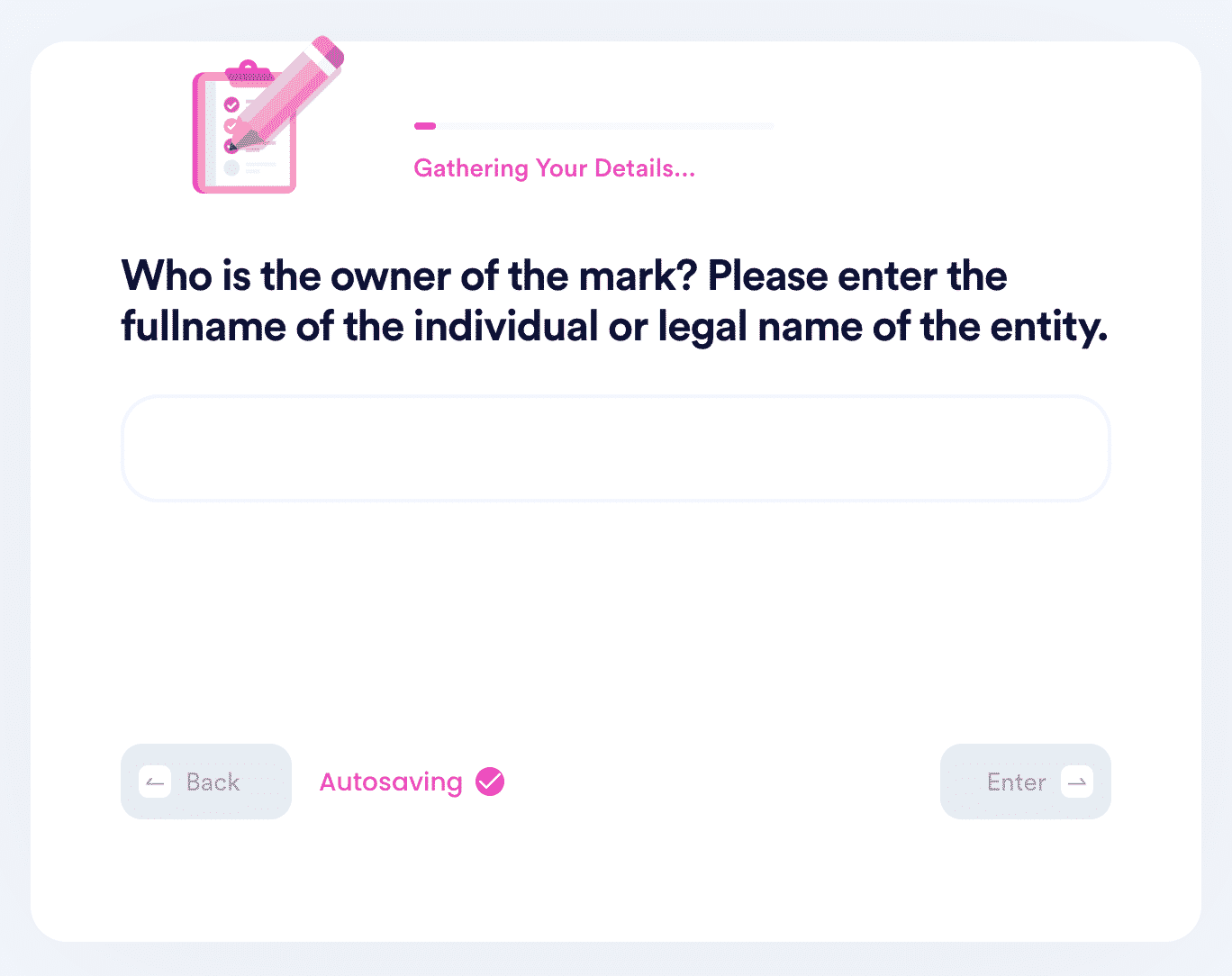 All you need to do is follow these instructions:
Select the Trademark Registration feature
Provide details about your trademark
Pay the trademark application fee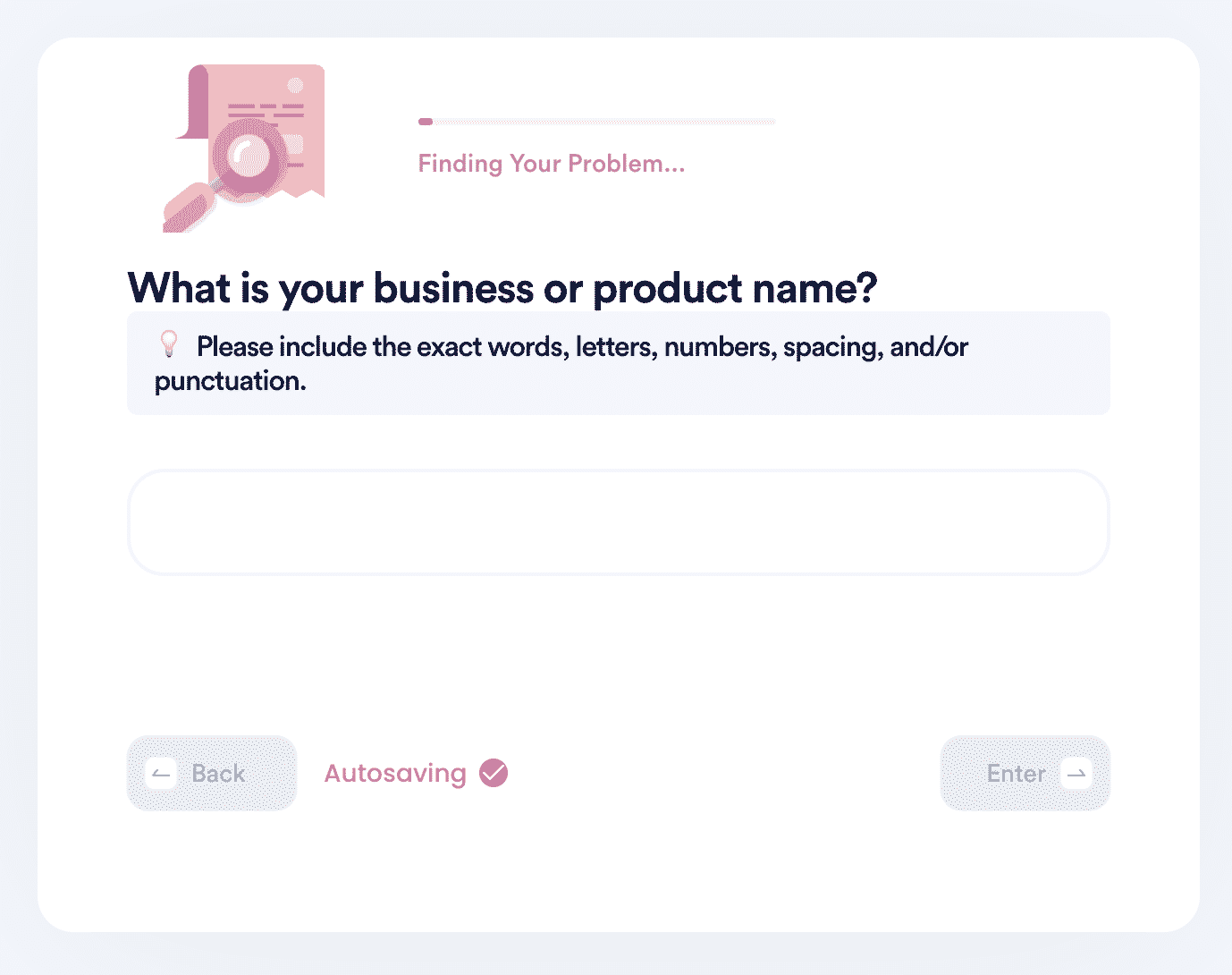 Build Your Business From the Ground up With Your Reliable Pocket Assistant!
To make the running of your business less stressful, DoNotPay has created numerous handy products that can help you deal with any issue right from the start. With our assistance, you can:
Get the perfect letter requesting a loan for your business
Handle the Employer Identification Number and DMCA agent registration procedures in a few clicks
Manage Privacy Shield program self-certification to make sure your clients' privacy is protected while on your website
If you are considering completing trademark registration, DoNotPay will be your trusty companion and help you finish the whole process in no time! We can even make sure no one uses your trademark as their own by performing routine checks and sending cease and desist letters to the offenders instead of you.
Resolve Pesky Business Issues With DoNotPay
Our app boasts many other useful and easy-to-use products that will help you resolve an array of business-related problems. Whether you need help filing 83(b) election forms as effortlessly as possible or wish to communicate with your clients and business partners without heading over to the post office, we have got you covered!
DoNotPay can also help you remove bad, fake online reviews that could harm your business reputation, deal with clients who avoid paying for your services, and contest unjustified chargeback requests.
Rely on our app and stay on top of your work while we deal with business issues on your behalf!