What You Need To Know About Trademark Class 25
Your small business can be worth more than you can imagine in a few years. That is why you should protect your trademarks by registering with the United States Patent and Trademark Office (USPTO). As a part of the trademark registration process, you will have to list at least one trademark class associated with your mark.
Do your goods fall under Trademark Class 25? In this guide, you will find all the essential details and the easiest way to register your mark under this category.
What Are Trademark Classes?
The USPTO uses 45 trademark classes to categorize goods and services that your trademark applies to. Trademark classes 1–34 cover goods, and classes 35–45 cover services.
The trademark classes represent a way of differentiating the marks registered with the USPTO. Your trademark will only be protected based on the classes listed in your application. Another business that lists products or services under a different class can register a similar mark under the trademark protection law.
Pinpointing the trademark class for your goods or services is not straightforward. The same mark can fall under different categories, and you are allowed to select multiple relevant trademark classes in your application.
It is easy to get confused and think your product fits a certain category based on the broad class description when it doesn't. To clearly identify the appropriate class, you should use the USPTO's Trademark ID Manual, which has detailed descriptions.
What Does Trademark Class 25 Cover?
Trademark Class 25 generally covers apparel and clothing. It has three subcategories, which cover numerous product types:
Headgear—includes caps, hats, berets, turbans, etc.
Clothing—includes pants, socks, shirts, underwear, belts, etc.
Footwear—includes shoes, sneakers, boots, etc.
While this trademark class for clothing is broad, not all clothing products can fall under Class 25. Clothing products that have a special use, like those for medical workers, are not covered. Here is an overview of the types of clothing that don't qualify for Trademark Class 25 registration and their right category:
Clothing Product
Trademark Class
Surgical clothing for medical workers
Class 10—Medical supplies
Raw materials, like fabric and thread
Class 23—Yarns and threads

Class 24—Textiles

Firefighter safety clothing
Class 9—Electrical and science apparatus
Doll clothing
Class 28—Manufacturing textiles
Depending on the nature of your business, your mark can also fall under a different class. For instance, you may register under Class 35 (retail services) if you only sell clothes but don't make them. You should carefully check the Trademark ID Manual list of products covered by Class 25 to find out if it is the right category for you.
What Can You Trademark?
Does your mark even qualify for trademark protection or falls under another type of intellectual property—patents or copyrights? A trademark or service mark protects brand elements that help identify your products on the market. Patents protect inventions and processes, while copyrights protect creative works, such as paintings, novels, music, etc.
Here is an overview of what you can trademark:
There are certain limitations when trademarking some of these elements, so make sure to research how the rules apply to your mark in detail.
How To Register Your Trademark Under Class 25
Although you can get some trademark protection without USPTO registration, its scope will be limited. Common law rights offer trademark protection only in your immediate geographic area.
Federal protection is especially helpful if your business deals with goods under Class 25 because nearly 30% of counterfeit items seized by the U.S. Customs and Border Protection fall under this category. Registering with the USPTO gives you the ability to stop the importation of potentially infringing goods.
Here are the steps you should take to register your trademark with the USPTO:
Perform a clearance trademark search
File the trademark application
Perform a Clearance Trademark Search
The USPTO database has millions of trademarks—both registered and pending registration. Performing a USPTO search will help you find out if there are already registered marks similar to yours. By doing this, you will avoid trademark infringement and other issues, like wasting money on fees and getting rejected in case a similar mark exists.
Although hiring a trademark attorney to help with the search for similar marks can sound like a great idea, can get the work done for you faster and for much less money.

File the Trademark Application
If the search results don't disappoint, you can proceed with your application. You need to create a USPTO account to access the application system. Log in to your account and complete any of these two trademark application forms:
TEAS Plus—Use this form if you wish to enter more details upfront. It will cost you $250 for every class of goods or services
TEAS Standard—Use this form if you want to enter fewer details initially and feel the need to write further descriptions of your goods. The cost per trademark class is $350
The number of trademark classes affects your total application costs. For example, if you list your products under trademark classes 25 and 35 in the TEAS Plus application, you will pay $500.
If your application is registered successfully, you will need to file the required documents periodically and use your mark in commerce to maintain registration.
Register Your Trademark Easily With DoNotPay's Help
If you find the trademark registration process confusing, you are not alone. Luckily, DoNotPay can simplify the process for you. We will complete all the steps on your behalf—from searching for similar marks to submitting your application to the USPTO. We will also inform you of the requirements, so you don't have to waste time finding everything out on your own.
Ready to protect your trademark? Follow these steps to start the registration by using DoNotPay:
Find the Trademark Registration tool
Tell us more about your mark
Pay the USPTO fees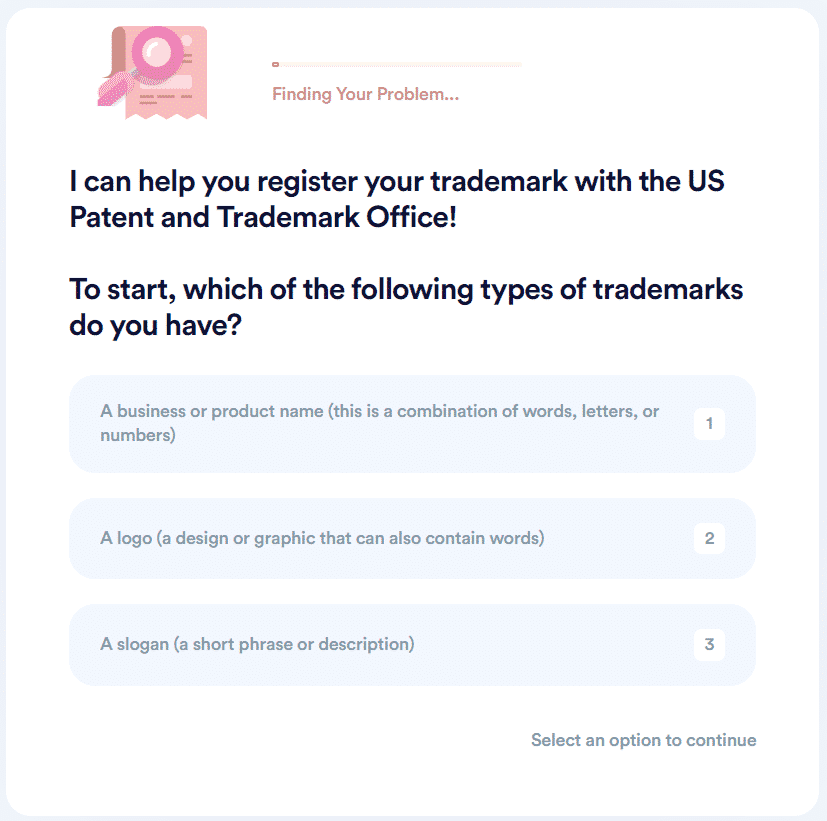 Deal With Any Small Business Matter With DoNotPay's Help!
Being a small business owner is not an easy task, and all the details that you need to pay attention to might seem overwhelming. From handling trademark registration and protection to dealing with crucial paperwork, such as the Employer Identification Number (EIN) SS-4 form and 83(b) election forms, you need to invest a lot of time and energy into each business-related aspect. That is why you should rely on DoNotPay and have us take care of everything in your stead!
If you need help handling copyright issues, you should consider registering a DMCA agent with the U.S. Copyright Office. Not sure how to do it? Use DoNotPay, and we will take care of it for you!
We can also help you dispute chargebacks and avoid losing your money to scams by generating a personalized chargeback rebuttal document based on the info you give us.
Run Your Business Stress-Free
DoNotPay strives to make your business endeavors free of unnecessary stress, which is why we created a variety of useful products to help you deal with complex issues hassle-free. With our assistance, you can:
Draft a professional letter requesting a loan for your small business
Enjoy convenient faxing and mailing services
Get rid of fake negative reviews that could harm your business
Prove your commitment to your clients' privacy by using DoNotPay's Privacy Shield Self-Certification product
Avoid hiring lawyers or collection agencies as our Breach of Contract product will help you send formal demand letters to clients who refuse to pay for your services