The Comprehensive Guide to Registering Your Trademark Class 21
Inquiring about the trademark class 21 registration process? Given how complicated the paperwork can be, it is wise to do your research first. The simplest way to register your class 21 trademark is with .
Critical Information About Trademarks
A trademark is federally protected intellectual property (IP) in the form of a recognizable component of a brand.
Trademarks, service marks, and copyright are three distinct concepts. The United States Patent and Trademark Office (USPTO) uses service marks for service-providing companies, whereas copyright applies to works of authorship and is handled by the U.S. Copyright Office.
Your competitors cannot use any of the following, provided you have registered them as trademarks or service marks:
Although not legally required, you should register your trademark. Small businesses can generally do without one, but any organization intending to break into larger markets should take this critical step to protect its brand. Those that infringe on your registered trademark can suffer legal consequences.
What Does Trademark Class 21 Protect?
There are 45 classes of trademarks, and class 21 deals with household utensils. Types of goods covered by this category include:
Kitchen utensils, tableware, cookware, and bakeware
Cleaning materials
Bathroom utensils
Gardening supplies
Storage of clothes and shoes
Fiberglass products
Animal tools
Kitchen Utensils, Tableware, Cookware, and Bakeware
The primary category for goods protected in trademark class 21 covers virtually everything you would use to serve, bake, or eat food. Examples of materials eligible for this class include:
Plates
Bowls
Silverware
Glasses
Serving dishes
Napkin rings
Serving baskets
Egg cups
Tart molds.
Rolling pins
Baking sheets
Cooling racks
Decanters
Whiskey glasses
Ice buckets
Shakers
Beer steins
Cleaning Materials
This subcategory covers tools intended for cleaning. Note that it does not include cleaning products, chemical or otherwise. Examples of this type of material include:
Cleaning brushes
Brooms
Buckets
Dust clothes
Cleaning gloves
Sponges
Steel wool
Bathroom Utensils
Home dental tools and personal cosmetic apparatuses fall under this subcategory:
Combs
Hairbrushes
Eyebrow brushes
Makeup brushes
Shaving kits
Toothbrushes
Floss picks
Dental floss
Gardening Supplies
Any home gardening and minor landscaping materials are included in class 21 as well:
Flower pots
Sprinklers
Water cans
Gardening gloves
Hand spades
Storage of Clothes and Shoes
Any products that help with the organization and storage of clothing and footwear must be trademarked under class 21l:
Shoe racks
Shoe horns
Ironing boards
Non-electric presses
Shoe polishing kits
Fiberglass Products
Any items made of fiberglass—enameled glass, fiberglass threads, glass wool—are also a subcategory of trademark class 21.
Animal Tools
Any items that are used in the care of indoor and outdoor pets fall under class 21 trademarks:
Cages
Crates
Animal beds
Feed containers
Drinking troughs
Aquariums
Hair and fur brushes and combs
Litter boxes
Birdbaths
Pest control tools—bug zappers, rodent traps, and similar products—are part of the same subcategory.
What Goods Are Not Included in Class 21?
Exemptions include:
Various goods made of glass, porcelain, and earthenware
Cleaning preparations and soaps
Electric apparatuses for mincing, grinding, or pressing
Razors and shaving devices, clippers, metal implements, and utensils for manicure and pedicure
Electric cooking utensils
Toilet mirrors
How To Register for Trademark Class 21
Before starting an application, check the USPTO database to confirm that your brand does not overlap with another registered trademark.
To register your brand for a class 21 trademark, follow these steps:
Go to the Trademark Electronic Application System (TEAS)
Log in or create your TEAS account
Start a new application
Select trademark class 21
Provide the requisite information about your business
Specify which marks you wish to register
Pay the filing fee
Trademark Processing & Validity Timeframes
Keep the following timelines in mind when planning your registration:
| Event | Timeframe |
| --- | --- |
| Confirmation of receipt of application | Within 14 days of submission |
| Approval/denial of the application | 9–12 months |
| Renewal of trademark | 5–6 years after the registration |
| Expiration of trademark | Ten years from registration (if not renewed) |
The USPTO may issue an Office Action within the processing period under two conditions:
Substantive objection—the examiner finds that your mark is too similar to another registered mark
Technical issue—the examiner finds that your application lacks the necessary information
If you receive an Office Action, you will need to respond with a correction or modification within six months. Failure to do so will result in a rejection.
DoNotPay Will Help You Get a Class 21 Trademark
Need a trademark for your household utensil brand but lack time to do the paperwork? Do not let your brand go unprotected—DoNotPay will attain your trademark.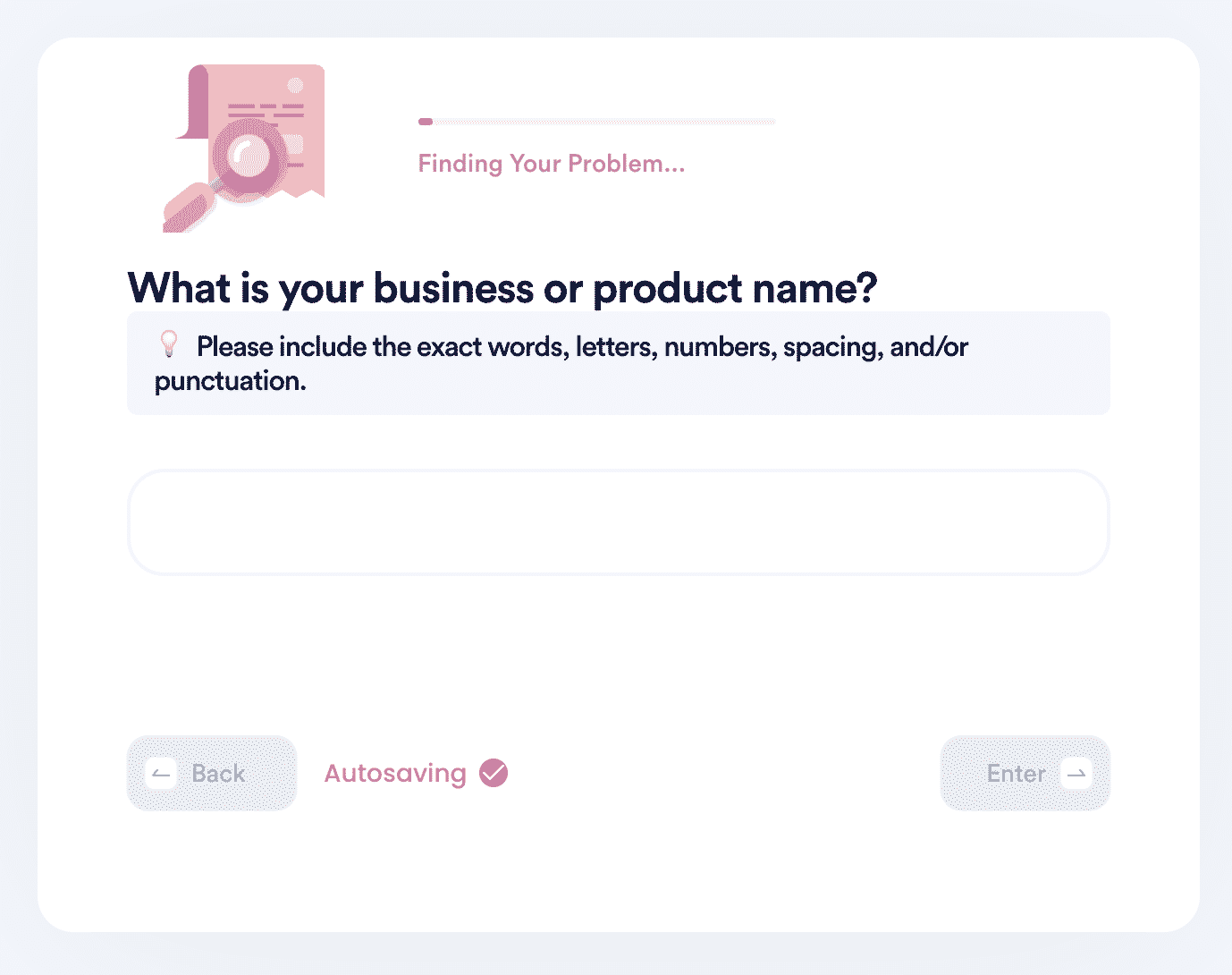 We can manage a range of critical business processes for you—including trademark registration. Get started by following these steps:
Choose the Trademark Registration tool
Answer a few questions about your business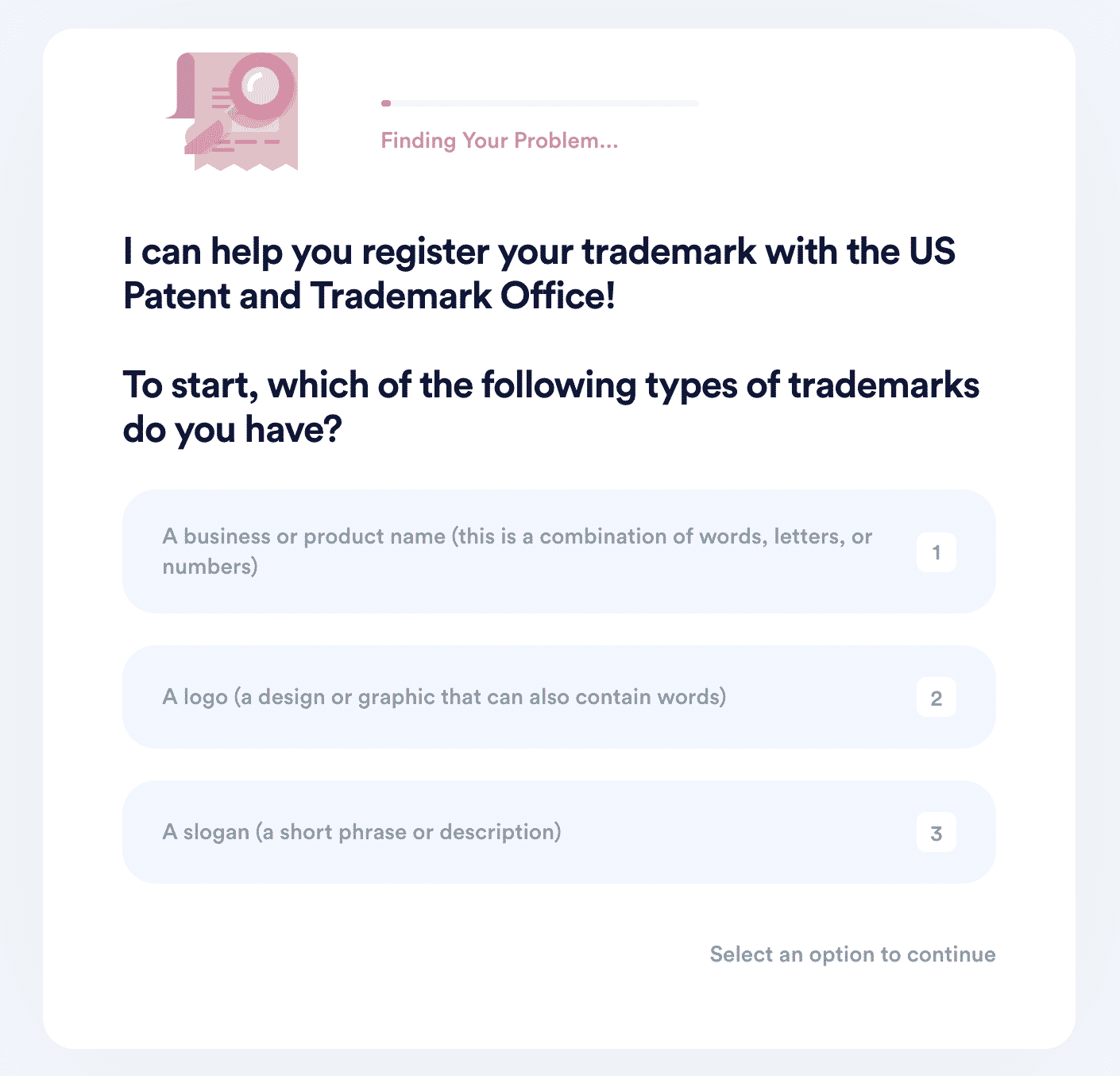 Our Trademark Registration tool will ensure your brand does not infringe on an already registered mark. Once the application is submitted, we will facilitate communication between the USPTO and your team to keep you up to date.
Protect Your Brand Name and Build Trust With Your Users!
One of the most challenging aspects of every business is building a trusting relationship with the customers and maintaining a good reputation. That is why it is crucial to protect your business name, logo, and slogan legally by registering it as a trademark. DoNotPay is here to help you do that hassle-free with our Trademark Registration tool. Need help checking for trademark violations once you register? There is no need to fret as we have a tool that can help you with that as well!
Now that your trademark is taken care of, you should consider complying with data protection requirements to take care of your users' privacy. You can do so by using our Privacy Shield Self-Certification product.
Are you dealing with fake negative online reviews that are harming your business? DoNotPay can help you by analyzing the reviews and reporting them until they are taken down!
Time Is Money, and DoNotPay Can Help You Save Both!
DoNotPay offers an array of time-saving features that you can use when you do not feel like dealing with business-related challenges on your own. We can help you:
Apply for your Employer Identification Number (EIN) Registration in a few clicks
Help your employees lower their taxes by filing 83(b) election forms from the comfort of their offices
Enjoy free faxing and mailing services and save time by not having to go to the post office
Complete a DMCA agent registration process to avoid dealing with copyright violations
Write a convincing letter when filing for a small business loan
Do you need help dealing with clients who do not want to pay for your services? Use DoNotPay's Breach of Contract product to send a letter of demand in a matter of minutes! Not sure what to do with unfair chargeback requests? We can help you by creating a chargeback rebuttal document for you to send to your payment processor.