Trademark Class 18—What Goods Qualify?
Are you unsure whether your goods fit under trademark class 18? You are not alone. Identifying the correct trademark class for any product or service is not a straightforward task, but you need to get it right to ensure the maximum protection of your trademark.
This guide will help you determine if class 18 is the right class for your products. We will also show you how to file your trademark application with DoNotPay's help and minimum effort.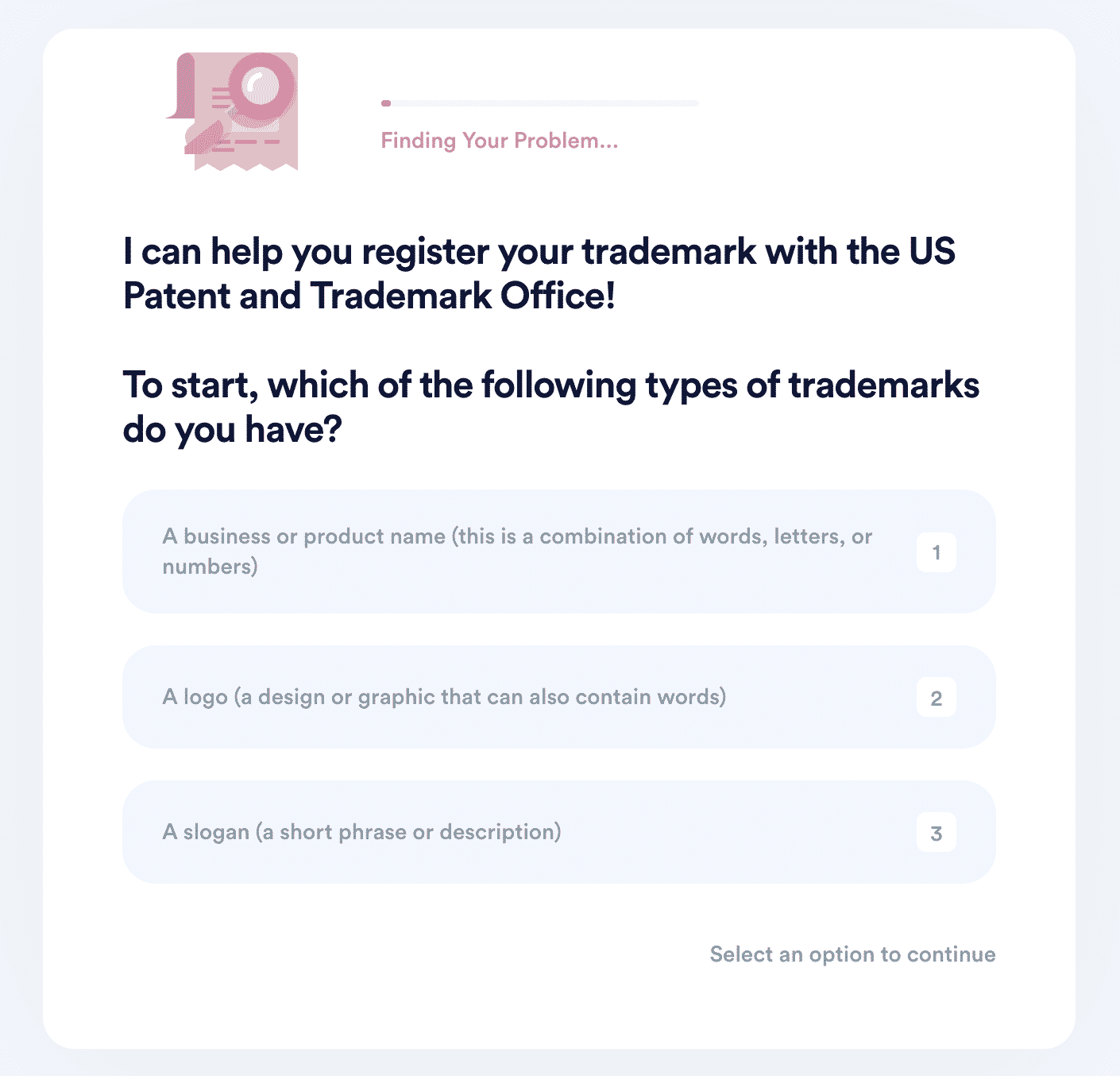 What Can You Trademark?
Protecting trademarks is just as important for a small business as it is for big brands. Trademarks or service marks—like copyrights and patents—are a form of intellectual property (IP). The purpose of IP protection is to ensure that no one can cash in on your hard work or original ideas without your permission.
You can trademark nearly any part of your brand identity, like a business name, logo, or slogan. To qualify for trademark protection, any brand element must:
Be unique and serve the purpose of helping customers to recognize your products on the market
Be used in commerce continually or in the near future
Why Are Trademark Classes Important?
The United States Patent and Trademark Office (USPTO) uses the Nice Classification (NCL) to categorize and describe goods or services that a trademark is associated with. NCL has 45 trademark classes—34 for goods and 11 for services.
The trademark application process is all about classes. They determine the scope of protection for your mark and the total filing fees.
Your mark is only protected for the trademark classes listed in your application. Depending on the nature of your products or services, you can list multiple classes, but you have to make sure that your mark is unique for each class that you use in your application. For example, the already registered brand name Pandora cannot be used for jewelry anymore, but it can work for some other types of goods or services.
To find out the appropriate class for each of your products or services, you can use the Trademark ID Manual.
Application fees are paid per class that you associate with your trademark. The more classes, the higher the filing fees. The cost per trademark class is determined by the application form you choose—TEAS Plus costs $250 per class, and TEAS Standard costs $350.
What Does Trademark Class 18 Cover?
Trademark class 18 broadly protects leather, leather imitations, and goods made of animal skins/hides. You can select class 18 if you deal with the following product categories:
| Leather and imitations of leather | Umbrellas |
| --- | --- |
| Walking sticks | Baggage tags |
| Leashes, whips, and animal clothing | Parasols |
| Boxes and cases of leather or leatherboard | Business card cases and pocket wallets |
| Animal skins and hides | Luggage and carrying bags |
While you may expect every leather product to be covered by class 18 based on the class name, there are exceptions, such as:
| Goods | Correct Class |
| --- | --- |
| Walking sticks or canes used for medical reasons | 10 |
| Certain goods that are classified based on their function, such as polishing leather | 21 |
| Human clothing, footwear, and headwear made of leather | 25 |
How To File a Trademark Application on Your Own
Do you need a trademark? Although there are millions of registered trademarks in the United States, no law requires registration. If you haven't registered your trademark, you can still enjoy protection under the common law ownership rights. The problem is that your mark is only protected in the business's immediate geographic area. You can also register with the state, but choosing the USPTO registration will grant you adequate legal protection nationwide.
The USPTO allows online submissions only through the Trademark Electronic Application System (TEAS). To access the application system, you have to create an account on the USPTO official website. When you log in, you will have two application forms to choose from:
TEAS Plus
TEAS Standard
While the TEAS Plus filing option is cheaper, it has more strict requirements. For instance, you must identify and describe your goods exactly as provided in the Trademark ID Manual. On the brighter side, applications filed using TEAS Plus have a lower rejection rate than the TEAS Standard ones.
When using the TEAS Standard, you are not limited to the product descriptions in the ID Manual. That leaves room for indefinite and unclear descriptions resulting in requests for amendments or refusals.
Before filing your application, search the USPTO database to find out if there are marks that are similar to yours. A comprehensive search can help you avoid unintentional trademark infringement.
File Your Application the Easy Way Using DoNotPay
There is a much easier way to approach the trademark application process. , and don't let the complicated application procedures overwhelm you. We can simplify every aspect of the process.
All you need to do is to provide us with your trademark details, and we will:
Search the USPTO database for similar marks
Inform you about the requirements
Complete and submit your application
Get started now by following these steps:
Pick the Trademark Registration feature
Answer a brief questionnaire about your mark
Trademark registrations are valid for ten years and need to be renewed. To keep your registration status, you must file the maintenance documents required under Section 8 of the trademark protection law when prompted.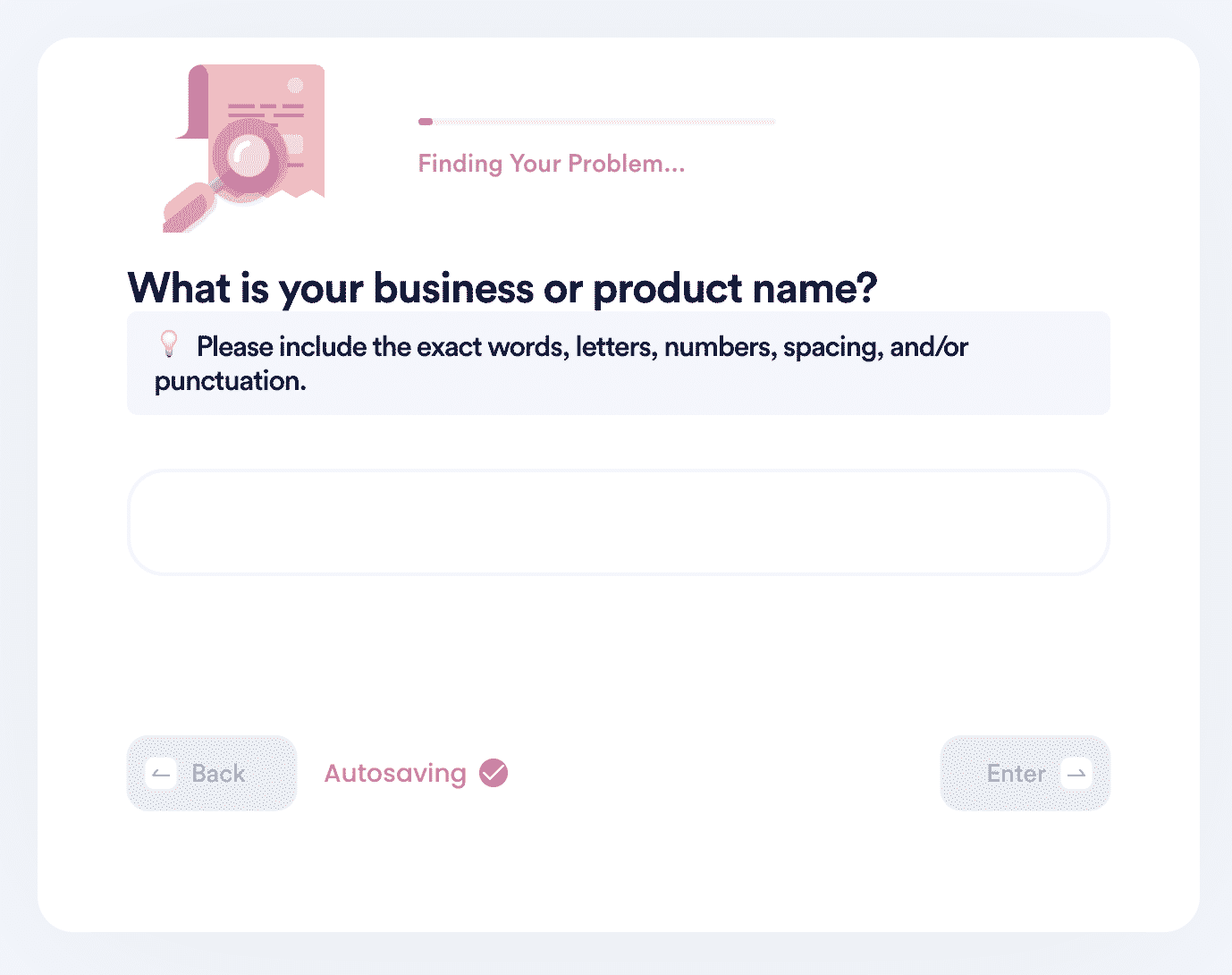 Protect Your Brand Name and Build Trust With Your Users!
One of the most challenging aspects of every business is building a trusting relationship with the customers and maintaining a good reputation. That is why it is crucial to protect your business name, logo, and slogan legally by registering it as a trademark. DoNotPay is here to help you do that hassle-free with our Trademark Registration tool. Need help checking for trademark violations once you register? There is no need to fret as we have a tool that can help you with that as well!
Now that your trademark is taken care of, you should consider complying with data protection requirements to take care of your users' privacy. You can do so by using our Privacy Shield Self-Certification product.
Are you dealing with fake negative online reviews that are harming your business? DoNotPay can help you by analyzing the reviews and reporting them until they are taken down!
Time Is Money, and DoNotPay Can Help You Save Both!
DoNotPay offers an array of time-saving features that you can use when you do not feel like dealing with business-related challenges on your own. We can help you:
Apply for your Employer Identification Number (EIN) Registration in a few clicks
Help your employees lower their taxes by filing 83(b) election forms from the comfort of their offices
Enjoy free faxing and mailing services and save time by not having to go to the post office
Complete a DMCA agent registration process to avoid dealing with copyright violations
Write a convincing letter when filing for a small business loan
Do you need help dealing with clients who do not want to pay for your services? Use DoNotPay's Breach of Contract product to send a letter of demand in a matter of minutes! Not sure what to do with unfair chargeback requests? We can help you by creating a chargeback rebuttal document for you to send to your payment processor.