A Complete Guide to Trademark Class 16 Registration
Protecting your brand from potential imitators becomes essential as your small business expands. You can protect your trademarks on a federal level by filing an application with the U.S. Patent and Trademark Office (USPTO). One of the application requirements is classifying the goods or services associated with your trademark under some of the 45 available classes.
Since it can be difficult to determine the correct trademark class for your goods or services, this guide will cover the finer details of filing an application under Trademark Class 16. Minimize the trouble and let handle the application for you!

What Are Trademark Classes?
According to the trademark protection law, a mark—for example, a slogan, name, or logo—can only be protected in connection to a certain type of goods or services. This means that companies offering different types of products can legally have similar or the same trademarks, but similar marks cannot exist under the same trademark class.
Trademark classes represent a way of organizing similar goods or services in the same category for the purpose of trademark registration. The USPTO uses the Nice Classification (NCL) system, which recognizes 45 classes. Classes 1–34 cover goods, while classes 35–45 relate to services.
Although it can look like your goods or services fall in a certain class based on the class names, don't make that choice too fast. Incorrect classification results in amendment requests, which can delay the application process. You can use the searchable USPTO Trademark ID Manual to ascertain the correct class for each product or service.
What Is Trademark Class 16?
Trademark Class 16 covers paper products and printed materials. This includes cardboard, art supplies, packaging materials, and office supplies. Take a look at what you can trademark under Class 16 in the table below:
| Tools for securing paper, such as paper clips | Paper knives and cutters |
| --- | --- |
| Artists' tools, like paintbrushes and paint rollers | Printed materials |
| Photographs | Stationary |
| Paper and cardboard | Adhesives for stationery or household purposes |
| Office requisites, such as typewriters | Bookbinding materials |
| Paintbrushes | Wrapping and packaging bags |
Although Class 16 broadly covers art and office supplies, there are exceptions, such as:
Paints (Class 2)
Artists' hand tools, for instance, sculptors' chisels (Class 8)
Particular paper or cardboard that is classified based on functionality and purpose, for instance, photographic paper (Class 1) and paper clothing (Class 25)
Related or Coordinated Classes for Trademark Class 16
Some goods or services from different trademark classes are closely related. The classes with such related goods or services are referred to as coordinated classes. The USPTO has established that Trademark Class 16 applicants usually file under the following classes as well:
Electrical and scientific apparatus (Class 9)
Computer, scientific, and services (Class 42)
Advertising and business services (Class 35)
Education and entertainment services (Class 41)
Goods certification marks (Class A)
Collective membership mark (Class 200)
Services certification marks (Class B)
How To File an Application for a Class 16 Trademark
While no law mandates that you have to register your trademark, doing so has many benefits, such as having proof of legal ownership in cases of infringement. Unregistered marks can only be protected in the immediate geographic area of operation under common law rights. If you wish to enforce your legal ownership of the mark throughout the country, you must register with the USPTO.
The first essential step is searching the USPTO database to verify that your mark doesn't overlap with another registered mark or one pending registration. If you confirm that your mark is unique, follow these steps to file your application:
Visit the USPTO official website
Create an account or log in
Access the Trademark Electronic Application System (TEAS)
Choose one trademark application form—TEAS Plus or TEAS Standard
Complete all the required details
Pay the filing fees
Cost of Filing a Trademark Application
The basis for calculating your total filing fees is classification. You must pay for each class listed in your application. Multiple class listings translate to more fees. The filing option you pick determines the cost per trademark class—TEAS Plus costs $250 per class, while TEAS Standard costs $350.
Simplify Your Application Process With DoNotPay
The trademark/service mark registration process takes 12–18 months. That is a long period, so don't delay the process further with needless amendments—use DoNotPay and avoid common registration mistakes.
DoNotPay's smart Trademark Registration tool will help you with the following:
Conducting a comprehensive USPTO trademark search
Guiding you through the application requirements
Filling out and submitting the application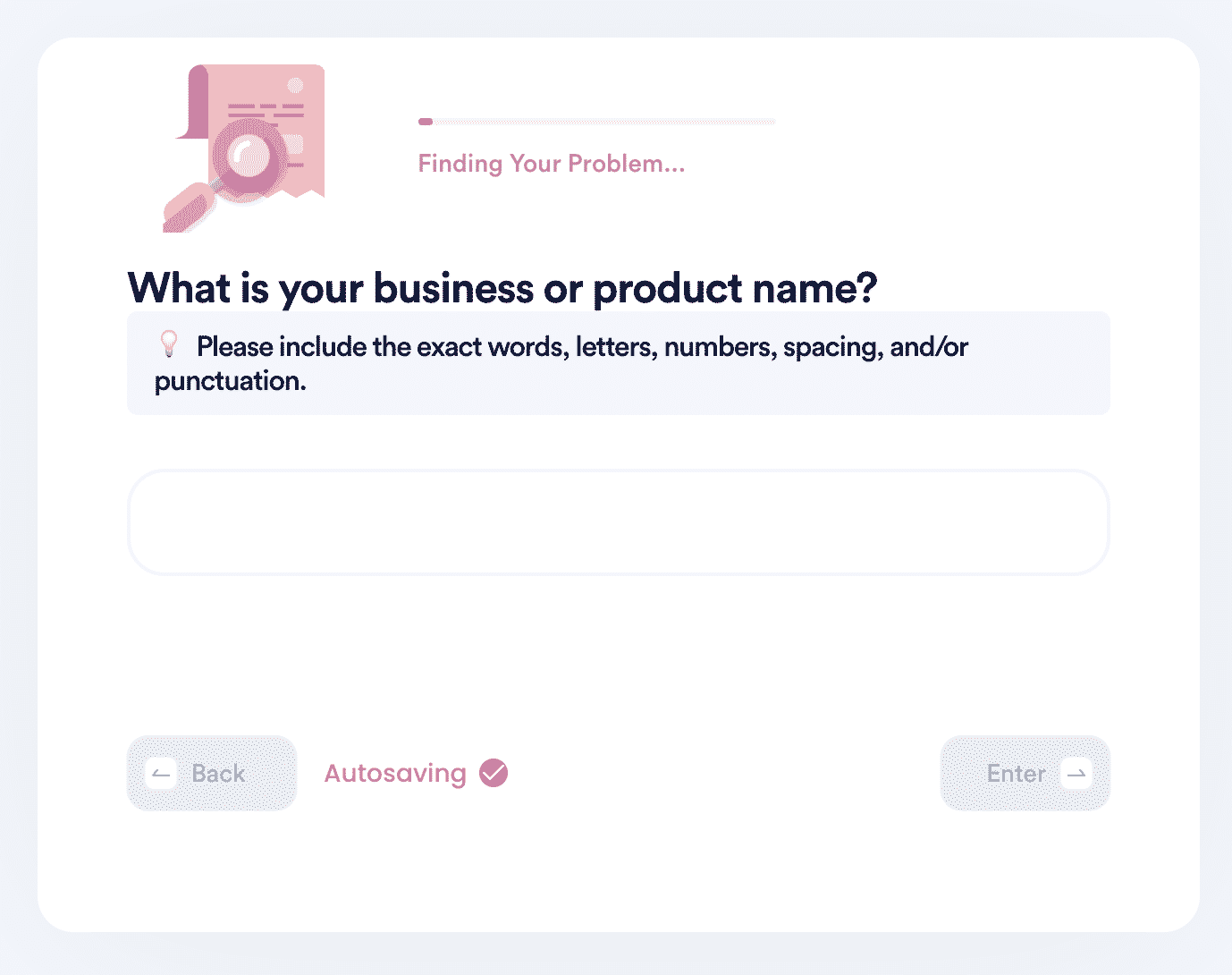 Start the process now by following these steps:
Select the Trademark Registration tool
Provide your trademark details
Pay the USPTO filing fees
How Long Does a Trademark Registration Last?
Unlike copyrights that last your entire lifetime and an additional 70 years, trademark registrations last for ten years. Do you still need the trademark? If you are still using the mark continuously in commerce, you can file the required maintenance and renewal documents to extend your registration for another ten years.
Deal With Any Small Business Matter With DoNotPay's Help!
Being a small business owner is not an easy task, and all the details that you need to pay attention to might seem overwhelming. From handling trademark registration and protection to dealing with crucial paperwork, such as the Employer Identification Number (EIN) SS-4 form and 83(b) election forms, you need to invest a lot of time and energy into each business-related aspect. That is why you should rely on DoNotPay and have us take care of everything in your stead!
If you need help handling copyright issues, you should consider registering a DMCA agent with the U.S. Copyright Office. Not sure how to do it? Use DoNotPay, and we will take care of it for you!
We can also help you dispute chargebacks and avoid losing your money to scams by generating a personalized chargeback rebuttal document based on the info you give us.
Run Your Business Stress-Free
DoNotPay strives to make your business endeavors free of unnecessary stress, which is why we created a variety of useful products to help you deal with complex issues hassle-free. With our assistance, you can:
Draft a professional letter requesting a loan for your small business
Enjoy convenient faxing and mailing services
Get rid of fake negative reviews that could harm your business
Prove your commitment to your clients' privacy by using DoNotPay's Privacy Shield Self-Certification product
Avoid hiring lawyers or collection agencies as our Breach of Contract product will help you send formal demand letters to clients who refuse to pay for your services