Find Out What a Trademark Attorney Flat Fee Is
Are you a small business owner or an entrepreneur? Protecting your trademark is a crucial step in preventing copycats from cashing in on your goodwill. Unfortunately, the trademark application process is complicated, and you may need help.
While the first thought can be to hire professional legal help, this can be a costly undertaking. If you find a law firm with a trademark attorney flat fee, make sure to check what services that fee covers.
Would you like to save money and submit your trademark registration application with no fuss? Use !
Does the USPTO Require You To Hire an Attorney?
Applying for trademark protection is not mandatory in the U.S. If you choose to go through with the registration, your domicile will determine whether you need to hire an attorney or not. You must hire a trademark attorney if:
Your principal or permanent residence is located outside the United States
Your business's headquarters are located outside the United States
The attorney representing you must be licensed to practice law in the United States. For U.S. permanent residents, you can file the application yourself or with DoNotPay's help.
How Much Does It Cost To Trademark a Business Name, Logo, or Slogan?
The cost of filing a trademark varies depending on a number of factors. We have outlined the most important price factors in the table below:
Factors
Explanation
The trademark application form you choose
USPTO provides two trademark application forms:

TEAS Plus—Using this form requires you to provide more detailed information upfront and costs $250 for every class of goods or services
TEAS Standard—Using this method requires fewer details and includes an option to add custom descriptions of your products or services. You will pay $350 for every registered class

The number of classes of goods or services
Depending on the type of goods or services that you sell, you can select different trademark classes. You will pay for every trademark class that you list in your application
Filing basis
You must specify if you have already used the mark in commerce or you intend to in the near future. Intent-to-use applications involve additional costs
Trademark Attorney Flat Fee
If you use the services of a trademark attorney, your overall costs will be higher. Trademark attorneys don't have a universal flat fee, but you can expect to pay from $600–$3,000. The fee will vary from one attorney or firm to another.
The services covered by the flat fee will also vary. While some attorneys offer a flat fee for a package of different services, others offer flat fees for each step of the filing process, for instance, the USPTO trademark search.
Here are some of the services that trademark attorneys may provide for a flat fee:
Pre-registration consultation call
USPTO trademark search
Replies to non-substantive USPTO Office Actions
Free second search if the first mark is unavailable
Registration process monitoring
Domain name registrations and common law uses
State trademarks search
Trademark application filing
How To Register a Trademark Yourself
If you want to deal with the registration process yourself, you should first evaluate if your mark qualifies for trademark protection. Some of your ideas may fall under patents, copyright protection, or combination. Here is how you can tell the difference:
Trademark or service mark—Refers to a design or text that differentiates your goods or services from those of your competitors. Trademarks can last forever if you follow the maintenance guidelines
Patent—Protects inventions and manufacturing processes, for instance, the chemical formula of a new pharmaceutical drug. A patent normally lasts for 20 years
Copyright—Protects original creative works, such as books, paintings, music, etc. Copyright usually lasts for the lifetime of the creator plus an additional 70 years
What Can You Trademark?
Although there are many brand elements that you can trademark under the trademark protection law, some have unique requirements. For instance, you cannot file an application to trademark an idea that is in your mind. What you can trademark is a tangible expression of the idea—for example, a memorable business name.
Check out our comprehensive guides to trademarking these elements:
If you determine that what you need is trademark protection, you can proceed by:
Conducting a USPTO trademark clearance search
Completing the trademark application form—TEAS Plus or TEAS Standard
DoNotPay Ensures You Register a Trademark the Right Way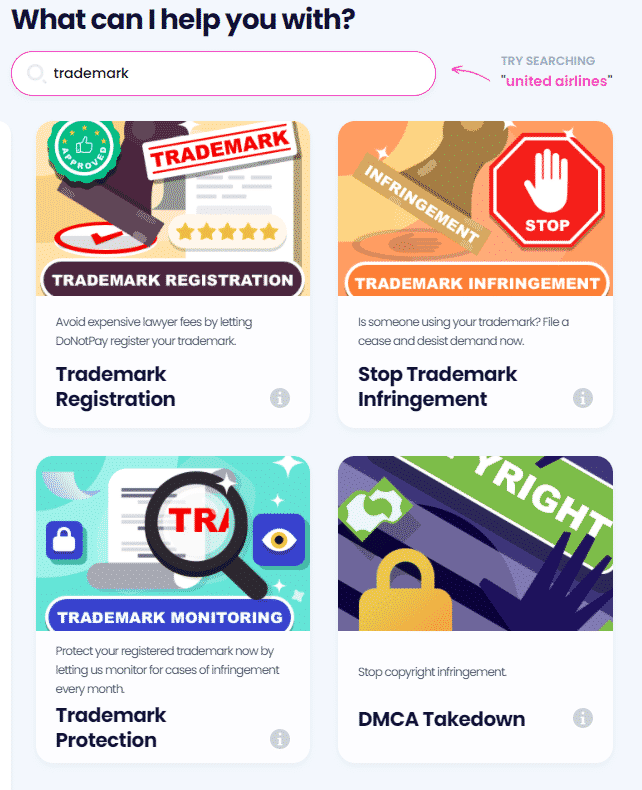 Do you find the application process confusing and lawyer's fees too high? DoNotPay will handle the trademark registration process for you. We will simplify the whole procedure while increasing your chances of getting the trademark registered.
All you need to do is provide us with your trademark information, and we will:
Perform a comprehensive trademark search to ensure there are no chances of trademark infringement
Brief you on the application requirements
Complete the trademark application forms for you
Send you the copy to review and e-sign
Submit your application to the USPTO
To use DoNotPay, follow these steps:
Find the Trademark Registration tool
Tell us more about your trademark
Pay the USPTO application fees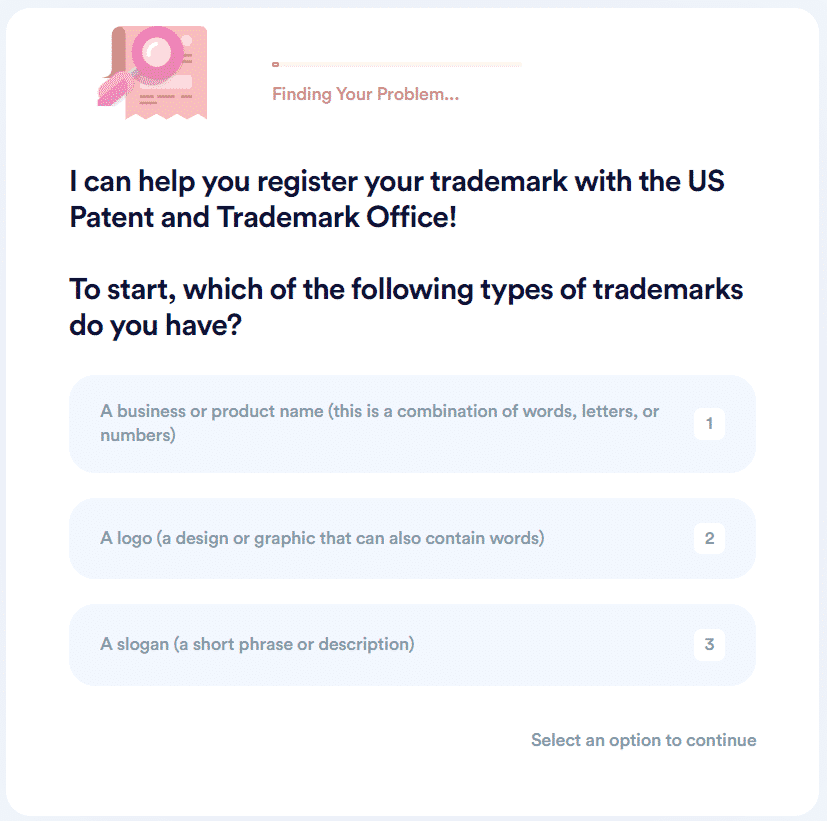 Small Business, Big Issues—Resolve Yours With DoNotPay
DoNotPay is here to offer a helping hand in your business endeavors. We can help you handle various procedures as effortlessly as possible. Want to make sure you get a small business loan for real estate purchases, job creation, debt repayment, and similar? DoNotPay is here to assist you in writing a convincing request letter! Want to make sure your employees and shareholders save money on taxes by filing 83(b) election forms? We can help with that too!
The world's first robot lawyer has a myriad of nifty features at your disposal. Use your precious time to work on your brand while we take care of most business-related issues for you. Our app can help you:
Fight unfair chargebacks
Deal with illegitimate online reviews
Send formal demand letters to clients who won't cover the cost of your services
File the self-certification request with the Privacy Shield program in a matter of clicks
Send documents to your customers or business associates from the comfort of your office with our faxing and mailing tools
DoNotPay Helps You Deal With Various Registration Processes!
One of the first tasks you should complete as a business owner is to obtain an Employer Identification Number (EIN). Applying for it is usually a tedious process unless you use DoNotPay! We can file your application on your behalf and notify you accordingly.
Does your business have a website that allows users to share or store content? An important aspect you should take care of is registering a DMCA agent, and DoNotPay is here to make the process easier!
If you wish to register your business name, slogan, or logo as a trademark but you're not sure how the process goes, rely on DoNotPay and finish your registration in no time! We can also help you protect your trademark by monitoring it every month and filing a cease and desist demand if anyone tries to steal it.