The Trademark Application Form—Why You Need It
A trademark or service mark is the defining feature of your brand and the best way to stand out in the marketplace. You should take the necessary measures to avoid potential infringement.
By filing a trademark application form, you'll ensure the legal integrity of your goods and services.
In this article, we will explain how to generate a flawless trademark registration form . Master the steps to protect your original idea and solidify your business venture with proper documentation!
Why You Should Register Your Trademark
Legally speaking, you do not have to register your trademark, but that is highly advisable—especially for small business owners. Some of the main reasons why you should use a trademark include:
Protecting your business from fraudulent behavior
Acquiring proof of ownership that is valid in federal court
Retaining the right to pursue legal action in case of trademark infringement
Being able to intercept and report goods that unlawfully feature your trademark to the U.S. Custom and Border Protection
Depending on the scope of your business, you can obtain four different types of trademark protection:
Common law rights—Your rights are limited to a local geographical area
State registration—The trademark is protected within a certain U.S. state
Federal trademark protection—Your brand is listed in the federal database of registered trademarks
International protection—Following the international treaty (i.e., the Madrid Protocol), the trademark is safeguarded in over a hundred countries
Note that the only way to acquire federal protection is to submit a trademark application form to the United States Patent and Trademark Office (USPTO).
What Is a Trademark Application Form?
When you first register a trademark, you need to fill out a special form via the Trademark Electronic Application System (TEAS). You will be asked to enclose the following information:
Your legal name
Phone number and email address
Description of the trademark
Trademark classes
Proof that you have used or intend to use the trademark in commerce
Proof of paid registration fees
The TEAS offers two filing options with significant differences in pricing:
TEAS Plus—The price is $250 per trademark class, and you must pay all application fees upfront. The trademark categories are designed by the World Intellectual Property Organization (WIPO)
TEAS Standard—It costs $350 per class. You can cover a certain amount when you initially apply and pay the rest later. It is also possible to provide detailed descriptions of your goods and services instead of sorting them into WIPO categories
How To File a USPTO Trademark Form
You can file a trademark with the USPTO by yourself, but you must fulfill the following requirements first:
Conduct a USPTO search—You have to make sure the trademarked word, phrase, or logo isn't already taken. Access the Trademark Electronic Search System (TESS) on the USPTO website and do a thorough search
Decide on the trademark type—You are free to choose any type of trademark to signify your brand. It can be a name, slogan, or even a picture. If you opt for a more elaborate solution (e.g., a multicolored logo design), you will also have to:
Include a JPEG version of the trademark
Submit a color claim
Describe the placement of colors within the trademark
Identify your goods and services—Items can be sorted into 45 WIPO categories following international standards. You can include multiple goods or services in one class since the parameters are broad. If you select the TEAS Standard form, you should provide descriptions of the products
Determine a filing basis—You need to include the basis for your use of the mark in the USPTO trademark application form. The four options are:
Use-in-commerce (you are already using it in commerce)
Intent-to-use (you plan on using it in commerce)
Foreign registration (you are registered to use it outside the U.S.)
Foreign application (you filed a foreign trademark application and want to prioritize it)
Once you complete the required steps, you can submit the form. Make sure all the data is accurate, or the USPTO will not process your application.
How Much Does It Cost To Register a Trademark With the USPTO?
Every decision you make can affect the overall cost of trademark registration. Keep in mind that certain expenses are unavoidable. Refer to the table below for a breakdown of the usual charges:
| Type of Expense | Description |
| --- | --- |
| Trademark class fee | You'll be charged a different fee depending on the class you include in the trademark application form |
| Filing basis | Some application filing bases (e.g., intent-to-use basis) impose additional expenses |
| Trademark attorney flat fee | If you've hired a lawyer to help you with the registration process, your expenses will significantly increase |
| Registration maintenance | Unlike copyright, trademark registrations have an expiration date. You will have to renew the trademark registration form and file a declaration of use once every few years. When filing the trademark renewal documents, the fee is $525 per class |
Subscribe to DoNotPay and Generate a Trademark Registration Form Within Minutes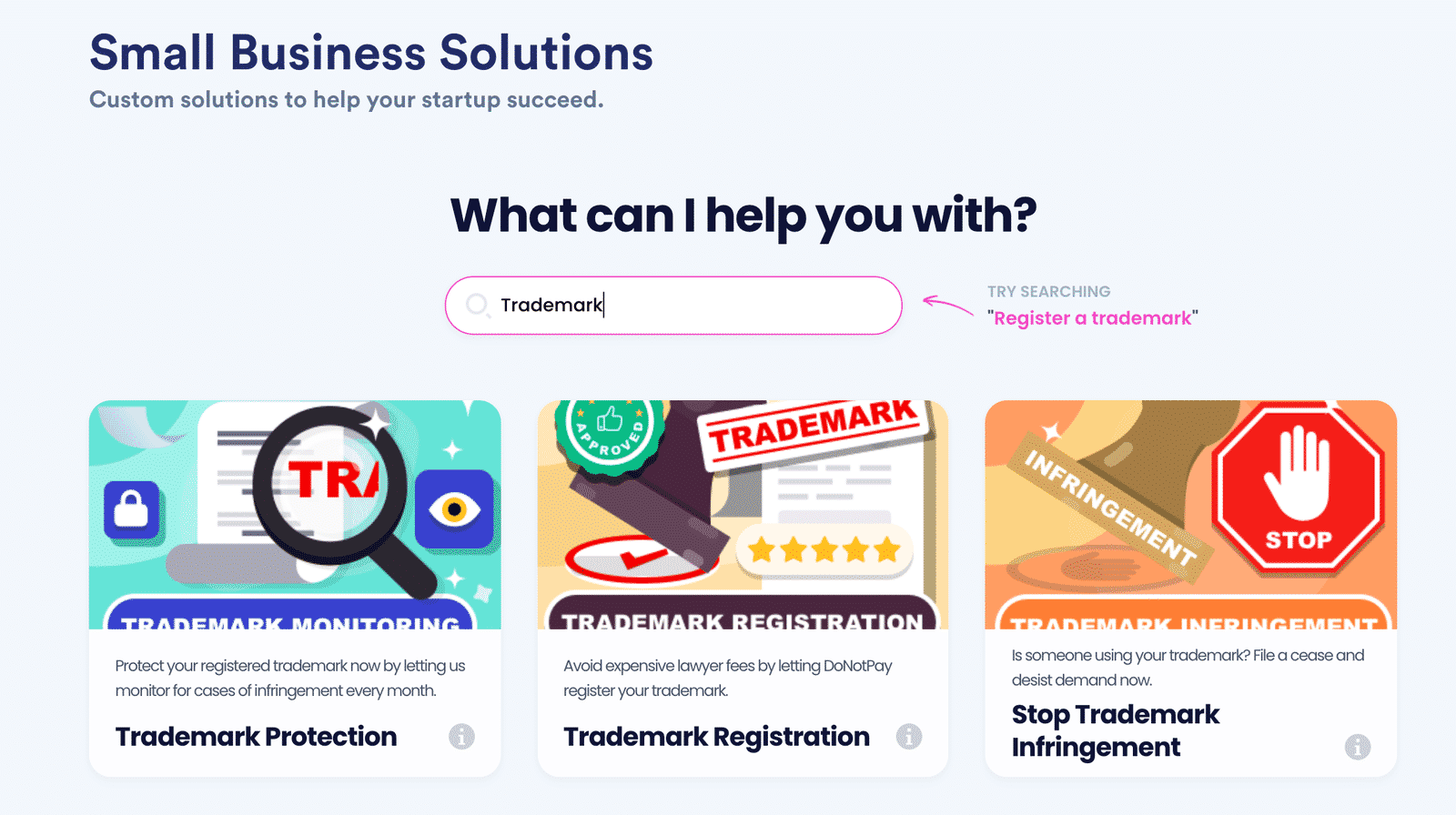 Filling out trademark application forms can be intricate, so it is no wonder most people decide to enlist the costly services of an IP lawyer.
If you are looking for a less pricey yet equally efficient way to register your trademark, consider DoNotPay. Our AI-powered platform can generate an impeccable trademark registration form within minutes.
Here's how to access the services:
Select the Trademark Registration product
Elaborate on the type of business you run and the desired trademark
Confirm that you have paid the designated fees upfront
All you have to do once you complete the steps is e-sign the trademark application form. DoNotPay will then forward it to the UTSPO.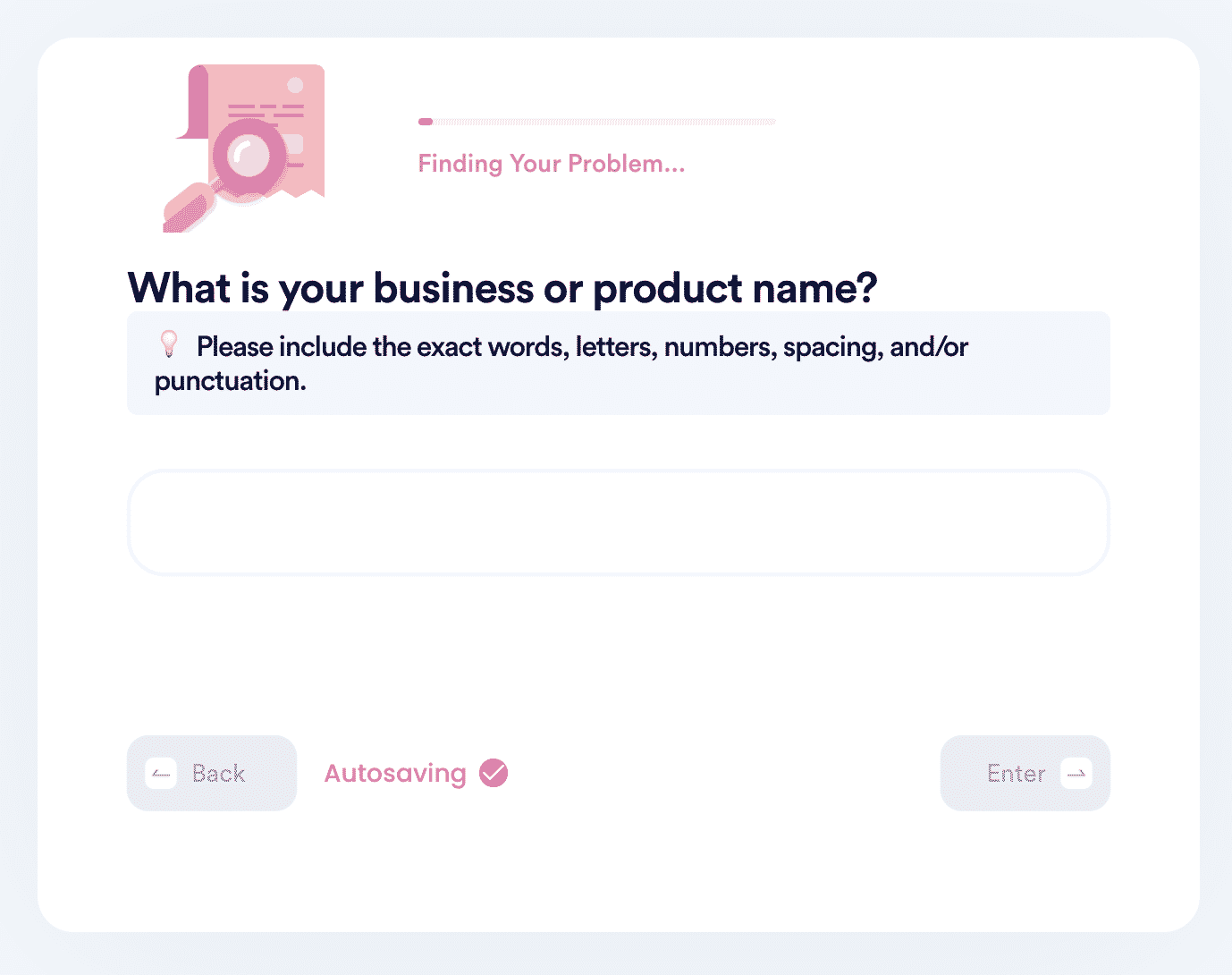 Don't Let the Complex Procedures Stress You Out! Rely on DoNotPay and Run Your Business Like a Pro!
DoNotPay has created a plethora of simple-to-use features that will help you run your business the best way possible. Here are some aspects we can help you take care of:
Registrations
Legal Documents

Get an Employer Identification Number (EIN)
Register a DMCA agent to avoid copyright violations

Send a cease and desist demand if someone is using your trademark
Draw up a watertight letter requesting a loan for your business
Draft a demand letter to send to a client who refuses to pay you
Get a customized chargeback rebuttal letter and fight unfair chargeback requests hassle-free
What Else Does DoNotPay Have in Store for Your Business?
You can use our app to resolve many other business-related issues. DoNotPay can help you deal with fake reviews that are ruining the reputation of your business by analyzing the harmful review and figuring out the best way to go about it.
Do you wish to protect the privacy of your clients and prevent their data from being collected while they are on your website? Use our app to file a self-certification request with the Privacy Shield program.
If you need help automating the filing of 83(b) election forms, DoNotPay has the right solution for you and your employees or shareholders! With our app, you will be able to finish the entire process with a few clicks.
Another perk of using our app is that we can help you fax and mail any documents or letters without having to leave your home or office.
DoNotPay will help you handle all your business tasks in the blink of an eye!