Do Trade Names Have the Same Legal Protection As Trademarks? Answered
The moment your company grows beyond being a local small business, you need to put resources and effort into competing with other companies within your industry. One of the strategies to stay ahead is to legally protect the uniqueness of your brand and products or service.
How do you do that? Do you have to register a trademark, or do trade names have the same legal protection as trademarks? In this article, we will explain the difference between the two and show you an easy way to file a trademark with the United States Patent and Trademark Office (USPTO).
Trade Name vs. Trademark vs. Service Mark
If you are new to this terminology, you may find it confusing as these terms all sound somewhat similar, but they represent different concepts.
While there is no major difference between a trademark and a service mark—they offer protection for different types of selling points—they still cover various scopes of business. Check out the table below to find out what elements of business these terms relate to:
| Trade Name vs. Trademark vs. Service Mark | Scope of Business | Obligatory |
| --- | --- | --- |
| Trade name | The non-marketing part of the company | Yes |
| Trademark | Commercial products and brands | No |
| Service mark | Commercial services | No |
Aside from marks, you can also obtain copyright, patent, and trade secret protection.
Trade Name—What Is That?
When you open a company, you need to register a trade name with your state government or county clerk's office, depending on the local regulations.
This is the formal name of your company, and you use it for non-commercial purposes, such as:
Tax return filing
Stock certificates
Invoices
Contracts
Bank accounts
While trademarks are advisable to have, they are not obligatory by the law, which is not the case with trade names.
Trademark—What Is That?
Once you grow your business to the point where customers recognize your products and establish a connection with them, others may decide to copy your craftsmanship and create similar or identical goods.
To stop this from happening, you can register a trademark and have legal grounds to sue anyone who uses your invention, idea, or product.
Apart from suing someone, you can use a trademark to:
Have proof of ownership
Receive protection on a state, federal, or international level
Ban infringing products from entering or leaving the United States
Companies do not use trademarks solely for complete products. You can trademark any part of your brand that is unique, including:
Labeling
Signature
Sound
Packaging
Color scheme
Do Trade Names Have the Same Legal Protection As Trademarks?
Usually, a trade name will stop others from opening another company under the same name within your state, but you will need a trademark for federal protection.
In some states, even this is not guaranteed. For instance, in Colorado and Washington, registering a trade name does not grant you an exclusive right to use that name—it is still fair use.
Trade names do not offer the same level of legal protection as trademarks. They are just a legal necessity that allows you to act as a business representative. To avoid infringement and get legal protection, you need a trademark.
Getting a Trademark
Trademark application is a lot more complicated than that of a trade name.
Before you apply, you should check whether there is an existing trademark that is similar to yours. You can do so by searching the USPTO's database. Similarity revolves around the name and industry as well. For instance, Snapple and Apple are not that similar, but if you want to trademark a mobile device called iPfone, the Office will deny your application.
Other requirements include providing necessary information about yourself and the company and choosing the trademark type and class—and how many of them you want your trademark to be in.
When the USPTO accepts your application, you will receive a trademark of limited duration, but you can renew it endlessly.
The USPTO receives over 720,000 applications a year, and they use any discrepancy to reject the registration. To avoid wasting money on futile applications, many companies opt to hire an attorney to complete the process for them, but they charge extortionate fees to get the job done.
You can and complete the entire form with our assistance, which does not come with a bill that will raise your trademark costs even further.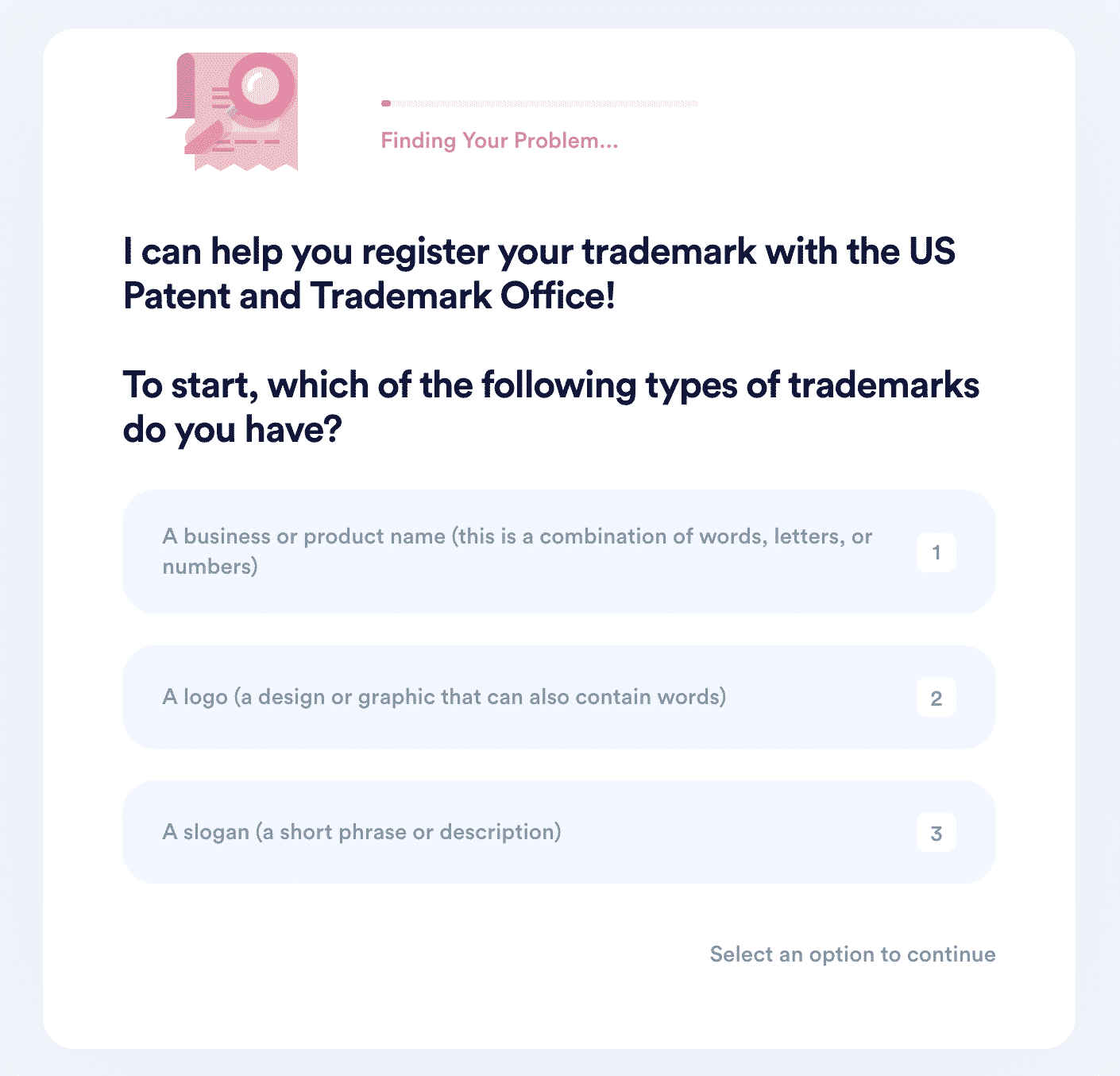 How To File a Trademark With DoNotPay's Help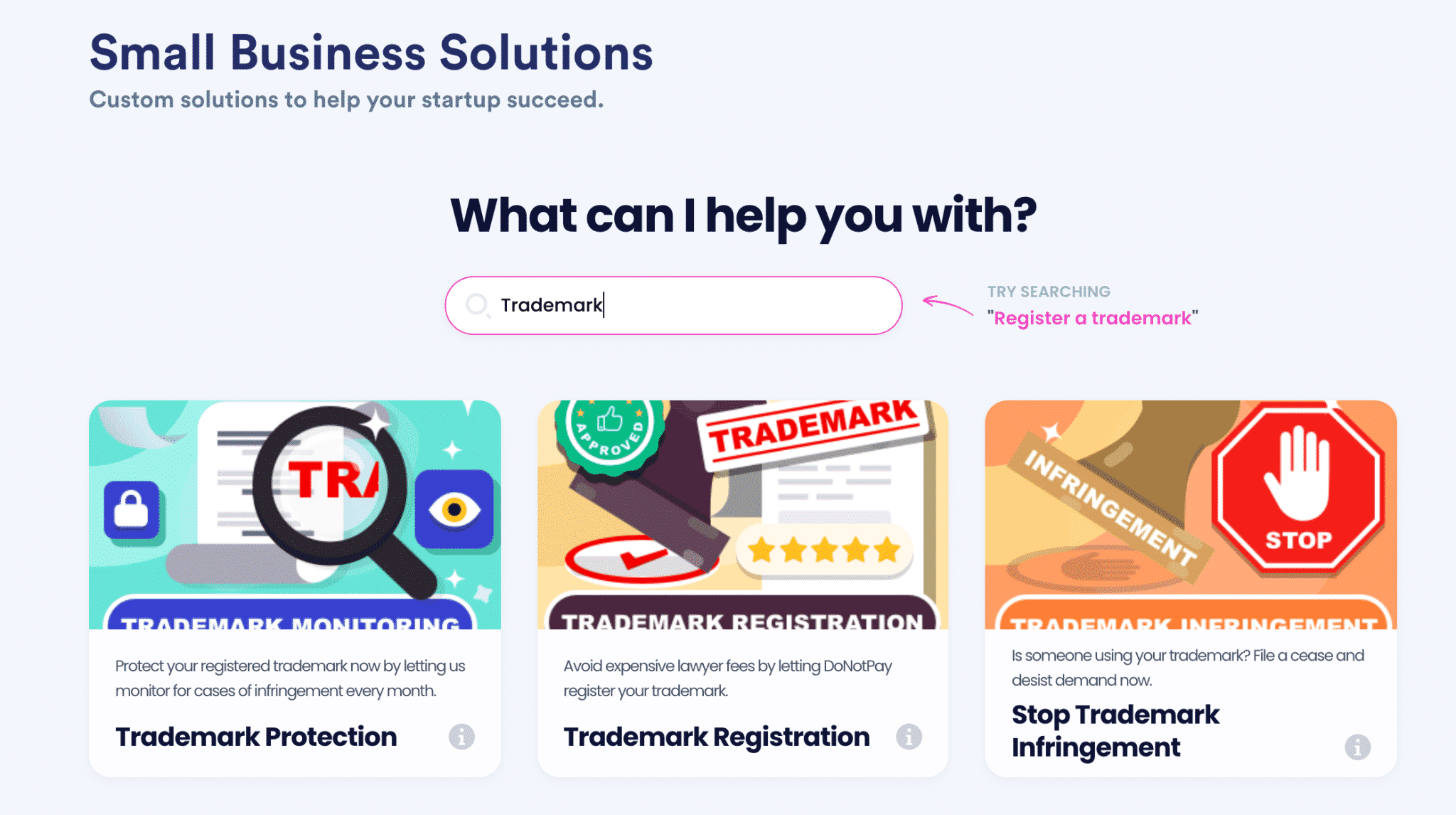 The sensible move is to avoid filing a trademark with the USPTO by yourself, but paying over the odds for an attorney is not the best financial decision either. Instead, you can use DoNotPay to complete the process. We will check the USPTO database for availability and make sure you provide all the necessary information for an accurate application.
You only need to:
Use your web browser to
Search for the Trademark Registration feature
Answer a few questions from our chatbot
Pay the application fees the USPTO requires
Once that's done, our app will generate the application form. We will send it your way for you to review and e-sign before submitting it.
Take Care of Pesky Business-Related Procedures Effortlessly!
As a business owner, you are bound to deal with various complex processes. Luckily, DoNotPay can help you handle most of those procedures stress-free. Do you need to register your business name as a trademark, file the self-certification request with the Privacy Shield program, or report illegitimate and inappropriate negative reviews? Our app enables you to do it within minutes.
That is not all we can do for you! With our nifty products, you can make the filing of 83(b) election forms a breeze and take care of DMCA agent and Employer Identification Number (EIN) registration in no time.
Need a solution that will facilitate correspondence with your business associates or clients? DoNotPay has the right faxing and mailing product for you!
Don't Spend a Small Fortune on Lawyers—Draft Various Documents With DoNotPay's Help
Drafting legal documents does not have to be complicated or expensive. DoNotPay has a variety of tools that you can use to get a:
Letter requesting a loan for your small business
Cease and desist demand regarding your trademark (if someone tries to use your business name, logo, or slogan)
Formal demand letter requesting a client to pay for your services
Personalized chargeback rebuttal document based on the:

Chargeback reason
Chargeback code
Service you offer