Do U.S. Citizens Need Tourist Visas for the Dominican Republic?
Whether you want to explore white-sand beaches, go canyoning, or enjoy the energetic nightlife, the Dominican Republic caters to all tourists' needs.
Are you booking a vacation, but you're not sure whether you need a tourist visa? DoNotPay explains what to expect when it comes to tourist visas for the Dominican Republic and the other requirements that the country imposes.
Do You Need a Tourist Visa for the Dominican Republic?
No. For U.S citizens traveling to the Dominican Republic, a tourist visa won't be necessary for stays of up to 30 days. To enter the Dominican Republic, though, you need to provide:
A passport valid during your stay with one blank page for the entry stamp
The COVID Traveler's Health Affidavit, the Customs Declaration, and the International Boarding in the form of a single Dominican Republic's Electronic Ticket
Proof of return or onward travel
A minor travel consent form is only necessary in exceptional cases.
The Dominican Republic allows tourists to extend their stay for up to 120 days.
To request an extended stay:
Contact the Migration Department in Santo Domingo
Prepare:

Your stamp from the last time you entered the Dominican Republic
A copy of the passport page containing your personal data
Your return boarding ticket
$2,500 if you're staying 30–90 more days
$4,000 if you're staying for an extra 90–120 days
COVID-19 Restrictions in the Dominican Republic
Due to the growing number of new cases, the Dominican Republic requires U.S. citizens to provide one of the following:
A negative PCR or antigen test
Proof that they recovered from COVID-19 in the 90 days preceding their visit to the Dominican Republic
The Dominican Republic offers health coverage and free testing opportunities if you're staying in a hotel.
Since the situation regarding the pandemic changes daily, it's best to contact the Embassy of the Dominican Republic to inquire about the current state of restrictions.
Who Can I Contact To Stay Up to Date With the Restrictions?
If you have any questions before your trip, contact the Embassy or one of the Consulates of the Dominican Republic using the information in the table below:
Diplomatic Mission
Phone
Email Adress
Address
Embassy of the Dominican Republic
202-332-6280
embassydominicanrepublic@gmail.com or consularsdrembassy@gmail.com
1715 22nd Street, NW

Washington DC 20008

Embassy of the Dominican Republic Consular Section
202-332-7670 or 202-387-2459
consular@us.serex.gov.do
Dominican Consulate in Glendale
818-504-6605 or 818-504-6602
info@consuladodominicanoca.com
500 North Brand Blvd. Suite 960

Glendale, CA 91203

Dominican Consulate in Miami
305-358-3220
info@consuladordmiami.gob.do
1038 Brickell Avenue

Miami, Florida 33131

Dominican Consulate in Chicago
773-714-4924
drchicagoconsulate@hotmail.com
8770 West Bryn Mawr Avenue

Triangle Plaza, Suite 1300

Chicago, IL 60631

Dominican Consulate in New Orleans
504-522-1843
codonos@bellsouth.net
400 Poydras Avenue, Suite 1520

New Orleans, LA 70130

Dominican Consulate in Boston
617-482-8121
consdomboston@serex.gov.do
20 Park Plaza, Suite 601

Boston, MA 02116

Dominican Consulate in New York
212-768-2480
cdmny@verizon.net
1501 Broadway Ave., Suite 410

New York, NY 10036

Dominican Consulate in San Juan
787-725-9550 or 787-725-9554
consudompr@hotmail.com
Avenida Ponce de León #1607, Suite 101

San Juan, Puerto Rico 00909

Dominican Consulate in Mayaguez
787-833-4756 or 787-757-3170
N/A
Mckinley #30 Oeste, 2nd Piso

Mayagüez, Puerto Rico 00680
Use DoNotPay To Learn About Tourist Visa Requirements of Any Country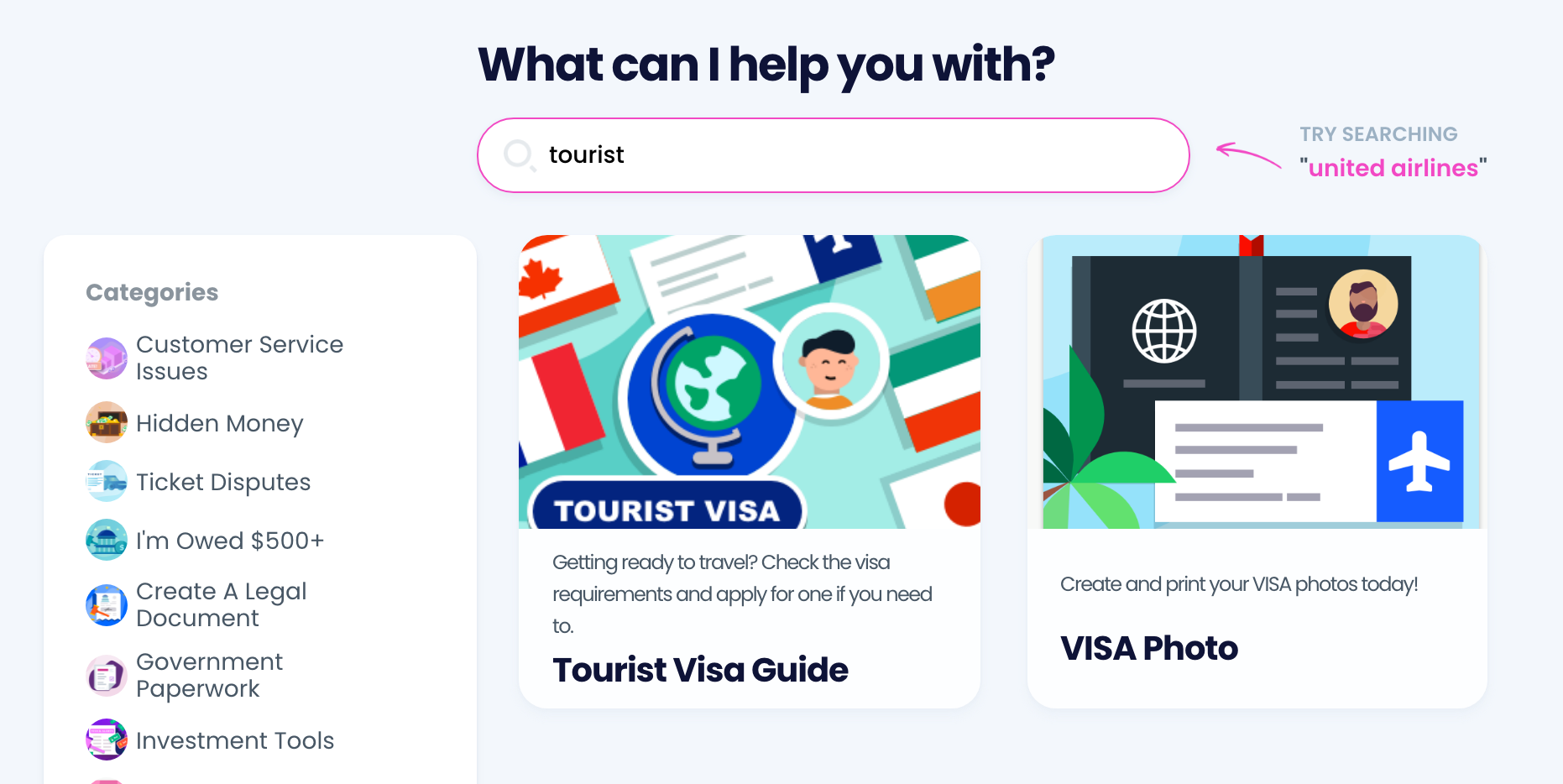 While the Dominican Republic does not require you to apply for a visa, you will stumble upon other destinations that will.
The worst part of any vacation is the paperwork, and that's why DoNotPay helps you solve your bureaucratic hurdles by informing you about the tourist visa requirements of any country! You will also speed up the application process and ensure you file a complete tourist visa application with no documents missing!
Follow these steps to ensure you always travel without concerns:
Navigate to the Tourist Visa Guide feature
Confirm that you're a U.S. resident or U.S. passport holder
Enter the name of the country you're visiting
After you complete all steps, you will find out:
Whether you need a tourist visa for your destination
How long you can stay in the country if it doesn't require you to apply for a tourist visa
What paperwork is necessary to file a complete tourist visa application
Whether you can submit your application online or by email
How to apply for a tourist visa if no remote application methods are available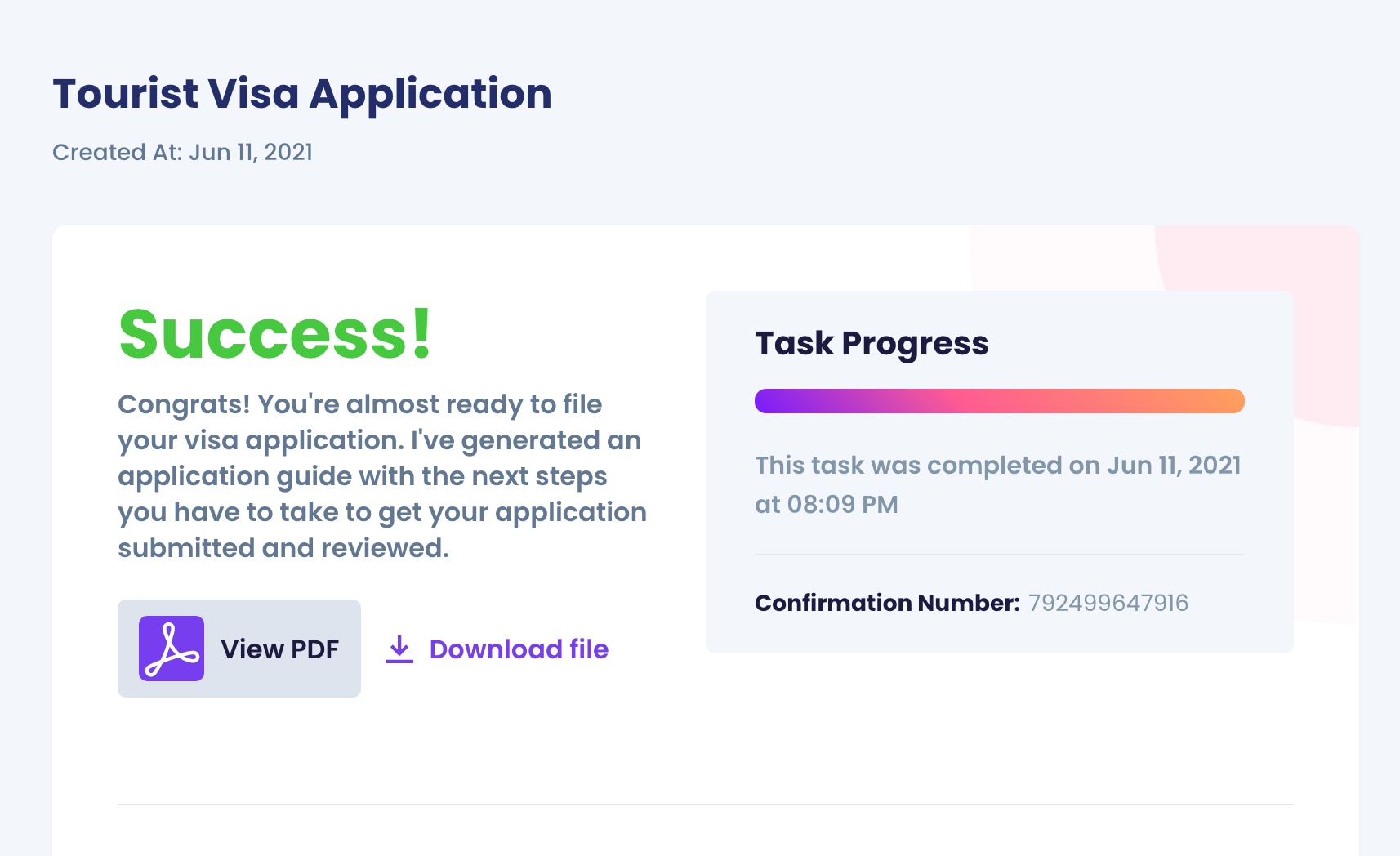 DoNotPay Helps You Experience Caribbean Magic With No Fuss
The warmth present in Central American and Caribbean people and cuisine will make you want to come back, and you can do that worry-free! If you subscribe to DoNotPay, you don't have to worry about any paperwork getting in your way.
Use our feature to your advantage and get the latest information about the entry requirements for the following countries in a flash:
DoNotPay Helps You Tackle All Kinds of Problems From the Comfort of Your Home
Are you too busy to go to Target, Walmart, or photo studios to get your passport photos taken? DoNotPay offers you the possibility of taking them yourself and having them edited without going anywhere!
Thanks to our app, you don't need to visit the post office if you want to initiate a return. You can also skip going to a notary office because we'll help you get your documents notarized.
Here are some other tasks you can complete with ease using DoNotPay:
We Help You Get Fuss-Free Subscriptions to Any Service
Interested in a specific service or platform? Make sure to get the best out of your free trial without getting charged and ending up with an unwanted paid membership. Even if you make a mistake, DoNotPay can end your subscription in a few simple steps!
Our system allows you to generate virtual credit card numbers to prevent platforms from getting your real bank details and using them for unauthorized transactions. We also offer burner phone numbers that will help you go through any subscription or verification procedure without disclosing personal details.