Tourist Visa to the U.K. From the U.S.A. Explained
Are you preparing for your trip to the U.K.? Obtaining the necessary paperwork to enter this country might be a stressful task. Though you will not need a tourist visa to the U.K. from the U.S.A. if you're staying less than six months, you will still have to provide valid traveling documents.
DoNotPay can help you with that! We will explain the requirements for traveling from the U.S.A to the United Kingdom and much more.
The United Kingdom to the U.S.A. Travel Requirements
Every tourist traveling from the U.S.A. to the U.K. has to meet certain requirements to enter the country, such as:
Have a passport that will remain valid during your stay in the U.K.
Confirm that you

Plan to leave the U.K. at the end of your visit
Have accommodation during your stay
Possess enough money that can support you during your stay in the U.K.
What To Do if You Want To Stay in the U.K. More Than Six Months
If you plan to stay in the United Kingdom for more than six months, you will have to apply for a visa before arriving. This is the application process:
Complete an online application form
Book and attend a biometric appointment at the Application Support Centre (ASC)
Pay the visa fee and submit your application
Once you apply for the visa, you will have to wait for three weeks to receive it. If the U.K. visa waiting time seems too long, you can request to get your visa within five business days.
Note that, due to COVID-19, you will have to wear a mask before entering the ASC. You will have to follow rules of social distancing while in there. If you have any COVID-19 symptoms, you should cancel your ASC appointment.
The U.K. Travel Advice
If you are visiting the United Kingdom for the first time, you will be smitten by its green meadows in the countryside and amazed by the architecture of London. To make the most of your visit, you should:
Go to a pub at least once
Visit the Cornwall coast
Take a walk over the Tower Bridge
Go to Buckingham Palace right on time to see the changing of the guard
Visit the York Minster
Find time to visit the Hadrian's Wall
Visit the Royal Observatory in Greenwich and stand on the Prime Meridian
How To Contact the U.K. Embassy or Consulate in the U.S.
In case you need to check a few things before your trip and make sure you meet all of the entry requirements to the U.K., check out the table below:
Institution
Phone Number
Address
The British Embassy Washington
+1 202-588-6500
3100 Massachusetts Avenue, NW, Washington D.C. 20008, USA
British Consulate General in Boston
+1 617-245-4500
One Broadway, Cambridge MA 02142, USA
British Consulate General in Chicago
+1 312-970-3800
625 N Michigan Avenue, Suite 2200, Chicago IL 60611, USA
British Consulate General in Atlanta
+1 404-954-7700
133 Peachtree Street, NE, Suite 3400, Atlanta GA 30303, USA
British Consulate General in Los Angeles
+1 310-789-0031
2029 Century Park East, Suite 1350, Los Angeles CA 90067, USA
British Consulate General in Houston
+1 713-210-4000
1301 Fannin Street, Suite 2400, Houston TX 77002, USA
British Consulate General in Miami
+1 305-400-6400
1001 Brickell Bay Drive, Miami FL 33131, USA
British Consulate General in New York
+1 212-745-0200

1 Dag Hammarskjold Plaza,

885 Second Avenue, New York City NY 10017-6927, USA

British Consulate General in San Francisco
+1 415-617-1300
1 Sansome Street, Suite 850, San Francisco CA 94104, USA
Are You Having Trouble Finding Relevant Info About Tourist Visas? DoNotPay Can Help
You shouldn't spend an eternity on figuring out the documents necessary to get your tourist visa. DoNotPay can help you meet the visa application requirements of any country in no time. We'll make your trip preparation simple and easy by:
Finding out whether you need a visa or not for your destination country
Providing you with links to the right online visa application websites or step-by-step PDF guides if online applications are not available
Contacting embassies about the possibility to submit your visa application remotely
To receive our help, you should do the following:
Locate the Tourist Visa Guide feature
Confirm that you are a U.S. passport holder
Type in the name of your destination country
In case you don't need a tourist visa for your destination country, DoNotPay will tell you how long you can stay there without requesting visa extensions.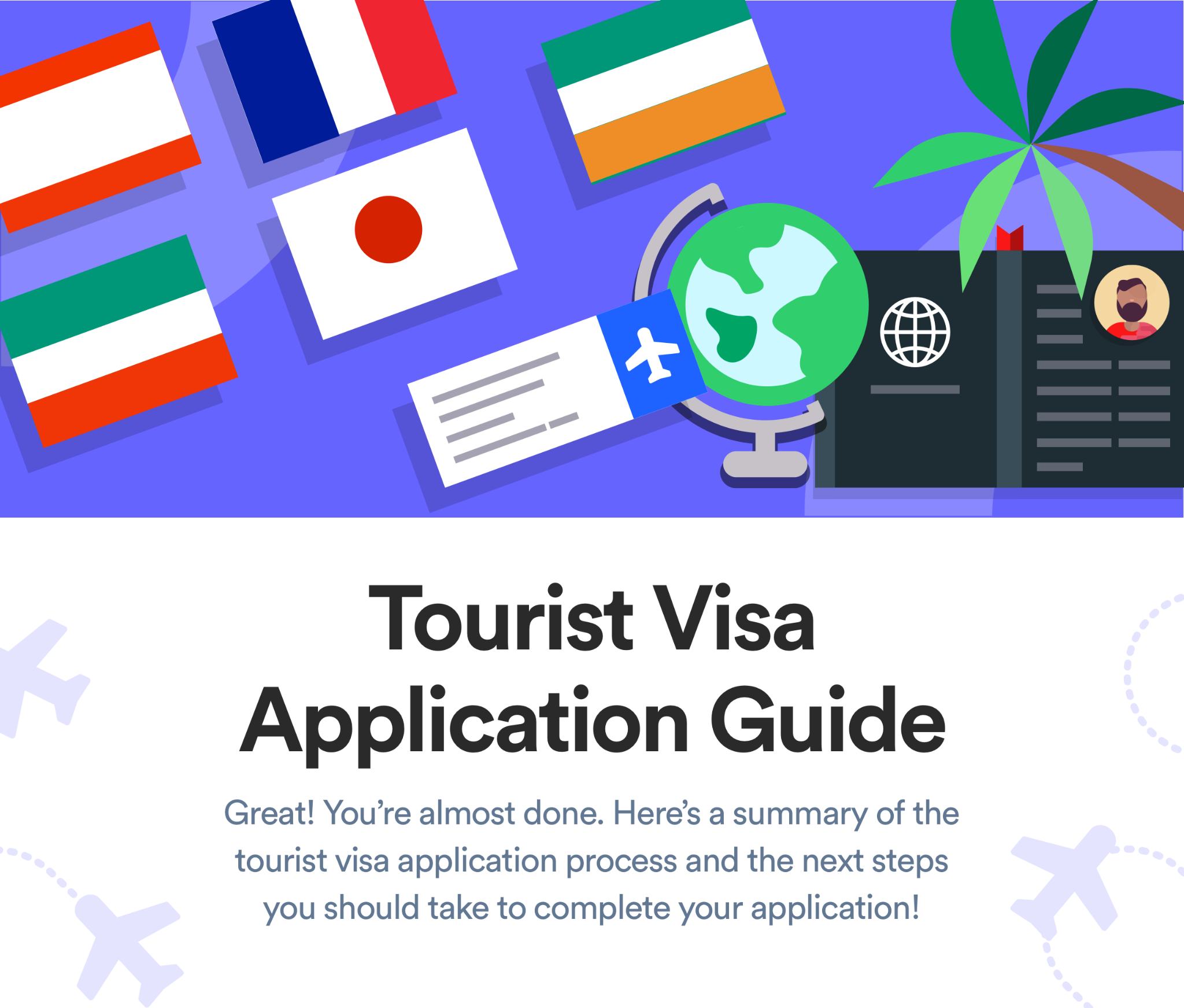 Prepare To Discover the Rest of Europe
If you want to explore the rest of the Old Continent, you should cross the English Channel and start your adventure, but make sure to consult with DoNotPay first. Our app will provide you with relevant info about tourist visa requirements for any destination in Europe.
Check out our guides and discover whether you need a visa for the following countries:
Is Bureaucracy Getting on Your Nerves? We Have a Solution!
We all know that dealing with bureaucracy isn't pleasant, and it often leads to overwhelming frustration. The good news is that DoNotPay has found a workaround! You can now do the following by using our app:
Let DoNotPay Make Your Legal Troubles Disappear!
Drafting contracts and other legal documents isn't a task you should handle on your own. Don't want to spend a fortune on lawyers? That is why DoNotPay—the world's first robot lawyer—is here to take the lead and help you out! Check out the list below to see some of the legal documents that our app can draft for you:
We don't stop there! Cut through the red tape and let DoNotPay assist you in taking anyone to small claims court, getting your documents notarized, submitting anonymous HR complaints, or requesting crime victims' compensation.