All You Need To Know About the Tourist Visa to Angola
Being praised for the beauty of its nature and the accessibility of its tourist visa, it's no wonder Angola is becoming a popular tourist destination. If you're a first-time visitor, though, your first glance at the Angolan tourist visa application might scare you.
Luckily, you can simplify the process of applying for a tourist visa to Angola if you sign up for DoNotPay! This guide lists all of the required steps and criteria for an Angolan tourist visa.
Do U.S. Citizens Need a Tourist Visa to Angola?
Yes, U.S. citizens need a tourist visa to enter Angola. Regardless of whether you apply for an e-Visa or a traditional one, an Angolan tourist visa is valid for:
60 days since it's been issued
A single entrance
A 30-day stay
You can extend your tourist visa for Angola to stay for 30 more days in the country, but you can only do it once.
What Are the Requirements for a Tourist Visa to Angola?
To request a tourist visa to Angola, you will have to prepare:
A complete tourist visa application form
A passport-size color photo of yourself
A notarized letter stating the reasons for your visit to Angola
Proof of accommodation
A yellow fever vaccination card if you're coming from a country where it's present
Travel itinerary
Return ticket
Your U.S. passport, valid for at least one year after your estimated date of entry and with four blank pages
A photocopy of your passport, including the page with your personal information and all pages containing travel stamps
A bank statement that proves that you have enough funds to provide for yourself while staying in Angola (exactly $200 per day)
$70/$120 (traditional/eVisa) for the visa fee
How To Apply for a Tourist Visa to Angola
You can apply for a tourist visa to Angola:
At the Embassy of Angola
Online
Request a Tourist Visa at the Embassy of Angola
To apply for a tourist visa, pack all of the required documents in a self-addressed return envelope and mail it or drop it off at:
2100-2108 16th Street,
NW Washington, DC 20009
The Embassy of Angola will process your request within 5–7 business days.
Apply for a Tourist Visa to Angola Online
To submit your tourist visa application, complete the online form. The request processing can take up to a few days, after which you will receive your Electronic Travel Authorization (ETA) for Angola in an email. You will use that ETA to receive your tourist visa on arrival.
Who To Call if You Have Trouble With Applying for a Tourist Visa to Angola
The Angolan diplomatic missions can help you if you stumble upon any issues while applying for a tourist visa. You can contact them using the information from the following table:
| Diplomatic Mission | Phone Number | Email Address |
| --- | --- | --- |
| Embassy of Angola in Washington DC | 202-785-1156 | visa.consular@angola.org |
| Angolan Consulate General in New York | 212-861-5656 | Info@angolaconsulateny.org |
| Angolan Consulate General in Houston | 713-212-3840 | sector-consular@angolaconsulate-tx.org |
| Permanent Mission of Angola to the United Nations | 212-861-5656 | themission@angolaun.org |
DoNotPay Helps You Secure a Tourist Visa to Angola in No Time!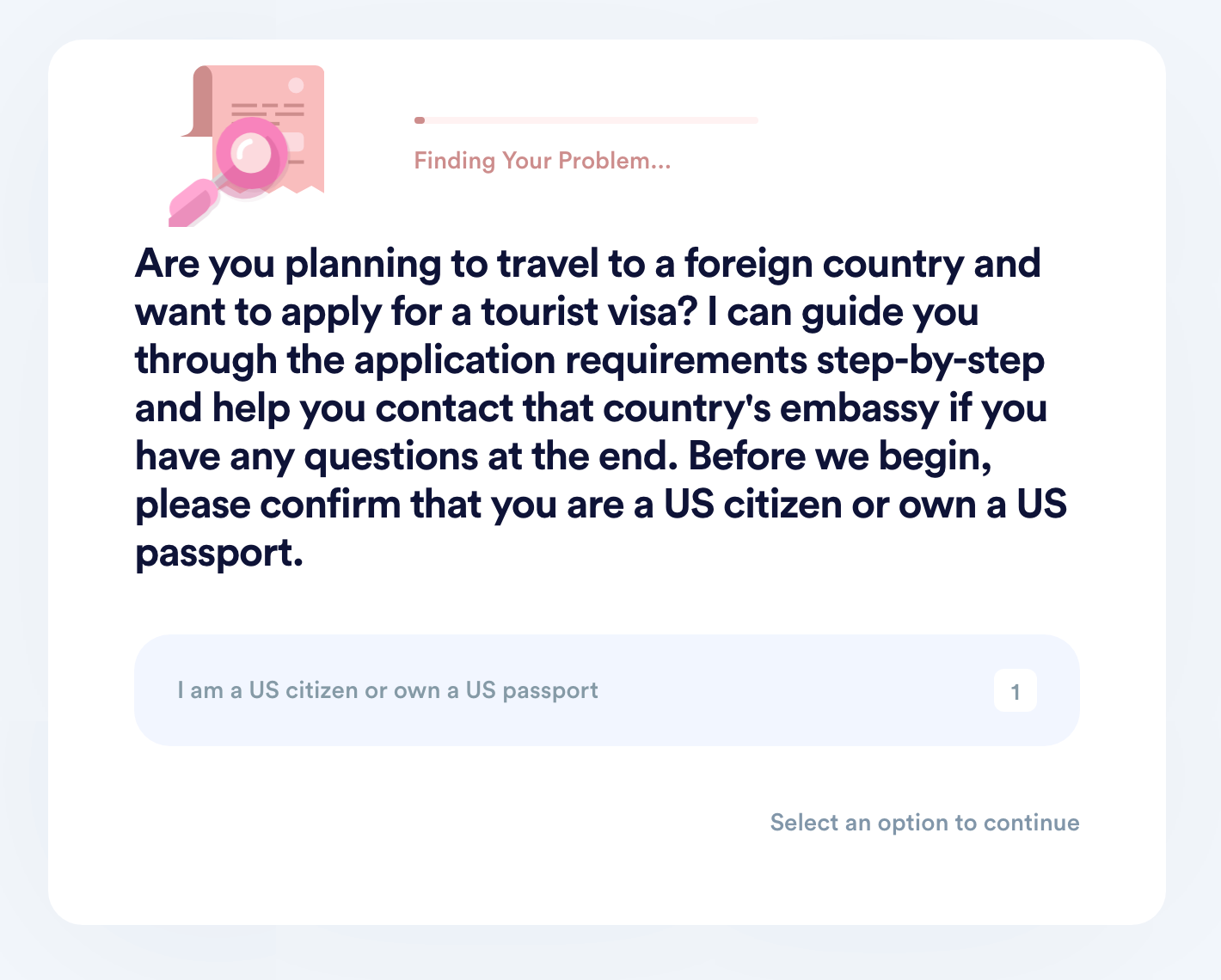 With so many of them, you might overlook some of the required documents for a tourist visa to Angola, but don't worry! DoNotPay is here to ensure that you submit a flawless tourist visa application in the shortest amount of time!
Our app simplifies your application process by:
Helping you check whether you have all of the required documentation
Providing you with a link to the official online application page
Creating a PDF guide to help you with the traditional application process if no online ones are available at the moment
Contacting the embassy to check whether you can submit your application via email
To ensure you never struggle with a tourist visa application again:
Access our Tourist Visa Guide product
Answer the prompts from our chatbot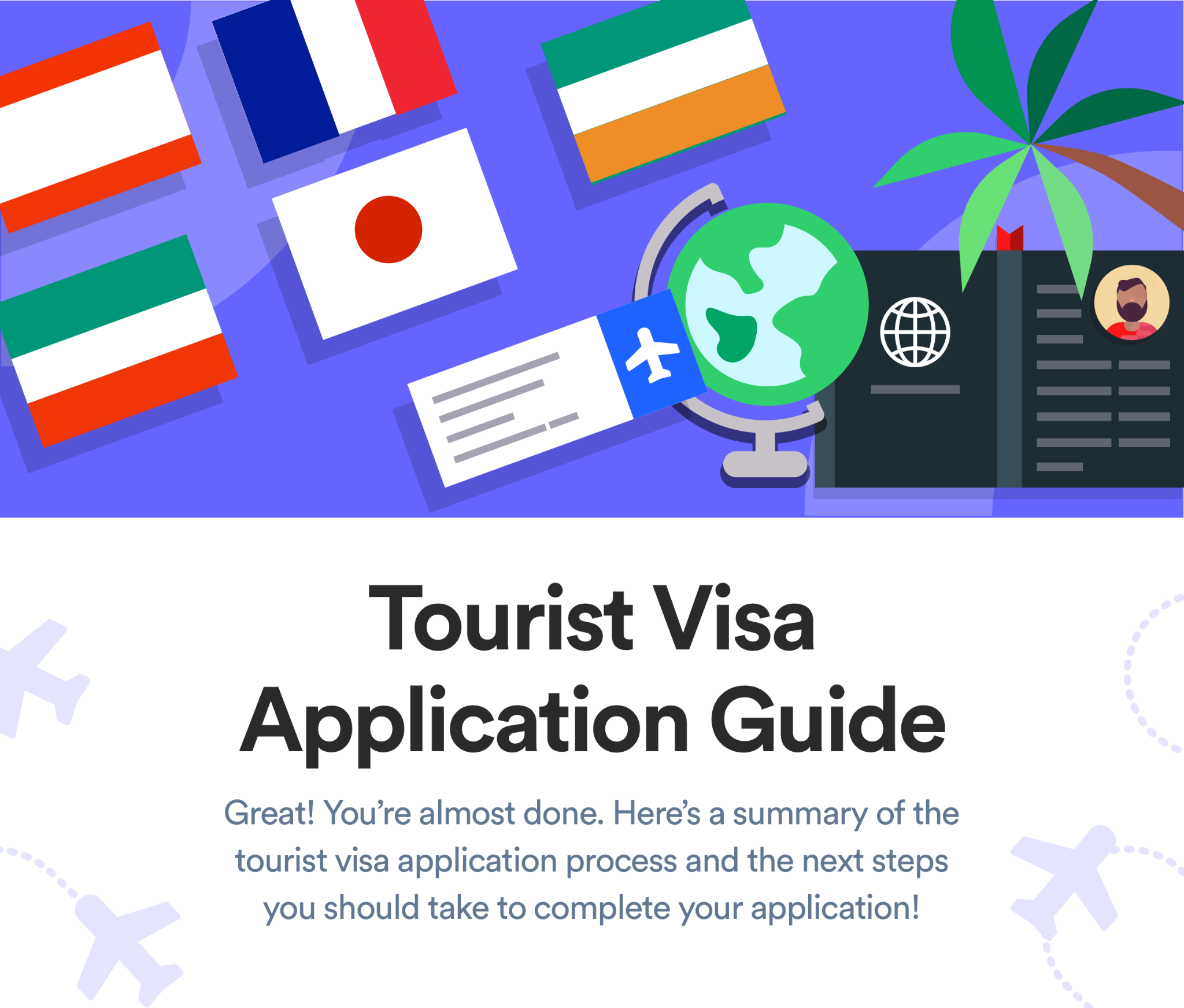 With DoNotPay, Exploring Africa Has Never Been Easier!
Whether you want to prolong your vacation or come back next time, DoNotPay helps you experience Africa without the bureaucratic hurdles that come with a tourist visa application. Subscribe to DoNotPay and get the latest information about the entry requirements for: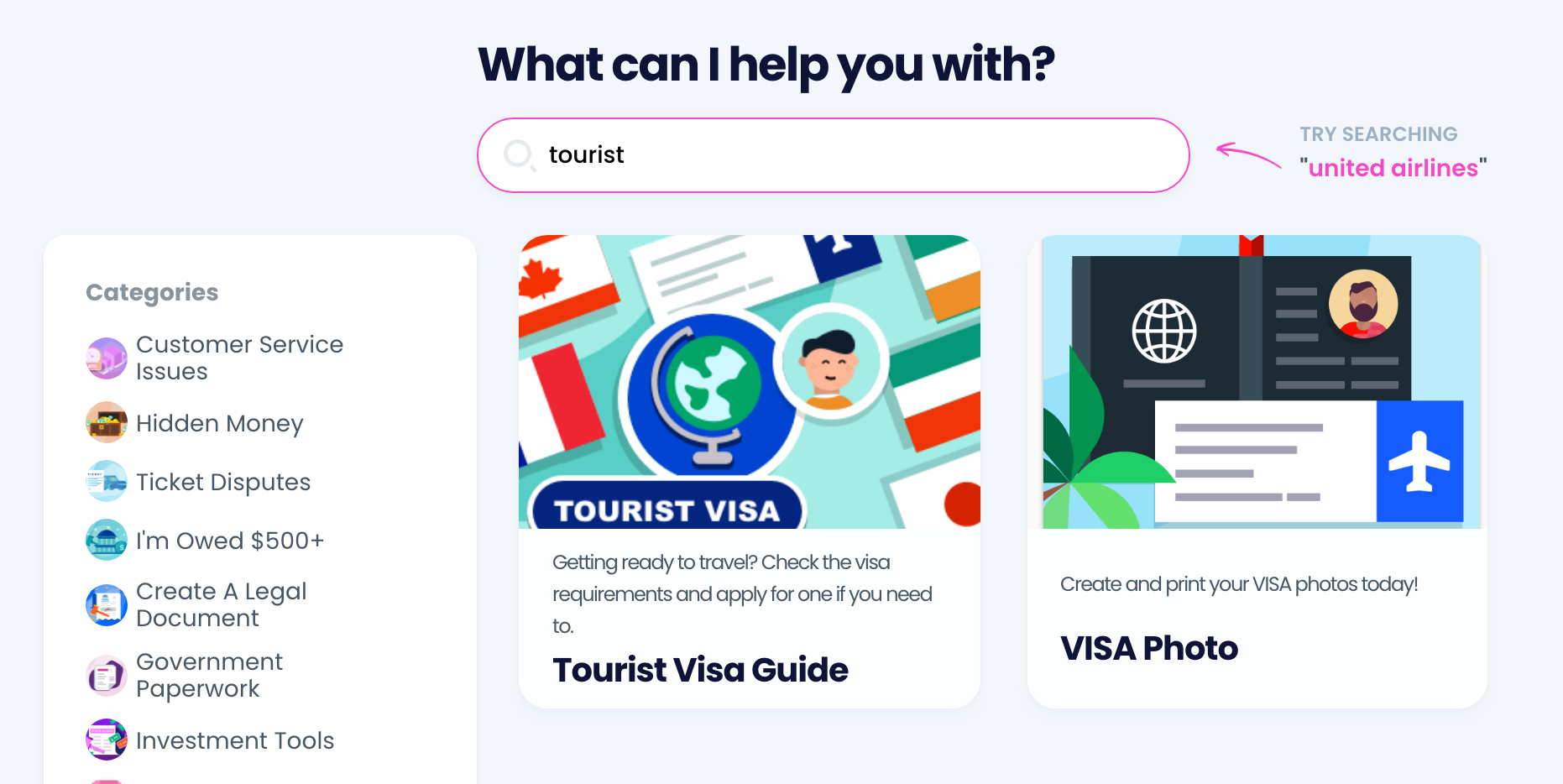 What Not To Do in Angola
Regardless of the hospitality of natives in Angola, the friendly nature of the country can quickly change if you don't abide by the following rules:
Using a camera, binoculars or GPS is strictly prohibited near:

Government buildings
Key infrastructure
Military installations

Disrespecting government officials can get you expelled or even banned from the country
You should also keep in mind that:
Angolan tap water is not suitable for drinking
The rainy season causes a lot of flooding in the northern parts of the country from November to April, so plan your trip accordingly
DoNotPay Goes the Extra Mile for You
We are dedicated to providing solutions to difficult and time-consuming tasks you may have on your to-do list. If you are struggling to reduce your monthly bills, contest parking tickets, or set DMV appointments, DoNotPay will help you do it in no time!
We have also created numerous easy-to-use features that can make the following procedures run smoothly:
Get Justice From Companies That Wronged You
Do you feel like you have been played by a company? Instead of wasting your time writing requests, demand a chargeback or refund or claim a warranty via DoNotPay! If the company doesn't seem too cooperative and keeps refusing to return your money, our app can assist you in suing it in small claims court.
To help you save some coins or regain what's yours, DoNotPay will also help you locate unclaimed funds, submit insurance claims, lower your property taxes, and cash out gift cards.