The Ultimate Guide to Applying for a Tourist Visa to Mali
When visiting Mali as a U.S. tourist, presenting a valid passport isn't enough to pass the borders. Once you arrive at the airport, you must present a tourist visa that grants you the right to enter the country and spend some time there.
If you are struggling to find accurate instructions on submitting a visa application, we are here to save the day! This guide breaks down the procedure of getting a tourist visa for Mali and shows you how using DoNotPay can make it simpler in no time.
What Types of Mali Tourist Visas Can You Apply For?
When visiting Mali for leisure or recreational purposes, you can choose one of the following visa types:
Three-month single-entry visa
Three-month multiple-entry visa
Six-month multiple entry visa
One-year multiple entry visa
Five-year multiple entry visa
Whichever type of visa you opt for, the price is $131.00 for U.S. citizens, and it's non-refundable. An ideal time to apply is a month or two before the planned trip.
How Can You Pay Your Visa Fee?
You can't cover your visa application expenses with personal checks. The only available payment methods are money orders and cashier's checks.
If you want to have your visa processed more quickly, you should expect additional charges for expedited services. You will have to pay:
$10.00 for a three-day processing
$20.00 for a two-day processing
$50.00 for having your application processed on the same day
The payment should be addressed to the Embassy of Mali in Washington, DC.
Mali Tourist Visa Application Requirements
To apply for a tourist visa to Mali successfully, you must meet the following requirements:
Criteria
Details
Passport

There are no specific requirements when it comes to the remaining passport validity after the planned trip. It must be valid at the moment of entry to Mali and has to have at least one blank page

Other requirements

Two copies of a printed and completed tourist visa application form
Onward or return airplane ticket to Mali
A copy of your yellow fever vaccination certificate
Negative COVID-19 PCR test no older than five days or a vaccination certificate
Other COVID-19 Restrictions
As a U.S. citizen, you can enter Mali regularly as long as you have proof of not being infected by COVID-19. You will be required to wear a mask and undergo a short health screening procedure upon arrival at the airport. If you don't present a negative PCR test or any other type of proof, you must get tested once your airplane lands and self-quarantine until you get the results.
There are no active curfews or transport restrictions in Mali, but this depends on the circumstances. These regulations may change at any time, so make sure you check for updates regularly.
How To Apply for a Tourist Visa to Mali
Here's what the process of requesting a Mali tourist visa looks like:
Gather all the documents from the list in advance—Failing to do so may lead to an incomplete or late application, which can result in rejection
Fill out the application forms with the correct info—Ensure you respond to each question accurately and check the answers a few times once you complete the entire form
Pay the required fees
Bring your application form along with the supporting documentation to the Embassy of Mali—The visa office works on Mondays, Tuesdays, Thursdays, and Fridays from 9 a.m. to 5 p.m. Wednesdays, weekends, and public holidays are days off.
Depending on your location, you can also submit your application to Malian Honorary Consulates in:
Atlanta, Georgia
New Orleans, Louisiana
Los Angeles, California
How Much Time Do the Authorities Need To Process Your Application?
The authorities usually process all tourist visa applications within five days. This period may extend if you don't fill out the form with accurate details or if the application is incomplete. If you are in a hurry, you can always use expedited issuance services and get your visa in one to three working days.
DoNotPay Has a Real-Time Solution for Your Visa Application Issues
DoNotPay features a great tool that can make your tourist visa application a cakewalk! You don't need to search for the correct info yourself or travel to an embassy or a consulate in charge as we can:
Check the visa policy of the desired destination in your stead
Help you collect the documents you must include in your application
Get in touch with the visa-issuing authority to inquire about the email application option
Send you a direct link to an online application form or a printable PDF version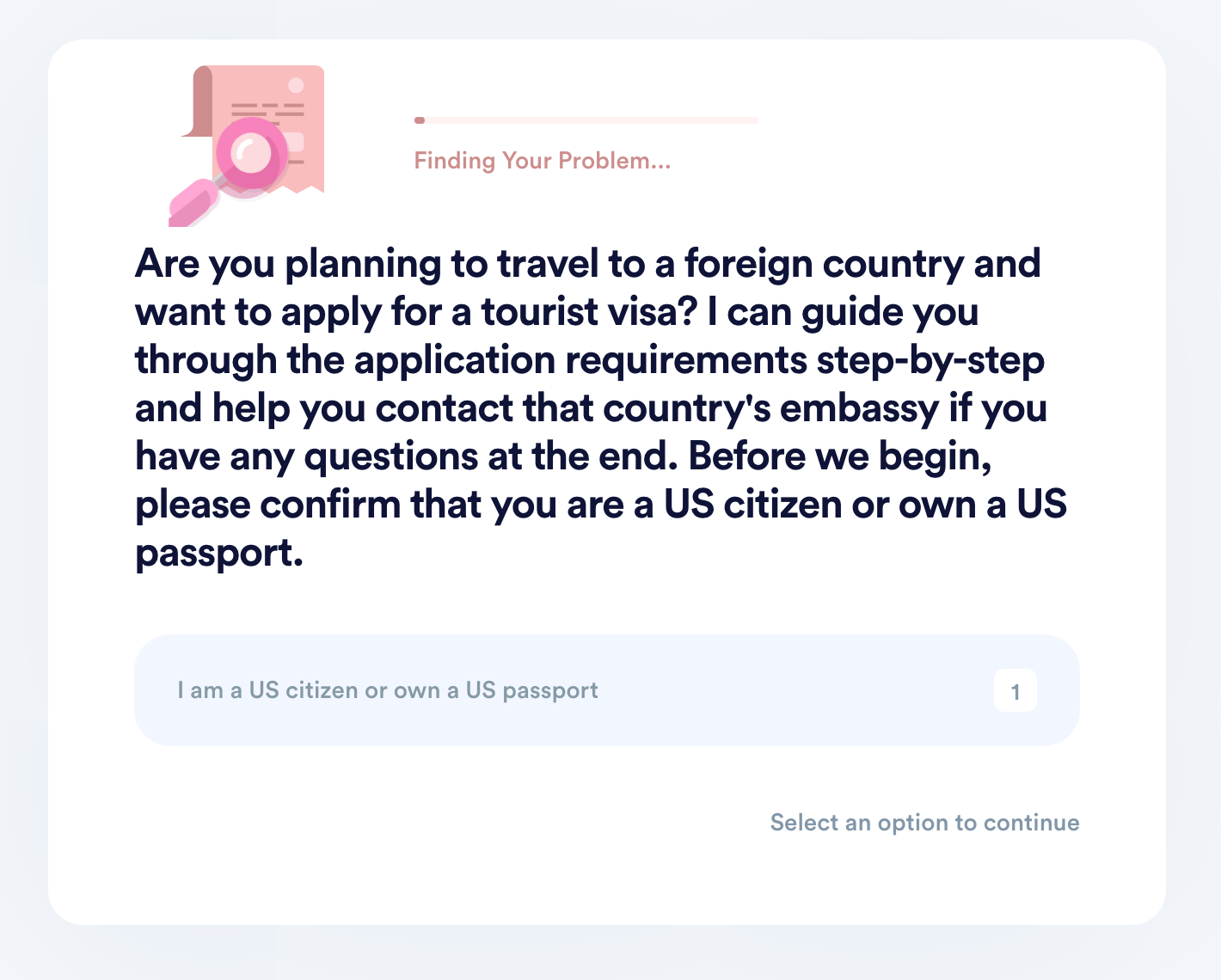 Here's how to get our help with your visa application process:
Open DoNotPay and log in
Look for the Tourist Visa Guide product
Verify your U.S. citizenship or passport ownership
Select the country where you want to go
Here are some more guides you may find useful if you are planning to request tourist visas for other African countries:
Choose From a Variety of DoNotPay's Amazing Tools
Did you manage to solve the issue with our app? If the answer is yes, you may also be interested in checking out other interesting features we offer. DoNotPay can help you:
| Get Rid of Spammers By | Deal With Uncooperative Merchants By | Get Help With Your Studies By |
| --- | --- | --- |
| | | |
Let DoNotPay Prepare Important Documents for You
Are you having a hard time drawing up a contract due to insufficient legal expertise? Say goodbye to failed drafts—DoNotPay can generate divorce settlement agreements, powers of attorney, child travel consent forms, and many other legal documents in under five minutes!
We will also help you create anonymous HR complaints and demand letters for your neighbors if you are experiencing any issues with them.