Getting a Tourist Visa for Yemen Is a Breezy Ride With DoNotPay's Help
Yemen is a beauty encased in the Arabian peninsula, but its tourism appeal is overlooked due to the country's publicized internal conflicts. The truth is that Yemen has four world heritage sites and several natural and historical tourist attractions—no wonder it was the Oxford Place of the Year in 2010!
Getting a tourist visa for Yemen can be an arduous chore, though. Travelers spend months perfecting their visa application for the country, only to get rejected due to minor documentation lapses.
DoNotPay's Tourist Visa Guide tool strengthens the roots of your visa application so that delays and rejections don't rain on your parade. Sign up for our app's services to actualize your Yemen travel dreams!
Tourist Visa for Yemen—Do U.S. Citizens Need One?
As per current laws, all U.S. citizens need to apply for a visa before traveling to Yemen. To be eligible to apply for a tourist visa, you need to check if:
You have a U.S. passport that is valid for six months beyond your date of entry
The passport has enough blank pages for visa stamps
In addition to the above, you should know that you will be banned from entering Yemen if:
Your travel documents show that you have been to Israel
You hold an Israeli visa, even if you haven't been to the country
You should also stay updated with the latest U.S. government guidelines while traveling to Yemen. The authorities often place a highly restrictive Level 4 travel ban on the country as a security or pandemic-control measure.
How To Apply for a Tourist Visa for Yemen
U.S. citizens don't have a direct means to apply for a tourist visa to Yemen. Currently, the Yemeni Embassy in Washington, D.C., does not issue tourist visas—which discourages tourists from making travel plans to this country.
If you want to travel to Yemen, you need to apply for a tourist visa via a Yemeni Embassy abroad—there is no other way.
Tourist Visa for Yemen—Required Documentation
Since you will be applying through an embassy located outside the U.S., you need to be extra careful while preparing the paperwork to be submitted with your application.
This table will give you an insight into the documentation required to get a Yemeni Tourist visa:
Document
Details
Invitation letter

The invitation letter is nothing but the tourist visa application form issued by Yemen's Immigration Department
You can download the form here

Original passport
Submit a clear copy of the ID page of your valid U.S. passport
Photos
You must attach two recent, colored, passport-size photographs with your application
Medical documents

A doctor's certificate declaring that you are free from any contagious disease
Insurance stating that you will be covered in case of a medical emergency in Yemen

Minor consent letter
You need to submit a notarized minor consent letter only if you are traveling with a person below 18 years
Money order

Submit a money order of $65 payable to The Embassy of Yemen
The amount payable will be $95 if you want an expedited visa

You will be exempted from the visa fee if you hold dual citizenship in Yemen and the U.S. (as long as you attach your Yemeni ID as proof)

Return envelope
Since the visa will be mailed to you, add a self-addressed, prepaid return envelope for USPS Express Mail to receive your visa on time
After Yemeni authorities inspect your application, they will process your visa within two to four weeks. Your tourist visa may be valid for one to three months—the country has no visa extension laws for U.S. tourists at the moment.
DoNotPay Can Streamline the Toughest Visa Application Guidelines in a Jiffy
Applying for a tourist visa for Yemen is like playing a glitchy game that resets you to level one when you lose.
The lack of direct embassy support makes the application process painfully slow. If the authorities deny you a visa due to a missing document or an incorrectly filled-in detail, you will have to wait for months to reapply from scratch.
Don't let the frustration overwhelm you—DoNotPay's Tourist Visa Guide can bail you out. Our app gives you a defined structure to apply for a tourist visa with accuracy! Once you tell us your destination country, we will assess the latest visa guidelines to tell you if the government allows you a visa-free entry.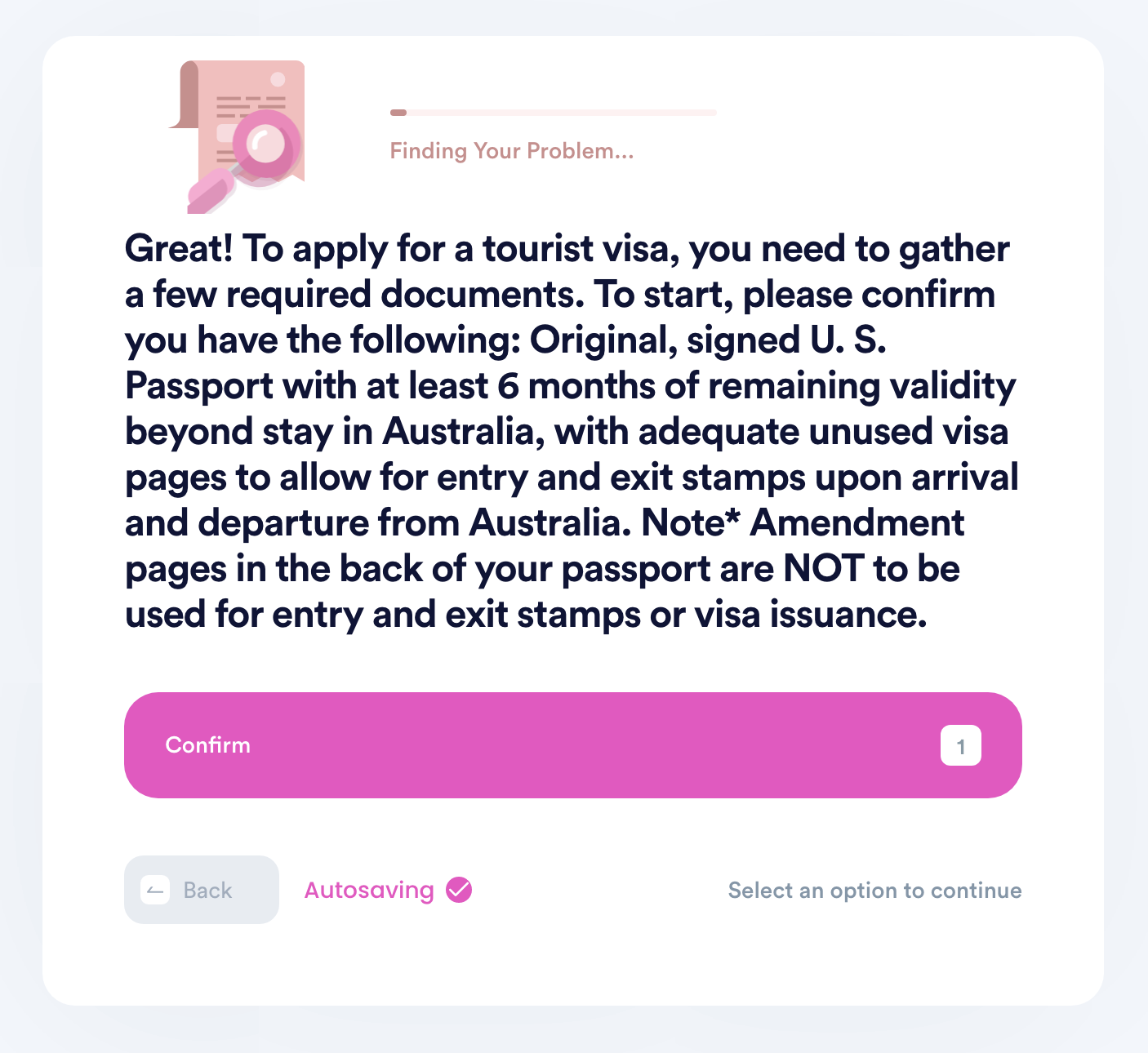 For countries with tourist visa requirements, such as Yemen, our app will immediately give you a comprehensive list of documents needed for the visa application.
Keep responding to our chatbot's questions, and we will:
Let you download a PDF version of the application form
Generate a visa application instruction manual specific to the country (to help you fill out the application correctly)
Contact the embassy in your stead for mailing instructions
Steer you to the authentic government portal if the country accepts online applications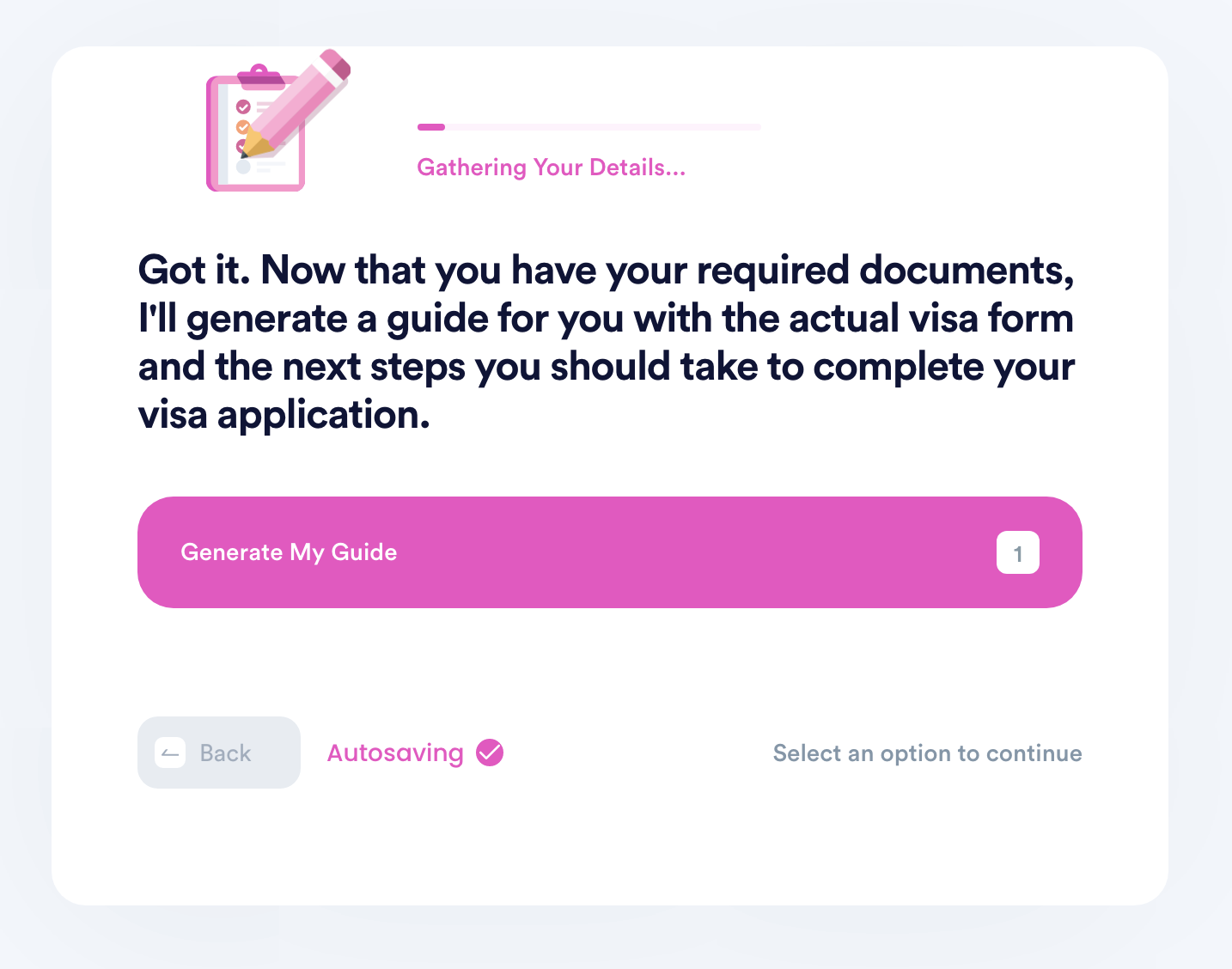 Follow these steps to start using our multilevel tourist visa support services:
Log in to DoNotPay and click on Tourist Visa Guide
Confirm that you own a valid U.S. passport
Punch in the name of your destination country
As visa application laws change frequently, make sure to use our app before planning any foreign trip!
We can also help you if you need new passport photos during the application process. Use DoNotPay's Create Passport Photos tool to print photos that match any set of specifications!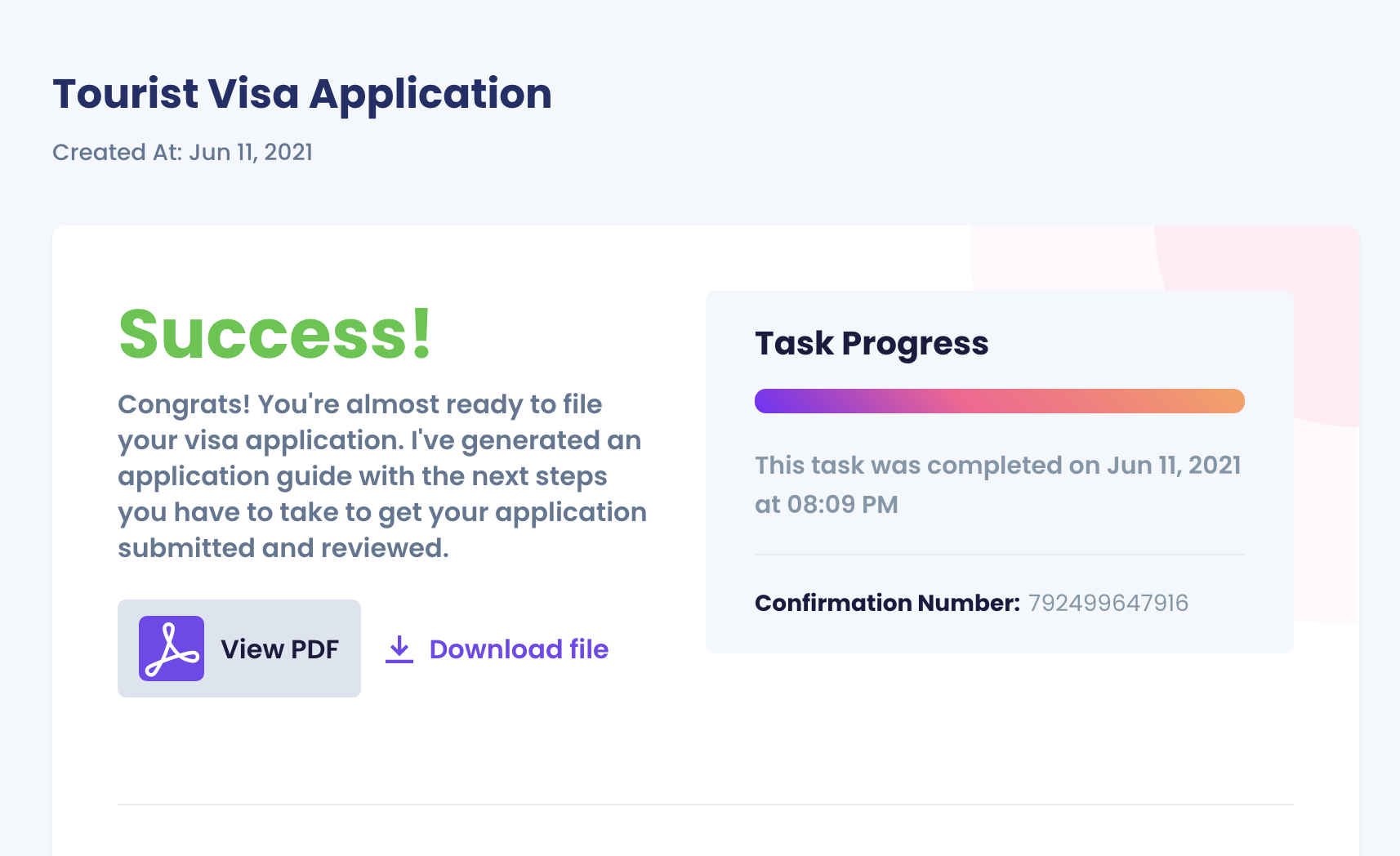 Basic Caution While Visiting Yemen
At present, the U.S. Embassy has put its Yemen operations on hold. If you need emergency services while in Yemen, you should reach out to the U.S. Embassy in Riyadh, Kingdom of Saudi Arabia, for assistance.
Feast in the Splendid Middle East With DoNotPay's Tourist Visa Guides
The Middle East is filled with visuals of mythical lands from fairytales!
DoNotPay's learning center has detailed tourist visa guides for other countries besides Yemen—browse through this table to single out your next dream destination:
Have Your Documents Created and Notarized in Less Than Five Minutes!
Why spend hundreds or even thousands of dollars on lawyers when the ideal solution is only a few clicks away?
DoNotPay saves the day by enabling you to generate numerous legal documents. Creating proper child travel consent forms, divorce settlement agreements, and powers of attorney has never been easier!
Our perks don't stop here—you can also have your documents notarized electronically from any location. Once you obtain a notary stamp and signature, your paperwork can be faxed online without outdated machines.
Explore Everything DoNotPay Has To Offer
Day-to-day tasks you must deal with don't have to be a burden or rocket science. Signing up for DoNotPay is your ticket to performing them the easy way! We offer a wide selection of products that don't cost an arm and a leg but do excellent work when it comes to solving your administrative issues!
Our services will help you: