Tourist Visa for Cyprus—Do U.S. Citizens Need It?
The birthplace of Aphrodite and home to the cleanest beaches in Europe, Cyprus is a place of vast natural beauty. If this country is your next destination, find out whether you need a tourist visa for Cyprus and what else might be necessary to enter its territory.
Is a Tourist Visa Required for U.S. Citizens?
No. If you're a citizen of the U.S., a tourist visa for Cyprus is not required for stays under three months. To enter Cyprus, you need to present:
A passport valid for at least three months since your arrival date
A ticket for return or onward travel
A completed Cyprus Flight Pass form
Proof of sufficient financial means to afford your stay in Cyprus
Keep in mind that Cyprus isn't a signing party to the Schengen Agreement, so the duration of your stay does not affect the 90/180 rule of the Schengen Area.
If you want to stay longer than 90 days, you will have to contact the Civil Registry and Immigration department to request a residence permit.
Does Cyprus Impose Any COVID-19 Restrictions?
Yes. Due to a spike in new COVID-19 cases, the government of Cyprus requires all travelers who don't show proof of vaccination or recovery to:
Provide a PCR test not older than 72 hours before arrival
Quarantine for seven days at an authority-designated accommodation after entering Cyprus
Undergo another PCR test after 72 hours of isolation
At the time of writing this article, a PCR test in Cyprus costs around €50. All restrictions are subject to change, so you should contact a Cypriot diplomatic mission before your trip to ask about the entry requirements.
Who To Contact for Questions About the Cyprus Tourist Visa
Use the information from the table below to reach your nearest Cypriot diplomatic missions for any questions about your Cyprus tourist visa:
Diplomatic Mission
Email
Phone Number
Address
Embassy of Cyprus in Washington DC
info@cyprusembassy.net
202-462-5772
2211 R St NW, Washington, DC 20008
Honorary Consul of the Republic of Cyprus in Kirkland
email vmd@demetriou.net
425-827-1700
5555 Lakeview Drive

Suite 200

Kirkland, WA 98033

Cyprus Consulate in New York
generalconsulatenyc@cyprusun.org
212-686-6016
15 W 38th St floor 11, New York, NY 10018
Cyprus Consulate in Los Angeles
andreaskyp@verizon.net
310-397-0771
4219, Coolidge Avenue

Los Angeles, CA 90066

Consulate of Cyprus in San Francisco
sfcon-cy@ntheo.com
925-284-1060
75 Silverwood Drive

Lafayette, CA 94549

Consulate of Cyprus in Portland
alex@alexchristy.com
503-248-0500
Mayer Building, Suite 510

1130 S. W. Morrison Street

Portland, OR 97205

Honorary Consul of the Republic of Cyprus in Atlanta
hconsul@hccyprusgeorgia.org
770-934-4705
3730 Bloxham Court

Atlanta, GA 30341

Honorary Consul of the Republic of Cyprus in New Orleans
ships@poseidonintl.com
504-568-9300
One Canal Place, Suite 2720

365 Canal Street

New Orleans, LA 70130

Honorary Consul of the Republic of Cyprus in Houston
chrisangelides@yahoo.com
281-704-6779
206 Voss Road

Houston, Texas 77024
Streamline All of Your Future Tourist Visa Applications With DoNotPay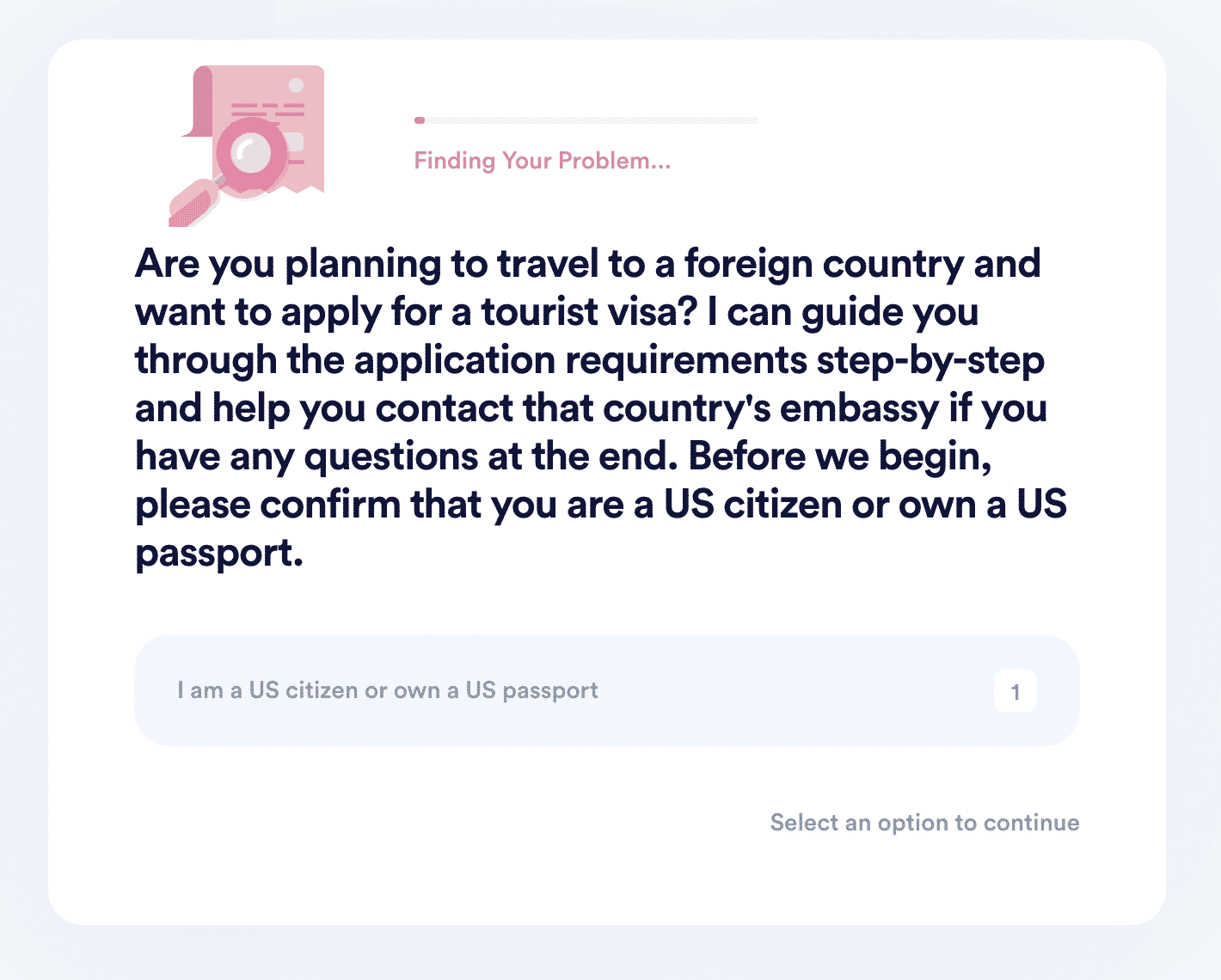 Are you tired of wasting your time on looking for tourist visa requirements only to always miss a document or two? With DoNotPay, you never have to worry about incomplete tourist visa applications. Our app will walk you through the required paperwork for each country you want to travel to.
You will receive up-to-date resources that will help you submit your application in a flash, such as:
A direct link to the online application form
A PDF guide including all steps to a traditional tourist visa application
Does the country require no tourist visa, like Cyprus? No problem! We will inform you about the number of days you're allowed to stay.
To get started:
Access our Tourist Visa Guide feature
Confirm that you're a U.S. passport holder and tell us where you want to go next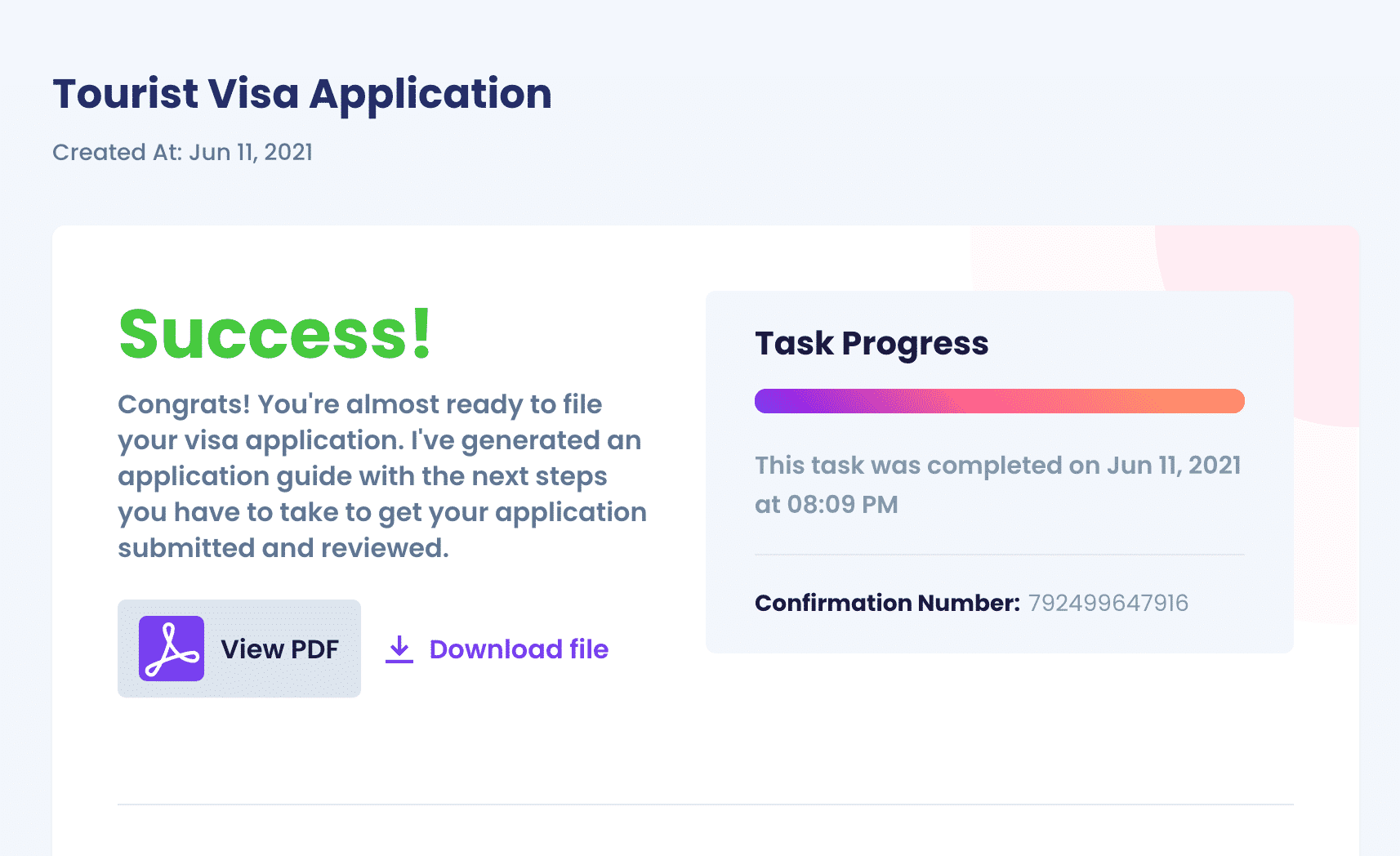 Cyprus Travel Recommendations
The Republic of Cyprus, although a small country, is culturally rich and offers its visitors a variety of sights and experiences to indulge in. Check the following table to learn more about:
Attraction
Details
Beaches

Fig Tree Bay
Konnos Bay
Makronissos Beach
Nissi Beach
Green Bay
Mackenzie Beach
Coral Bay

Historical sites

Kato Paphos Archaeological Park
Kourion
Buyuk Han
Tombs of the Kings
Salamis
The House of Dionysus

Churches and monasteries

Agios Neophytos Monastery
Bellapais Monastery
Agios Lazaros
Church of Profitis Elias

Local dishes

Halloumi
Kleftiko
Souvlaki
Koupepia
Tarhana
Moussaka
Sheftalies
Pilafi Pourgouri

Enjoy Stress-Free Vacations in the Middle East With DoNotPay
After you enjoyed your stay in Cyprus, it's time to explore other experiences the Middle East has to offer. Access DoNotPay to learn more about entry and tourist visa requirements for any Middle-Eastern country and ensure an easy-going travel experience every time. Some of the countries whose entry requirements we explained include:
DoNotPay Goes the Extra Mile for You
We are dedicated to providing solutions to difficult and time-consuming tasks you may have on your to-do list. If you are struggling to reduce your monthly bills, contest parking tickets, or set DMV appointments, DoNotPay will help you do it in no time!
We have also created numerous easy-to-use features that can make the following procedures run smoothly:
Get Justice From Companies That Wronged You
Do you feel like you have been played by a company? Instead of wasting your time writing requests, demand a chargeback or refund or claim a warranty via DoNotPay! If the company doesn't seem too cooperative and keeps refusing to return your money, our app can assist you in suing it in small claims court.
To help you save some coins or regain what's yours, DoNotPay will also help you locate unclaimed funds, submit insurance claims, lower your property taxes, and cash out gift cards.