All You Wanted To Know About a Tolling Agreement
Filing a lawsuit against a person who wronged you seems like the most logical solution to your woes, but there's a way to avoid it and get an amicable resolution. 
Every person who feels they could resolve the conflict with the other party peacefully should consider a tolling agreement. You can find out more about drafting this contract in our mini-guide. 
What Is a Tolling Agreement?
When you or your business suffer losses caused by another individual or business entity, you can use a tolling agreement to solve the problem before filing a lawsuit. By signing it, you agree to postpone taking the other party to court, allowing them to suspend or extend the statute of limitations and avoid being sued.
The main goal of this contract is to provide additional time for the parties to reconsider their decisions and intentions and eventually solve their dispute without entering the courtroom.
The entities that commonly use tolling agreements had a long and satisfying collaboration before the dispute. If they want to keep cooperating in the future because of the mutual business benefits their relationship brings, such a contract is the best solution.
What Are the Benefits of Tolling Agreements?
Creating a tolling agreement can be beneficial for both parties. This document helps you get the best from the current situation by:
Encouraging an amicable dispute resolution

—The parties get a deadline to settle their disagreements, enabling them to avoid further arguments and complications

Saving loads of money

—Court procedures may cost you an arm and a leg, which is why most potential plaintiffs usually give up on filing a lawsuit. If you manage to make a deal, you will get a double benefit. All the money you would spend on lawyers will remain in your pockets, and you will have your issue resolved

Informing the defendant about the plaintiff's claims and expectations

—They can gain a better insight into the positions of the suing party and take appropriate action to avoid financial losses if they lose the case
Are Tolling Agreements Legally Binding?
Tolling agreements are legally binding unless the following rules set by the Court are broken:
The local statute allows this contract form

The agreement proposes a fair and reasonable period

The parties created the contract after the cause of action happened or after the plaintiff realized it happened

The signing entities didn't make the agreement at the same time as the obligation sued upon

The parties signed the contract before the particular limitation period ended
How To Get the Desired Legal Document in a Flash With DoNotPay
When drafting a tolling agreement or any other contract, you may mess up the entire document if you lack basic legal knowledge. Misunderstanding and misuse of the essential terms can create disastrous consequences.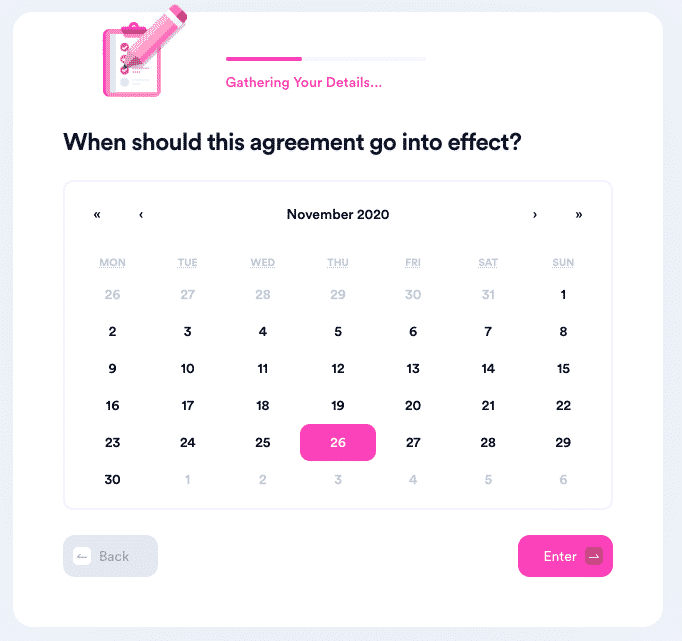 If you don't want your agreement draft to turn into a complete failure nor give immoderate sums of money to lawyers for a single document page, DoNotPay can help! Our AI-powered system contains a vast selection of standardized templates you can turn into a personalized document in several clicks. 
Here are the steps to follow to take advantage of our service:
Log in to DoNotPay using your preferred

Navigate to the document template you want to personalize

Provide the information that your agreement/legal document should contain
Your customized contract will be ready for signing and notarizing as soon as we process your information. We allow you to repeat this procedure for any offered template!
If you find this service useful, you may be interested in discovering more info on creating:
What Other Legal Documents Does DoNotPay Provide?
We also provide some handy tips on using DoNotPay—the first virtual lawyer—for composing legal documents with the best customizable templates on the market!
Our learning center offers the answers to numerous other questions, such as:
has an entire collection of practical and comprehensive contract templates. We listed some in the table below:
Real Estate Documents
Business Documents
Other Documents

Intent to Purchase Real Estate

Quitclaim Deed

Estoppel Certificate

Child Care Authorization Form

Promissory Note

General Affidavit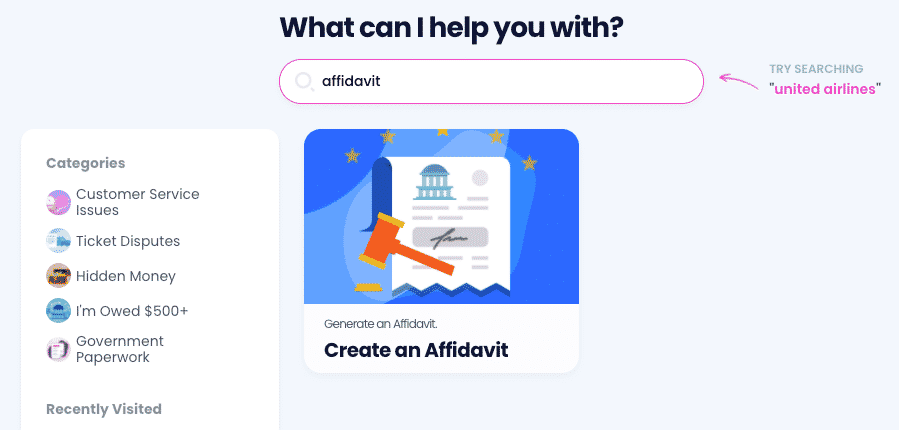 DoNotPay Offers a Variety of Services
DoNotPay is the ultimate virtual assistant that takes over all those annoying tasks you don't want to deal with!
Need to schedule your DMV appointment? Want to get your college fees waived? Have to draft a legal doc quickly?
We can do all that and much more!
Our app waits on the phone line with customer service of any company for you, reports robocalls, and helps you file lawsuits in small claims court. 
We can also help you deal with your parking tickets, get rid of spam emails and texts, or find and sign up for reputable clinical trials!
Keep Your Money in Check With DoNotPay
How often do you sign up for a free trial and then forget to cancel it before it expires? Unexpected charges are the worst, but you can prevent them if you use our free trial card. DoNotPay's virtual credit card is not connected to your bank account, which means that no money can be taken from it. 
We can also help you get refunds for unsatisfactory purchases or compensation from airlines for delayed or canceled flights.
In case you are struggling with warranty claims, bill payments, insurance, or tax reduction, DoNotPay can solve these issues as well. 
Our app also has the largest database of unclaimed assets in the United States, so you can find and claim your lost funds quickly.