How to Claim Your WaterSense Toilet Rebates
Did a water-saving toilet rebate influence the choice you made when you last upgraded your bathroom? If it did, but you still haven't cashed in your toilet rebate, you're not alone. Thousands of people don't send in the paperwork for toilet rebates because they think it might take too much time or will be too complicated. Often, they just forget.
But millions of dollars are wasted each year thanks to unclaimed rebates, and you don't want to let your money go down the drain. That's why we're here to help you learn how to get your water-efficient toilet rebate today. We'll go over the traditional channels for submitting rebate claims and then introduce you to DoNotPay—the easiest, fastest way to get your money back in your pocket.
What's Up With Low-Flow WaterSense Toilet Rebates? 
Water-saving toilets are environmentally friendly because they require up to 60% less water than older toilets to operate. They're also budget-friendly; according to the Environmental Protection Agency (EPA), they can save homeowners more than $140 each year in water bills. Toilet rebates can make them even more budget-friendly.
What Does WaterSense Mean? 
The WaterSense label identifies plumbing fixtures like toilets, sinks, and showerheads as meeting stringent criteria for water-saving features. These fixtures must:
Reduce water use by at least 20%
Conserve energy
Perform as well as (or better than) their replaced, non-conserving counterparts
Manufacturers that partner with the EPA and independent certification programs can use the WaterSense seal on their product packaging and marketing campaigns, and their customers can benefit from programs that offer rebates and incentives for purchasing WaterSense fixtures.
Who Offers WaterSense Toilet Rebates? 
Rebates are typically offered by state or municipal agencies, and in some cases, you can benefit from multiple programs. Ready to learn how to get your low-flow toilet rebate? Read on.
How to Take Advantage of Water Conservation Toilet Rebates on Your Own
Here's a quick breakdown of different ways to find information about applicable toilet rebate programs:
While Shopping
If you're shopping for new WaterSense toilets, chances are you'll find rebate information near the displays, or you can ask a salesperson if they have flyers or brochures for local or state toilet rebate programs.
In Your New Toilet Packaging
There might be information inside new toilet packaging, so be sure to look when you get your new fixture home. Also, always save the receipt for your toilet purchase, since you'll need to send in a copy to receive a rebate. Did you have it professionally installed? You might get cash back for that, too.
Online
The EPA has set up a web page where you can look for local and state programs offering rebates on water-saving toilets and fixtures. Here's how:

Navigate to https://lookforwatersense.epa.gov/rebates/
Look up your city, county, and/or state, and remember:

If your city is called "City Of..." it will be listed under "C."
Some cities offer rebates for non-toilet fixtures only
Not all the information listed is current.

Click on your location.
Search through the page on your city/county/state's information site. You may end up on your local government website's general landing page, so you might have to call City Hall or the County Clerk for information; in any case, you might want to call and verify that the rebate is still available if there's no expiration information to be found.
Follow the instructions for submitting your toilet rebate claim. Be sure to photocopy all your documents so you can refile a claim if they're lost in the process, as well as to make any tax deductions available for the purchase.
Follow-up within 30 days to make sure your rebate has been processed and accepted.
Get Your Toilet Rebate in Three Steps With DoNotPay
Whether you're looking for rebates on low-flow toilets and showerheads or cash back on a new car, DoNotPay can file your claim in a fraction of the time it would take you to do it on your own. Here's how it works:
1. Search "rebates" on DoNotPay and select the type of rebate offer you want to claim (is it for a car, electronic gadget, household appliance, etc).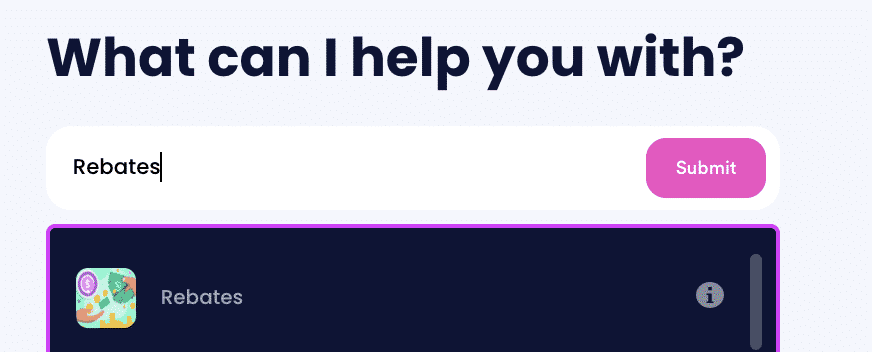 2. Tell us more about the purchase, including the product name, brand, serial number (if relevant), and whether you bought it online or in-person.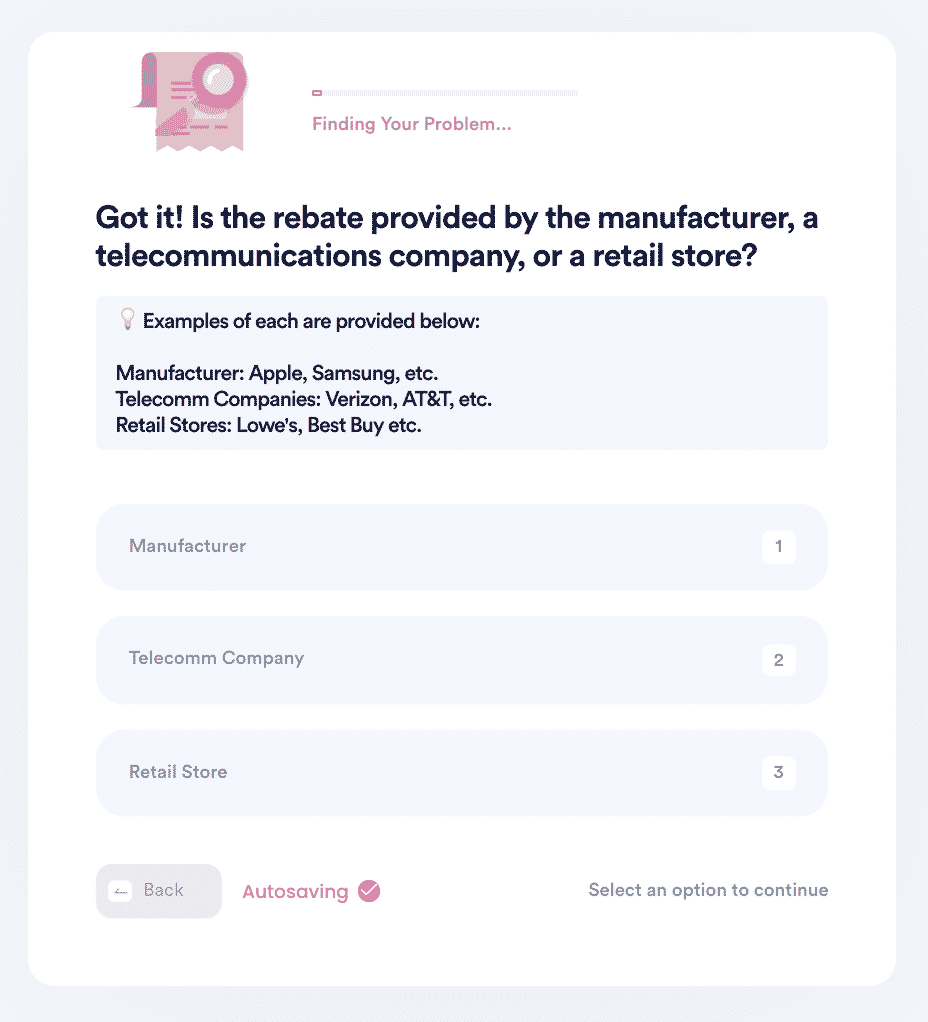 3. Select whether the rebate is online or mail-in. Upload your evidence documents, including receipts, and any necessary forms, and confirm your contact information.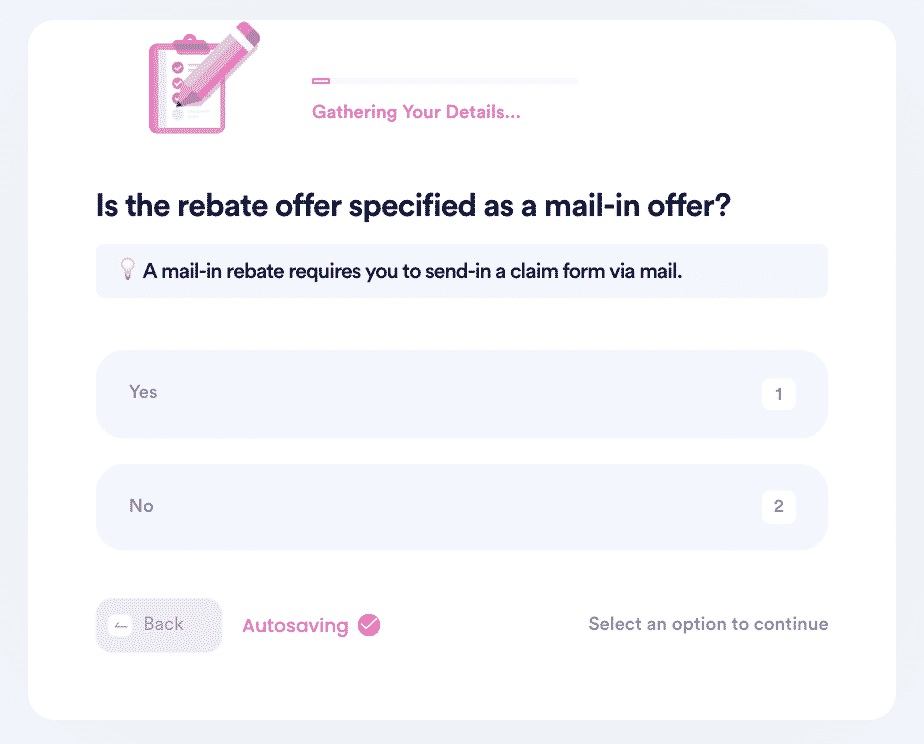 And that's it. DoNotPay will file your rebate claim on your behalf by mail or online, depending on the rebate campaign. You should receive your rebate check within 30 days!
Find More Rebates With DoNotPay
Rebates of all types can help you save money. Other rebate offers DoNotPay can help you with include:
Other Tricks Up DoNotPay's Sleeve
DoNotPay advocates for consumers and citizens as they navigate hundreds of different challenges, including these:
Sh*t or Get Off the Pot... Get Your WaterSense Toilet Rebate Now! 
So... are you curious about how we can make life's little (and big) projects easier? Let us get you your toilet rebate today. We're convinced you'll be pleased with how quick and straightforward it is to get the cash you're owed, that you'll want us to help you save time and money on any number of items you've been putting off!